Deadpool 2's Makeup Designer Bill Corso on Creating Wade's Brutal Face
Makeup designer Bill Corso earned an Emmy Award nomination for crafting jowls and big ears for Bryan Cranston so he could look like President Lyndon Johnson in All the Way. But more often, Corso traffics in the realm of the fantastical as he does with Deadpool 2. Re-teaming with star Ryan Reynolds, Corso devised the hideous skin of cancer patient/medical experiment/mercenary Wade Wilson, whose mottled face appears in close-up during movie's opening sequence.
Establishing a repellent look for Reynold's title character in the first Deadpool movie involved considerable back and forth with the studio, Corso recalls. "In the comic books Wade had been illustrated as a corpse with skin falling off his bone or someone like Freddie Krueger, and then sometimes he's just a guy with squiggly lines on his face, which is certainly what the studio would have preferred. They didn't want to cover up Ryan, their handsome leading man: 'Can't we just put some scars on his face and call it a day?' Luckily the director and Ryan stood by me and said 'No no no, we really have to sell that the whole reason he wears a mask is because his face is disgusting. That was the fun of it."
For the sequel, Reynolds beseeched Corso to trim some time off the first movie's daily four-hour makeup routine. "Ryan's a good sport but obviously, anything we could do to get through this process faster would be good," explains Corso, a three-time Emmy winner who snagged the Oscar for A Series of Unfortunate Events. "Ryan had this scruffy beard in the first movie that needed to be glued down beneath the makeup. For Deadpool 2, he was clean-shaven so that took about 20 minutes off the makeup. And I re-designed the makeup so we could do it much faster, in about two hours. which was a huge help."
Corso and his team devised several sets of prosthetics for Reynolds, each "face" kit consisting of 10 silicone applications including mutilated ears, cheeks and scalp. He pre-painted each version to reflect varying degrees of damage, as dictated by each scene. "On Deadpool 2, we got to change up the makeup more, like when Wade goes into prison. They put the collar on him, he doesn't have his healing abilities any more so the cancer comes back. We made him look sickly. Then he gets the sh*t beat out of him and he's all swollen. That's always fun, putting makeup on top of makeup."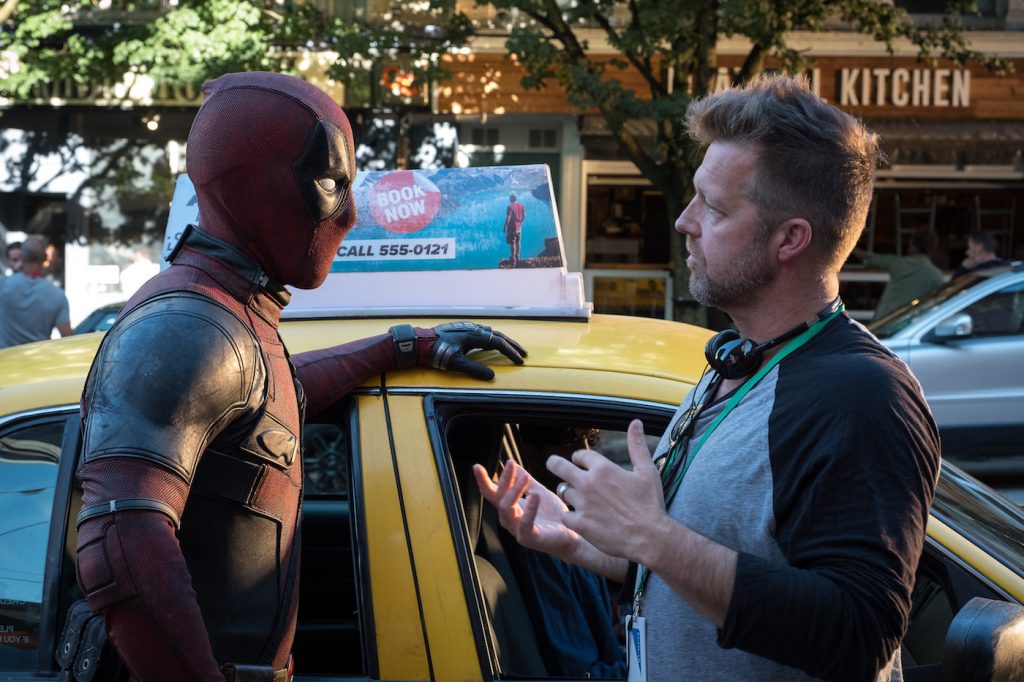 Wade eventually joins forces with bio-mechanical warrior-from-the-future Cable, portrayed by Josh Brolin. The actor embodied his character with old school prosthetics when he wasn't playing Thanos with motion capture sensors attached to his face and body in that other Marvel superhero movie Avengers: Infinity War. Corso says, "The two and a half hours Josh spent in the makeup chair staring at himself in the mirror while we turned him into Cable really helped, I think. By the time Josh walked out of the trailer, he'd gotten into the headspace of 'I am Cable.' That's why I was always an advocate of doing Cable for real [with prosthetics].  When it's just [motion-capture sensor] dots, I imagine its very easy to forget who you are."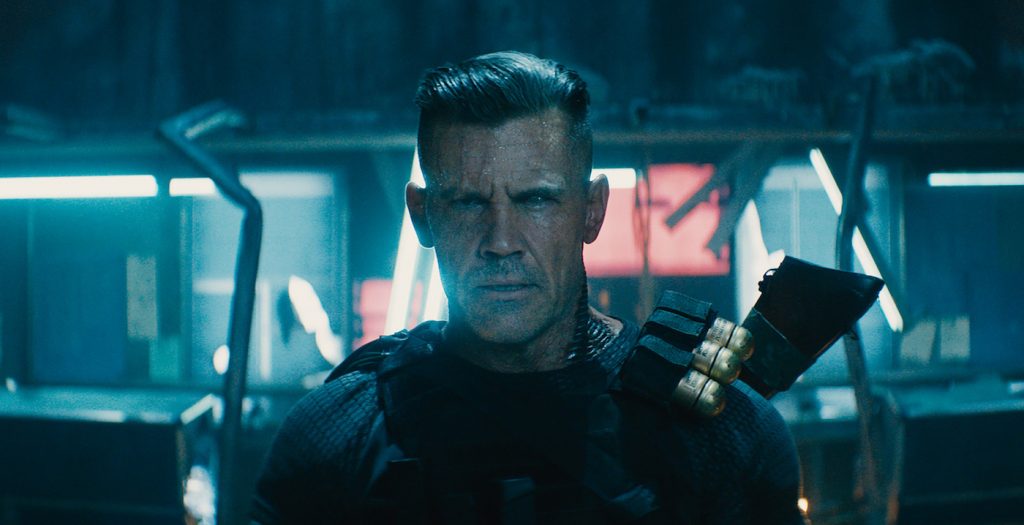 Deadpool 2 introduces a new standout superhero in the person of Domino, played by Zazie Beetz (Atlanta). She's depicted in the comic books as a light-skinned woman with a black circle around her eye. Beetz, an African-America, required a different look. Corso says, "We did tests where we covered Zazie in pale with the black around her eyes, but it just didn't work on Zazie."
After testing tattoos, birth marks and scars, filmmakers decided to use the skin condition known as vitigilo as basis for a white patch encircling Domino's eye. Corso explains, "Once we locked onto the fact that Zazie has such beautiful skin, we didn't want to hide it, so that's when we thought about this super model who has vitigilo." Corso and his colleagues crafted custom stencils to ensure consistency in contours of Domino's non-pigmented skin from one day to the next. "We applied translucent pinks and skin tones to make it look like bleached skin. It's natural and beautiful looking. in Deadpool 2 Domino embraces it."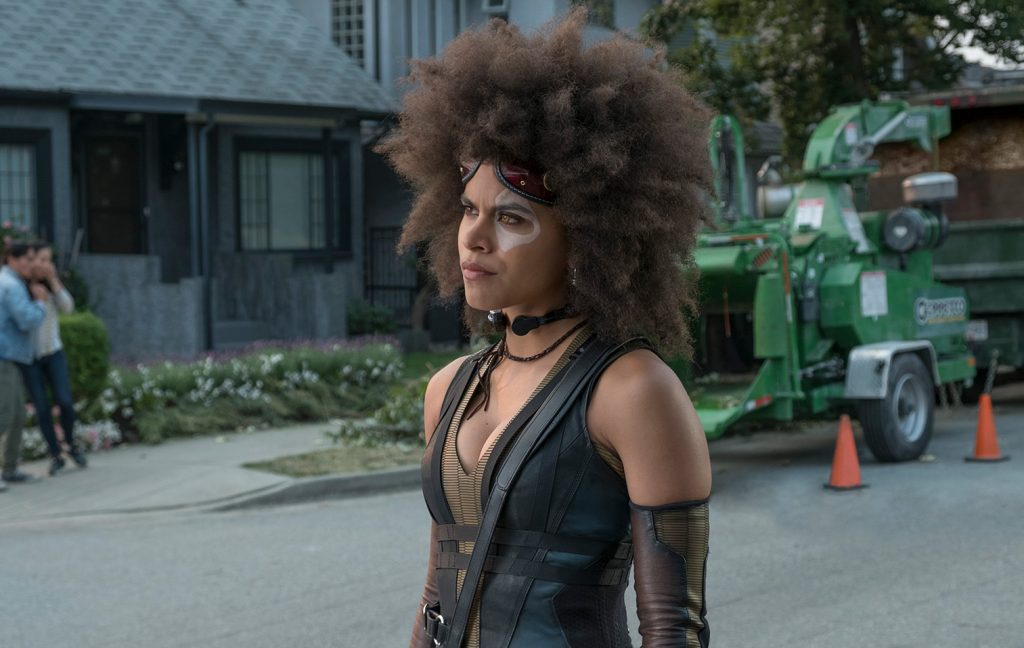 When Deadpool 2 completed principal photography, Corso, unlike most members of his profession, continued work on the film during post-production. Two years ago, frustrated about the loss of creative control over his designs once cameras stopped rolling, Corso founded the Digital Makeup Company. "What usually happens in our industry is that they makeup gets altered or manipulated in post production, but none of that work is done by make up artists," Corso says. "Instead, the changes are made by digital artists, and that always bugged me. So now that I have this company, I can go in during post and make all the little tweaks, adding or enhancing to make sure the makeup is true to whatever were trying to do on the day." It's become like another tool in my makeup kit."
Featured image: Ryan Reynolds (Deadpool) and Leslie Uggams (Blind Al) in Twentieth Century Fox's DEADPOOL 2. Photo Credit: Joe Lederer.