Fighting Thanos Makes Strange Bedfellows in 11 New Avengers: Infinity War Images
Marvel has just released 11 new photos from Avengers: Infinity War that lends further validity to the ancient proverb "the enemy of my enemy is my friend." Granted, it would be slightly inaccurate to call some of the assembled Avengers, superheroes and superhero adjacent characters enemies, but the last time most of them together, it was in a film subtitled Civil War for a reason. The biggest threat to humanity yet, Thanos (Josh Brolin) requires everyone, and we do mean everyone, set aside their differences and fight together.
Yet compared to Infinity War, Civil War seems more like a tiff. The upcoming mega blockbuster will feature, by one accounting, 28 superheroes fighting Thanos. We've written extensively about how it has been pretty much guaranteed by Marvel Studios president Kevin Feige and Infinity War directors Joe and Anthony Russo that not all of them are going to make it through the upcoming films alive (both Infinity War and the still untitled Avengers 4 were shot back-to-back). We know Chris Evans is done as Captain America after Avengers 4—what we don't know is what his leaving the MCU means for his character. Watching Cap sacrifice himself would be, in a word, heartbreaking.
In the new photos, the sense of impending doom is evident in every shot. Otherwise very temperamentally different superheroes are banding together to face the greatest threat in the galaxy. Whether it's Star-lord (Chris Pratt) and Tony Stark (Robert Downey Jr.) having to tolerate each other, or, Spider-Man (Tom Holland) and Drax (Dave Bautista) finding common ground, you can sense the size and scope of this film in the new mages.
We begin with a scarred, colossal Thanos—the prime mover behind most of the band things that have happened in the last decade's worth of MCU films.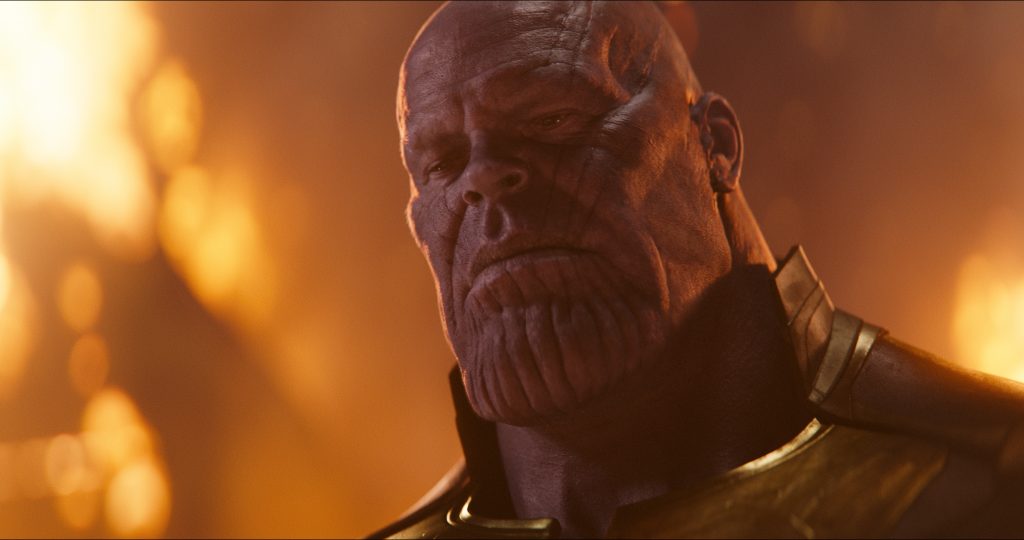 In the second image, we see an odd, six-pronged ship, and the overall message being sent in the image is the war is on.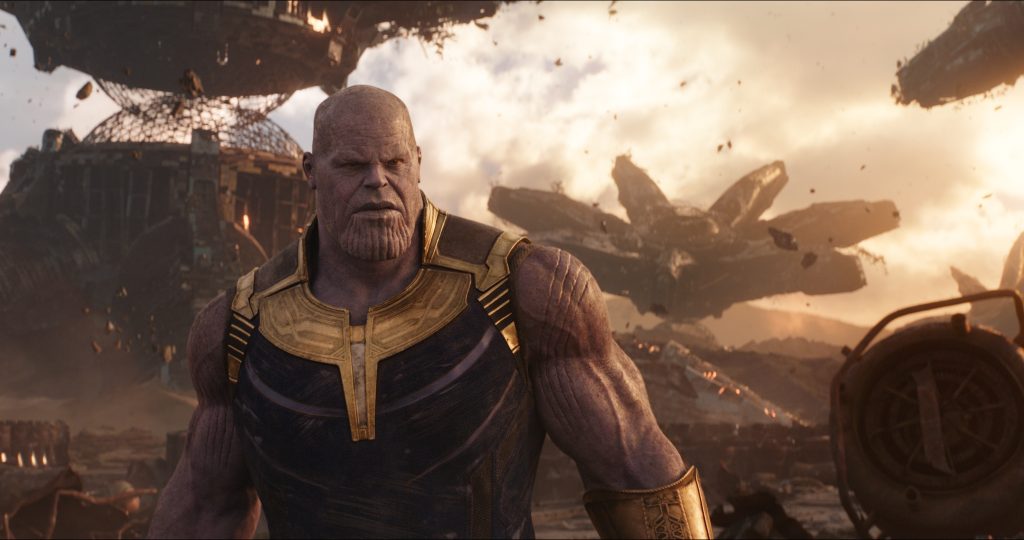 The effect of Thanos's arrival on Earth will have both cataclysmic consequences for humanity as a whole, and, personal consequences for the characters we have been following for a decade. Perhaps none more so than Elizabeth Olson's Scarlett Witch, whose relationship with Paul Bettany's Vision is one of the emotional backbones of the film. A new spot showed the two of them sharing a moment before Thanos and his army threaten to destroy it all. The fact that Vision has an Infinity Stone in his head bodes ill for his fate.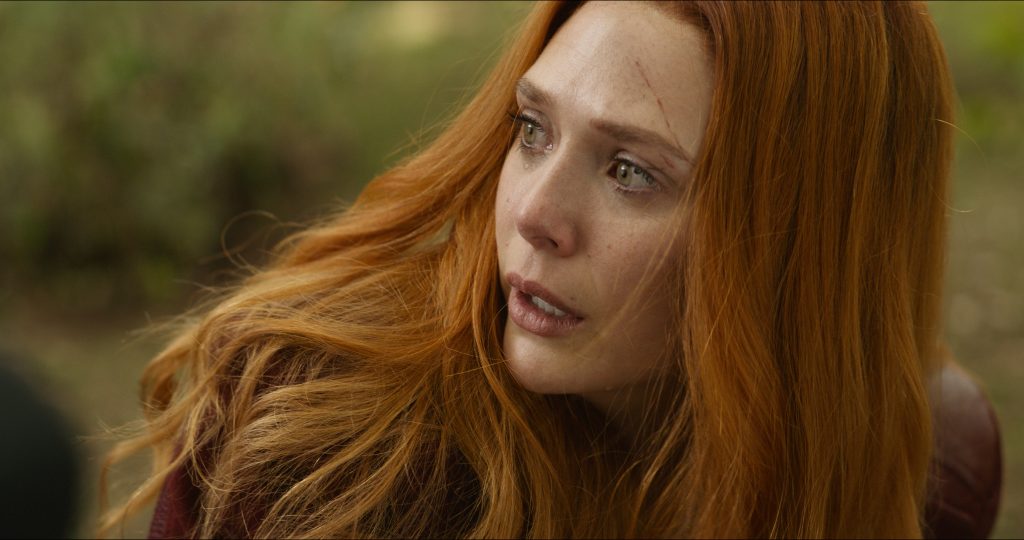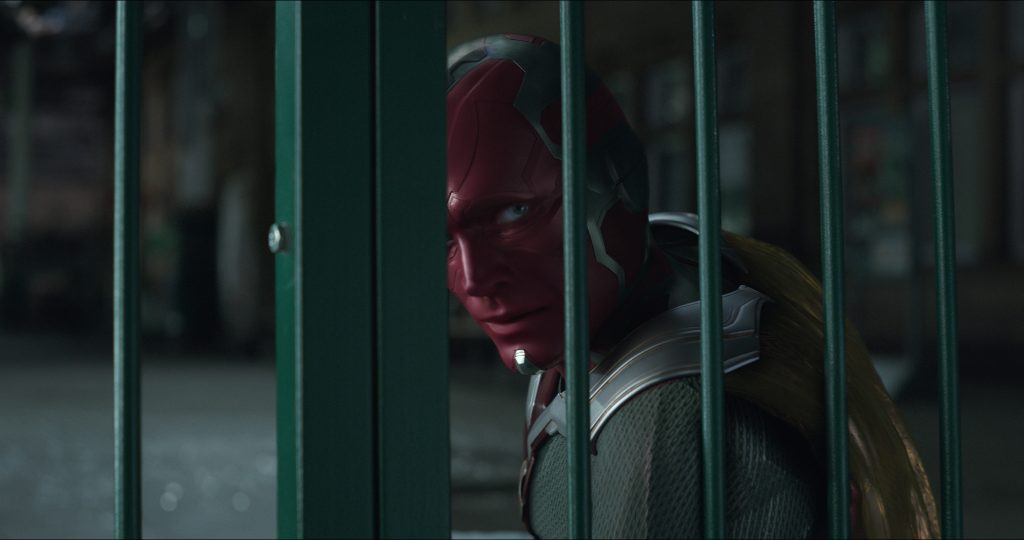 Meanwhile, these new Thor/Guardian of the Galaxy images show how this new team of super-friends first meet in space (glimpsed at the very end of Thor: Ragnarok) and then join forces to battle Thanos.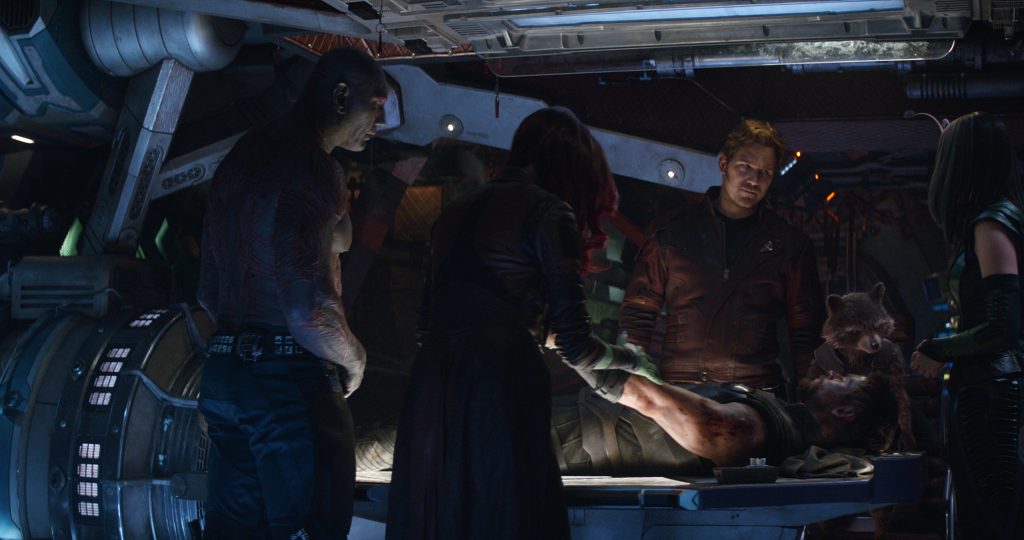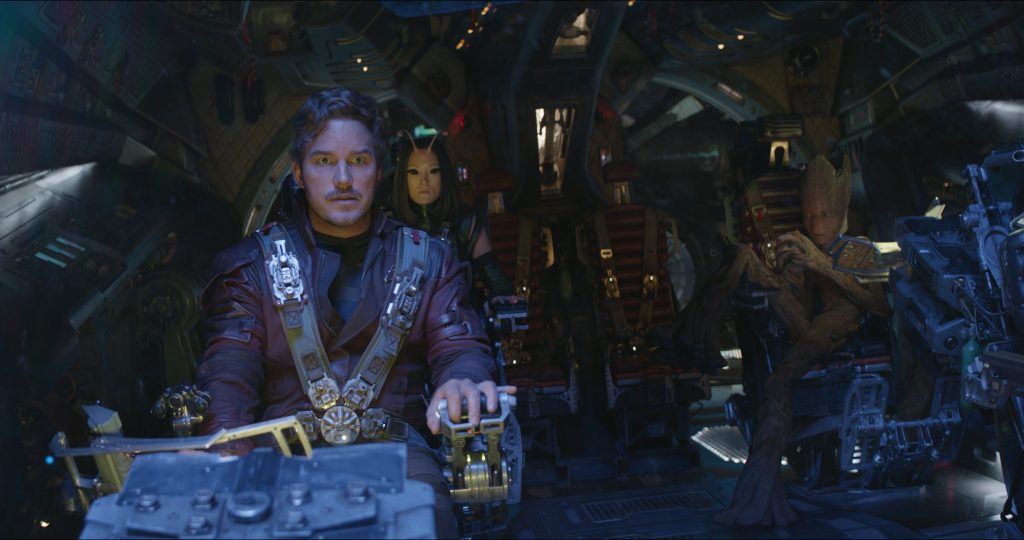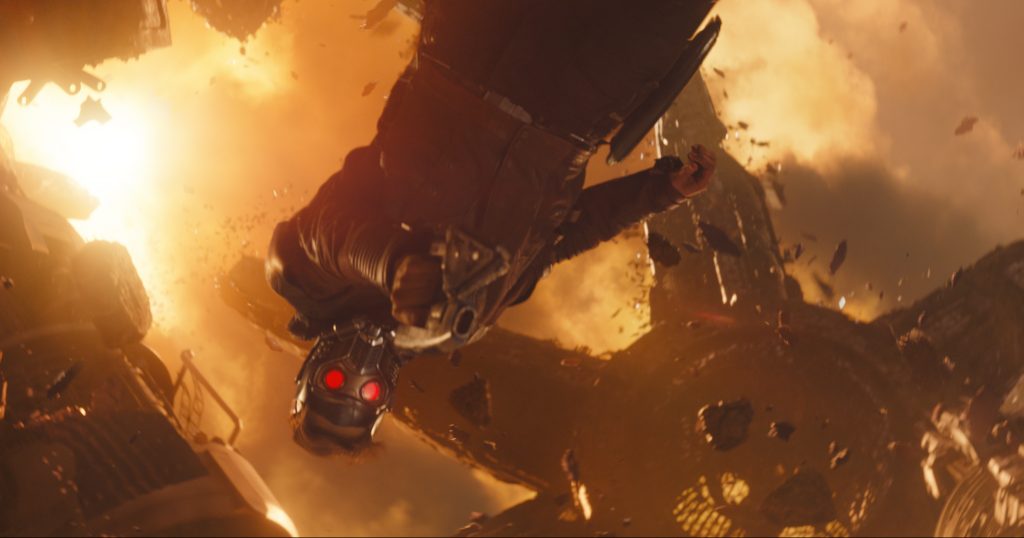 Eventually, the Guardians will meet some new friends, or as far as Star-lord and Tony Stark are concerned, frenemies.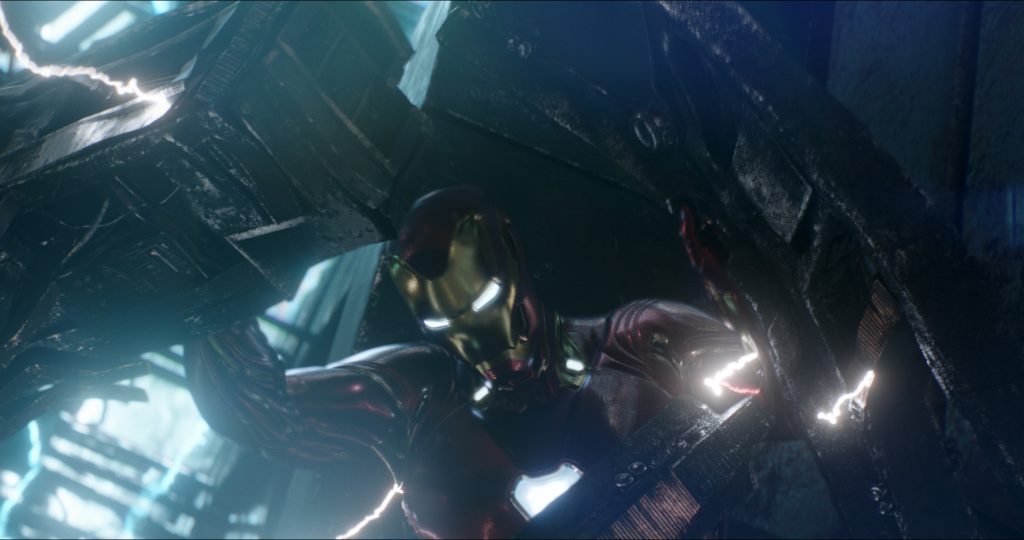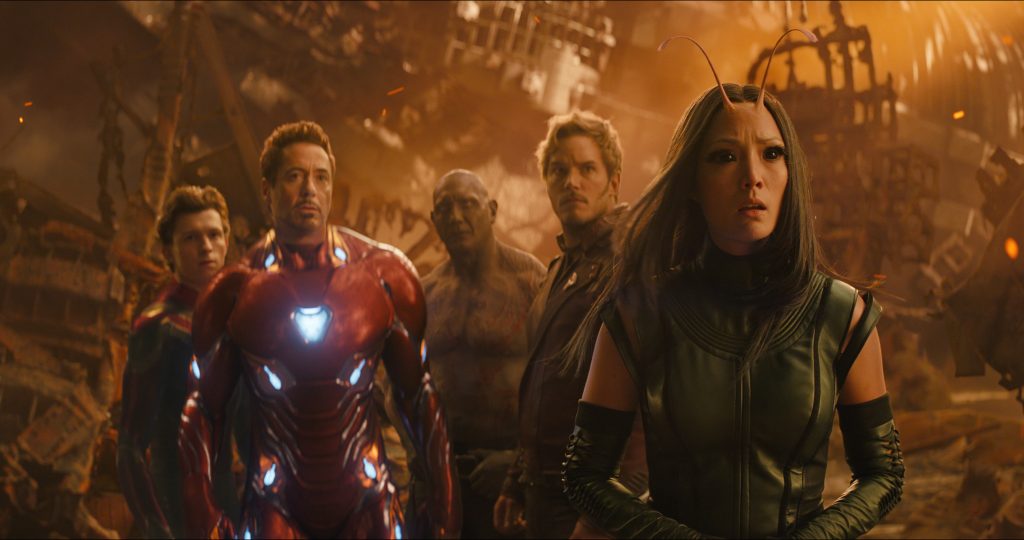 The gang will only get larger, with Dr. Strange (Benedict Cumberbatch), Wong (Benedict Wong) and Bruce Banner (Mark Ruffalo) among those who will band together. In the final, bittersweet image we're sharing, you'll see Captain America himself, blurry in the background, as if he were already stepping back, or, into memory.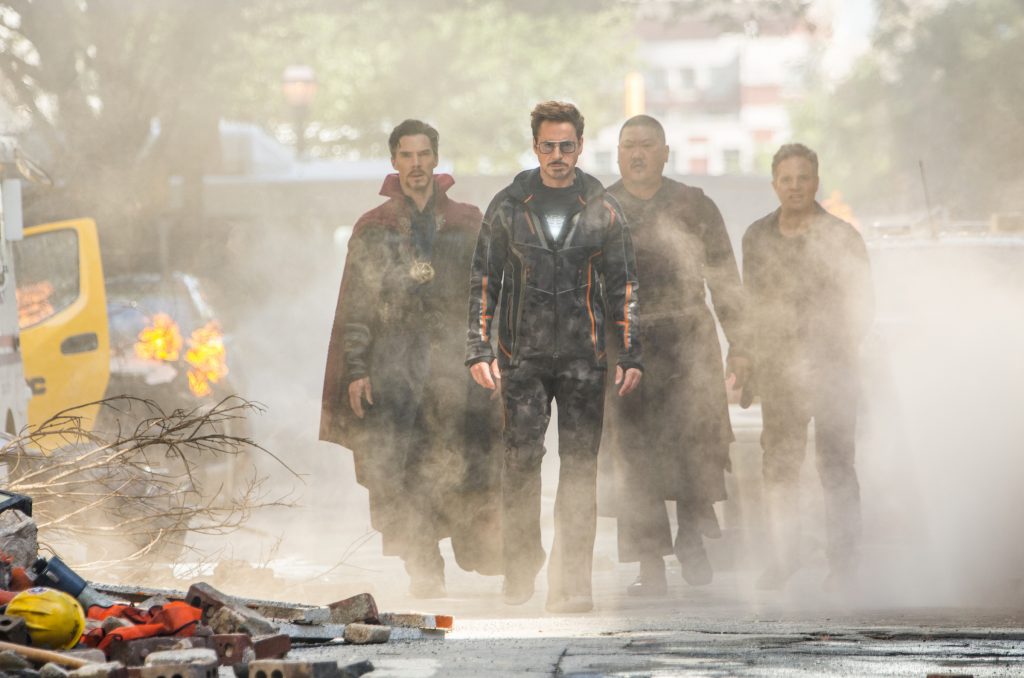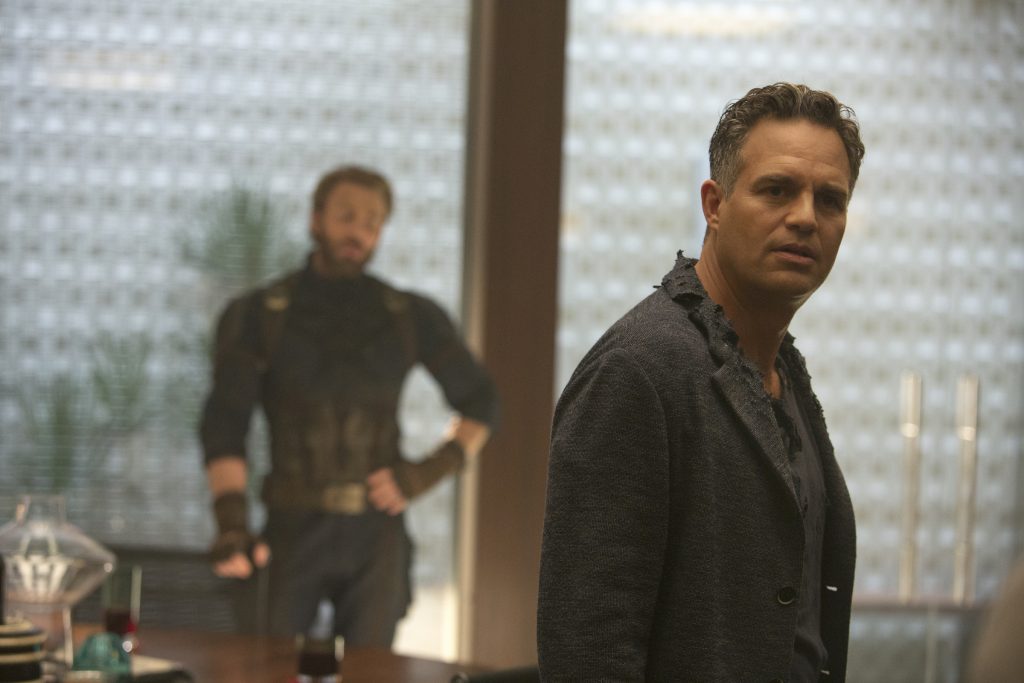 Avengers: Infinity War opens on April 27. It's going to be massive in every conceivable way.
Featured image: Marvel Studios' AVENGERS: INFINITY WAR..L to R: Spider-Man/Peter Parker (Tom Holland), Iron Man/Tony Stark (Robert Downey Jr.), Drax (Dave Bautista), Star-Lord/Peter Quill (Chris Pratt) and Mantis (Pom Klementieff)..Photo: Film Frame..©Marvel Studios 2018