Dwayne Johnson Isn't the Only Thing Smoldering in a New Digital Skyscraper Poster
Dwayne "The Rock" Johnson may be the hero we truly deserve. His latest film, Rampage, enjoyed a successful opening weekend, as our favorite be-muscled hero saved Chicago—and by extension the world—from mutated creatures. Yet when you've got charisma and pecs to spare, your work is never done. To wit: Johnson is off to China to save the day (again) when a Skyscraper goes up in flames in, wait for it, Skyscraper.
Universal Pictures released a new poster for the film on their official Instagram and it looks like Johnson will be quite literally holding on for dear life. Check out the hero hanging on to the ledge of the skyscraper with one hand while fire burns below him and embers float up from the bottom of the poster. Nifty trick. Of course the poster wouldn't be complete with the patented Johnson smolder.
From the first action packed trailer we learned that Johnson's character, Will Ford, warned the building's owner that the skyscraper presented several safety hazards—but he's just a "glorified security guard" and his advice was ignored. A group of baddies capitalized on the buildings weaknesses and the result is the top floors of the building are now ablaze. It's now up to Ford, who has been framed for the sabotage, to save the day…and his family who is trapped above the fire line. A former FBI hostage rescue team leader and war veteran, it looks like Ford is more than capable, but it won't be easy—it never is—and he'll have to utilize every skill in his arsenal to save his family.
The film was written and directed by Rawson Marshall Thurber, and this will be Johnson's third project with the director, having previously starred in two other films he directed, Central Intelligence and San Andreas. The film also stars Neve Campbell, Chin Han, and Noah Taylor. For a sense of just how gonzo the action is going to be, this image will do the trick: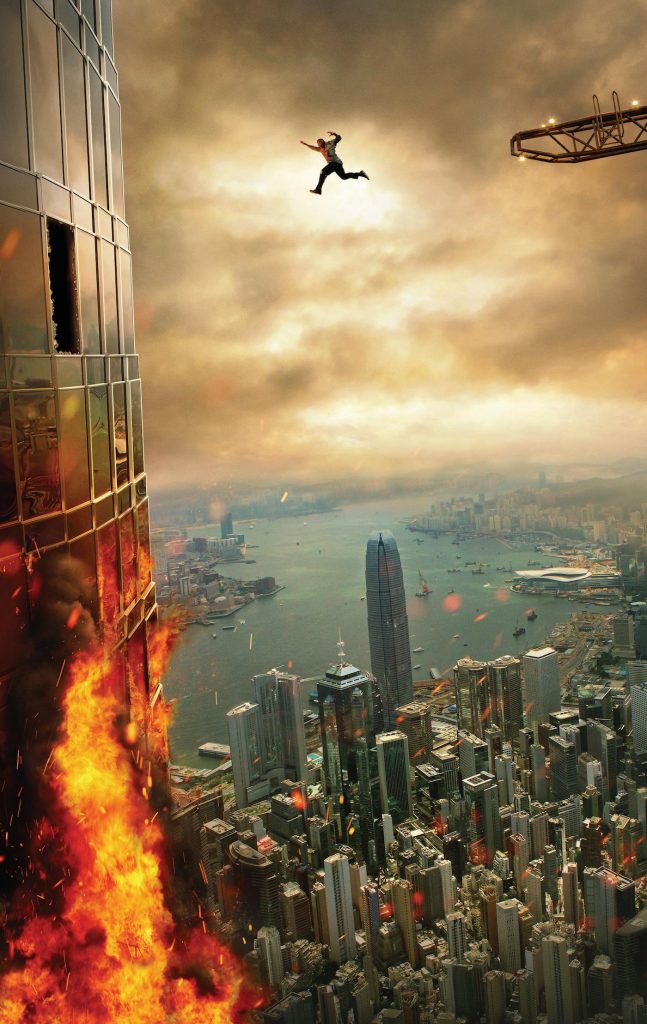 Skyscraper arrives in theaters July 13.
Featured image: Global icon DWAYNE JOHNSON leads the cast of Legendary's "Skyscraper" as former FBI Hostage Rescue Team leader and U.S. war veteran Will Sawyer, who now assesses security for skyscrapers. On assignment in China he finds the tallest, safest building in the world suddenly ablaze, and he's been framed for it. A wanted man on the run, Will must find those responsible, clear his name and somehow rescue his family who is trapped inside the building…above the fire line.