Netflix Continues Going All Out on Sci-Fi With the Gorgeous Looking Lost in Space
The first full-length trailer for Netflix's Lost in Space boasts a look as lush and wondrous as any sci-fi series we've seen on TV. This is in keeping with the streaming platform's willingness to go big on their genre films as well as their series—we've seen this on both David Ayer's film Bright and their new sci-fi series Altered Carbon—both the product of big budgets and creative freedom on offer to filmmakers and creators.
For Lost in Space, the Dracula Untold screenwriting duo Matt Sazama and Burk Sharpless have rebooted (or, in their terms, "dramatically reimagined") the classic 1960s sci-fi series, with Prison Break's Zack Estrin as their showrunner. Lost in Space is set 30 years in the future and once again is focused on the Robinson family, tapped to create a functioning, civil society on a new planet. Their trip to their new home is disastrous, and soon the Robinson's are struggling to survive, let alone make it to the planet.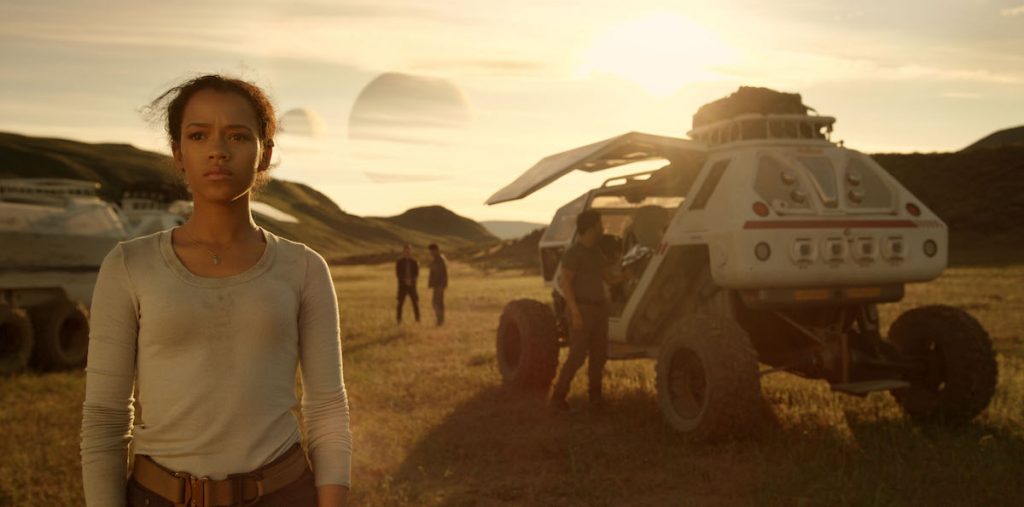 A few things pop out at you in the new trailer. One is the cast, which is fantastic. Parker Posey in a sci-fi series? Yes, a thousand times yes—Posey play Dr. Smith, described in the show's synopsis as "a master manipulator with an inscrutable end game." Sold. She ends up getting marooned alongside the Robinsons, and will no doubt be a thorn in their side. The Robinson parents are played by Toby Stephens as John and Molly Parker as Maureen, with their daughters played by Taylor Russell as Judy and Mina Sundwall as Penny. Maxwell Jenkins plays their curious son, Will, the kid on the receiving end of the iconic quote, "Danger Will Robinson."  Then there are the effects, which look fit for the big screen. When the Robinsons end up on a snowy, Hoth-like frozen planet, you'd be excused for thinking you were watching the trailer to some new major feature release.
Lost in Space is available for streaming on Netflix on April 13th. Check out the trailer below:
And here's the official synopsis:
Lost in Space is a Netflix Original dramatic and modern reimagining of the classic 1960's science fiction series. Set 30 years in the future, colonization in space is now a reality, and the Robinson family is among those tested and selected to make a new life for themselves in a better world. But when the new colonists find themselves abruptly torn off course en route to their new home they must forge new alliances and work together to survive in a dangerous alien environment, lightyears from their original destination.
A Netflix Original, Lost in Space stars TOBY STEPHENS (Black Sails, Die Another Day) as John Robinson, and MOLLY PARKER (House of Cards, Deadwood) as Maureen Robinson, the family's parental leaders who are struggling with their estranged relationship in the midst of trying to keep their family safe. As the Robinson kids, TAYLOR RUSSELL (Falling Skies) is the strong-willed and confident Judy, MINA SUNDWALL (Maggie's Plan, Freeheld) is the quick-witted and definitive middle-child Penny, and MAX JENKINS (Sense8, Betrayal) is the curious and sensitive Will Robinson, the youngest and most vulnerable of the clan, who forms an unlikely and inexplicable bond with a sentient robotic alien being.
Stranded along with the Robinsons are two outsiders who find themselves thrown together by circumstance and a mutual knack for deception.The unsettlingly charismatic Dr. Smith played by PARKER POSEY (Café Society, Mascot, A Mighty Wind), is a master manipulator with an inscrutable end game. And the roguish, but inadvertently charming Don West, played by IGNACIO SERRICCHIO (Bones, The Wedding Ringer), is a highly-skilled, blue collar contractor, who had no intention of joining the colony, let alone crash landing on a lost planet