"Special Ops: Lioness" Cinematographer & Director Paul Cameron on Taylor Sheridan's International Thriller
As director of photography, Paul Cameron has shot such disparate films and series as Man On Fire, Collateral, Déjà Vu, Pirates of the Caribbean: Dead Men Tell No Tales, and Westworld.  He has worked with a slew of top-tier directors, including Michael Mann, Tony Scott, and Jonathan Nolan. Now, for Paramount+'s acclaimed limited series, Special Ops: Lioness, Paul Cameron – as he did with Westworld – worked both as a cinematographer and director.
Created and written by award-nominated screenwriter and actor Taylor Sheridan, Lioness stars Zoe Saldaña as Joe, the head of a CIA Special Operations unit called Lioness, which recruits and puts into force female operatives who infiltrate terrorist organizations to eliminate specific high-value targets. Here, she recruits a tough Marine, Cruz Manuelos (Laysla De Oliveira), sending her inside the family of an important Middle Eastern oilman, Asmar Al Amrohi, known for funding terrorist organizations, in the hope she can eliminate him.  Cruz is backed by a raucous but sharp Quick Response Team (QRT), also under Joe's command, who quickly come to take on Cruz as one of their own.
The cinematographer of a series' first episode typically sets the show's look, along with the director and production designer. In this case, Cameron did so with director John Hillcoat, the pair shooting the first two episodes together. There had been a last-minute change in showrunners for the series, with Hillcoat coming on board, quickly sending Cameron the script to see if he would be interested.
"I loved the concept of the show," Cameron explains.  "Taylor generally writes for male characters, so I found this quite intriguing.  It felt like a great opportunity to delve into this darker female world."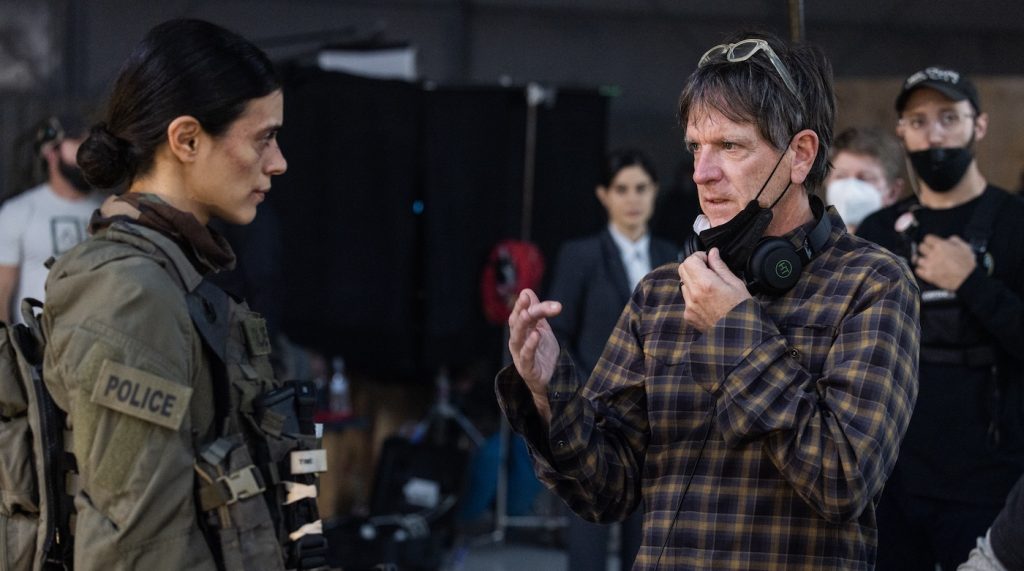 With just three weeks to prep the show, the two began a fast, condensed prep period in August 2022.  "I love working with John. We worked like a think tank, working 20 hours a day, trying to figure out how to get this show up and running in three weeks," setting up camp in Baltimore, which, among other settings, stood in for countless locations in nearby Washington, DC.
The production also shot in Morocco and Mallorca, Spain. The ISIS compound seen in the first episode was shot at a location in Marrakesh, as was the first meet between Cruz and her target, Aaliyah (Stephanie Nur), Amrohi's daughter, filmed in the city's new upscale Rodeo Drive-like shopping area, Q Street, subbing in for Kuwait City. The show's wedding sequences were filmed at a beautiful house on the ocean in Mallorca. Additional sets were also built in Mallorca, including the White House Cabinet Room, seen in several episodes. Beach scenes representing The Hamptons were shot at Rehoboth Beach, Delaware, 120 miles from Baltimore.
When Cameron and Hillcoat started, there were no other directors selected. Anthony Byrne was soon brought in to direct two episodes (103 and 104), which were shot by cinematographer Eric Koretz, with Hillcoat directing the final two episodes. That left two more to be assigned. "When I signed on and learned there were no other directors yet," recalls Cameron, "I set up a call with Taylor right away and told him I would really love to direct a couple of these, and he agreed."
Cameron assembled a capable team of camera operators, typically shooting three cameras for most scenes: Joe Cicio (A Camera), Kimo Proudfoot (B Camera), and James Ball (C Camera). Cameron had worked with Cicio on several feature films and had even tasked him as a second Unit DP on occasion. "He's a very authentic person and knows the soul of the material," Cameron states. "He has good instinct where to get the camera and can get it there."  Though he had never worked with Proudfoot before, the DP appreciated his good sensibility about camera movement and staying with a shot when needed.
In Ball, a renowned Washington documentary cinematographer, Cameron found what he calls his "secret gun." "It's important for me to have somebody who not only can help find those key emotional moments, above what the A & B Cameras are getting but to take more chances and really get in there," he explains. "Oftentimes, when you have two or three cameras, people overlap and tend to like the same shot. If I'm busy as a DP or as director, I need a C Camera to really keep going, like a bull terrier, until I find the shot," perhaps a look back or glance from an actor, in reaction, that the others may not catch.  "That's the kind of emotional shot I hope to get."
There was very little second Unit work, he says, but what there was got handled by second Unit director Jeff Dashnaw, who was also one of the show's stunt coordinators. Second unit cinematography was handled by George Billinger III, whom Cameron greatly admires.  "When you have a second unit on a streaming show, there's so little prep time. And they get thrown into a situation so quickly where they're being asked to match the look of a show with extreme lenses and a photographic style they might not be accustomed to.  And George was able to slide in and do it."
Because of his training with the likes of Tony Scott, Cameron says his approach to coverage is different from the way most cinematographers tend to shoot. "With Tony, I learned to just be fearless with cameras and put them in places I think are emotionally appropriate and not necessarily coverage-oriented," he explains.  Looking for a shot, say, with a steep angle, a little too close, to make it just the right level of uncomfortable if the scene calls for that. "It's a matter of what makes it feel right, as opposed to matching focal lengths on lenses and distances, which many shows do."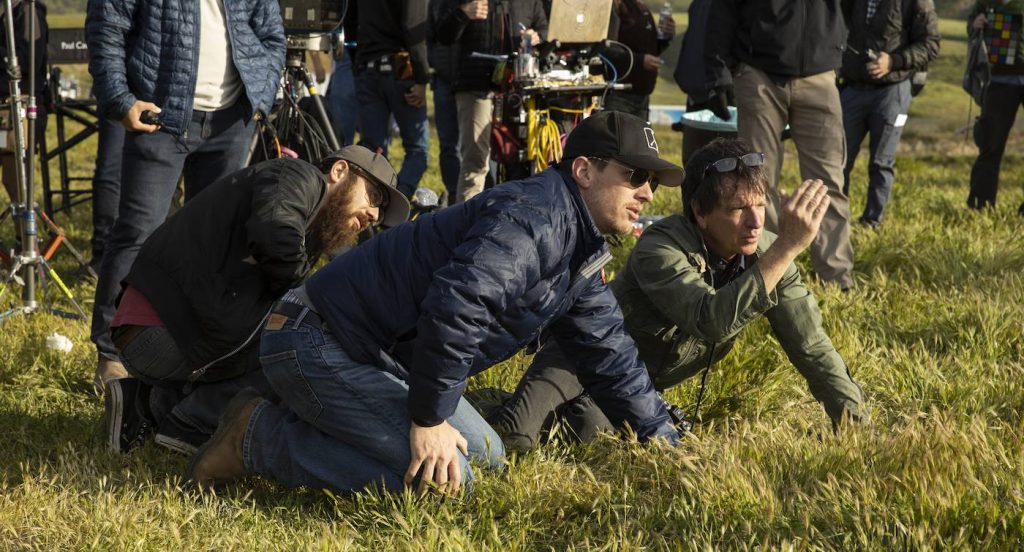 For example, in the show's second episode, Joe and Kaitlyn are meeting in a restaurant, common in Washington, where strangers often overhear important policy conversations, and Joe is truly revealing herself to her boss. Cameron photographed the pair as seen through a stained glass divider. "It's an eavesdropping thing," he explains. "We purposely sat them near that corner so they could have this conversation. I wanted it to give the viewer an uncomfortable experience, watching a conversation of someone revealing themselves that way."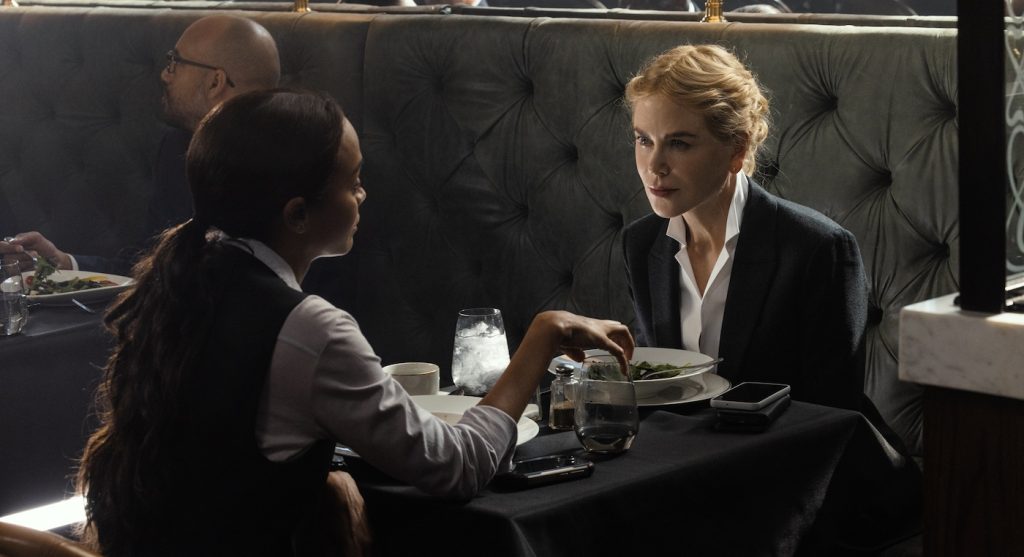 While Cameron and Hillcoat originally considered using a large format camera, like the Sony Venice or the Arriflex Alex LF, the two settled on the popular Alexa Mini LF for most of the production.
For lenses, Hillcoat didn't want to see any lens built after 1980, so Cameron gathered an eclectic set for the shoot, including Canon K35s and Zeiss uncoated Super Speed lenses (with both rear end and no coating).  "They all react so differently. The K35s have a great softness on large format, falling off on the edges really nicely.  The uncoated lenses have different qualities of halation [spreading of light beyond the source] and blooming and flaring.  So if there's something bright, the image just blooms a little, or the top halates a little bit."
To develop the look of the show, he and Hillcoat did as many directors and cinematographers do, creating a lookbook of hundreds of photos from feature films and journalistic images, representing the look and feel they wanted to create. Part of that involved allowing for the use of multiple cameras by placing most lighting above rather than putting lighting instruments on the floor. "I took bolder chances so I could move multiple cameras around a room," he explains.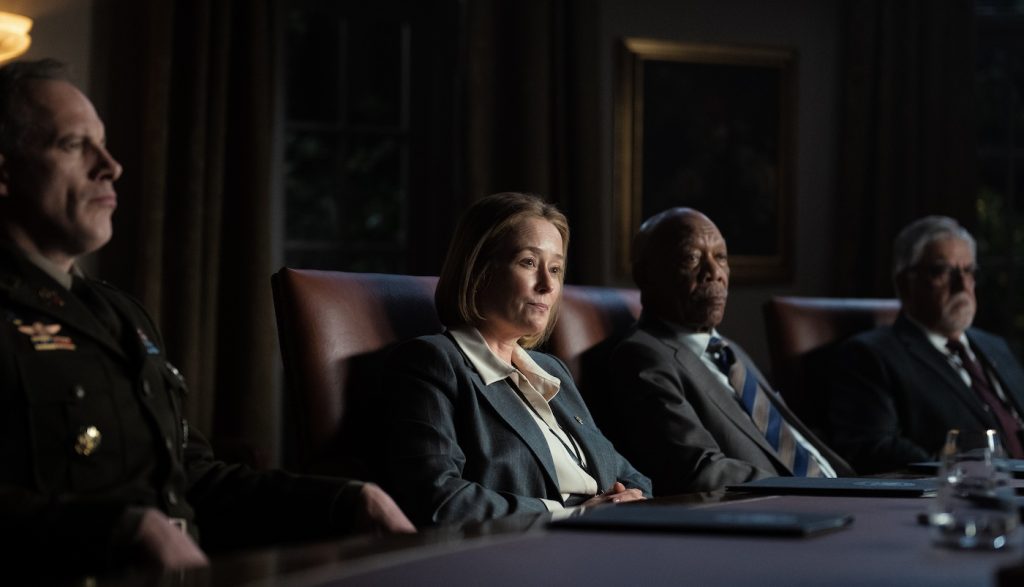 As is common with a Paul Cameron show, the image is often very dark, lit by light coming in windows, if at all, and perhaps a few practical lights on set to make it feel real.  When important, high-stakes meetings take place, for instance, the setting is often dark, with just the characters' faces drawing the viewer's attention.
"I just can't help lighting and shaping faces with light," he explains. "I love having these environments dark, with these faces popping off the background. When Joe interviews Cruz in the first episode, inside a barracks during the daytime, the interior is barely lit, save for some light coming in from windows behind them as they talk, the pair almost visible just as silhouettes. "Because that's the level of discomfort Cruz experiences there and the way she stands up to Joe. In a scene like that, you want to have some kind of emotional impact on the image. It might feel darker – the falloff on the face is greater, and you barely see the eyes, but there's eyelight in there.  You just see them staring at each other."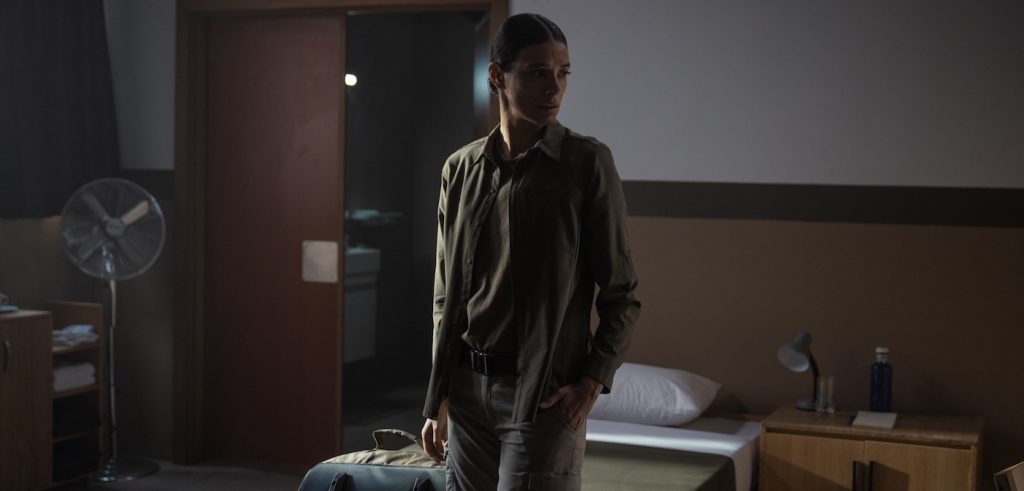 In the show's second episode, Cameron was called upon to shoot one of the most difficult – and disturbing – scenes in the series, one in which Joe secretly puts Cruz through a yet-tougher version of a training known as S.E.R.E. – survive, evade, resist – where she appears to have been kidnapped by unknown assailants.  They attempt to break her with beatings and torture – so that Joe can find out where Cruz's true breaking point is.
The sequence was shot, for the most part, with three cameras. "They're constantly trading off for different moments, racking focus at different points. So I'm constantly choreographing three cameras," Cameron says. In a way, it's a classic fight shoot, he says, taking advantage of his many years shooting fight sequences and working with renowned stunt coordinators Jeff Dashnaw and his wife, Tracy Keehn-Dashnaw.
"It starts with a quick conversation with them, 'This is what we want this fight to feel like,'" he explains.  They'll craft the fight and film it, showing it to Hillcoat and Cameron for comment.  "John and I will look at it, and it'll be a great three-minute fight, but it might not have a particular impact, editorially.  We're looking at it together in terms of how you build your edit. And where to get that camera to make a particular punch work or be more impactful or more brutal or violent. That's the goal in a fight."  For placing cameras, Cameron will watch to see where the stunt coordinator is standing.  "Where they're standing, watching the fight, is usually where the camera wants to be," he notes.
In part two of our feature, Paul Cameron talks about how he applies both what he knows from being a cinematographer and what he learned from his directing mentors to his role as director on "Special Ops: Lioness."
For more films and series from Paramount and Paramount+, check out these stories:
"Killers of the Flower Moon" Star Lily Gladstone Takes Center Stage in New Video
"Killers of the Flower Moon" Star Robert De Niro the Focus of New Character Video
"Killers of the Flower Moon" Character Video Reveals Leonardo DiCaprio's Ernest Burkhart
Featured image: Zoe Saldana as Joe in Lioness Season 1 streaming on Paramount+, 2023. Photo Credit: Lynsey Addario/Paramount+