"Pain Hustlers" Director David Yates on Departing From the "Harry Potter" Films in Subversive Style
In Pain Hustlers, the opioid crisis takes on a different tenor than that previously seen in hard-hitting dramas like Hulu's limited series Dopesick and fellow Netflix's own Painkiller. While still inspired by actual events, David Yates' retelling of a "fascinating state of the nation" falls more in line with the big-bang type of storytelling akin to The Wolf of Wall Street and The Big Short.
"What that gave us was just license to play, and we could be a bit more subversive and playful, and the humor we could bring to the story felt [that] this movie would then depart from some of the other dramas that were being made in the opioid drama space," Yates says.
Over the course of a year, Yates and Wells Tower completed a screenplay based loosely on Evan Hughes' 2018 New York Times Magazine article about billionaire John Kapoor's Insys, a company that reached obscene heights by incentivizing the overprescription of a dangerous fentanyl spray. Concurrently, Hughes was gathering fodder for his eponymous novel while attending Kapoor's trial, which resulted in the disgraced founder's eventual 66-month sentencing for his bribery.
"We knew at the very outset that we didn't want it to be a beat-by-beat translation of Evan's book," said Yates, best known for his directorial work on the latter handful of Harry Potter films and subsequent Fantastic Beasts spinoffs. "We wanted to use Evan's book as a starting point and to have the artistic license to build a world based on Evan's book, and in that journey, we created the character of Liza Drake, someone we felt could carry this story and bring us into it in a way that felt universal and accessible."
Portrayed by Emily Blunt, Liza Drake is a working-class single mother who, after a chance encounter with Chris Evans' sleazy corporate man Pete Brenner at a strip club, enters the highly risky, highly rewarding, and highly dubious world of pharmaceuticals. As the upstart company lavishly expands, Liza is confronted with her daughter's worsening medical condition, her erratic and eccentric boss, and the life-and-death fallout of the company's elaborate kickback schemes.
Liza and Pete, Yates said, are composite figures inspired by several different real people.
"The fact that Liza is a single mum means that perhaps we have a bit more natural empathy for her in some regards," Yates said. "We always wanted to explore this idea of a human being who's undervalued, underappreciated, has a real challenge in her life to be accepted and to be acknowledged and to be respected, but she's got this amazing superpower, which is empathy and the ability to look at someone and realize how to sell something to them and how to sort of manipulate them, really."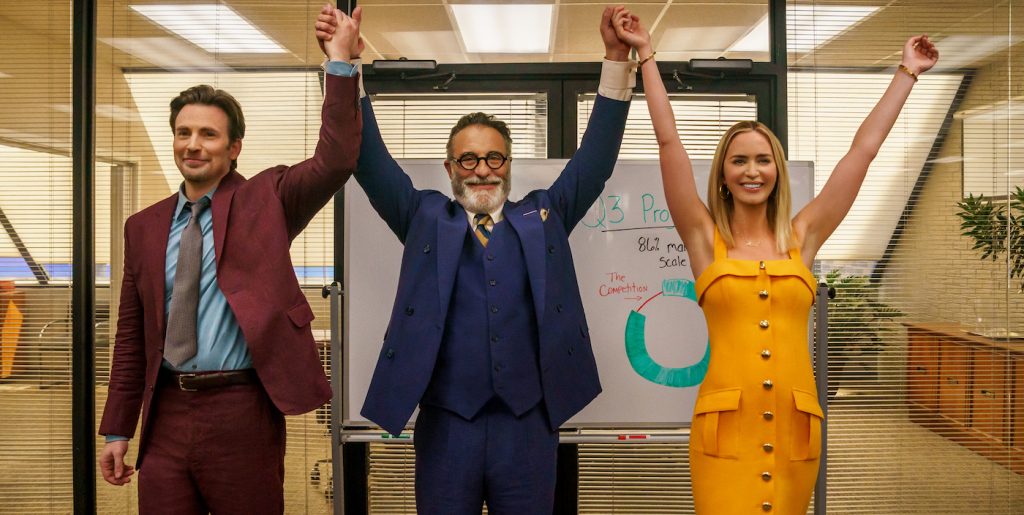 For both Blunt and Yates, while it was important that the story unfolds through the lens of a woman acting out of desperation rather than greed, Liza is not a martyr nor a blindsided innocent victim.
"There is a fine balance," Yates explained. "We do think that we wanted Liza to realize she was doing the wrong thing ultimately but still do it. That was an important part of the story for us. Emily, in particular, was very passionate about that; she didn't want to have a character who was cleaner than clean, who was just a decent person. She was intrigued by a human being who was a bit dodgy."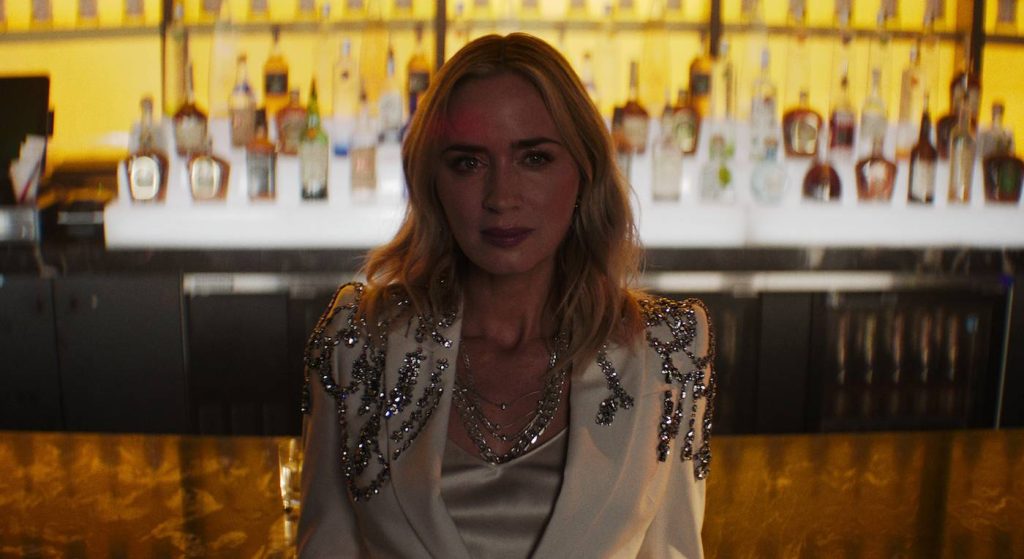 In a great departure from the work Yates is known for, Pain Hustlers — which had its initial premiere on Sept. 11 at the Toronto International Film Festival — thrives in chaos, reaching a fever pitch when the pharma company arrives at its calm-before-the-storm billion-dollar evaluation. 
"I wanted the movie to feel relentless in its pace, in many ways reflecting the crazy pace of which this company went from this tiny outfit that was failing into this crazy huge IPO success story," the director said. "We wanted to mirror that in the language of the film."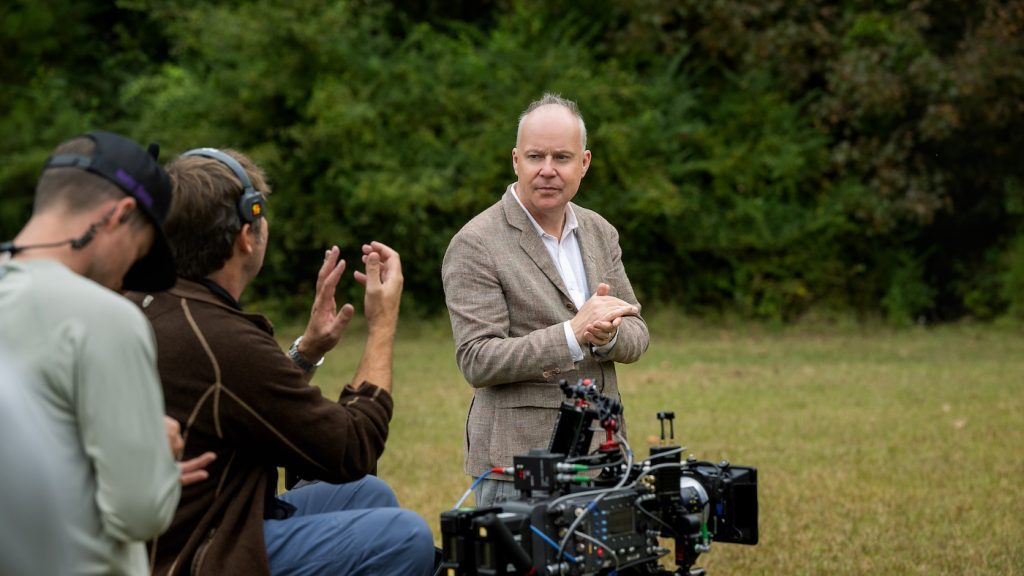 As a result, the film employs numerous jump cuts and freeze frames, over which several characters narrate their thoughts. In one scene, Blunt's character pauses to the tune of a cash register opening: kaching.
"When I was making Potter or when I was making Beasts, those movies naturally lend themselves to a very classical treatment, very elegant camerawork, gentle movement, very classic storytelling technique, whereas this story demanded something a little bit more bonkers," Yates described.
With a "frenetic and fractured" cinematic style, Pain Hustlers is also supplemented by a pseudo-documentary element that hints at the story's real-life inspiration and allows for medical jargon to be outlined in a concise manner. 
"It was a way of giving context and also insight into how the characters were feeling too," Yates said. "So it was a style that was baked in pretty early on in the way Wells was building the script."
To match the film's "propulsive" pace, Yates worked closely across the board with departments like music and costume to nail the film's audiovisual language. Having previously collaborated with Colleen Atwood, Yates and the renowned costume designer worked to depict Liza's evolution through costume.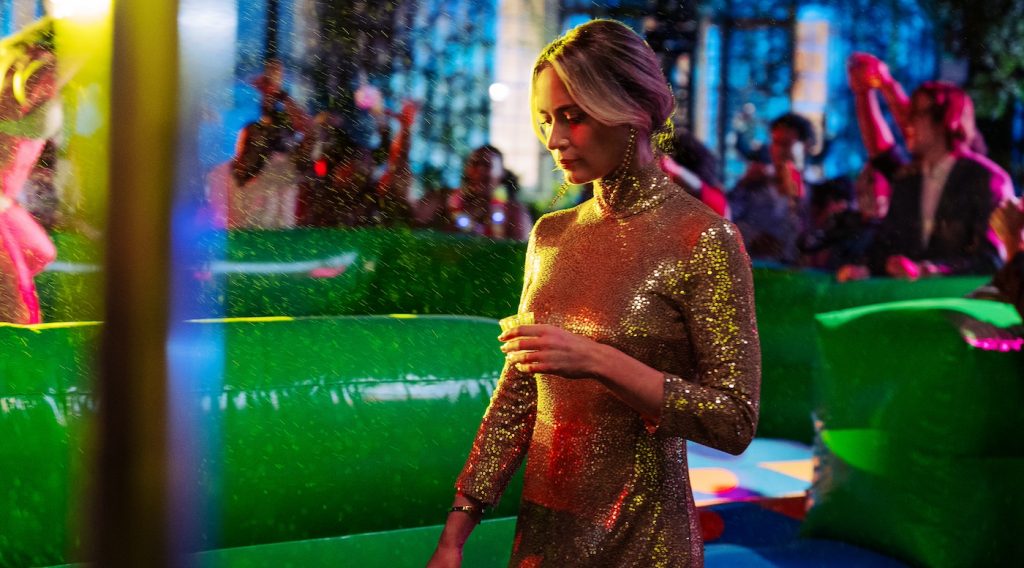 "It was fun charting this journey of a woman going from poverty to riches, from feeling a failure in life to someone who was a huge business success, but all in a slightly blingy, bold, slightly off-color way," Yates said.
But even as the film dramatizes one segment of a country's epidemic, Yates stressed that the movie's goal was to be as thought-provoking and moving as it is entertaining. To accurately and sensitively depict the serious subject matter, Yates and Blunt collaborated with the Georgia Prevention Project and spoke to victims' loved ones. As the consequences of Liza and Pete's actions are realized, the film's tone matches the sobriety of the moment.
"The film starts to settle down in the final third as it gets a bit more serious, and we use fewer techniques to fly the story along as the consequences of what these characters are doing come home to roost and to rest," Yates said.
For the filmmaker, Pain Hustlers is both a hell of a ride and a lesson that audiences can learn from: "I would hope that [people] watch the movie and they come away realizing the depth of the crisis but also ask questions next time they go to the doctors to get a prescription," he said.
Pain Hustlers is now playing in theaters, with a Netflix debut set for Oct. 27.
For more on big titles on Netflix, check these out:
The Official Trailer for Bradley Cooper's "Maestro" Hits All the Right Notes
"The Crown" Season 6, George C. Wolfe's "Rustin," David Fincher's "The Killer" And More Highlight Netflix's November Titles
Mahershala Ali and Julia Roberts Face the Unthinkable in "Leave the World Behind" Trailer
Featured image: Pain Hustlers – (L to R) Emily Blunt as Liza and Chris Evans as Brenner in Pain Hustlers. Cr. Brian Douglas/Netflix © 2023.