"Dumb Money" Music Supervisor Susan Jacobs Takes it to the Bank With Cardi B, Kendrick Lamar, & Unknown Artists
In telling the true story of the 2021 Wall Street GameStop meltdown, Dumb Money (in theaters now) needed to transport audiences straight back to their Pandemic-era head spaces when grassroots investors led by Keith "Roaring Kitty" Gill (Paul Dano) defied hedge fund managers to boost the stock value of a previously obscure company. Intent on setting a period-perfect tone, director Craig Gillespie asked music supervisor Susan Jacobs to wrangle hip-hop tracks redolent of the COVID era.
Jacobs, who previously teamed with Gillespie on I, Tonya and Cruella, came out of music management in the nineties and got off to a fast start, working with Robert Altman on Short Cuts. More recently, she's become one of Hollywood's most prolific song-pickers for edgy projects like Promising Young Woman, American Hustle, and Big Little Lies, for which she earned an Emmy award.
Speaking from her New York City home, Jacobs explains how she intermingled expensive hip-hop bangers from Cardi B, Megan Thee Stallion, and Kendrick Lamar with tracks by unknown artists. "The way Craig uses music, you really have to have quality," she says, "You can't be like, 'Oh, here's a library track.' The production has to be just as good as something by Cardi B."
With literally millions of contemporary songs to pick from, how did you pare down your choices for Dumb Money music cues?
Some of it came right out of the script because the writers Lauren Schuker Blum and Rebecca Angelo were like, "We want to bring people back to Covid when GameStop was goin' down." So we earmarked this particular time by using Megan thee Stallion and Cardi B [tracks] and also Kendrick Lamar's "Humble." These songs put people right where they were during the Pandemic.
It's funny how popular songs can instantly take you back to a specific time and place.
Yeah. Megan, Cardi B, and Kendrick were the cornerstones of letting us know where we are. That opening track, "WAP" by Cardi B, was such a huge song during Covid. And the scene where the guy's doing Megan Thee Stallion's "Savage" dance — that was huge. And then Kendrick Lamar — lyrically, the thing about being "humble" really gives us the emotion of that time.
Powerful tracks…
But the thing that was challenging is that hip hop is ridiculously unaffordable because there tend to be a ton of people involved with samples and all that stuff. Hip-hop tracks go for a really high price.
So once you've spent big money to license these cornerstone tracks, where do you go from there?
Our strategy was to fill it with music nobody had ever heard before.
How did you do that?
We had demos or beats and grooves, and it was like, "Let's go turn this into something." I went to producers I love and said, "What have you got? Who's young? I don't have [much] money, but I have a great movie." This really fun track, "Stack It," which plays when Pete Davidson's driving and the French fries are flying all over — was made in 2019 by this girl [Kay Ro$e] who's going to law school now.
Which producers did you reach out to?
Mark Batson. He's won Grammys, he's worked with Drake, co-wrote with Alicia [Keys], and he loves mentoring young artists, which is why I sent him the movie. Mark watched it and said, "I'm in." All the artists he brought in are people nobody's ever heard of before. He made that dance track "You Make Me Wanna Purr" with a young woman who's never even sung before!
The songs contribute so much to the flow of the story, tying together all these different characters and subplots.
Definitely, I also want to mention this young composer, Will Bates. A lot of big [composer] names were being thrown around, but Craig let me use Will, and I thought he did a great job weaving in [score] between the songs. It's got a groove, it's got a hook, and you don't feel like this is the score and these are the songs. It's all this super-cool beat-driven thing but with heart. And heart is the most important thing for Craig. I worked with him a couple of times before on I, Tonya and Cruella, but I never got Craig out of the seventies. With Dumb Money, I don't think any of this music would be on Craig's Apple playlist, so it was fun to bring him along on this journey.
Whether it's the score or individual songs, hip-hop somehow seems to be a good fit for everything from billionaire pool parties to college dorms. How is it that you've got hedge fund managers like Seth Rogen's character listening to rap?
Well, Seth Rogen needs to be cool. It's the world of finance so he's having parties, he's having deejays, they're going to be playing things that are current and edgy.
Vincent D'Onofrio is so formidable as Wall Street mogul Steven Cohen. Did you have a signature sound for his scenes?
We didn't really go into character as much as the environment in this movie. Paul Dano's the only character who had thematic material — this little piano motif — but most of it is grungy and hard, like when the [billionaire] guys are playing tennis, and the music's going "bum bum BOOM, bum bum BOOM." Will made the music sound like elephants: "We're going to STOMP. ALL. OVER. YOU."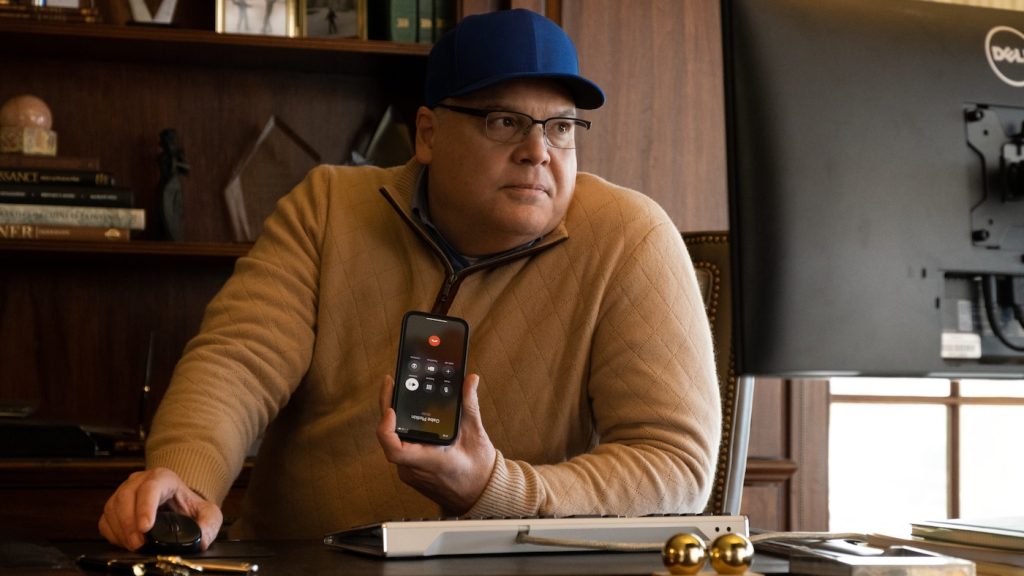 Another subplot follows college girl investors in Texas.
Everything to do with college was more indie R and B and lighter hip hop. We saved edgier stuff for things like [start-up brokerage firm] Robin Hood. Mark wrote this song called "Litt," and Craig's like, "I need it dirtier!" So Mark made it pretty dirty. It's only 40 seconds in the movie, but then he had to finish it for the soundtrack album, and I told him, "Don't play that for your momma!"
On a tangent for a moment, this year alone, you music-supervised the Jennifer Lawrence comedy No Hard Feelings, M. Night Shyamalan's Knock at the Cabin, and five TV series in addition to Dumb Money. You must have a team?
I don't really have a team. I have one person, Jackie Mulhearn, who's been with me for 15 years, and I have an intern coordinator person, but I'm such a control freak, I can't farm anything out. I need to hear it. People can give me playlists to weed from, but nothing gets to the director until I listen. Most supervisors do have teams, and they're financially doing a whole lot better than me, but that doesn't matter. I'm like an artisan bread maker. I'm still going to bake my loaf, put my yeast in, and do it the old-fashioned way.
Clearly, your "old-fashioned way" resulted in a very sympatico soundtrack for Dumb Money. I imagine you went back and forth with Craig on both the score and the song choices?
Well, yes, because it's a collaborative sport, and he trusts me. I told Craig, "We can't go out to the normal five [A-list composers]. We need to bring on a young composer, and this is who you should go with because so we can balance score with songs." I love the fact that Craig will say, "Let's go!" That's the beauty of working with somebody for a number of years.
Of course, it helps you that you possess a real knack for matching music to film.
Well, I have to look at everything as a whole. I don't think of songs and scores [as separate elements]. To me, it's all one picture, and whatever the film needs, it tells me. I might have ideas about what to put in, and I can tell you the film will kick them out really fast. It'll say, "No, thank you."
The film tells you?
It does! Some music the film absorbs. Other times, you might think it would be cool to use a brass band, but the picture just won't take the instrumentation. I always tell directors the script is like an infant baby. Then, after you shoot it, the movie becomes an unruly teenager. This didn't work; that didn't work. You just have to pay attention.
For more on Dumb Money, check out these stories:
"Dumb Money" Director Craig Gillespie Dissects the Wall Street GameStop Debacle
The First "Dumb Money" Trailer Reveals the GameStop Stock Movie We Need Right Now
Featured image: