"Dumb Money" Director Craig Gillespie Dissects the Wall Street GameStop Debacle
Dumb Money director Craig Gillespie already knew all about "Roaring Kitty" when screenwriters Lauren Schuker Blum and Rebecca Angelo sent him their script detailing Wall Street's Pandemic-era GameStop fiasco. The David and Goliath showdown pitted YouTube financial guru Keith Gill, AKA "Screaming Kitty," against hedge fund billionaires who were "short-selling" GameStop stocks so they could drive down the value of the then-obscure video game retail outlet. Gill's defiant advice to buy GameStop shares attracted some eight million followers. They included Gillespie's 24-year-old son, who was living at home. "When GameStop happened in real-time, I was watching what my son went through as an investor. There was this very real sense among the people who followed Keith Gill that the system was rigged against them."
Gillespie made an earlier fact-based film in 2018 when he steered Margot Robbie to an Oscar nomination for portraying Tonya Harding in I, Tonya. With Dumb Money [in theaters on September 22], he cast Paul Dano to play Screaming Kitty and surrounded him with a cast that includes Seth Rogen, America Ferrera, Pete Davidson, Shailene Woodley, and Anthony Ramos.
Speaking from New York, Gillespie digs into Dano's remarkable performance, details why he and his team completely changed the movie's third act during pre-production, and explains why he likes actors who know how to  "dance with the tone."
Paul Dano does a great job channeling the real-life Keith Gill, the "Screaming Kitty." How did you decide to cast him?
When I went through all the videos posted by Keith Gill, Paul was the one who came to mind.
He looks similar to Keith, right?
He looks similar, but also, there's a sincerity and lightness and vulnerability to Keith Gill, which helps explain why he had eight million followers. In doing my homework on Paul, my son said, "Check out Swiss Army Man," which I hadn't seen. The exuberance and joy Paul shows in that film are the qualities that would allow audiences to find Paul as believable and lovable as Keith. We connected, and Paul signed on very quickly.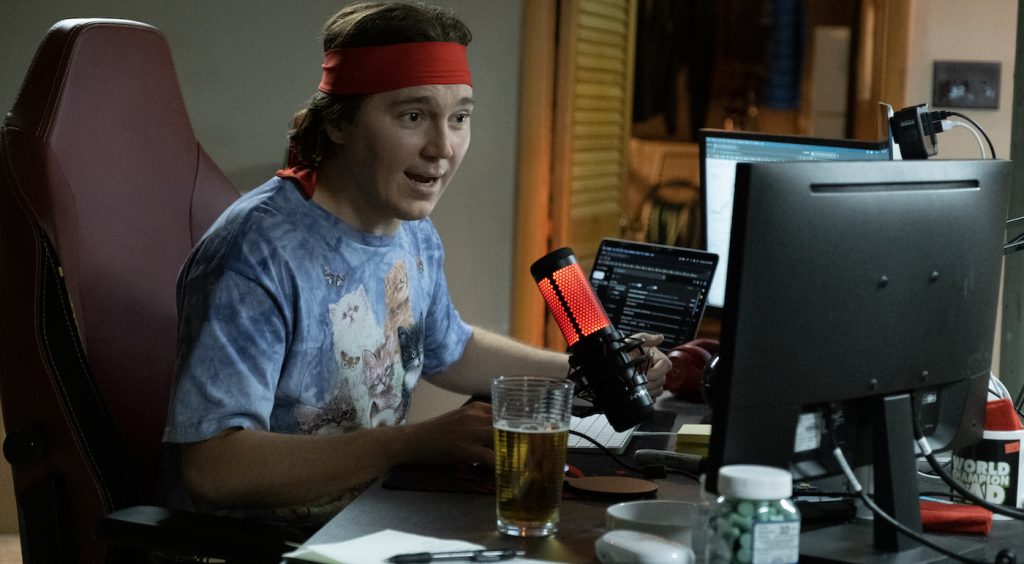 You had only 31 days to film this story that unfolded just a few months ago. By Hollywood standards, that's a fast turnaround.
It was super-fast. Six weeks out, every Sunday, Paul and I would sit down in Brooklyn, go through the script, and dig into his character. Paul elevated it in such a profound way because Keith was posting these videos every week for a year. Not only did Paul study those videos and get down Keith's mannerisms, he was also consuming all this information. Paul became almost the gatekeeper for this character.
The GameStop madness was still unfolding during pre-production?
The story was moving so quickly we changed the third act. After I saw the actual congressional hearing, where Keith was the only individual standing up against all these corporations — I thought, "Wow, this is the end of our film."
Were there other updates?
Yes. Paul and I talked about all the pressure Keith was under. He's just lost $30 million in 48 hours, he's been subpoenaed by Congress, and he's been fired from his job, so we wanted scenes that showed that. When we saw the Daily Mail photograph of Keith, I calledl the writers and said, "We need a scene that shows all this press outside of Keith's house." I told my production heads, "If we do this right, you shouldn't be able to breathe for the second half of the film -— it should be that intense."
The pressure comes to a head when Keith's working-class family questions him because he's invested his life savings in GameStop, and now he can make eleven million dollars simply by hitting "sell" on his app. But for Keith, it's not just about money.
Exactly. Keith believes in the cause, he believes in his research, and he believes in his heart that GameStop stock is going to go higher. The internet can very quickly sniff out B.S., but Keith is a man of conviction, which is one reason so many people rallied behind this one individual. But obviously, there's also the pressure of having eight million followers.
Pete Davidson makes an entertaining contrast in his role as Paul's antic brother, Kevin.
I enjoyed having Pete Davidson and Paul in so many scenes together, and their approach couldn't be more different.
How so?
Paul's very methodical and classically trained, whereas Pete's coming from an improvisational background, so you want to let him loose. It was wonderful to have that edge on set because as much prep as Paul had done, he didn't know what Pete was going to throw at him. When I told the writers I wanted a scene with the brothers talking about this high-pressure situation, they came back and said they'd found this small article about how Kevin Gill ran a mile naked in a thunderstorm. They wrote a scene around that, and later, when we show Keith getting ready [to testify], Paul called me the night before we shot that scene and said, 'I want to get in this line 'I'm running with my d*ck out' as a callback to that conversation he and Kevin had earlier. Paul was so focused on the journey of his character; you can't wish for more as a director.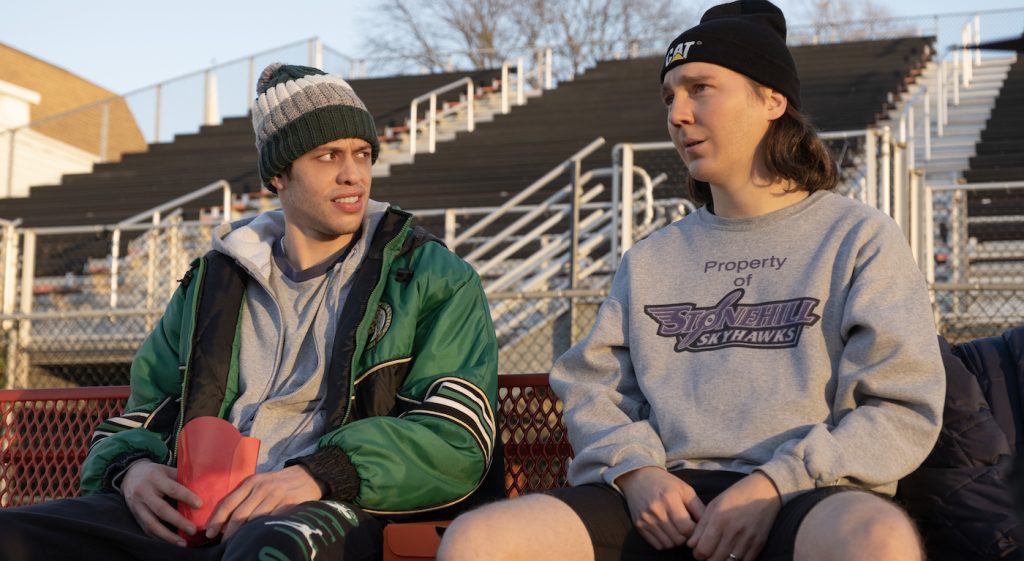 This movie weaves together characters who are connected only through iPhones and laptop screens. Except for Paul and his family, you hardly ever had actors in the same room at the same time. That must have been challenging.
It was a new actor in a new location every week. There was no prep time, so they'd jump right into the scene, and they'd have to do the dance with the tone we were working with.
"Dance with the tone?"
The dance between humor and drama—that's my sensibility. In life, we use humor in dramatic situations to deflect or use as armor. I try to find actors who can do that dance because I think it's in their DNA.
You don't want to over-explain it.
You can't. You can't instill that rhythm.
America Ferrara portrays a typical GameStop investor, Jenny. She's a single mom, a nurse, and money's tight. How did she find her groove?
America Ferrera and I connected very quickly on an emotional level, understanding that her character represents people who have experienced incredible frustration in this country over the disparities in wealth. We wanted America's character to show that frustration, but she also needed a deft touch with the humor. You need to find ways to make the characters accessible, and she did that beautifully.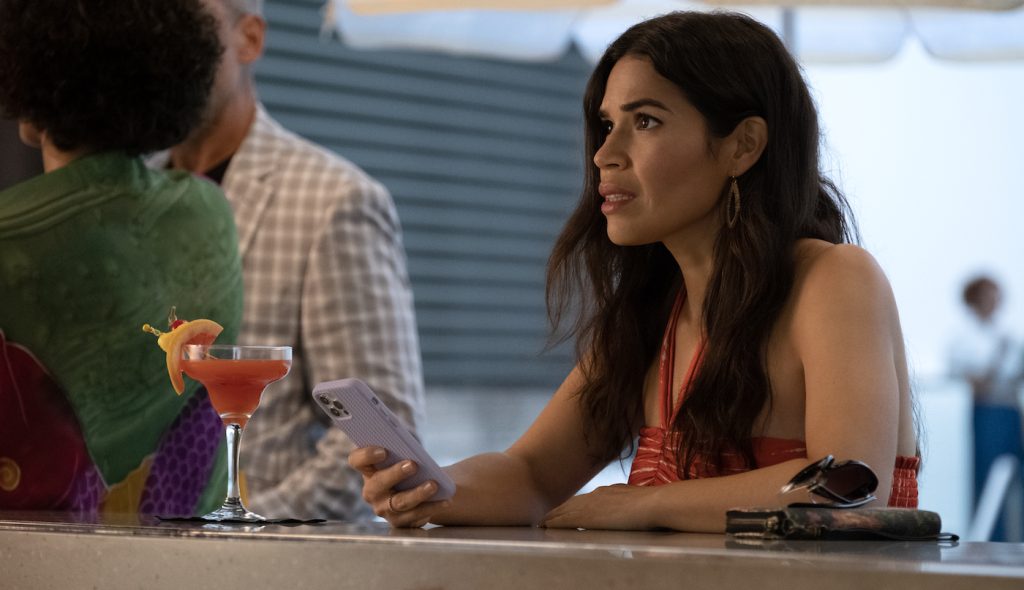 Besides Keith's family in Brockton, Massachusetts, you've got Seth Rogen's hedge fund millionaire in Florida, the college student investors in Texas, and characters in Connecticut and Pittsburgh. How'd you coordinate all those locations on such a tight schedule?
We shot most everything in New Jersey with the exception of four days with Seth in Los Angeles.
Dumb Money feels very specific to the Pandemic era. The humor, the music, and the likable actors brighten this essentially dark chapter of very recent American history.
One thing I was particularly excited about is the idea of Covid as a backdrop and as a character. In this moment of time, you saw lives being lost, jobs being lost, small businesses shutting down, the isolation, and the government aid that wasn't coming through. There's this real disparity of wealth in our country, insulated by Covid, that created that moment.
What do you see as the Dumb Money takeaway?
People should be outraged by the end of this film. As fun a ride as this movie can be, by the end of it, I want you to walk out of the theater and feel like: "This sucks." And it's not just about the stock [market]. Our film is a mouthpiece for the frustration people feel.
For more upcoming films from Sony Pictures, check out these stories:
"The Equalizer 3" Director Antoine Fuqua on Re-Teaming With Denzel Washington For Ferocious Finale
Ridley Scott's "Napoleon" Trailer Reveals Joaquin Phoenix as the French Conquerer
The First "Dumb Money" Trailer Reveals the GameStop Stock Movie We Need Right Now
Featured image: Paul Dano stars as Keith Gill in DUMB MONEY. Courtesy Sony Pictures.