A Battle Through Time With & Against Anakin Skywalker in "Ahsoka" Episode 5
Do not travel with us to a galaxy far, far away if you haven't watched episode five of Ahsoka.
Okay, now that we got that bit of galactic business over with, let's take a quick look at the major moments in Ahsoka's fifth episode. The conflict between the titular rebel Jedi (Rosario Dawson) and Baylan Skoll (Ray Stevenson), Shin Hati (Ivanna Sakhno), and their fellow malcontents was put on the back burner as our hero took a heady trip into the past. After tangling with Baylan at the climactic end of episode four and coming out on the losing end of a lightsaber duel, Ahsoka was sent tumbling into the frigid, heaving ocean, presumably left for dead (of course, we knew better). Meanwhile, her former padawan Sabine Wren (Natasha Liu Bordizzo), in an attempt first to save Ahsoka's life and then to find their long lost friend Ezra Bridger (Eman Esfandi), gave Baylan the navigation tech he needed to find the dangerous Grand Admiral Thrawn. The end of episode four revealed the return of Anakin Skywalker (Hayden Christensen) standing before Ahsoka. They appeared to be reuniting in the World Between Worlds.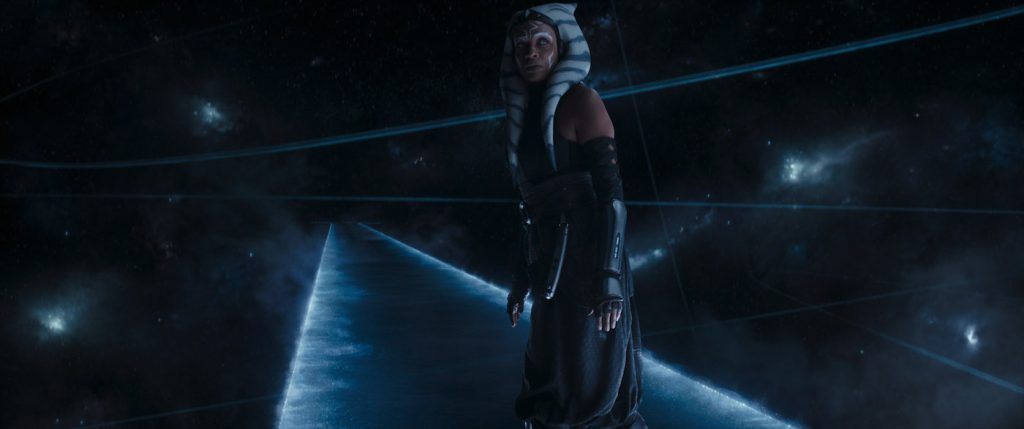 Episode five was written and directed by series creator Dave Filoni, and it picked up right where episode four left off, with Anakin standing before Ahsoka in the World Between Worlds, donning the all-black look he wore during Star Wars: Revenge of the Sith, the same age as he was then. What was evident the longer we got a look at this version of Anakin was that this wasn't his Force ghost, those bluish, hazy figures we've seen when Obi-Wan Kenobi or Yoda have returned to impart wisdom. The reasons Anakin looked whole are unclear, but it seems safe to assume it has to do with their location. The World Between Worlds is a hub, so to speak, made up of the Force, which connects every moment of space and time together. It's where someone schooled in the ways of the Force can move back and forth through time.
As is the case in more or less every time travel story ever told, the ability to travel into the past comes with a huge, bright red warning label, and that's as true for Jedis as it is for Marty McFly (or Loki); if you alter things that happened in the past, you can and will mess up a bunch of things in the present and future. Ahsoka is understandably confused as to why her former master is standing there, and he tells her that he's returned to complete her training. He breaks the news that she lost her lightsaber duel with Baylan Skoll. Although she doesn't want to fight him, Anakin forces his former padawan's hand by telling her she's got a simple choice: "Live or die." They start to duel.
Back in the real world, Hera (Mary Elizabeth Winstead), her son Jacen (Evan Whitten), and their team are searching for Ahsoka and Sabine. Jacen is Force-sensitive and can hear something in the waves—a lightsaber duel.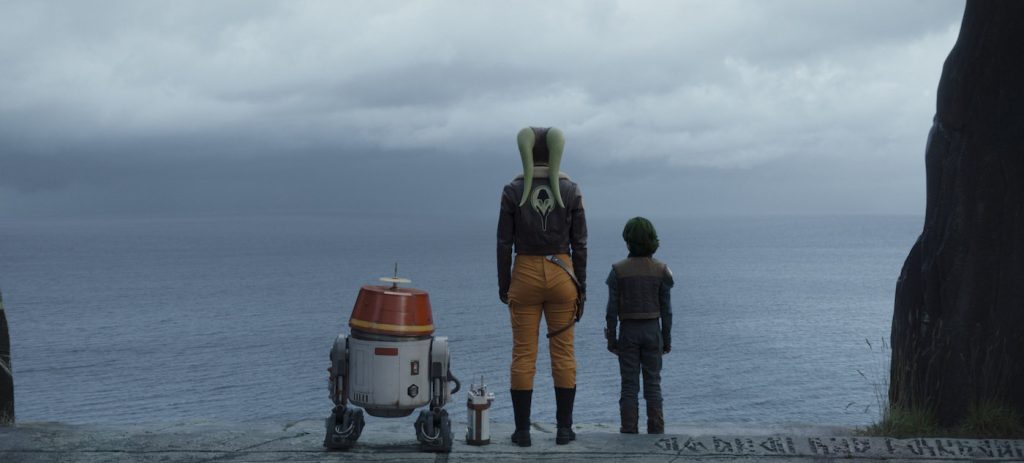 Back in the World Between Worlds, it almost looks as if Ahsoka has the upper hand on Anakin, but then he teaches her a fresh lesson. Anakin obliterates the starry bridge she's standing on, and Ahsoka falls into her past. She's just a young girl (played by Barbie's Ariana Greenblatt) caught up in the Clone Wars, fighting beside Anakin in one of her first missions during the Battle of Ryloth. This is the most direct, vivid link yet to another animated Star Wars classic, Clone Wars, bringing these two characters together in live-action.
Young Ahsoka is confused and horrified by what she sees around her. She doesn't want to keep fighting, but Anakin isn't having it. He tells her either she learns to be a soldier or she dies. Ahsoka starts to see the thin veil that separates Anakin from the grotesque Sith Lord he would become begin to slip.
In her next time jump, Ahsoka's a few years older, a much better fighter, and is now at the Siege of Mandalore, leading a mission to take the planet back from Darth Maul. She's got her iconic double white lightsabers going, and she's officially a rebel now, having left the Jedi order and her training under Anakin. In a brief moment, we get one of the episode's big cameos when Temuera Morrison returns. He played Jango Fett in the Star Wars prequels and later became Boba Fett in the Disney+ miniseries The Book of Boba Fett—here, he's playing the clone Captain Rex, Ahsoka's friend during the animated Clone Wars. 
Anakin returns, and they argue some more about her legacy. Anakin wants her to see that every Jedi carries the knowledge and wisdom that was passed onto them from their master, and so and so forth, through time. But to Ahsoka, her legacy is one of perpetual death and war.
"You're more than that," Anakin tells her. "Because I'm more than that."
"You are more, Anakin," young Ahsoka says, "but more powerful and dangerous than anyone realized."
These words unleash the red-eyed Anakin, the Sith side of his personality. He unsheathes his red lightsaber and goes after Ahsoka again.
They continue fighting, now with Ahsoka returned to her present-day form. There's a brief moment where her eyes glow yellow, like a Sith, as she crosses over to the Dark Side to conquer Anakin. Yet when she finally gets the best of him and has the opportunity to strike him down, she pulls back. She returns to herself. So does Anakin.
"There's hope for you yet," he tells her, then vanishes.
Back in the regular world, Jacen has helped locate Ahsoka, and she's pulled out of the water. Therefore, the mission to find Sabine, Ezra Bridger, and Grand Admiral Thrawn continues. Yet Anakin's final lesson remains shrouded in mystery, fitting for that most mysterious of Jedis. Anakin seemed pleased that Ahsoka conjured her anger and hurt and almost, but not quite, went over to the Dark Side completely to defeat him. But, she spared him and returned to herself, and proved that she was more than her past, that she could make new and better decisions in her present. That's a luxury Anakin no longer has, but he is a man who can appreciate a person not wanting to be defined by their worst deeds and the darkest parts of their past.
Check out a taste of Ahsoka's battle with and against Anakin Skywalker here:
For more stories on 20th Century Studios, Searchlight Pictures, Marvel Studios and what's streaming or coming to Disney+, check these out:
Final "The Creator" Trailer Finds John David Washington in a Fight for the Fate of Humanity
How "A Haunting in Venice" Production Designer John Paul Kelly Built a Possessed Venetian Palazzo
"The Marvels" Drops New IMAX Spot That Goes Higher, Further, Faster
"Deadpool 3" Director Shawn Levy Says Prepare for Epic Wolverine/Deadpool Team-Up
Featured image: (L-R): Anakin Skywalker (Hayden Christensen) and Ahsoka Tano (Rosario Dawson) in Lucasfilm's STAR WARS: AHSOKA, exclusively on Disney+. ©2023 Lucasfilm Ltd. & TM. All Rights Reserved.