How "A Haunting in Venice" Production Designer John Paul Kelly Built a Possessed Venetian Palazzo
There's a chilling haunt in Kenneth Branagh's latest Agatha Christie adaptation of famed detective Hercule Poirot that will make the hair on the back of your neck tingle.
Following the success of Murder on the Orient Express and Death on the Nile, this third whodunit sinks into darker waters and unravels a tale along the canals of Venice where the crime solver is asked by friend and author Ardiane Oliver (Tina Fey) to attend a séance with her to prove that the medium (Michelle Yeoh) performing the spiritual ritual is a fake. The disturbing events that follow inside the palazzo owned by Rowena Drake (Kelly Reilly), who tragically lost her daughter Alicia (Rowan Robinson) to an unexplained death, become a puzzle only Poirot can piece together.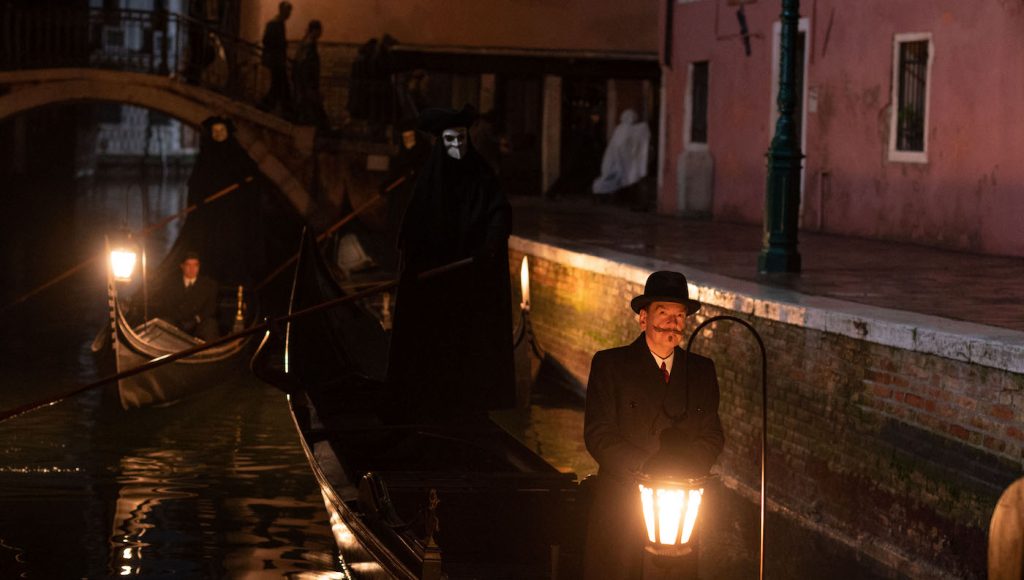 Tasked with bringing the cryptic aura of A Haunting in Venice to life was production designer John Paul Kelly (The Theory of Everything). The test was creating an authentic palazzo in marvelous albeit sinister detail that would take center stage for the moody story set in post-World War II Italy.
In reading the script (written by Michael Green and based on Christie's "Hallowe'en Party"), Kelly tells The Credits there was an undeniable horror-filled tone – one that's partially shaped by the palazzo. "There's a prominence to the palazzo on screen and its relevance to the story," Kelly says. "It becomes a character and almost sits alongside the actors as a potential culprit. That was massively exciting and challenging as well."
Early on, Branagh and Kelly scouted the slumbering waterways of Venice, stepping into many of the enchanting palazzos in the small city. Their eyes set on filming in one (or more) of them, but complex script elements pushed them to build their own at Pinewood Studios outside of London. In conceptualizing the set builds, Kelly meticulously tuned into the historical style. "There's a consistent layout with the palazzos. There's the boathouse, or cabana, where you bring in the gondola on the lower floor, and then upstairs is the piano nobile where all the impressive stuff happens, then a living floor above that," he explains. "We added a few dimensions – secret passages and long corridors – and embellished it a bit, but we stayed true to the Venice architecture."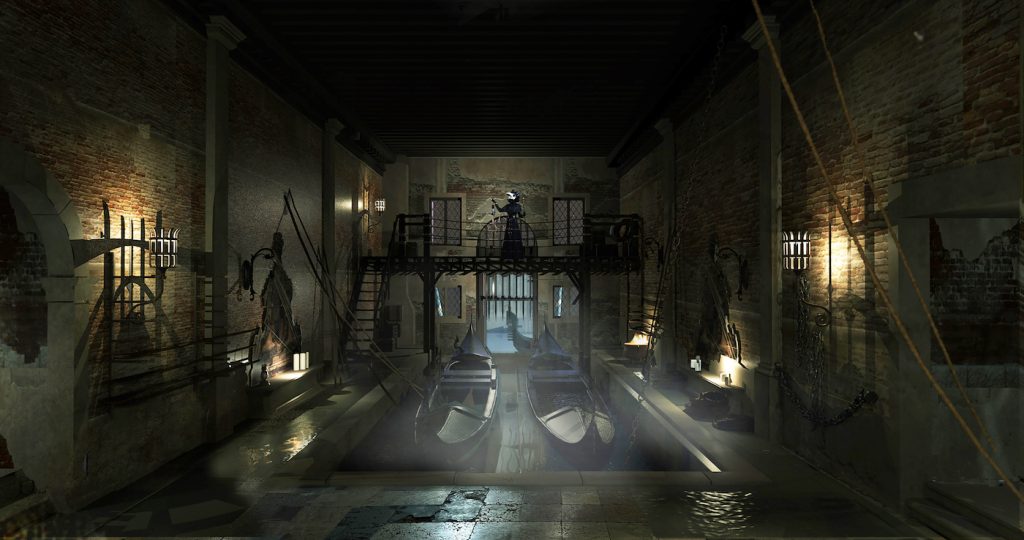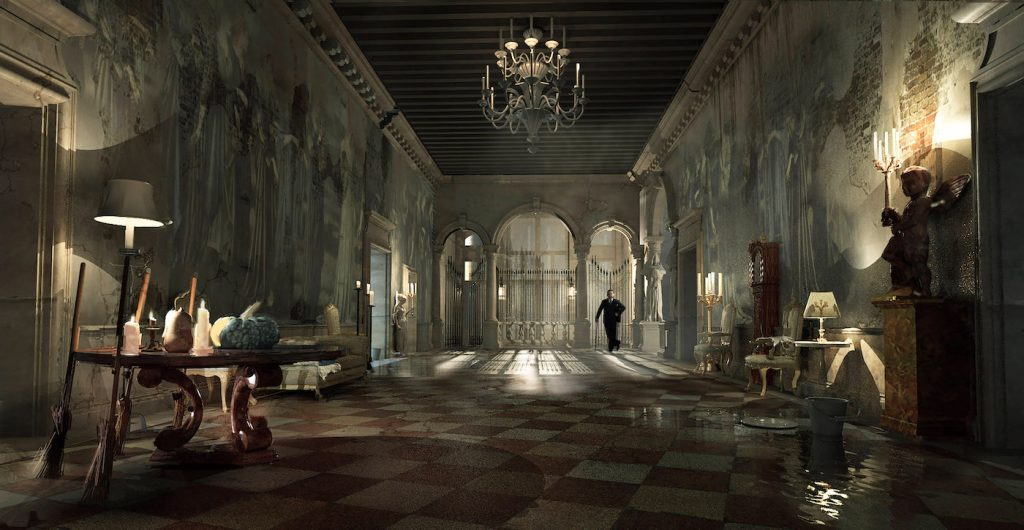 Since the film takes place in almost one location, Kelly created spaces that showed variations in color palette, texture, and mood. Each room required layers and layers of history on its walls. Fresco paintings were overlaid onto decaying plaster, which revealed bricks and dampness behind them. The sets were elaborate and painstaking, but the decoration avoided clutter. "Celia Bobak has been Ken's set decorator for decades, so she knows him well, which was a huge advantage," says Kelly. "Like me, Celia is really into historical accuracy, and she was determined that the world we created was believable. We started with a much fuller world and then stripped it back gradually, bit by bit. We ended up with a full environment but minimally dressed."
Extra attention was given to Alicia's bedroom, which was left alone after her death. It's decorated with delicate touches of tables, lamps, chairs, a bed, and a large stone fireplace. Unique to the space are the darkly painted trees on the walls. "One of the early photographic references that Ken really liked was this bird trapped in a cage," notes Kelly. "That led to the idea of an enchanted forest. This kind of confusing space where the child was not quite sure what was real and what was in her imagination. The design evolved gradually, but it became clear that it would feel like a very different environment."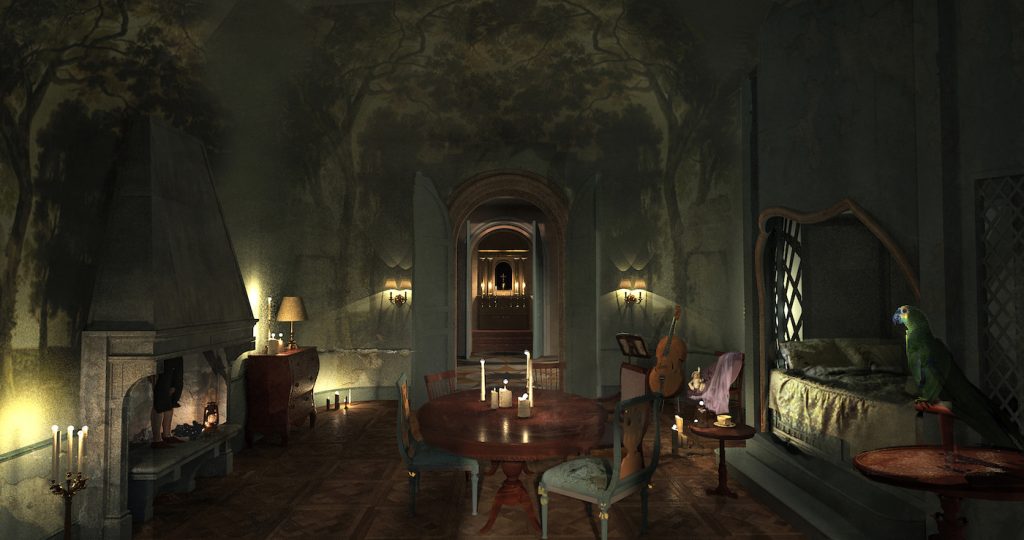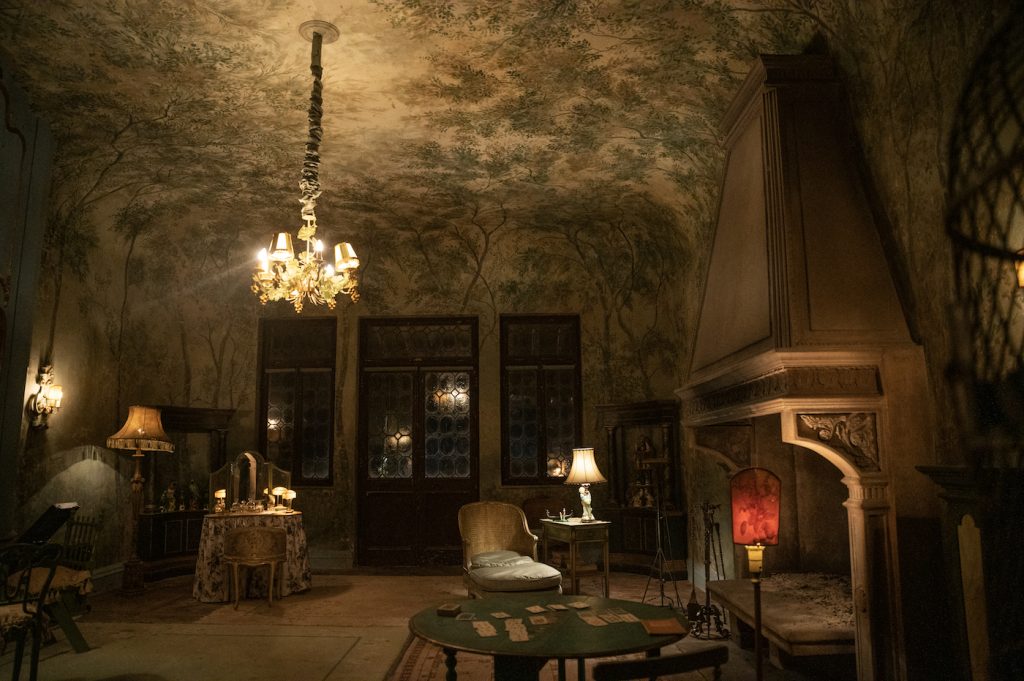 Originally, the séance Hercule attends along with the ensemble cast of suspects that includes actors Kyle Allen, Camille Cottin, Jamie Dornan, Jude Hill, Ali Khan, Emma Laird, and Riccardo Scamarcio, was supposed to be shot inside Alicia's bedroom. In a happy accident, it was swapped for the corridor leading to the room. The corridor design has a white and burnt orange checkered tile floor and steely color palette walls – a mix of teals and grays that create an almost underwater color scheme. "Ken liked the corridors, and he came up with his idea to create a cruciform séance with Mrs. Reynolds (Michelle Yeoh) in the middle. We were always trying to challenge the rule of what horror should be and hopefully find an original slant on it. This was one of those moments."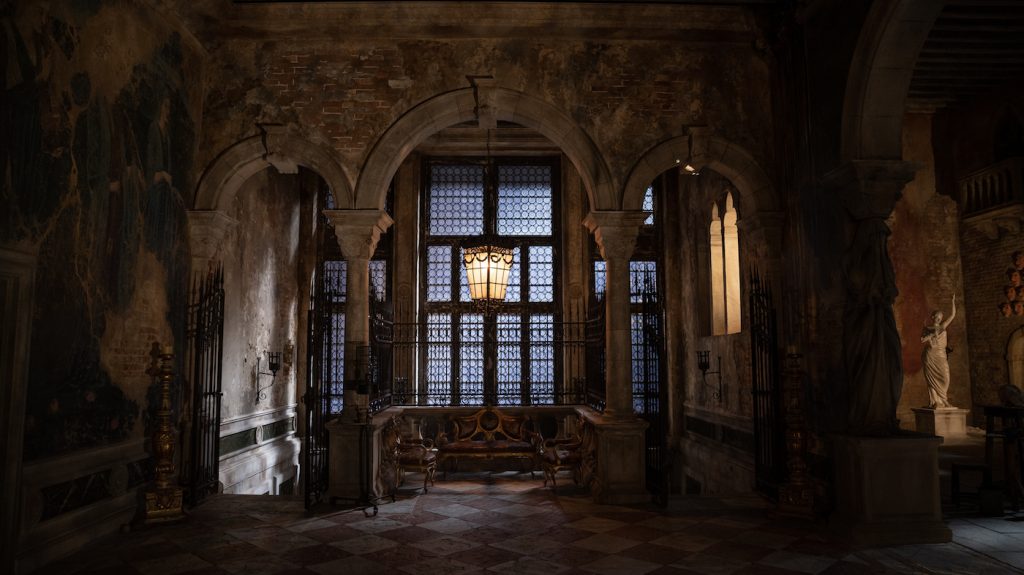 A Haunting in Venice jumps into theaters September 15, 2023.