"A Haunting in Venice" Editor Lucy Donaldson on Cutting Hercule Poirot's Crisis of Confidence
Kenneth Branagh is back as director and star with his latest Agatha Christie film adaptation, A Haunting in Venice, based on Christie's novel "Hallowe'en Party." As with his other adaptations, A Haunting in Venice is a who-done-it in which a great cast joins Branagh's twisted tale, which in the latest installment includes Tina Fey, Michelle Yeoh, Jamie Dornan, and Kelly Reilly. 
Branagh once again plays famed Belgian detective Hercule Poirot, but the audience meets a different sleuth in this post-World War II story.  He isn't his usual inquisitive, inspired, confident self. Shaken by the horrors of war, he has decamped to Venice and is retired and living in self-imposed exile. His old friend, mystery writer Ariadne Oliver (Fey), begs him to attend a seance to debunk the medium in charge (Yeoh). It takes place in a decaying and potentially haunted palazzo owned by famous opera singer Rowena Drake (Reilly). When someone at the seance is murdered, Poirot and all those present must remain through the stormy Halloween night until the murderer is revealed. He is compelled to dig in and put aside his own inner demons to solve the crime. 
Editing plays a very important part in creating the atmosphere of dread and building the suspense essential to this film's success. The Credits sat down with A Haunting in Venice's editor, Lucy Donaldson, to discuss how she so finely calibrated the spooky tension. She speaks of the power of silence and of the real-life Venetian palazzo used as inspiration, which even the locals warned the production should avoid at all costs due to its tortured history. 
You've worked on a number of projects in the horror genre, like The Midnight Club, Ma, and Happy Death Day, or with horror elements, like Midnight Mass. For this film, director Kenneth Branagh referenced The Old Dark House and Black Narcissus, but what were some of the touchstones of that genre that you referenced in this film? 
The Old Dark House is definitely one that we talked about and went back to watch because it's so well set up. A more modern film would be The Others, which has a lot of parallels to our film. Beyond those more obvious ones, I was thinking about Don't Look Now, which is obviously set in Venice, but it's a very different Venice, where water is the threat, and the place, which is often represented as beautiful, is very different. The other one that I referenced was The Father, which is about a patriarch with dementia who does not really know what's real. That also has parallels because it's a different Poirot that we meet at the start of this film. Normally, we as an audience are just following along, and he's super confident, but not here. Everything in this film is on a tilt. It's true I've done a lot of genre work in the past, so using that experience in an Agatha Christie film was just a dream come true.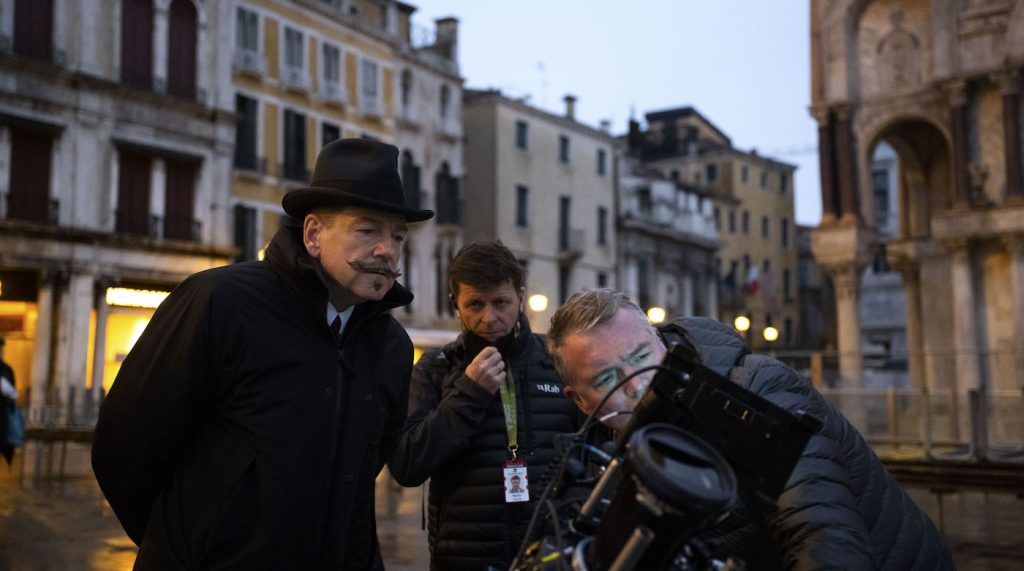 You talk about everything being on a tilt, and that's articulated in the film's visual language. The camera work includes many topsy-turvy shots, a lot of shadows, and focused lighting. What kinds of conversations were there with DP Haris Zambarloukos and Kenneth Branagh about that?
Since I work in post-production, I came on at the start of the shoot, so much of the setup had already been done with Ken and Haris, but obviously, I was getting all of this lovely material, an embarrassment of riches, really, and it was my job to take us from wide Venice into this very narrow world that we then become trapped in. With Ken, it's all very much about clear, precise storytelling. We put so many things in, and then we did a lot of work to step back and commit to what served the story as a whole. 
How did you proceed? 
We were keen to set up this house as a special place where strange things go on. The way the house is first presented, where they're on the gondolas coming up to the Palazzo, was a moment we worked on a lot because it's the place of legends. The inspiration for that setting is a real mansion in Venice called Ca' Dario, which has a history of owners meeting an untimely death, and apparently, the locals in Venice warned us absolutely not to shoot there.  Supposedly intelligent, logical people said, "Shoot anywhere but there." Reading the history, I can now see why they'd say that. There's this already existing spooky side of Venice, which I wasn't aware of but was very much a part of our film.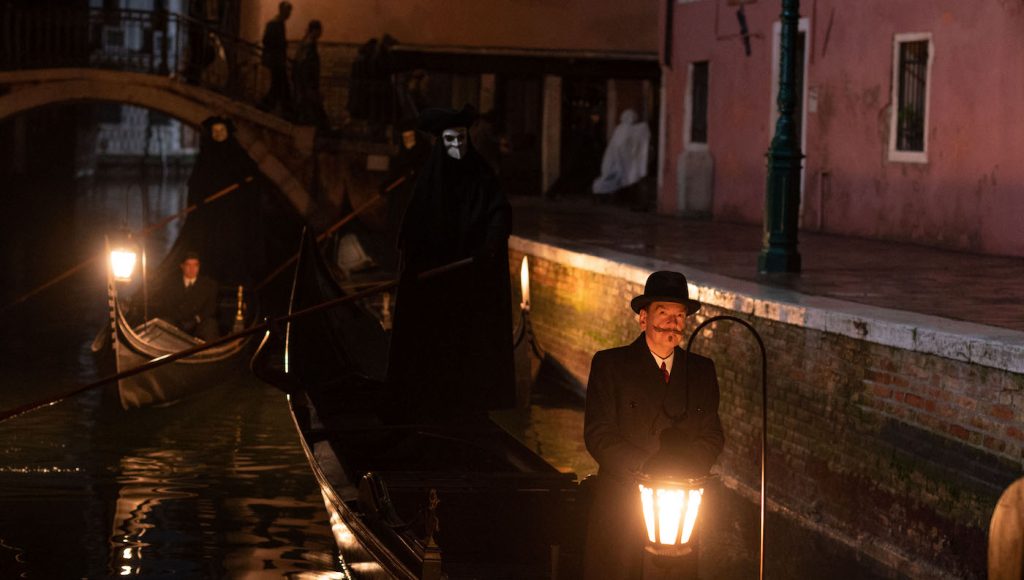 The palazzo is essentially another character in the film and was created in Pinewood Studios with exacting detail, including intricate ceiling frescoes. There's also the real Venice and the model of the palazzo. How did you work between those three to build the story?
Yes, we had three elements: the interiors and a couple of exteriors from Pinewood, the model shoot, and Venice. We tried to use all three in one scene and found we could create a seamless presentation. Maxime's arrival is real Venice; then we have some of the model shoot in there, and then we go into the Pinewood set. We did a lot of work to make sure it was all integrated. The sets of the house itself, a beautiful job by production designer John Paul Kelly, was a place we wanted to present as somewhere with secrets, memories, and an atmosphere.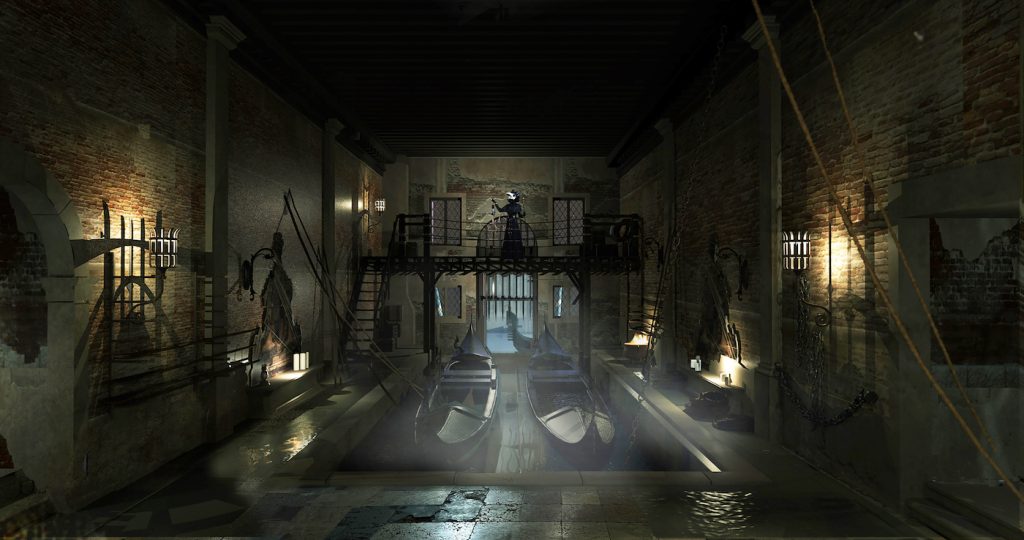 So, how did you build up that atmosphere? 
We weren't afraid to use silence or really push that theme of listening. We wanted to have Poirot be, at times, in that space on his own, listening to this house because Poirot is Mr. Logic. He prizes fact, order, and method above all, and this house is a contrast to that. We cut without music for a long time because we wanted the story to develop its own pace. We all knew the music was going to elevate it, but for our discipline and practice, Ken had me cut without music. If it can stand on its own without music, then we're in a good space, but it was also to have that silence and listening. Are there ghosts in this house? Another theme is that Poirot's confidence is knocked, so we play around with that. Is there a supernatural? Is Poirot in control, or is he not?  We really wanted to walk that line. 
For more on A Haunting in Venice, check out these stories:
How "A Haunting in Venice" Production Designer John Paul Kelly Built a Possessed Venetian Palazzo
"A Haunting in Venice" Trailer Finds Hercules Poirot Thrust Into a Terrifying Mystery
Featured image: Kenneth Branagh as Hercule Poirot in 20th Century Studios' A HAUNTING IN VENICE. Photo by Rob Youngson. © 2023 20th Century Studios. All Rights Reserved.