Fall TV Watchlist: From "Lessons in Chemistry" to "Lupin: Part 3"
A slew of new series and returning favorites are coming to you this fall in what is, admittedly, a pretty wild TV season considering the simultaneous strikes. But, playing the optimist, we're hoping a resolution is in the offing, and we'll all be able to watch new and returning series knowing that things will be back to normal. Hope springs eternal for the film and TV enthusiast.
Onto the upcoming fall season, which includes adaptations of bestselling novels, sprawling fantasy epics, gripping crime dramas, and the ever-expanding Marvel Cinematic Universe, which is now well into its TV run as new and returning series come to Disney+.
Below, we take a look at seven upcoming series; by no means an exhaustive list, but one that offers a little something for everyone.
The Wheel of Time (season 2)
Release date: September 1 
Created by: Rafe Judkins. 
Starring: Rosamund Pike, Daniel Henney, Zoë Robins, Madaleine Madden. 
Quick Peek: Lovers of fantasy, adventure, and Rosamund Pike (a Ven diagram that captures a lot of people!)  — look no further than the second season of The Wheel of Time. If you aren't yet familiar with the series, the action follows Moiraine (Pike), a member of a magical organization who is trying to find the reincarnation of the Dragon, a powerful individual who has the potential to save the world—or destroy it. This season, we see the main characters in the aftermath of the battle with the Dark One, preparing to face off against evil once again.
Where to Watch: Prime Video. 
Power Book IV: Force (season 2)
Release date: September 1 
Created by: Gary Lennon. 
Starring: Joseph Sikora, Isaac Keys, Lili Simmons, Shane Harper. 
Quick Peek: After cutting ties with New York, Tommy Egan (Joseph Sikora) heads to the Second City, where he's on a fresh quest to seize control of the drug world in Chicago. The second season opens with Tommy seeking to avenge the death of his former business partner, amping up the already sky-high stakes as he continues his dangerous mission to become the most powerful drug dealer of all. Be careful what you wish for, Tommy!
Where to Watch: Starz, Lionsgate+ 
Lupin: Part 3 
Release date: October 5 
Created by: François Uzan and George Kay. 
Starring: Omar Sy, Soufiane Guerrab, Ludivine Sagnier, Etan Simon. 
Quick Peek: Inspired by the classic French story about gentleman thief Arsène Lupin, the third season of this crime drama unlocks another piece of the puzzle of the life of the beloved character, played by the enormously charismatic Sy. Season three promises more thievery and ingenious disguises and will give Lupin's cute canine companion a bigger role in the action. Woof!
Where to Watch: Netflix. 
Loki (season 2)
Release date: October 6 
Created by: Michael Waldron. 
Starring: Tom Hiddleston, Sophia Di Martino, Owen Wilson, Gugu Mbatha-Raw. 
Quick Peek: In season one, the God of Mischief (Hiddleston) found himself a warden of the Time Variance Authority and ended up engaged in a series of increasingly dangerous capers, all of which took place after the events in Avengers: Endgame, and all of which presented Loki with bizarre permutations of himself, calling into question everything he thought he knew. Season two will continue to play in the multiverse, as Loki, his buddy Mobius (Owen Wilson), and his paramour (of sorts) Sylvia (Sophia Di Martino) find fresh adventures awaiting them in their timeless corner of the MCU.
Where to Watch: Disney+ 
Lessons in Chemistry 
Release date: October 13 
Created by: Lee Eisenberg. 
Starring: Brie Larson, Lewis Pullman, Stephanie Koenig, Aja Naomi King. 
Quick Peek: Based on the best-selling debut novel from Bonnie Garmus, Lessons in Chemistry details the story of Elizabeth Zott (Larson), who is forced to balance her professional life as a scientist with her new domestic role as a single mother. She accepts a job on a TV cooking show teaching recipes to bored yet eager housewives, all while yearning to return to her actual dream of pursuing science. Stellar cast, stellar source material, and one of fall's most hotly anticipated new series.
Where to Watch: Apple TV+ 
All the Light We Cannot See 
Release date: November 2 
Created by: Shawn Levy and Steven Knight. 
Starring: Aria Mia Loberti, Louis Hofman, Hugh Laurie, Mark Ruffalo. 
Quick Peek: Travel back to the ravages of World War II in this heartfelt tale based on Anthony Doerr's best-selling 2014 novel. The series follows the story of Marie-Laure (Aria Mia Loberti), a blind French teen who crosses paths with a German soldier as they struggle to survive in war-torn Europe. In their own ways, they must come to understand hope, sorrow, and what human connection really means as their world is being torn apart. Have tissues at hand. 
Where to Watch: Netflix. 
Echo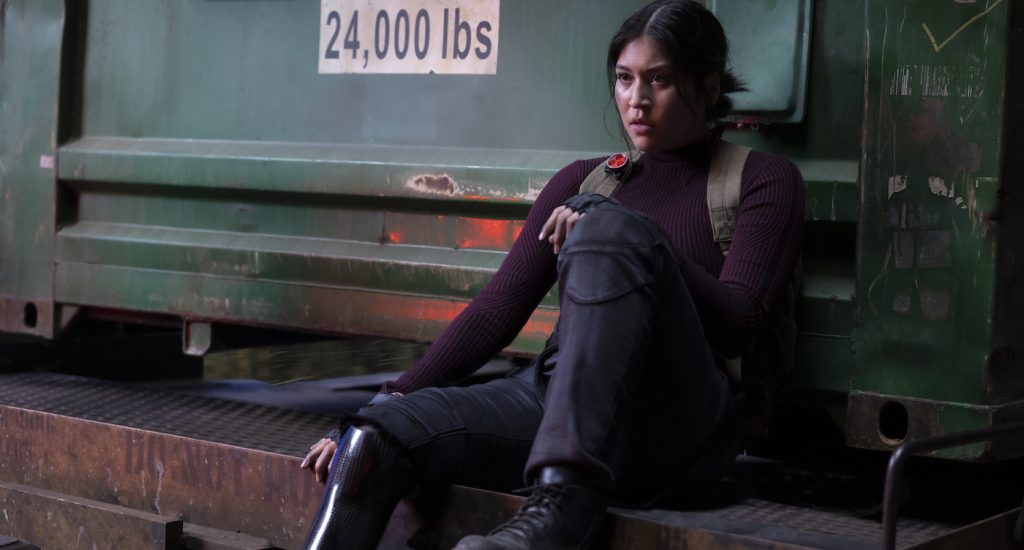 Release date: November 29 
Created by: Marion Dayre. 
Starring: Alaqua Cox, K. Devery Jacobs, Charlie Cox, Vincent D'Onofrio. 
Quick Peek: After the events of Hawkeye, Maya Lopez (Alaqua Cox) deals with the aftermath of her actions as a cog in Kingpin (Vincent D'Onofrio)'s criminal empire. Set in New York City, Maya must embrace what community and family really represent by reconnecting with her Native American heritage and confronting her past, which includes some dastardly deeds and some very powerful enemies. Charlie Cox's Matt Murdock/Daredevil will also be in play, before he stars in his own new series, Daredevil: Born Again. As we said, the Marvel Cinematic Universe now includes the TV realm.
Where to Watch: Disney+ 
Featured image: Episode 8. Brie Larson in "Lessons in Chemistry," premiering October 13, 2023 on Apple TV+.