From "Papyrus" to "Problemista": Inside The Beautiful Mind of Julio Torres
Julio Torres, the exquisitely singular Salvadorian writer, comedian, television creator, and actor, is gearing up to reveal the newest edition to his sui generis output — Problemista. Torres' upcoming—although sadly postponed—A24 film gives audiences yet another look into his beautiful mind, the same mind that wrote what might be the perfect Tweet back when Twitter's logo was a blue bird, and the site had a, um, slightly different vibe: "The letter Q comes up waaaaay too early in the alphabet," he wrote. "We're not ready for it where it's currently placed. It belongs with fellow avant-garde acts, X, Y and Z, deep in after the mainstream." This is the kind of thing Torres can (and possibly did) write in his sleep.
Problemista details the story of Alejandro (Torres), an aspiring toy designer who is having a hard time turning his bespoke creations into reality in New York City. Compounding Alejandro's trouble is the fact his work visa is running out, and it's a new gig assisting the art world cast off Elizabeth (Tilda Swinton) that proves to be his potential lifeline to stay in the country and finally see his dreams come true. Torres knows how to use dreaminess, haze, and ambiguity to make both comedic and dramatic points in his works, and Problemista seems to demonstrate the continuation of his style. Problemista finds Torres plumbing his experiences as an immigrant artist struggling in New York City, dealing with all the pressures of trying to make it in the notoriously unforgiving metropolis, amplified tenfold by the Kafkaesque lunacy of the U.S. Immigration system. It's a story Torres was quite literally born to tell. 
The development of Torres' offbeat, surreal sensibility—one that somehow always manages to hit you in unexpectedly emotional ways—started garnering mass attention back in his Saturday Night Live days, when he wrote some of the most sublimely weird, hysterical sketches and digital shorts during his five year run from 2016 to 2021. While an SNL sketch is often a shaggy thing, at its best hilarious because it's both genuinely funny and because those involved, no matter how committed, can seem as amused as the viewer, two of Torres' most iconic sketches are masterclasses in narrative precision. 
Long before starring in the modern phenomenon that is Barbie, Ryan Gosling turned in a deeply hilarious performance in Torres' overwhelmingly popular and now iconic digital short "Papyrus." The sketch follows a man who is deeply, pathologically troubled by the fact that the original Avatar, a massive blockbuster (this was well before Avatar: The Way of Water) used the most basic font they could think of for their logo (can you guess what font they chose?). The idea, which Torres suggested during an SNL Monday morning pitch meeting, was based on another of his hilarious Tweets: "Every day I wake up and remember that Avatar, a huge international blockbuster, used the Papyrus font for their logo and no one stopped them."
It took a bit of doing from Tweet to pitch to iconic digital short—and a big boost from Gosling, who saw the cinematic potential in the storyline and honed in on a lonely, obsessive man brooding over the grotesqueness of Avatar using Papyrus—but Torres, Gosling and their collaborators got there. Gosling plays Steven, a man haunted by recurring dreams of the man responsible for choosing such a generic font for Avatar's logo. Steven tries to work out his anger with his therapist (played by Kate McKinnon)—"He just highlighted Avatar. He clicked the drop-down menu, and then he just randomly selected Papyrus." Steven's friend (Chris Redd) tries to assuage his growing monomania by pointing out that they made some slight modifications to the font in the Avatar logo, to no avail. Steven is consumed by the crime and eventually tracks down the graphic designer responsible (Kyle Mooney), screaming, "I know what you did." An all-time classic was born out of a completely random but phenomenally precise observation Torres had.
In "The Actress," Torres went even further afield and delivered something deliciously offbeat. Emma Stone (Gosling's La La Land co-star, no less) is a dedicated (if desperate) actress preparing for a role. What we'll learn is the role is a minuscule one in a gay porn. We watch Stone's desperate performer rifling through the "woman bin" to find bits and pieces of her character "Deirdre," seeing her whole life unfurl before her eyes. Torres plays up the preposterous nature of her inner conflict and creates a captivating narrative that is not only funny but weirdly poignant.  
Torres then branched out from SNL in his next project, his HBO series Los Espookys, which he created with the comedian Ana Fabrega and SNL alum Fred Armisen. A primarily Spanish-language show, the dark comedy series follows the adventures of a friend group who turn their adoration for horror into a strange yet alluring business, allowing them to provide frights to those who need them.  
Los Espookys is distinctly dreamy, boasting hazy visuals and a synth-laden soundtrack that accentuates the ethereal feel of the series, mixed with brilliantly crafted practical effects. The characters and their motivations are quite surreal — one is a gore enthusiast, another is an heir to a chocolate empire, and another is the group's "test dummy" who ensures their various horror ventures actually work. Together, this eccentric dream team showcases aspects of raw humanity—the good, the bad, and especially, the ugly—that Torres often highlights, one way or another, in his work. 
From here, we arrive back at Problemista. This being a Torres story, it seems a fairly safe bet that this won't be the classic rags-to-riches/immigrant makes it big story that audiences have grown accustomed to. For one, the film employs novel effects to explore ideas around immigration and displacement — once people's visas have expired, they literally vanish off the face of the earth. Furthermore, the maze of obtaining legal citizenship is imagined as a literal series of dimly lit office rooms that Alejandro must climb through to stay in the U.S. Again, Kafkaesque, only perhaps it's more accurate to call it Torresian. 
According to Torres, parts of Problemista come from his lived experience. While not necessarily stemming directly from his own life story, he inserts certain personal, emotional pins into the film. The Kafkaesque bureaucracy of U.S. immigration was certainly a part of Torres' life, and the scars associated with that experience and its mundane cruelty towards those trying to make it through never completely fade.  
Problemista takes what is important to Torres — his Latin heritage, vibrancy, friendship and family, and perhaps most importantly, dreaming — and injects it into one film. Torres asks audiences to ask themselves what lengths they would go to realize their innermost wishes, even at the expense of their comfort and their understanding of the world around them. Alejandro wants so badly to create and so desperately to find joy, but first, he must simply survive the U.S. Immigration system. 
Problemista's August 4 release was delayed due to the SAG-AFTRA and WGA strikes. When it eventually comes out, with suggest you see it. If you're not yet a Torres fan, you will be.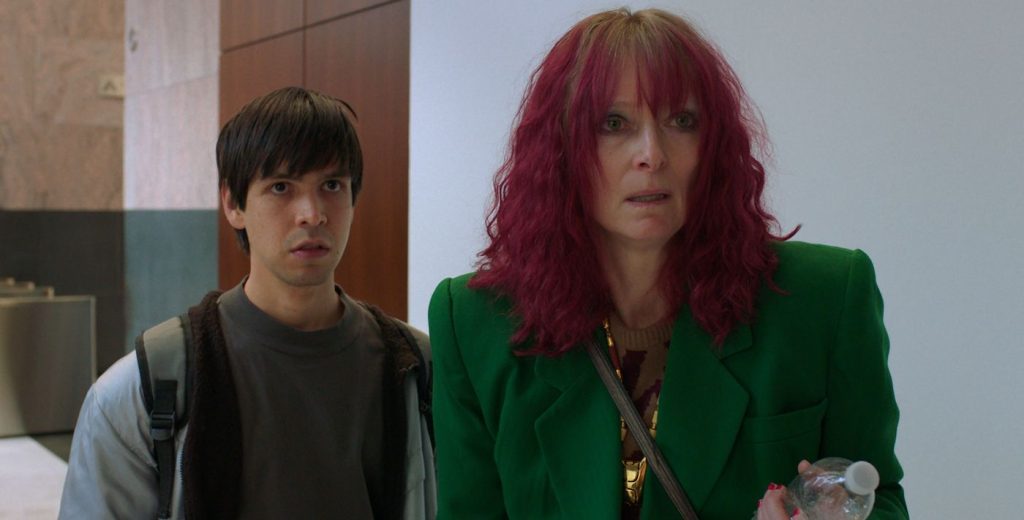 Featured image: NEW YORK, NEW YORK – SEPTEMBER 08: Julio Torres attends 'Opening Ceremony 20th Anniversary: Design Of Two Decades' at Schimanski on September 08, 2022 in New York City. (Photo by Santiago Felipe/Getty Images)