"Indiana Jones and the Dial of Destiny" Production Designer Adam Stockhausen on That Thrilling Opening Sequence
"There is a lot to draw from, but there's also a very high bar in terms of how visually exciting these films have been," says production designer Adam Stockhausen (The Grand Budapest Hotel) of the Indiana Jones franchise.
The four previous films – Raider of the Lost Ark (1981), Temple of Doom (1984), Last Crusade (1989), and Kingdom of the Crystal Skull (2008) – were all helmed by Steven Spielberg, but for Dial of Destiny, which is the final chapter for Harrison Ford as the rugged, snake-fearing, Nazi-hating archeologist, director James Mangold (Ford v Ferrari, Logan) blends a visual style that acknowledges the existing material while layering a nuanced look for this latest continent-skipping thrill ride.  
It's 1969, and Indiana Jones (Ford) is on the verge of retirement from teaching at New York's Hunter College until an unexpected visit from his goddaughter Helena (Phoebe Waller-Bridge) upends his plans for packing it. Helena is in search of a mysterious dial her father, Basil Shaw (Toby Jones), obsesses over. Still in possession of it, Helena steals it from Indy, and the two become intertwined when an old Nazi foe, Dr. Voller (Mads Mikkelsen), wants it for his own evildoing. 
To set up the sought-after artifact, in this case, Archimedes' Dial, which may have the power to turn back time, the film opens with a suspenseful, action-packed prologue akin to Indy's hunt for the Golden Idol in Raiders. The scene picks up in 1944, near the end of WWII, with Nazi scum loading a train with antiquities. It's here a 37-year-old Indy attempts to rescue his captured friend Basil aboard a moving train and, in doing so, becomes in possession of the mysterious dial.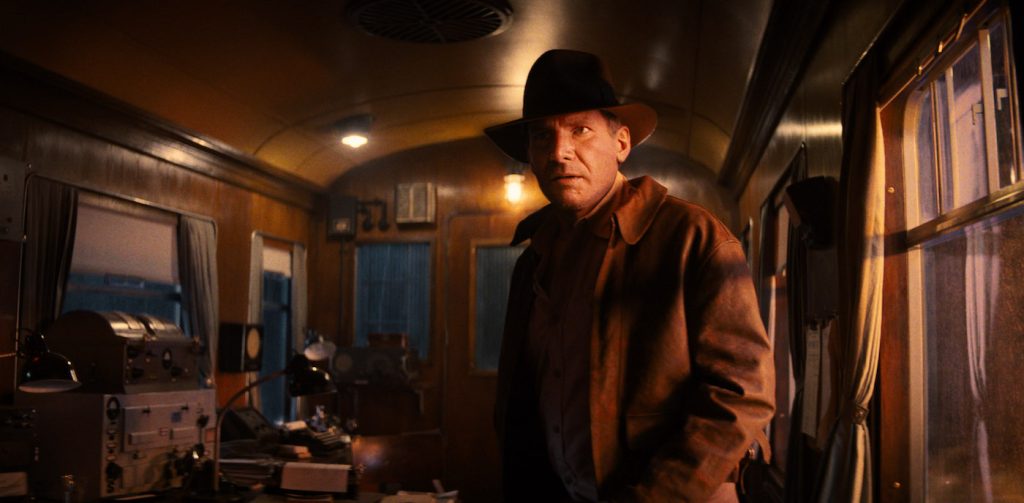 Stockhausen was tasked with turning back the clock and, through reference material, designed a locomotive inspired by Hitler's personal wartime train, the Führersonderzug. "What Hitler had didn't look exactly like ours," he says. "We borrowed from all over the place, but the basic starting point came from the real thing."
To pull off the sequence that sees Indy elude Nazi soldiers in order to save Basil, Stockhausen designed multiple train cars to shoot on stage at Pinewood Studios in the UK. Custom cars were built for the front commander's office, the treasure carriage holding the stash of artifacts, and a cafeteria car where Indy cleverly dresses like a Nazi soldier in order to blend in. Interiors had wood paneling, period fixtures, and the creamy colors of the era. "Martin Foley, our supervising art director, and the whole team did such an amazing job drawing, painting, building, and dressing each one. They were all jewel boxes," says Stockhausen.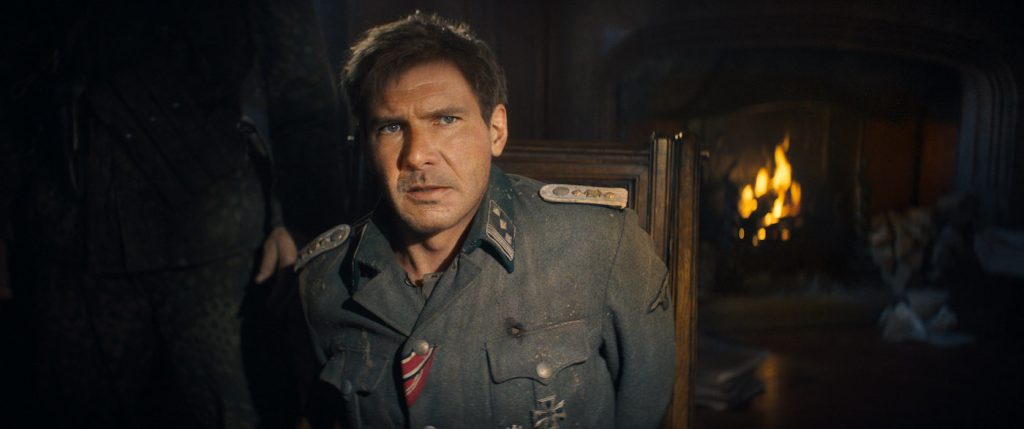 With such tight quarters, Stockhausen collaborated closely with cinematographer Phedon Papamichael (Ford v Ferrari) to spark a moody tone. "There are a ton of practicals embedded throughout lighting the train," says Stockhausen. "We never took the roof off to light through." The challenge in placing the fixtures was twofold. There had to be enough to provide a certain level of light but not too much to overexpose the colors of the walls and ceiling. "We did our first go at it, and we had to paint them again darker for the sake of getting the right balance of light," he notes.
For the exterior work, the train starts its trek at a railway station nearby a castle which Stockhausen combined two different locations: England's Bamburgh Castle and North Yorkshire Moors Railway station. The interiors of the medieval castle were beautifully dressed by set decorator Anna Pinnock (Tenet) to recreate the time period, while visual effects supervisor Andrew Whitehurst (Ex Machina) and the VFX team stepped in for when the train is in motion and when Indy comes face to face with Voller atop the speeding train.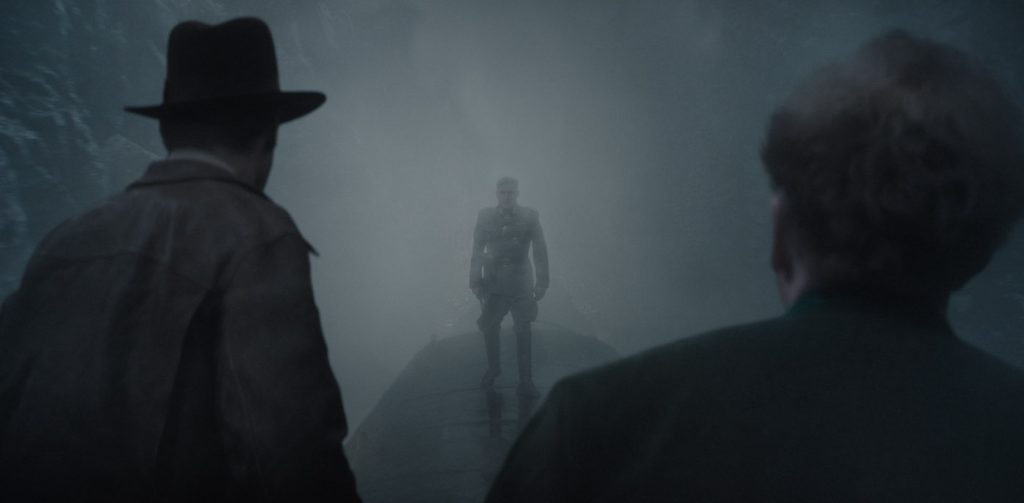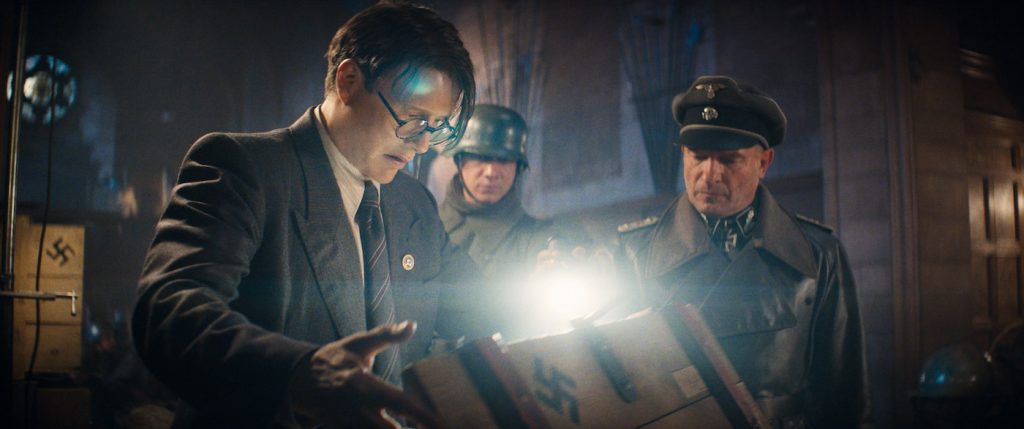 In finding the exterior locations, Stockhausen looked to a new scouting technique during the peak isolation period of the pandemic. "Normally, you would hop on a plane and go look at all these places, but we weren't able to do that," he says. "There was an innovative remote scouting system that we used where we were able to have someone with a camera walk around places and send a high-quality broadcast to Jim [Mangold] in Los Angeles and me in New York. We were able to discuss the locations live while we were looking at them. That's how we chose the castle, but then, of course, when we could, we went there and made sure we liked it. The technique was especially good for this film. Lockdown aside, Indy travels the world, and this was a really good way to check things out."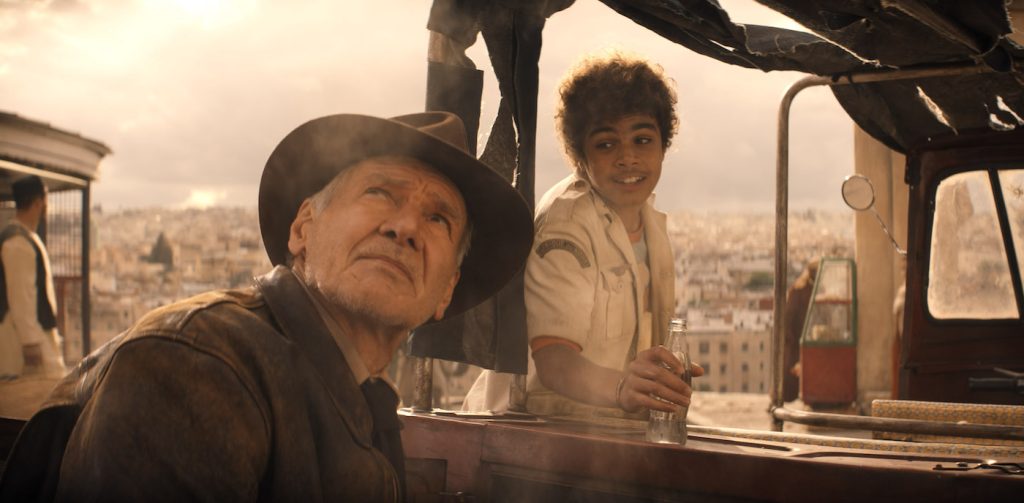 In creating the opening train sequence, Stockhausen says they wanted to capture the magic of an Indiana Jones adventure. "I am answering a little bit for Jim, but I know he'll say from a story point of view, from a filmmaking point of view, and certainly from a design point of view, we were definitely trying to acknowledge the legacy and history of the existing material and films."
Indiana Jones and the Dial of Destiny is in theaters now.
For more on Indiana Jones and the Dial of Destiny, check out these stories:
New "Indiana Jones and the Dial of Destiny" Teaser & Photos Hype Harrison Ford's Final Indy Adventure
Many of the Best Stunts in "Indiana Jones and the Dial of Destiny" Are Practical
Featured image: Indiana Jones (Harrison Ford) in Lucasfilm's IJ5. ©2022 Lucasfilm Ltd. & TM. All Rights Reserved.