"Indiana Jones and the Dial of Destiny" DP Phedon Papamichael on Capturing That Iconic Indy Look
Days before the theatrical release of Indiana Jones and the Dial of Destiny, its director James Mangold and cinematographer Phedon Papamichael watched the final version of the film with original franchise helmer Steven Spielberg and his long-time cinematographer Janusz Kaminski, who lensed Kingdom of the Crystal Skull (2008). Afterward, there was nothing but praise. "Hearing how great it was from them and them being generous about it was a really good feeling," says Papamichael during a phone call with The Credits.  
Dial of Destiny is Harrison Ford's final go as the adventure-seeking archeologist first introduced to us in 1981 with Raiders of the Lost Ark. What became so likable about Indy in Raiders and the eventual sequels is that he wasn't simply a pure action star. He's humorous, sensitive, vulnerable, charming, funny, and very quotable. This last chapter gives audiences everything we know and love about Indy but with a little more salt and pepper in the iconic character's hair.
The story picks up in the late 1960s during America's moon landing. Indy is nearing retirement from his teaching gig at New York's Hunter College when his goddaughter Helena (Phoebe Waller-Bridge) drops in for a visit. Not for a cup of tea, mind you, but to steal a precious time-altering artifact he has in his possession – Archimedes' Dial. There's just one problem. Former Nazi Jürgen Voller (Mads Mikkelsen) also wants it—really, really badly. And, as a Nazi is wont to do, will stop at nothing to get it. Cue the adventure!
For the globe-trotting saga, Papamichael says they strived for a familiar visual tone. "We wanted to connect with the tradition and the historic aspect of the franchise, which is a challenge, of course," he says. "For me, it was about not applying what I normally do, which is thinking about natural light and not trying to stylize things. But to embrace more atmospheric smoke, backlights, beams of light, hard light, shadows, colors, patterns… saturation. All that was fun to do."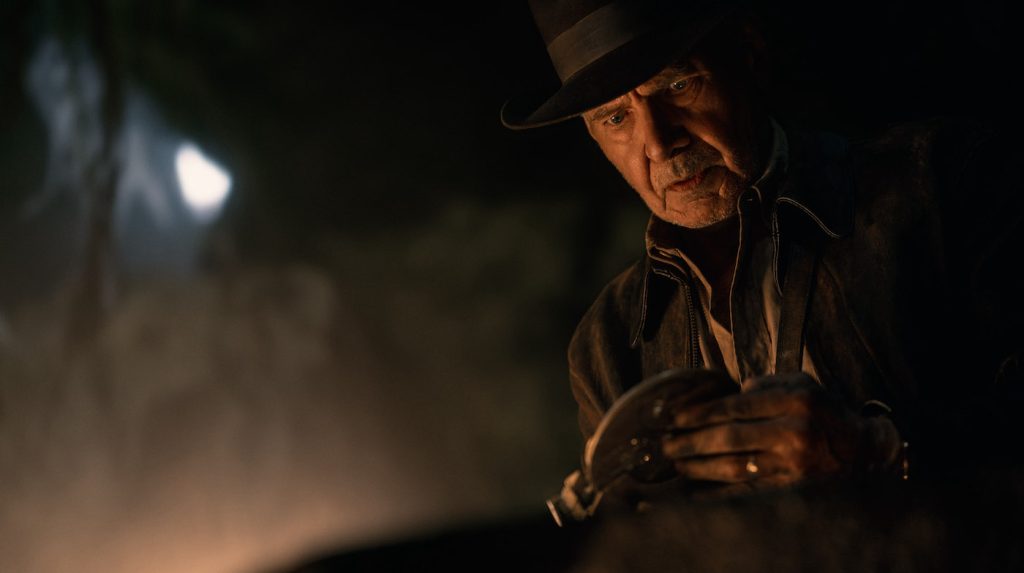 Papamichael drew inspiration from cinematographer Douglas Slocombe who preceded him on Raiders, Temple of Doom (1984), and The Last Crusade (1989), looking for opportunities to create the iconic silhouettes, dark shadows, and highlights on character's faces. "Jim and I always loved Steven's work, so it wasn't a big stretch for us to continue this style of filmmaking," he adds.
The opening sequence, which serves as the setup for how Indy became in possession of the dial, is a shining example. Here, we see a younger Indian Jones at the end of World War II, attempting to rescue his friend Basil (Toby Jones) aboard a speeding train filled with Nazis. It's a classic Indy action scene, one that's pulled off using a digitally de-aged Harrison Ford – a technique that scans images of the actor from every Lucasfilm to reproduce the younger Indy. The suspenseful affair has Jones face-to-face with Voller for the first time, and the two fight over the mysterious artifact. "We very much wanted it to feel like lost footage. Like something Spielberg shot on Raiders that didn't make the cut," Papamichael admits.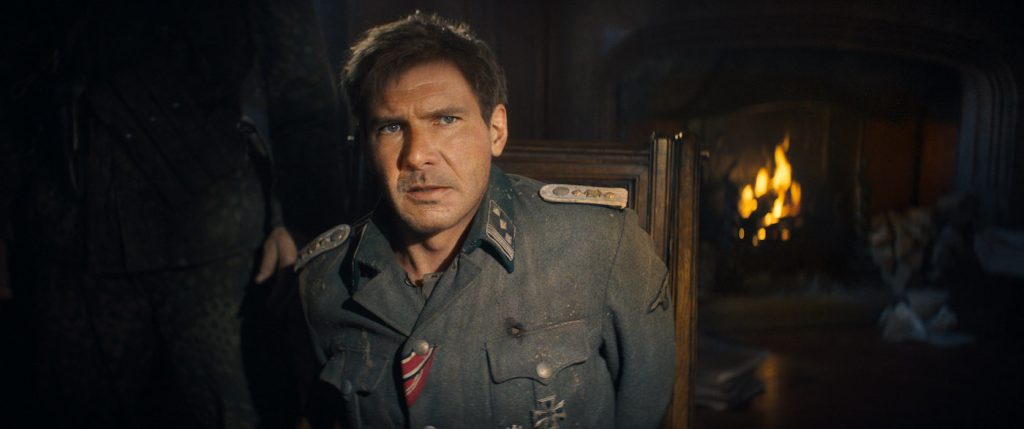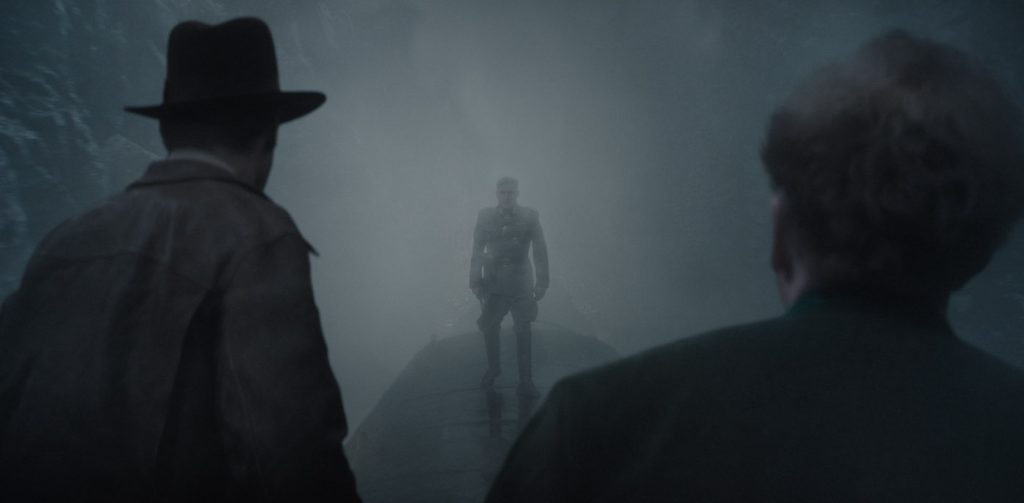 The action in Dial of Destiny doesn't stop. We're either running, on trains, on horseback, going underwater, on planes, or zipping through the streets on a tuk-tuk. "Although people are on the move, it's always about connecting with the characters," notes Papamichael. "Jim is very focused on what the characters are feeling and what they are experiencing. That's what's making all the action really emotional and effective."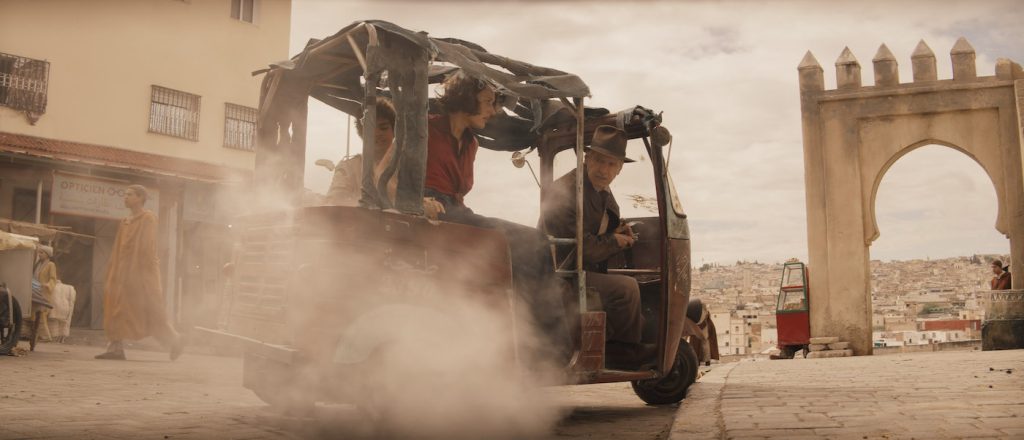 It was important for the cinematographer to capture character moments in the spirit of an Indian Jones adventure. "Hopefully, the audience will embrace the movie. Everyone will have their own way of thinking about what this last installment should be, but it's an Indy movie. You should have fun with it. I think we captured some great Harrison Ford moments, and the villains are great. I think we continued the tradition with great pride." Or, to quote Indy: "Fortune and glory, kid. Fortune and glory."
Indiana Jones and the Dial of Destiny is in theaters now.
Featured image: Indiana Jones (Harrison Ford) in Lucasfilm's Indiana Jones and the Dial of Destiny. ©2022 Lucasfilm Ltd. & TM. All Rights Reserved.