How "Bel-Air" Costume Designer Queensylvia Akuchie Brought an African influence into Season 2
Culture was costume designer Queensylvia Akuchie's (Long Slow Exhale, Grand Crew) inspiration behind creating the bespoke wardrobe in Bel-Air Season 2, a series that refreshes the beloved Fresh Prince of Bel-Air sitcom of the early '90s with a whole new cast.
"Connecting the culture of the roots and background of each character was immensely important to me," Akuchie shares with The Credits. "Everyone's journey displayed triumph and blossoming into new versions of themselves. I wanted to make sure we were able to visually communicate that with the costumes."
The Peacock series reunites the Banks family – Phillip (Adrian Holmes), Hilary (Coco Jones), Carlton (Olly Sholotan), Vivian (Cassandra Freeman), and Ashley (Akira Akbar) – centered on the now iconic East-to-West coast move of Will Smith (Jabari Banks), the West Philadelphian sent to live with the Banks family in their gated community. Will's a far way from West Philly.  Like its '90s counterpart, Bel-Air examines race, culture, and the black experience through a dramatic, culturally specific lens. The costumes parallel the shift in tone.
"One of the biggest hurdles coming onto the show was being able to incorporate all of your ideas," says Akuchie. "For season two, we find bold prints, colors, patterns, and textures that we often do not see on camera. I wanted to normalize African jewelry, African prints, bold colors, textures, and fabrics. I wanted a world where we all feel connected to where we're from and to showcase that through the Banks, an influential black family."
In designing the costumes, Akuchie chose brands and designers that fit the narrative. "We are not always given the freedom to do so, but thankfully our producers, showrunners, and cast trusted us every step of the way." Below, Akuchie details her approach to the characters and how Africa influenced the costumes.
With season two, there's an evolution in the style of costumes. How did you want to approach this next chapter in the show after taking over as costume designer? 
My overall inspiration and evolution for season two was culture driven. Beyond the beautiful fashion that we were able to execute this season, it was important to us to give a platform for new brands, new designers, and collaborating with artists of color. Being a Nigerian American, I started this journey with a goal and drive to work with designers in and outside of the diaspora. We sourced some beautiful pieces from all over Africa. I wanted to give an opportunity to those who I sometimes will not have the opportunity to showcase their craftsmanship and artistry. I worked with many designers outside of the United States, some of which were in the UK and West Africa.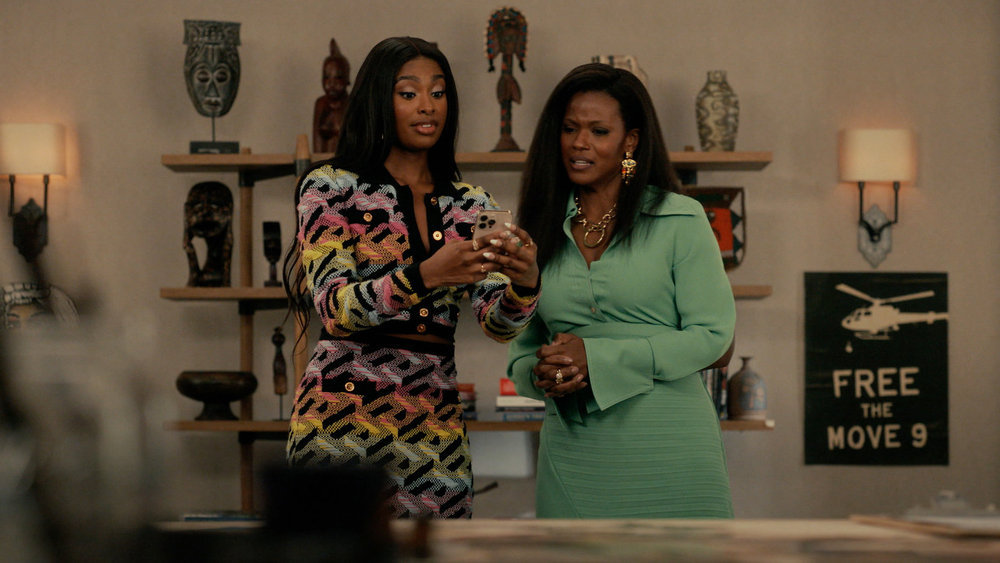 Who did you work with to achieve this vision?
We also worked closely collaborating with local Los Angeles fashion designers. At the same time, sticking to the core of who the main character Will Smith is and where he is from. I wanted to give an opportunity to many Philadelphia brands that, again, wouldn't have the opportunity to showcase still work otherwise as well.
How did you want further to define the style of Will (Jabari Banks)? 
How I would want to further define some of the characters' looks for season three would be emerging more into the Bel-Air aesthetic. Characters like Will will now envelope what it means to be a Bel-Air resident. We'll see him being more conscious and intentional about his environment and his new surroundings that he settled into.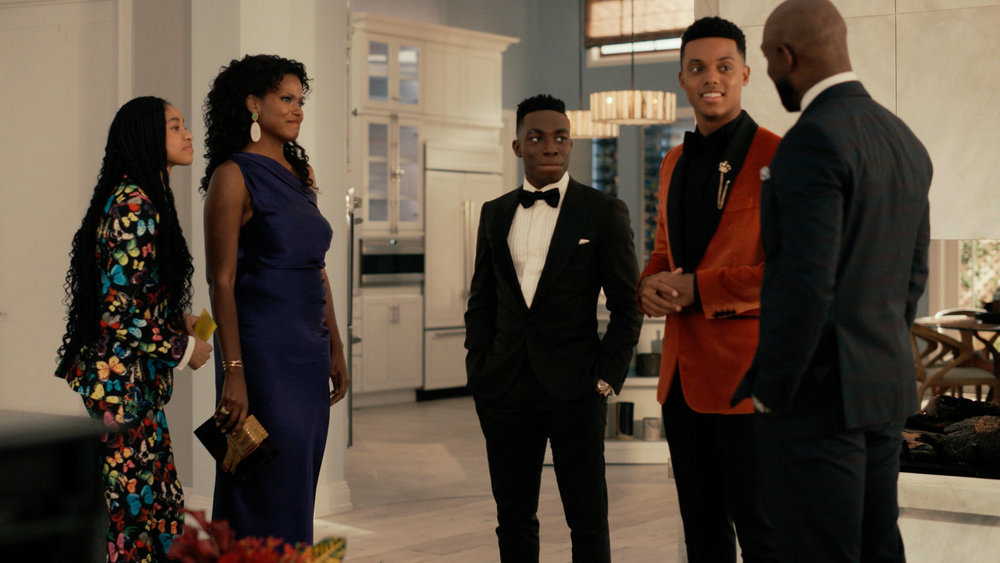 In terms of collaborating with the cast, how has it grown over the season?
Working with the cast was impeccable. Initially, the onset of building the character starts room just conversations and creating mood boards. This is where we collaborate about ideas, thoughts, and colors in the overall character. From there, this is where I take the approach of designing.
The standouts in the costumes are the vivid colors and the bespoke fits. We also love how you create a modern-day spin on '80s and '90s fashion. What is your approach to creating those looks? 
My main focal point for designing Bel-Air season two was incorporating color and culture. I wanted to make sure I kept true to who each character was and also bridge the gap from the original characters to now. As the amazing writing has similarities, you'll find that some of the characters have a sense of the original characters, which allows us to use and feature '80s and '90s styles. One character that we do that with a lot is Hilary. You can totally see the influence of the original Hilary and the current Hilary of Bel-Air. My approach to modernizing the looks was implementing different silhouettes, patterns, and shapes.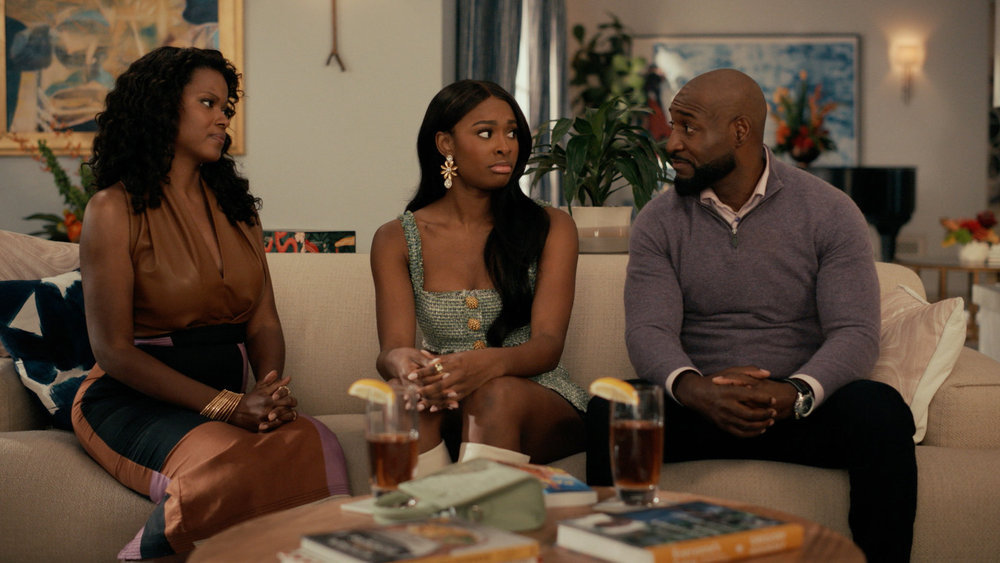 One thing you do exceptionally well is the subtle wardrobe nods that connect to the original show. Is there a guiding light that makes you say "yes"?  
While I do incorporate subtle nods from the original show, it's very intentional. I would say the guiding light would be the story, the energy, and where the character is going. Almost like the right place, right time.   
Outside the main cast, there are also a number of supporting characters and extras. While it's important for the leads to stand out, how do you approach costumes for the rest of the characters?
I always like to approach my shows as a whole. Everyone is important, from the supporting cast to the background actors. Everyone plays an exceptional part in making the overall vision come to life. For Bel-Air season two, I wanted to make sure everyone looked exceptional. Taking the time to build closets for recurring actors was very important, and also pre-fitting all of our background actors was important to the overall look of the show.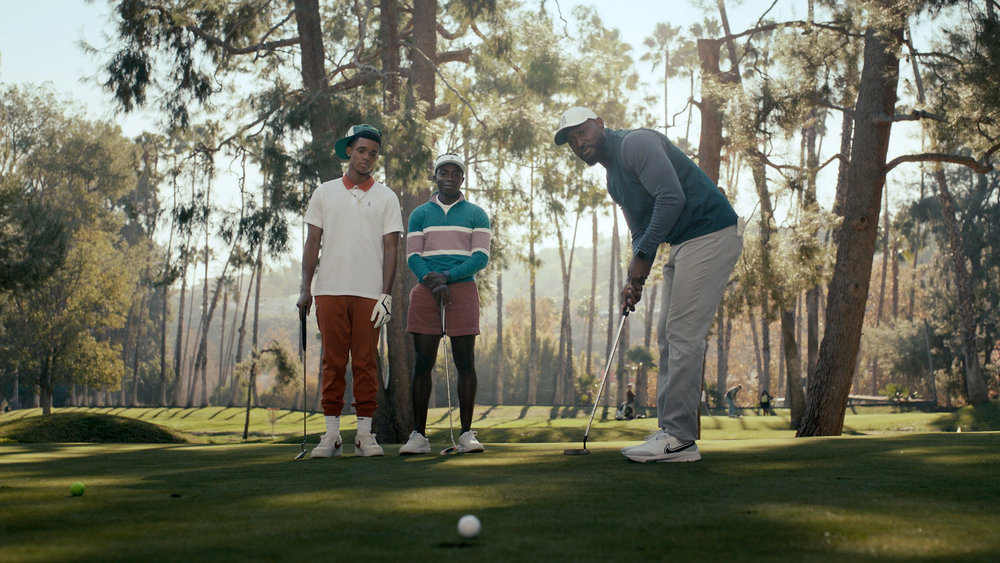 Fashion trends repeat in our culture. Is there a trend you wish would make a comeback (or go away)? 
An era in fashion that I adore is the '70s. We recently had the '70s make a comeback a few years ago, and in which it's still lingering for some designers. However, I feel the '70s era should just be timeless and stay forever. 
Is there any advice you can give to those looking to get into the industry? 
Stay the course, practice your craft as much as possible, network as much as you can, and when you walk into a room, share your value. You will always have a seat at the table. 
For more on Universal Pictures, Peacock, and Focus Features projects, check out these stories:
"Oppenheimer" First Reactions: Christopher Nolan's Historical Epic is Genuinely Mind-Blowing
Ethan Coen's "Drive-Away Dolls" Trailer Finds Margaret Qualley & Geraldine Viswanathan Hitting the Road
"Poker Face" Editor Shaheed Qaasim on Cutting Rian Johnson's Ambitiously Clever Crime Drama
 Featured image: BEL-AIR — "Excellence Is Everywhere" Episode 205 — Pictured: (l-r) Jordan L. Jones as Jazz, Olly Sholotan as Carlton, Jabari Banks as Will, Adrian Holmes as Philip — (Photo by: Greg Gayne/PEACOCK)