"Grease: Rise of the Pink Ladies" Songwriter Justin Tranter on Capturing That '50s Musical Magic
The Tony-nominated Broadway musical Grease captured a generation following its theatrical release in 1978, an era-defining film that starred John Travolta and Olivia Newton-John as a pair of unlikely teens falling in love. Since then, the beloved musical has been revived on Broadway, produced a movie sequel, and turned into a live television show. Debuting this April on Paramount+, Grease: Rise of the Pink Ladies continues the 1950s nostalgia with a new cast and storyline that takes place four years before the original film. It's less grease and more pink.
What does continue in the ten-episode series are the lively musical performances and choreography that make you want to jump up and dance. To bring a chorus of fresh music to light, songwriter and musician Justin Tranter blended a poppy mix of contemporary and period sounds that puts a welcoming spin on the original musical. Here, the Grammy Award-nominated artist shares how the tuneful tracks came to life.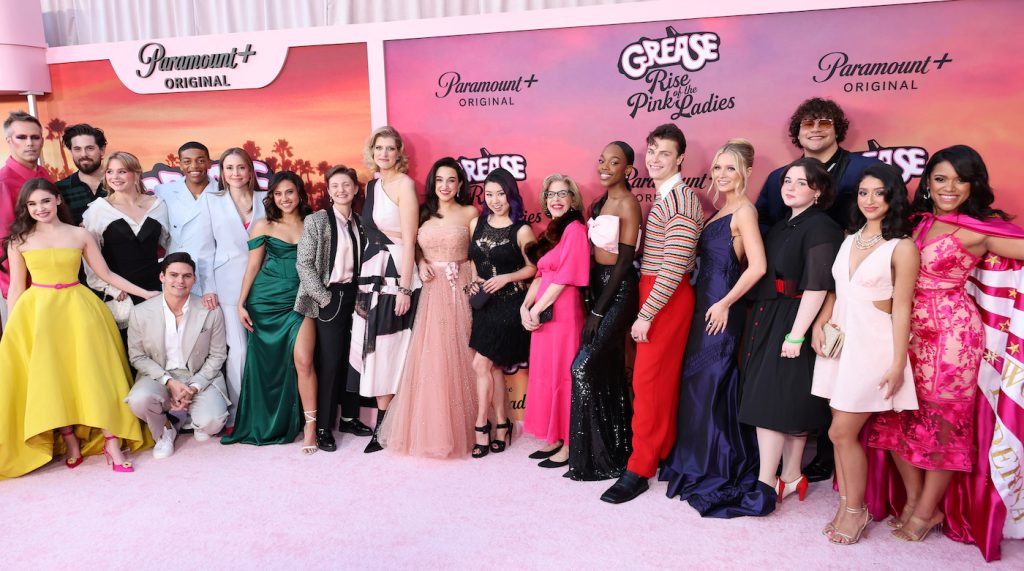 You come from a small town in Illinois, and now you've written music for a Grease television series. Were you always dreaming big from the start?
Growing up across the road from a pig farm in Hawthorn Woods, I would mow the lawn with my headphones on, belting along to whatever show tune I was obsessed with in the moment. I definitely was dreaming as big as f**k. I don't know if a Grease prequel was on the vision board, to be exact, but something close to it sure was.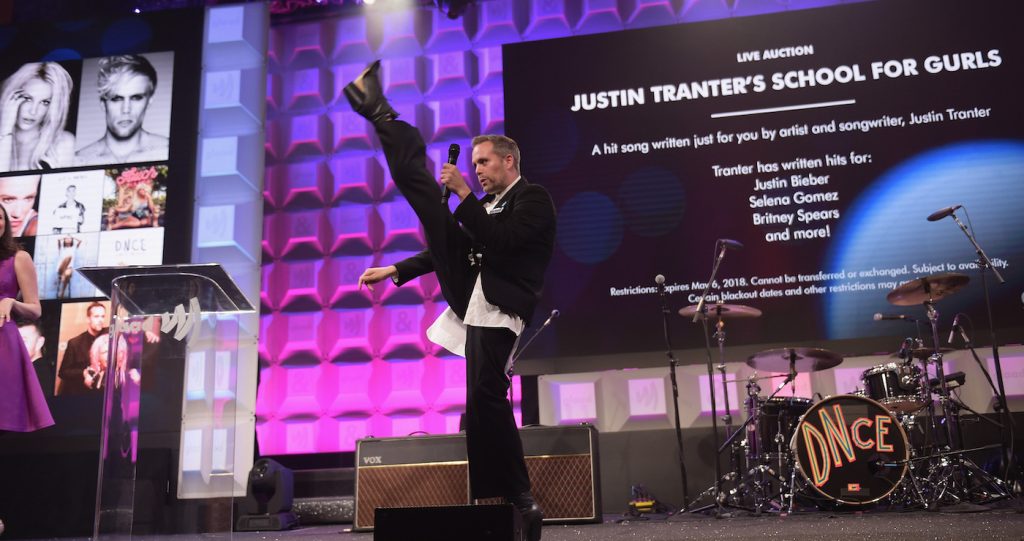 You came up with the rock band Semi Precious Weapons and eventually opened up for Lady Gaga. Do you partially credit that tour for landing you where you are today? 
I would for sure not be where I am today without my band. The band's glam punk edge earned me lots of pop star fans that sped up my songwriting career. Got me in bigger rooms faster than the average songwriter. And the band is how I got my publishing deal, so obviously, I owe the band everything.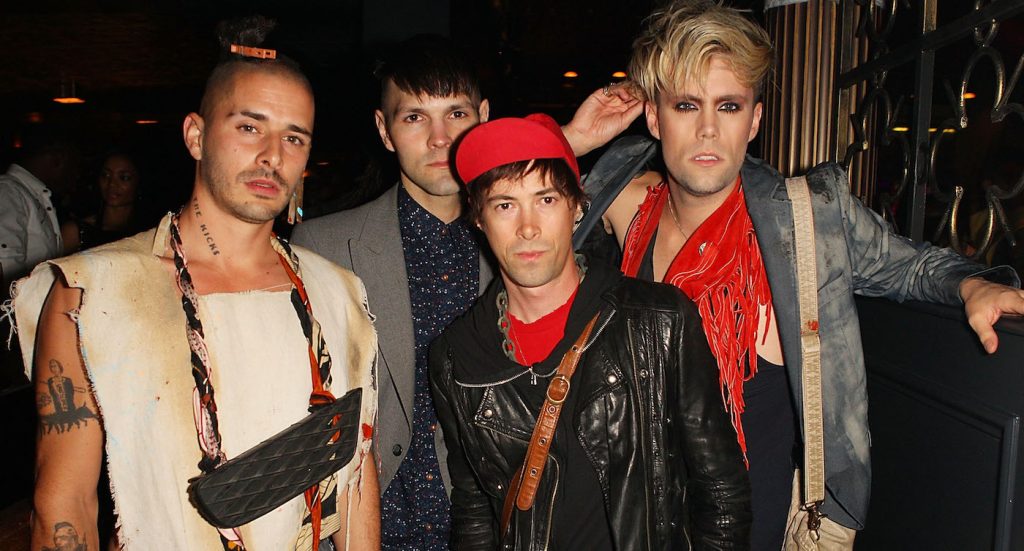 With Grease: Rise of the Pink Ladies, there are plenty of musical references. How did the show creators and the music team want to make it their own musically?
We wanted to follow the musical blueprint of the movie, which was leaning on 50's nostalgia but didn't want to be afraid of current moments either. Our modern day is not 1978, so that changed the formula but still followed the blueprint. We used lots of vintage guitar tones, vintage chord structures, and old-school drum grooves. But we set ourselves with some modern low-end and vocal rhythms at times so young people could feel like this was their Grease.
How was the collaboration with Zachary Dawes and Nick Sena?
Zachary and Nick did the score, which used a lot of songs that my team and I wrote. It was beautiful to see it come to life and see which song themes they brought back to underscore emotional moments. 
Since they were handling the score, how did you approach writing the songs? 
I wrote the songs with a team of writers/producers signed to my publishing company, Facet. Dan Crean and Eren Cannata handled all the instrumental writing and producing while either Brittany Campbell or Brandon Colbein co-wrote the lyrics and melody with me, depending on which scene or character the song was for. It was a gorgeous collaboration between our little team. And then showrunner Annabel Oakes and I went deep on notes for every single song to make it as seamless as possible with the story. 
How did the eventual choreography influence the creative process?
All hail Jamal Sims! He would always choreograph to our songs when they were done. But there was definitely collaboration on him calling and asking things like, "Can I get an extra two bars here for a moment, or can I get more backbeat in this section since I have a vision, etc". It was great! 
You've worked with some big names in music. Was there anything unique to your creative process writing for the small screen?
It is soooooo different. On the small screen, you are an employee, which was a big change for me. You are writing to make the songs great, sure, but you're also writing to make sure they get approved by executives and a writers' room. It's a very different creative process. But most importantly, in pop music, songs, for the most part, are about the same feeling for three minutes. In a musical, that sometimes happens, but mainly you are writing to get a character (or characters) from point A to point B. There is a lot more story to cover, which is a beautiful challenge.
There are several catchy new hits in the series, but do you have a favorite?
'I Want More' is probably my favorite. It's the last song we wrote for the season, even though it's in episode two. I really understood our protagonist's journey and was able to really nail a classic "I want" song for her. I feel like it's a simple but profound idea…a young woman wanting more than society thinks she should have is a DRAMA. And then another honorable mention is "Crushing Me" because TikTok has made it go viral. As a queer person seeing so many young people connect to a song about a queer crush in 1954 really warms my heart. 
After the experience, is writing music for television something you want to keep pursuing?
Oh yes!! It was the hardest but most rewarding thing I've ever done. I learned so much! I think whatever I get to do next, I'll be so even more ready to slay harder. It's fabulous to keep learning in my old age.
Grease: Rise of the Pink Ladies is streaming now on Paramount+.
For more films and series from Paramount and Paramount+, check out these stories:
"Star Trek: Picard" VFX Supervisor Jason Zimmerman on Charting The Series' Final Course
"Fatal Attraction" Production Designer Nina Ruscio on Creating Design With an Edge
Mission: Must Watchable – 10 of the Biggest Remaining Summer Films
Featured image: L-r: Tricia Fukuhara is Nancy, Marisa Davila is Jane, Cheyenne Isabel Wells is Olivia, and Ari Notartomaso is Cynthia. Courtesy Paramount+