"Godfather of Harlem" Production Designer Patrick Howe on Handling History in Season 3
The story of gangster Bumpy Johnson (Forest Whitaker) continues to unfold with the third season of Godfather of Harlem, from creators Chris Brancato and Paul Eckstein. This prequel series to Ridley Scott's 2007 feature American Gangster, starring Denzel Washington and Russell Crowe, cleverly intertwines a kinetic group of characters in a period crime drama well worth watching.
This season, Bumpy faces no shortage of challenges—the CIA, FBI, and the Italian mob—while uncovering an assassination plot against Malcolm X, charismatically portrayed by Jason Alan Carvell. Tasked with bringing the bygone era of New York to the fold was production designer Patrick Howe (Only Murders in the Building), who sat down with The Credits to share how the series has evolved and what went into recreating Malcolm X's final hours.
When took over production design duties starting in season two, how did you tackle the design process considering the look of the show had been established?  
The workflow approach remained very similar, but I hand-picked a new art department of colleagues I had previously worked with on other projects but who were new to Godfather of Harlem. Fortunately, I was able to retain the same construction and scenic team, both of whom are very strong, and I had a fresh start with a decorator, art director, graphic designers, etcetera. I was able to research the time period and the historic storylines I anticipated would be written during the shutdown, which gave me a jump to our actual start of prep in September 2020.
I imagine a period piece like this requires a daunting amount of research?
All period shows warrant an unending amount of research of the historic characters and their personalities, as well as architectural, interior design, and fashion styles of the time, and researching at least two generations prior. Fortunately, I worked on most of the first season and liked the style and tone in general established by the original designer Dan Leigh. So my adjustments to the returning sets were minimal and subtle touches to further enhance their strengths. Such as; adding more light sources (windows and practical fixtures) and logistical alterations like more camera ports or camera access. With new sets, there were opportunities to continue textures and character color palettes stemming from some original sets as well as establish new ones.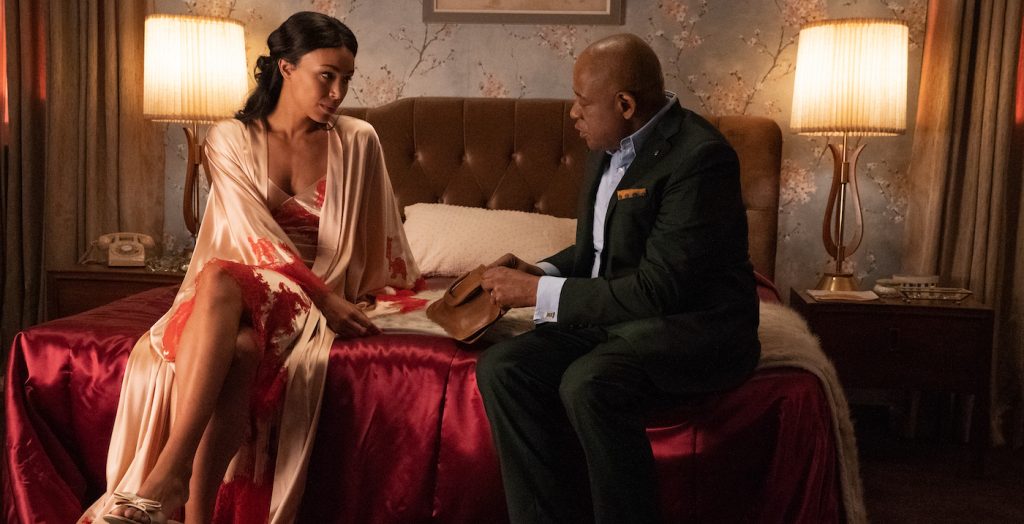 Season three has Bumpy taking back Harlem from the Italians. In terms of look and feel, how did you want to approach creating separation to their mainstay locations?
Season three presented several exciting opportunities because we were introducing new characters of different ethnic and socio-economic backgrounds, each with different motivations and goals, some political, others financial or of imperious nature. Therefore, the settings could break out in style, patterns, and colors to support the characters causing a natural separation from the previous hero sets. I am always looking for as much contrast as possible when cutting from one scene to the next to induce more visual interest and impact the pacing.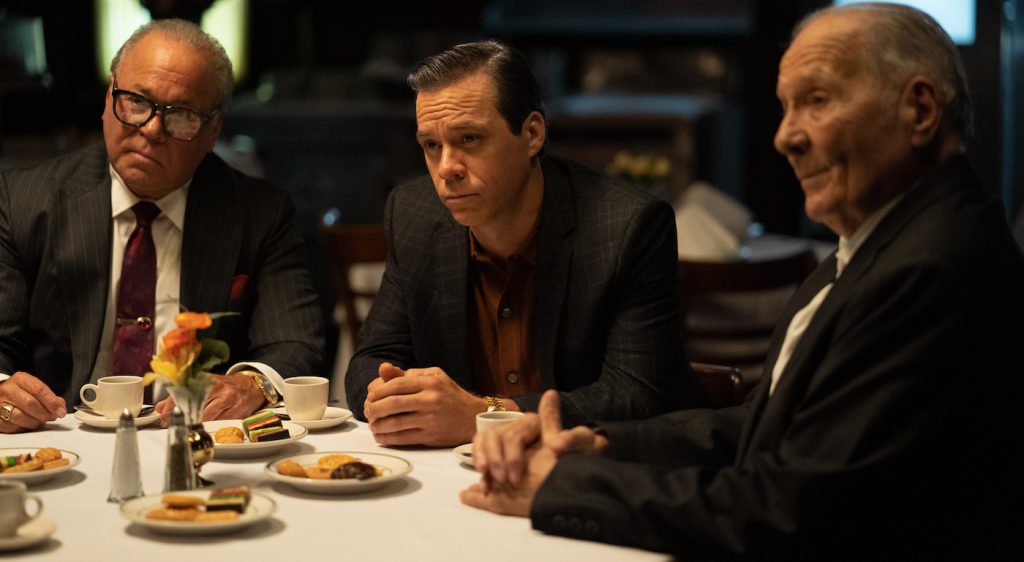 Can you talk about what went into detailing Bamonte's, the iconic New York Italian restaurant?
I think season three has more scenes in Bamonte's than the other two seasons combined. At this point, it is clearly established as the go-to Italian mob meeting place. A lot of plot development evolves here. Sometimes we luck out and find a location that is very close to the right tone just as it is. Few adjustments were made at this restaurant, as it had all the correct bones for our storytelling. We made a few alterations to help dramatize the story points of these characters in their "working office." Primarily in artwork, lighting fixtures, tabletop dressing, and furniture editing. The large kitchen in the background only needed steam, cool color temperature lighting, and some cooks to compliment the warm, dim, romantic lighting of the dining area, preserved as a peaceful food temple and harsh deal-making workplace.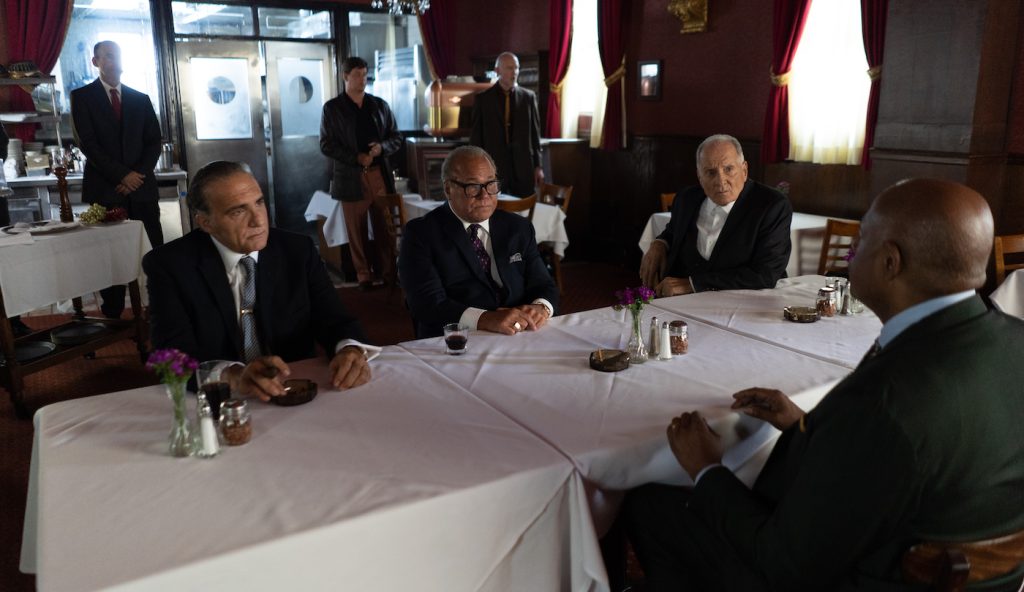 How has virtual production, if at all, influenced the decisions into your production design on the show?
For Godfather of Harlem, as produced in NYC at this time, virtual production is primarily still a tool of the future. We have discussed the possibilities of introducing elements like LED video walls which could greatly enhance backings outside windows (the Cairo Hotel) or driving scenes in general. But logistically, the traditional tool of green screen meets most of our needs. The use of visual effects continues to grow as the technology develops. This is very helpful to us for building period plate shots, essentially digital matte paintings, as well as effectively helping with the practical use of weapons (gunfire, rocket launchers), explosions, and more.
Shooting a period piece in New York is not easy. When it comes to new locations, what is the early collaboration with the location manager to get it moving in the right direction?
A close and compatible relationship with the location manager is essential, and fortunately, I have that. A lot of teamwork is required to prioritize locations versus stage sets. There are many scripts where a scene could take place in either an actual location or choose to build a set. Period exterior locations in New York are particularly are getting harder and harder to find. The ones we settle on require more and more alterations to eradicate all the modern technologies present in the streetscapes, from internet power kiosks to security cameras, to Wi-Fi antennas, to all modes of transportation, streetlamps, traffic signals, LED signage, the list is almost infinite.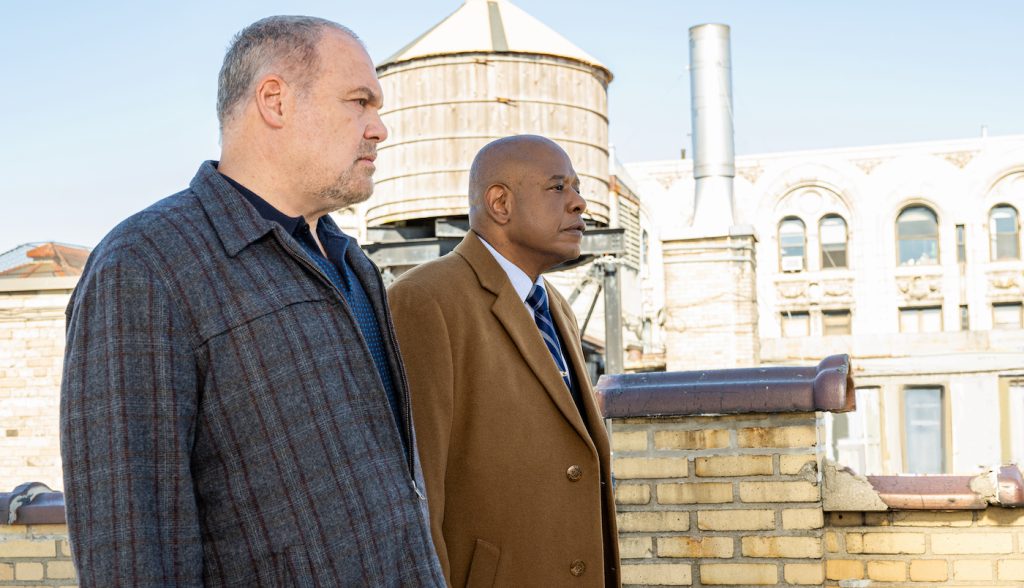 What about for interiors?
Fortunately, there is more inventory of interior locations to choose from than exterior. The bigger challenge becomes the combination of access to them and their geographic location in relationship to our tight filming schedule. If we strike out in this area, often the default solution is building a set.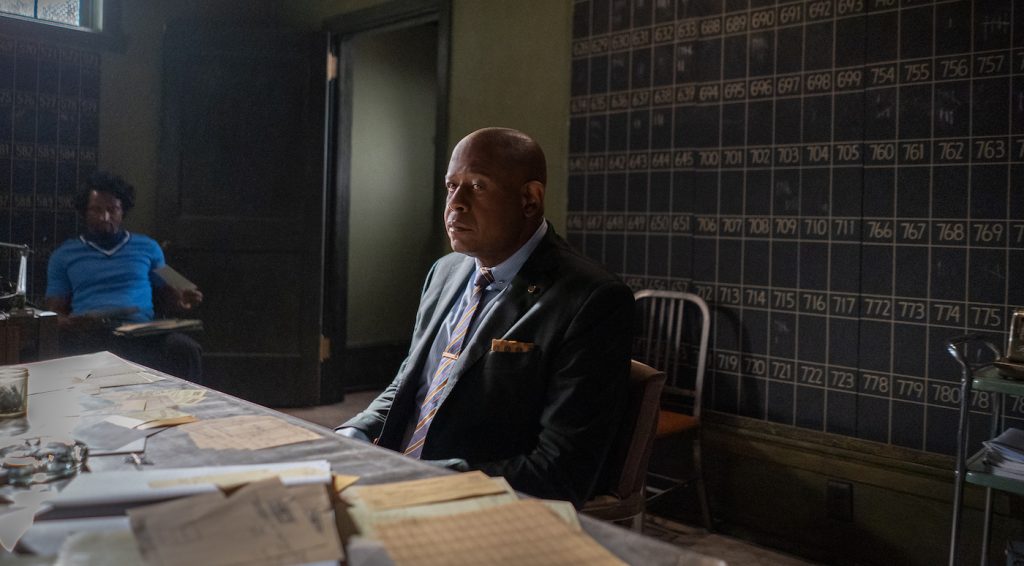 The finale of season three was poignant, with truly remarkable storytelling. Can you talk about what went into creating Malcolm X's (Jason Alan Carvell) final day?
I found it impactful too. The credit goes to creator and showrunner Chris Brancato, and a question more eloquently answered by him. That said, Malcolm X is one of the most complex individuals in recent history. Historians are still peeling back layers to the life and psychology of Malcolm. So much has been shown in film about the life of Malcolm, (we all know how it ends), so it was important to Chris to stylize the details in a way that gave focus to the relationship that our audience had with Malcolm and our other characters.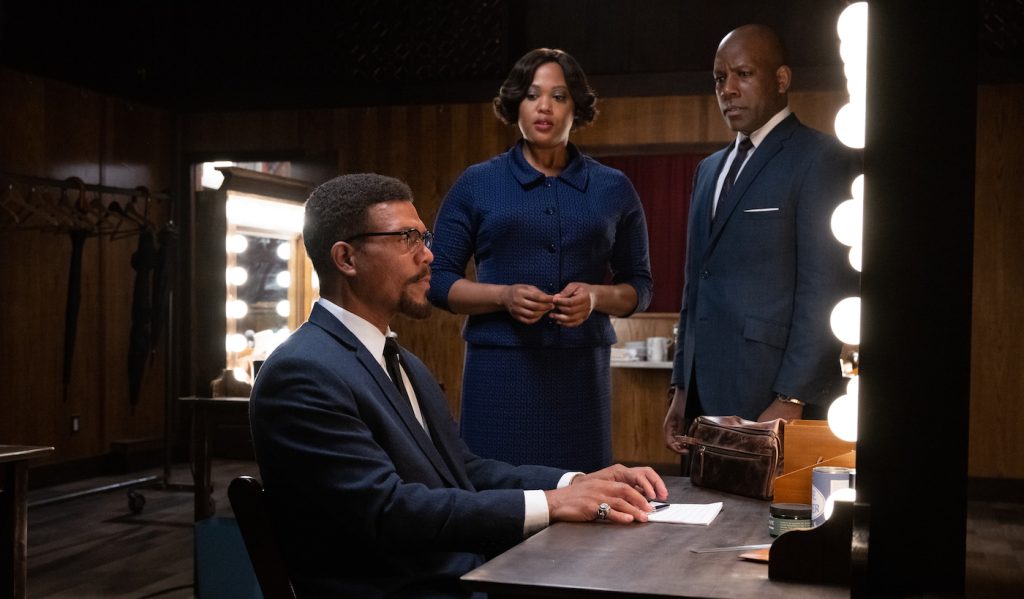 How did production want to approach Malcolm X's story?
We created a timeline of Malcolm's last twenty-four hours, showing the interactions with our characters that were closest to his day-to-day life helped heighten the intimacy and importance of their relationships. The Godfather of Harlem story is revealed through its canvas of characters' relationships with each other. The tensions, conflicts, devotions, passions, and intimacies are the Godfather of Harlem oeuvre.
How did the timeline aid in the set creation?
For the settings for Malcolm's last twenty-four hours, I was mindful of creating sets that all tied together in a peaceful and calming way. We had established his time was limited. In the story, he was staying in a hotel, having lost the house to a firebombing. I designed this to be an attractive serene setting for him and Betty to visit. Likewise, his office set at the Hotel Theresa I designed was light in tone, cheery, tidy, and an organized workplace, and at the point of this episode, almost empty of volunteers, which helped suggest another sense of respite and retreat quality.
What went into recreating the Audubon Ballroom, the theater where Malcolm was assassinated during his speech?
We chose a location to modify for the Audubon Ballroom that suited our filming size, the number of extras, and an area where I could create the look of the stage background, evidenced by research photos. I developed this in neutral tones and softer textures that saved focus for Malcolm and the cruelty we were about to witness.
Did you aim to modify an existing location for the White House sets too?
Yes, it was the same situation with LBJ's White House office set, a tranquil, organized space in both decor and lighting that offers a contrast to the chaos at the ballroom. I was seeking the same control and effect with the morgue (and others) as well. I think it worked; all the settings collaged together in the order they appeared, the colorways, tones, and overall mood of each environment, to support the intimacy of our character's experiences of witnessing Malcolm's tragic demise.
Godfather of Harlem is available to stream on MGM+.
Featured image: Season 3 Episode 308: "Homeland or Death." Courtesy MGM+.