"Transformers: Rise of the Beasts" Ciara Whaley on Recreating That Strong 90s Style
With the latest installment of the Transformers franchise, director Steven Caple Jr. wanted to evoke the experience of growing up a kid in the 90s. Transformers: Rise of the Beasts begins in Brooklyn in 1994, and from the settings to the costumes and the era-defining hip-hop, everything evokes the style and sensibilities of the period. 
The story takes place after the happenings of 2018's Bumblebee, which is set in 1987. Former US Army private Noah Diaz (Anthony Ramos) and archeological researcher Elena Wallace (Dominique Fishback) are thrown into a struggle of intergalactic proportions when Elena unknowingly triggers a beacon hidden within a statuette, calling the evil Scourge (voiced by Peter Dinklage). Scourge is in league with Terrorcon robot Unicron (voiced by Colman Domingo), an entity that destroys worlds. Noah and Elena join forces with the Autobots and an ancient group of robot beasts, the Maximals, to prevent Earth's annihilation, which takes them from the streets of Brooklyn all the way to the mountains of Peru. 
One element essential to capturing the 90s aesthetic was the costume design. With three distinct groups of transformers bringing so much action and technology to the screen, it was important to keep the human characters grounded and believable. Costume designer Ciara Whaley researched styles and fashions from the 90s and brought an authenticity to Noah, Elena, and the other human characters that helped make them relatable while their lives are upended by a legion of colossal alien robots.
We spoke to Whaley about being inspired by the 90s and more for her work in Transformers: Rise of the Beasts.
You were mentored by costume designer and educator Mimi Maxmen. How did she influence you in your career? 
I didn't know costume design was even a job. I had done a few short films, but I didn't know what you did besides just getting the clothes you needed. I had no idea about costume warehouses. My first time walking into one with her, my jaw dropped open. I just felt like I was in a safe space where I belonged. She was so strict and did everything by the book, like doing her costume breakdowns by hand with pencil, and she had me doing that with her. So now, on every project, I do my breakdowns by hand. There are so many apps that you can use now, but I like to do it myself just to feel it through my hands. Also, the relationship she had with her directors was so special, I really saw it was a collaboration between the costume designer, the director, and the actors, who had their own insights. I saw she wasn't just the costume designer, she was there to help bring everyone's vision to life and to act as a person to channel everyone's ideas and get that right thing on screen. I always try to do that, too.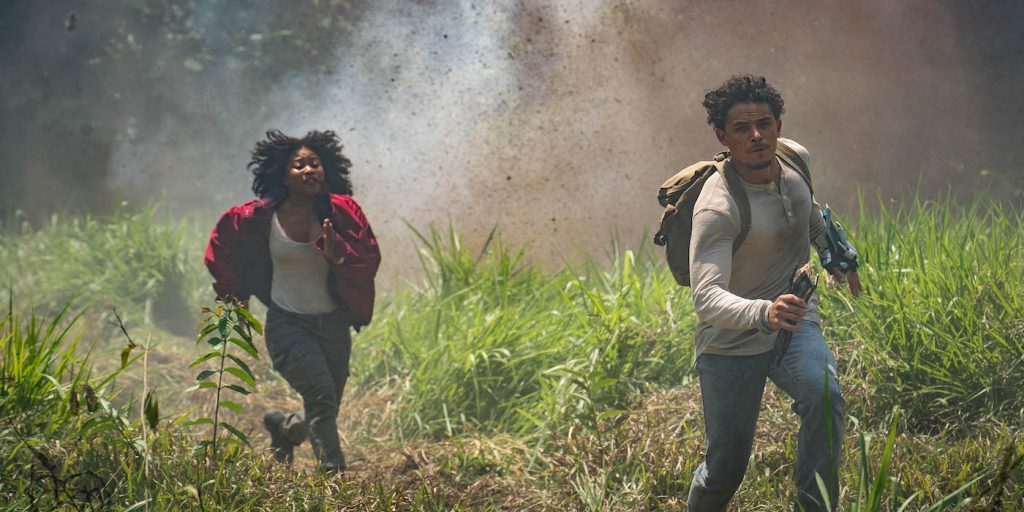 Why is it important to you to express identity and individuality as part of your aesthetic, and how does that figure into your designs?
The world is so large, and we're reminded of that every day now through social media. I wish I had that as a kid. I grew up in Cleveland, Ohio, and went to a Catholic school. I had to wear a uniform, and that was really boring to me. Then, as I started to do this job, I realized I was channeling my upbringing of being an observer and wishing I could express myself through my fashion. When I'm on set, I'm able to see beyond the surface or just a pretty face. I'm able to translate whatever the character is calling for with their clothing.
Transformers: Rise of the Beasts is set in 1994, and the 90s had a very strong style profile. What were some of the choices for the characters that furthered storytelling? First, tell us about Anthony Ramos. 
For Anthony, Steven wanted to create a hero with his character Noah Diaz, so I really wanted to stay grounded in how he looked. When we first see him in his apartment, he's wearing this very colorful Jordan tank top, but that's the most color we see on him the whole film.  We wanted to give a glimpse of how he is at home with his family. Once we go out in the world, he's thrown into this interview that doesn't go well, so we have him in a muted brown suit. He's not flashy. He's getting beaten up by the world a little bit. We want the audience to relate to him, which meant his color palette outside of home was going to be more muted.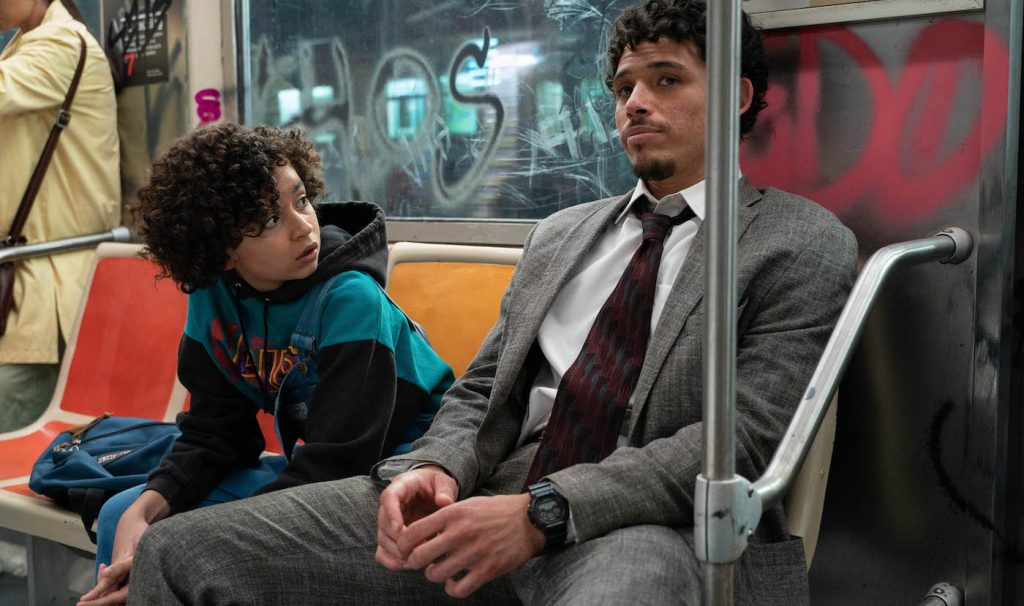 In Peru, we stuck with really simple 90s silhouettes like light-washed jeans and a simple white top, in part because so much happens there; we didn't want to take anyone out of the film.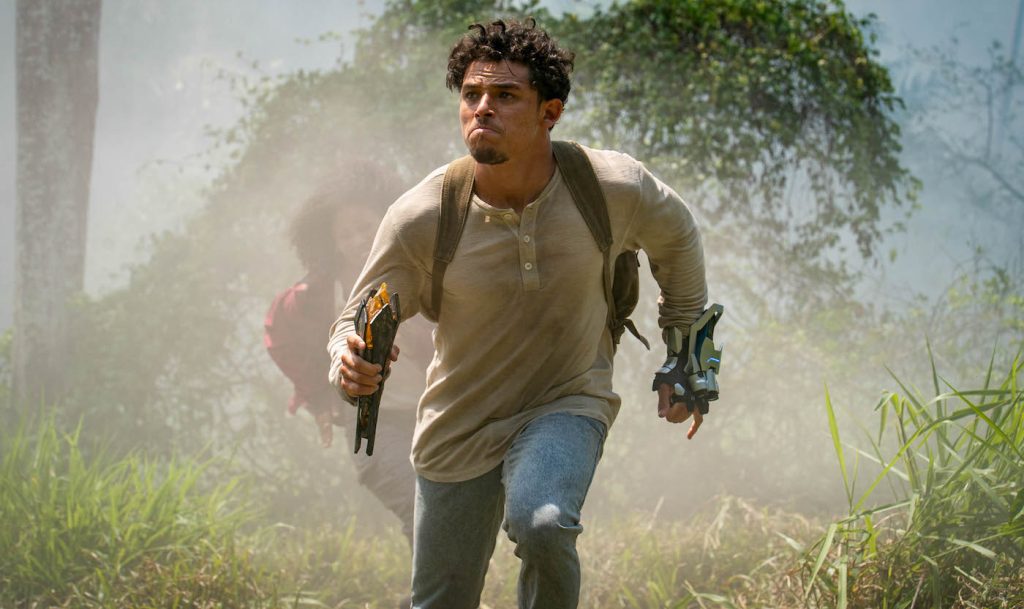 For Dominique Fishback's character Elena, you researched wardrobes of actresses from the time, like Nia Long. Who else was your inspiration for her character?
The character Hilary Banks from Fresh Prince of Bel-Air was a huge one for me. I looked at lots of magazine covers of the time, I watched a lot of music videos like "En Vogue" just to see how women were actually wearing their clothes. I felt like I needed to have a huge collective in my mind of not just what I thought the 90s were but how the era was seen around the country and the world.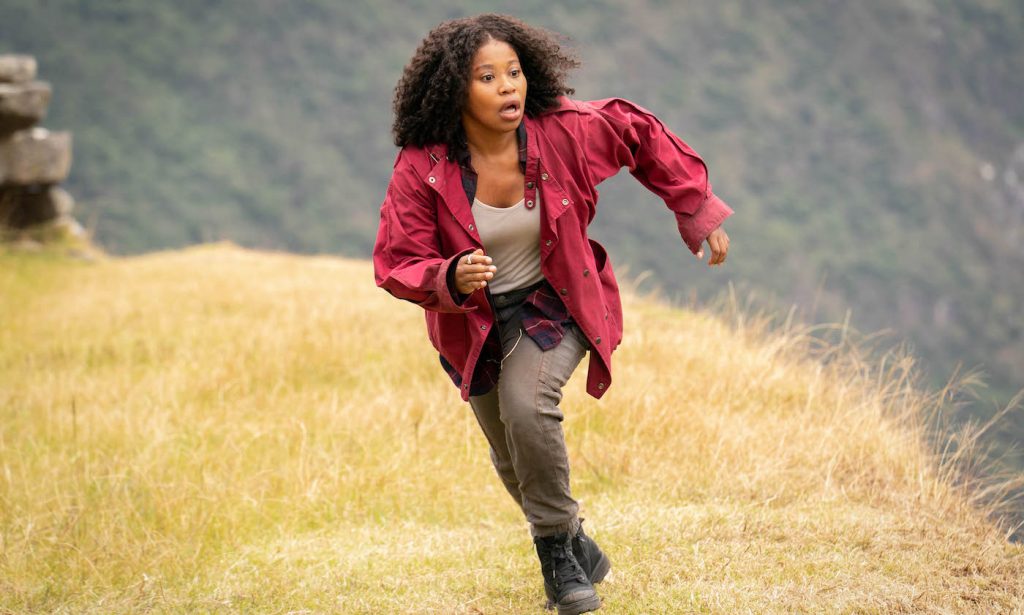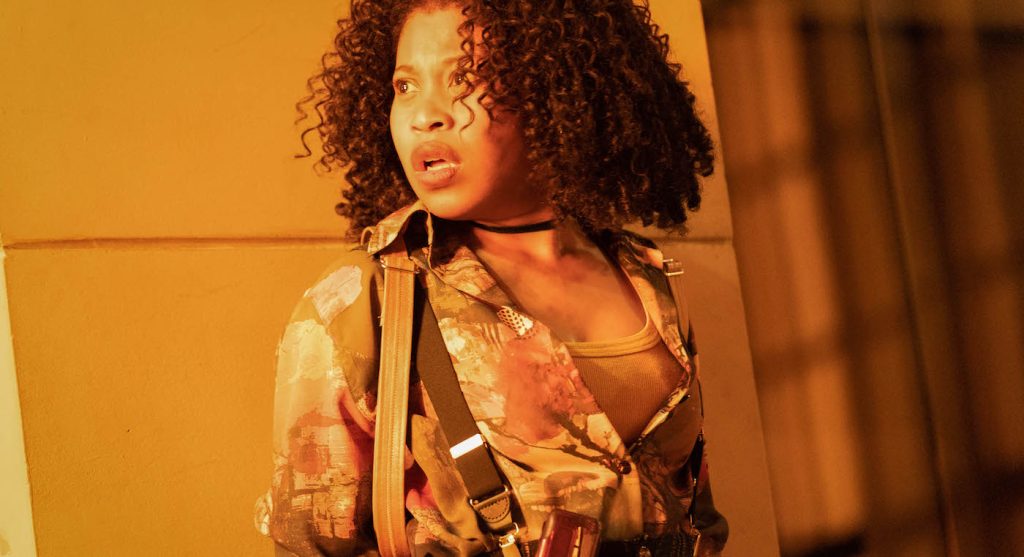 What were some of the choices for Luna Lauren Velez, who plays Breanna Diaz, Noah's mom?  
Breanna, she's on the go. She doesn't go to what should have been a very important appointment with her son. She puts the responsibility on Noah. We wanted to portray why she can't come to these things without getting into a huge amount of backstory.  So, what kind of job does she have? We thought she would work somehow in the service industry and gave her a smock that could mean anything to many different cultures, but you definitely know she's not the boss, and she has to answer to somebody else. That's why she's relying so heavily on her son. We wanted to make her feel very down to earth when she's at home and give you an idea she's loving, but she also has work to do.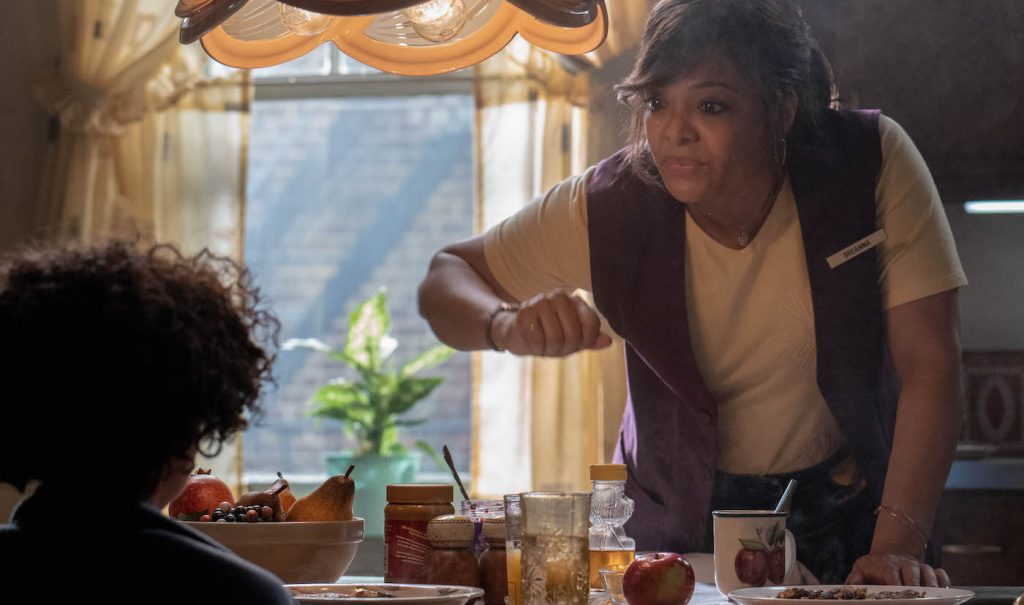 What did you learn on Transformers: Rise of the Beasts you can take to your next project? 
I confirmed that the character is number one, even on a huge project like Transformers. There are so many cooks in the kitchen, so many producers, but for me, it was about looking at each character and what makes them them. When you have all these robots on screen, the characters can really be just side players. Whenever you're able to focus on why you like Noah or Elena, It's really because of the heart they're bringing to the screen. The costume is a huge help in that. For every project going forward, I'm going to remember to keep character first, no matter how big the budget or the audience is.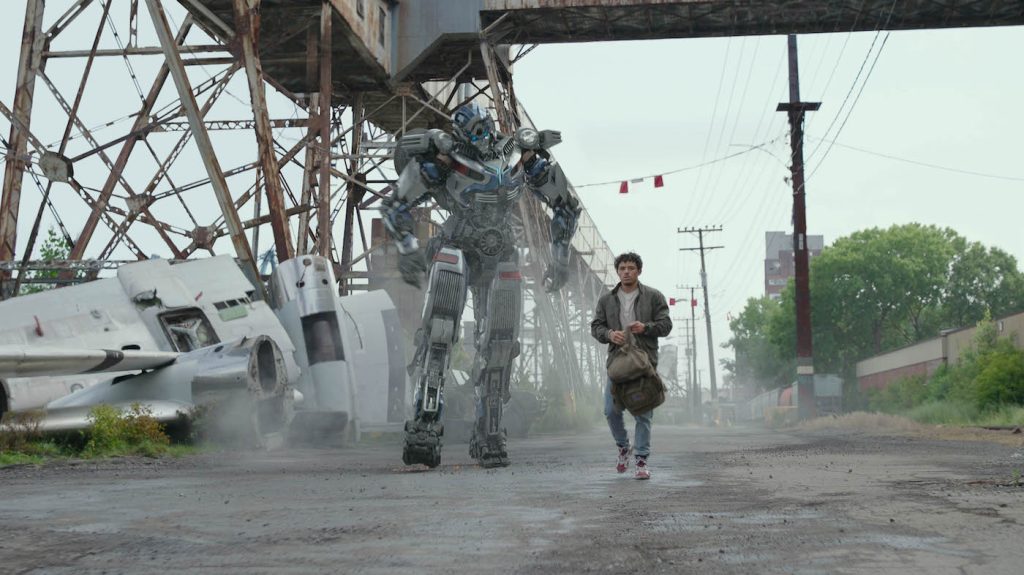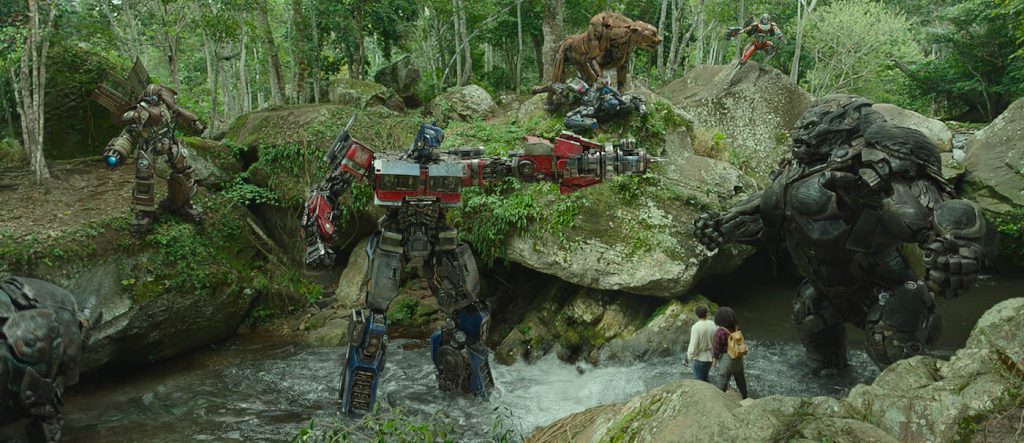 Transformers: Rise of the Beasts is in theaters nationwide. 
For more on Transformers: Rise of the Beasts, check out these stories:
"Transformers: Rise of the Beasts" Review Round-Up: Fan-Favorite Maximals & Human Story Supercharge Blockbuster
New "Transformers: Rise of the Beasts" Clip Finds Prime Meeting Primal
"Transformers: Rise of the Beasts" Official Trailer Roars New Life Into Franchise
Featured image: Anthony Ramos and Dominique Fishback star in PARAMOUNT PICTURES and SKYDANCE Present. In Association with HASBRO and NEW REPUBLIC PICTURES. A di BONAVENTURA PICTURES Production A TOM DESANTO / DON MURPHY Production. A BAY FILMS Production "TRANSFORMERS: RISE OF THE BEASTS"