"Swagger" Creator Reggie Rock Bythewood on Soaring to New Narrative Heights in Season 2
When looking for their next favorite series, fans of engaging drama—bonus points if you're a lover of basketball—should look no further than creator and director Reggie Rock Bythewood's series Swagger, which just premiered its second season on Apple TV+.
Based on the youth basketball experience of NBA superstar Kevin Durant, the story is centered around the Maryland-based team "Swagger DMV," coached by Ike Edwards (O'Shea Jackson Jr.), a man committed to making both great ballers and world citizens of his team, led by star player Jace Carson (Isaiah Hill). Jace and his teammates are close both on and off the court. He also gets support from his mom, Jenna (Shinelle Azoroh), a woman sacrificing to make his son's dream a reality, and his best friend Crystal (Quvenzhané Wallis), who is, herself, a player ranked among the best in the country. 
At the start of the first season, Jace is 14. The second season moves into the future, with most members of Swagger DMV in their junior or senior year in high school. Coach Ike and nearly his whole team have moved to an elite, mostly white private school, where he must work with strong-willed athletic director Dr. Emory Lawson (Orlando Jones). Jace and Crystal are moving beyond their friendship into romantic territory, and Jace's teammates Nick (Jason Rivera), Phil (Solomon Irama), Royale (Ozie Nzeribe), and Musa (Caleel Harris) are all dealing with their own growing pains and challenges. 
Though Swagger is, first and foremost, a show about basketball, Bythewood interweaves these well-developed characters and their experiences into stories that speak to the most pressing issues of social justice happening today. The Credits spoke to Reggie Rock Bythewood about that balance, his inspiration for the look and feel of the show, and a riveting basketball game at mid-season that is shot all in one take. 
Swagger deploys mazes as a strong motif, which runs through both seasons of the series. It's in the opening titles, the first scene of the series, and shows up both in the visual language and as part of the storyline. 
The opening image of Swagger is Jace being given a hand-drawn maze by his father. It becomes a metaphor for life because life is not a straight line. There are twists, turns, obstacles, and opportunities, and when we tap into the maze as a societal position, you can think of the civil rights movement, reconstruction, and the events of 2020 as part of this maze we're all in. We either choose to move out, or we choose to stay stuck. Because that's so much a part of our storytelling, it didn't feel right to just call our shows episodes, so we called them mazes. Then the maze became a part of our cinematic approach. Even the way we film basketball feels like we're a part of the action and have everybody all in the same maze. Playwright Edward Albee once said, "Sometimes you've got to go a long distance out of your way to come back a short distance correctly." It really made sense for us and everyone else crazy enough to embrace this idea.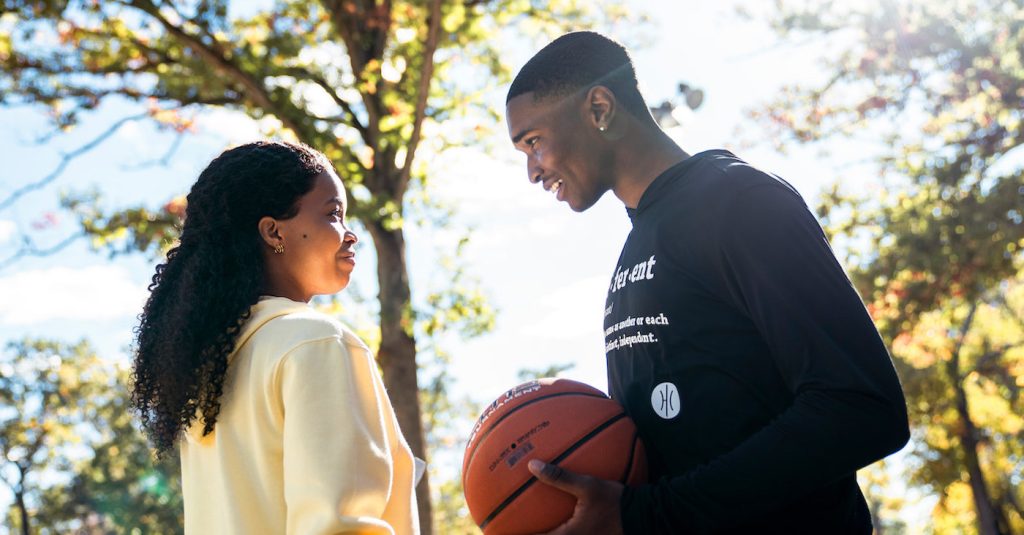 The opening titles for the show were done by artist Lisa Whittington, and her painting "Emmett Till: How She Sent Him and How She Got Him Back" was a big inspiration for the series. Explain the impact the art had on the visual color story and story arcs of Swagger. 
The first season began with Jace at 14, so I thought about the most famous 14-year-old in American history, Emmett Till. I started to look at paintings and imagery of him, wondering if I would pull a color palette from there, and then I came across Lisa Whittington's painting of Emmet. Inside it, there were what I came to call Emmett Blue, Emmett Yellow, and Emmett Red. All of these colors symbolize something for us, and they have a strong influence on the color palette of the first season. In the second season, we didn't go away from those colors completely, but the color palette matured and grew up a little bit to reflect that the characters are older. 
Both seasons have color stories in which the colors get muted in the middle and spring back to life or brighten at the end of the season. 
Sometimes when you do something like this, you don't necessarily expect an audience to realize that, but you think sometimes subconsciously, it'll filter in, and some might pick up on it. We do give the color an arc and the wardrobe an arc. They're telling their own story.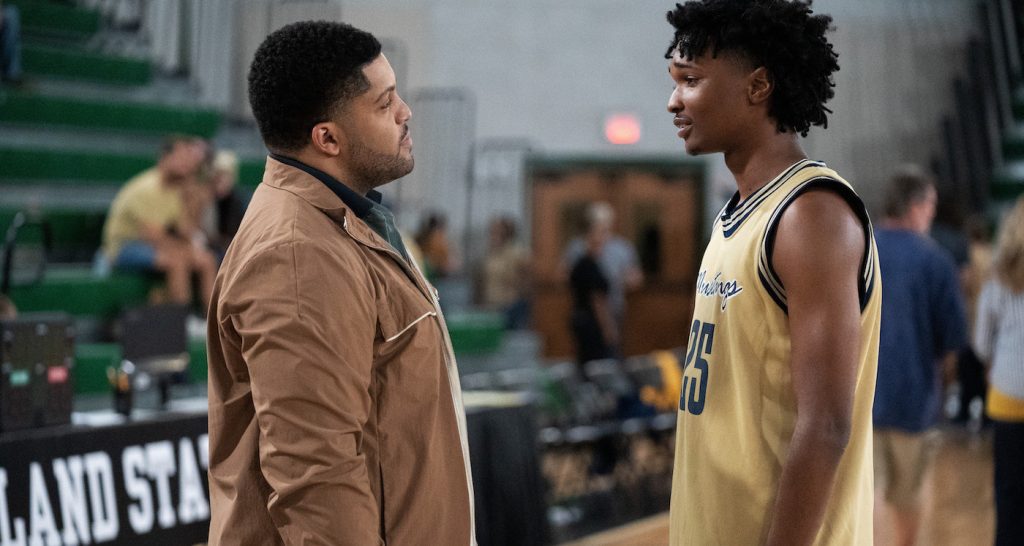 There's a show in the second season, "Are We Free," where Team Swagger plays at a juvenile detention center, and the entire basketball game is filmed in one shot. It was inspired by what cinematographer Roger Deakins did in 1917.
Cinematically, 1917 is such a beautifully shot film, and it looks like it's all in this one shot, but obviously, they hid cuts, and originally, that was going to be our approach. "Why don't we find a way to compose this basketball game where we can hide cuts, but it still feels seamless, like it's one shot?"  Then we were in rehearsal and getting closer, and I just kept feeling like we could pull it off.  No hiding cuts; let's just do it. And so I huddled with cinematographer Cliff Charles and cameraman John Lyke, who we call Roller Red because he's on rollerblades while he's shooting the camerawork. The other thing is we just had great help from our cast, who worked really hard in achieving the choreography. We would do speed changes, so it'd be fast, then slow motion, and then back to 24 frames, but within all that, we never cut. I think it put us into the game in a way we haven't been inside of one before.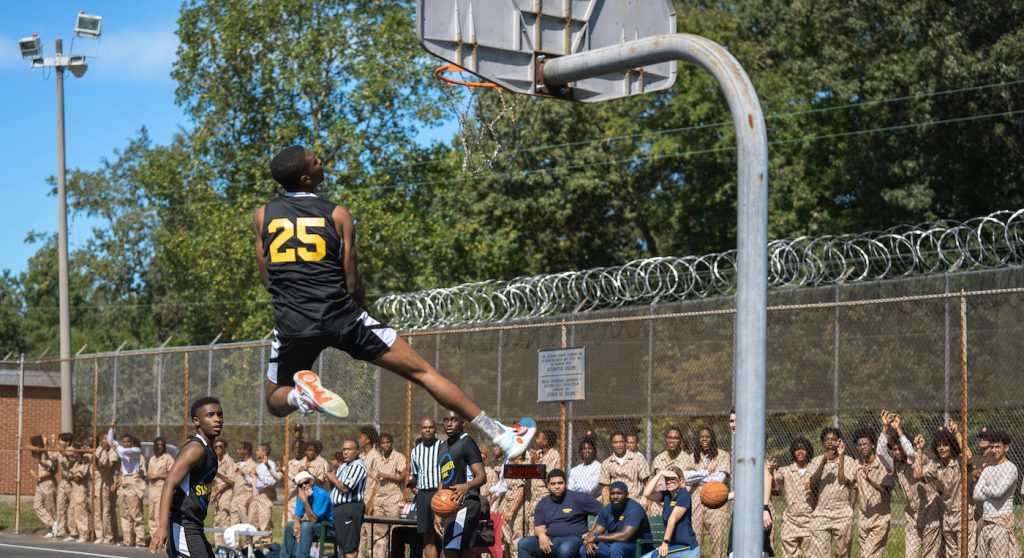 And there's meaning that goes beyond the basketball itself. 
Right. There's also the social element of it, with them feeling confined to this one space. They're playing on a basketball court with a chain link fence all the way around it, so it's almost like its own little incarcerated game. And the question of, "Are we free?" just permeates the story throughout that entire hour of the show.
Was it all choreographed? 
There was very specific choreography, but it's basketball, so sometimes we don't make our shots. If somebody's making a basket, we don't use visual effects for that. We don't lower the rim; it's at 10 feet, so because it's basketball, somebody might shoot and miss it. When that happened, we kept going. We actually have another version of the game where the team that loses in this show wins, as opposed to the team that won when we shot. So the choreography was specific, but all the sorts of things that were mistakes ended up becoming great mistakes, and there's a documentary-esque quality to that scene that came through, I think.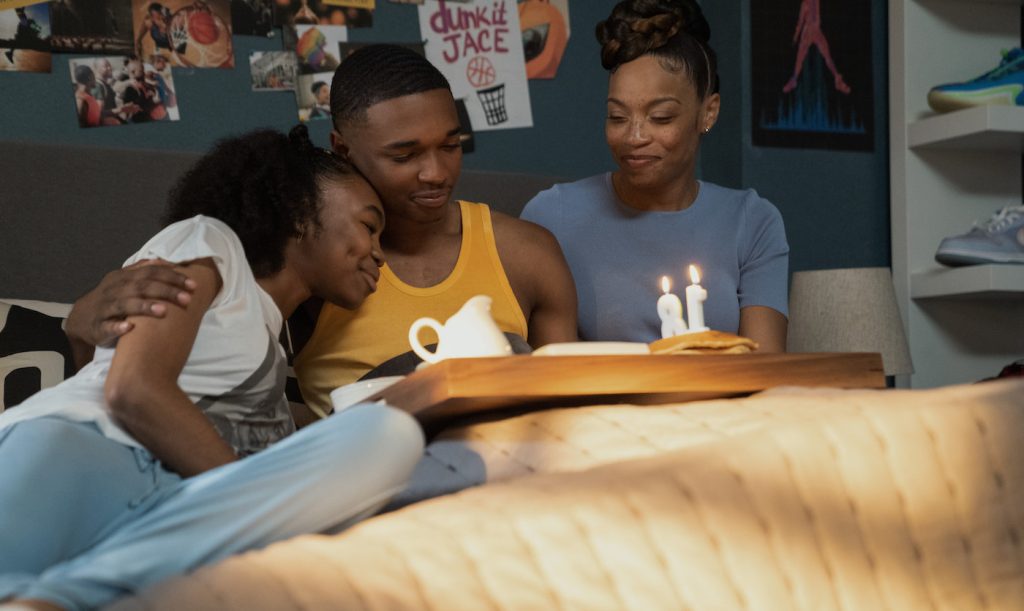 In Swagger, there are women in front of and behind the camera, in the writing, editing, producing, and everywhere below the line. You even had Jordan Rice, who plays Jace's sister Jackie, and is an aspiring director, shadow you. Can you speak to that? 
Well, taking it outside of any political correctness, it just feels very organic to me to have a diverse set and to work with very talented women. I don't do it because it's the right thing to do, which it is; I do it because it makes the product better. The women that work on the show have raised the level of Swagger, and so it's just me being smart. I'm surrounded on my set by really smart, creative people who just happen to be women.  In particular, for 205,  "Are We Free," I really enjoyed my collaboration with Racquel Baker, who wrote the script with me. She's on the rise, and I just know we're going to be hearing from her a lot. Also, Angela Latimer, I think, is one of the best editors I've ever worked with. I'm fortunate to have so many talented people on this show.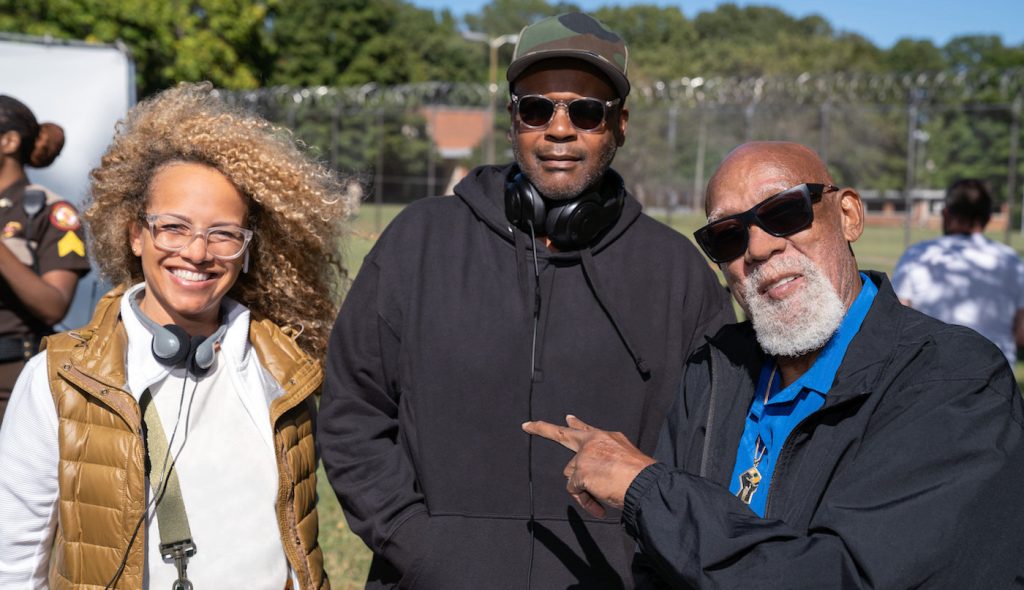 Next, you're working on Genius: MLK/X, about Martin Luther King Jr. and Malcolm X. Your Swagger episode "Are We Free" features John Carlos, who raised his fist at the 1968 Olympics. Why are projects that have a social justice component important to you? 
I think it's really important to do storytelling from a lens that aspires to hold a mirror up to society to challenge perspectives and give humanity to real-life people and fictional characters that haven't been out there and just give voice to our culture.
New episodes of Swagger Season Two stream every Friday on Apple TV+.
For more stories on Apple TV series and films, check these out:
"Stephen Curry: Underrated" Trailer Shows how an NBA Legend Was Made
Watch Dinosaurs Protect Their Eggs in "Prehistoric Planet 2" Clip With Sir David Attenborough
"Killers of the Flower Moon" Trailer Unveils Martin Scorsese's Star-Studded Epic
Featured image: Isaiah Hill in "Swagger." (photo courtesy of Apple)