How the "Wednesday" VFX Supervisor Created Thing, Nevermore, and More
The "mysterious and spooky" Addams Family gets revitalized in Tim Burton's hit series Wednesday, which stars Jenna Ortega as the emotionally reserved child, complete with pigtails, black attire, and a deadpan affect that suggests this youngster is the oldest of souls.
The story, from creators Alfred Gough and Miles Millar, is directed by Tim Burton and charters Wednesday to Nevermore Academy – a school her parents Morticia (Catherine Zeta-Jones) and (Gomez (Luis Guzmán) attended 25 years before. With her arrival comes some seriously supernatural weirdness. Oh, and a killing spree she intends to solve, no matter how many twists and turns come her way. Did we mention she's still just a child? 
To bring everyone's favorite macabre family to the small screen, visual effects supervisor Tom Turnbull (Halo, Fringe) oversaw a monstrous workflow of effects. Here, he discusses what went into creating the supernatural story, working with Burton, and recreating the beloved Thing (performed by Victor Dorobantu).
The show's popularity really took off. Did you see something special as the season progressed?
It was definitely incremental. When I heard the pitch, it was kind of "Well, that might work." Reading the scripts, I could see how well the character, and especially Wednesday's dialogue, was written. The first time I watched Jenna on set was when I knew we were onto something. It did not take a genius to see how perfectly and meticulously she played the character; it was obvious.
Jenna Ortega really does seems tailor-made for the role. 
It was when I started to get cut scenes that I really saw the full potential. It wasn't just one thing; all the pieces came together, and all the departments were working to their highest ability, yielding something that was clean, precise, and fresh. And then I saw that Wednesday dance scene. I'd be lying if I said I knew it was going to be a hit on the level it achieved—no one did—but I knew it was special a few weeks into the shoot.  
You have a shorthand with show creators from Into the Badlands, but this was your first collab with Tim Burton. What were the early conversations in terms of building the visual look of the series?
I worked with Al and Miles for three seasons of Badlands, so I came to Wednesday with a strong relationship and understanding of how they work and what their expectations would be. That's a great place to be. There was a great comfort zone and a lot of trust. You are correct that I had never worked with Tim before. I knew that I was going into a situation where I would be working with a director who had more VFX experience than me, and I have been doing this for over thirty years. I was not about to out Burton Tim Burton. My strategy was to be the best facilitator that I could be.
The Nevermore sets and nearby town are exquisite. How was your collaboration with production designer Mark Scruton to bring them to life?
The design was built upon a practical location, Cantacazino, a gray stoned villa in the Carpathian Mountains, that allowed us to film exterior scenes and coverage, mostly in-camera. The art department expanded it by mocking up 2D concepts, adding buildings, clock towers, and rooftops to make it fit in an Addams Family world.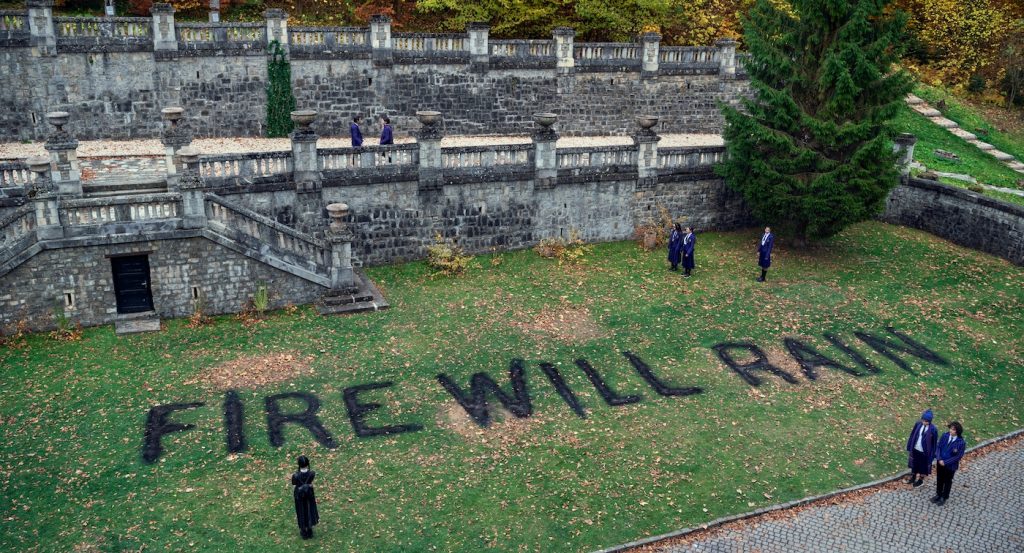 The concepts were handed off to VFX to develop into a 3D model and environment. Working with Painting Practice in the UK, we modeled up all the main structures and began a series of Unreal explorations to understand it spatially, both as a complex of buildings and how it sits in the environment. The final production model and shot work were handled by MPC Toronto. In many of the wider shots, only around 10-20% of them were real. We always kept that little bit of plate, which is what grounded the shots in reality. There were never any fully CG Nevermore shots – that would have created a very different feel.
And what about the town of Jericho?
Jericho, the town near Nevermore, was brilliantly designed by Mark Scruton such that it needed very little CG augmentation. It's what I love to see from a designer, a big set with lots of filming possibilities that does not need CG help. There are plenty of other things to spend VFX money on.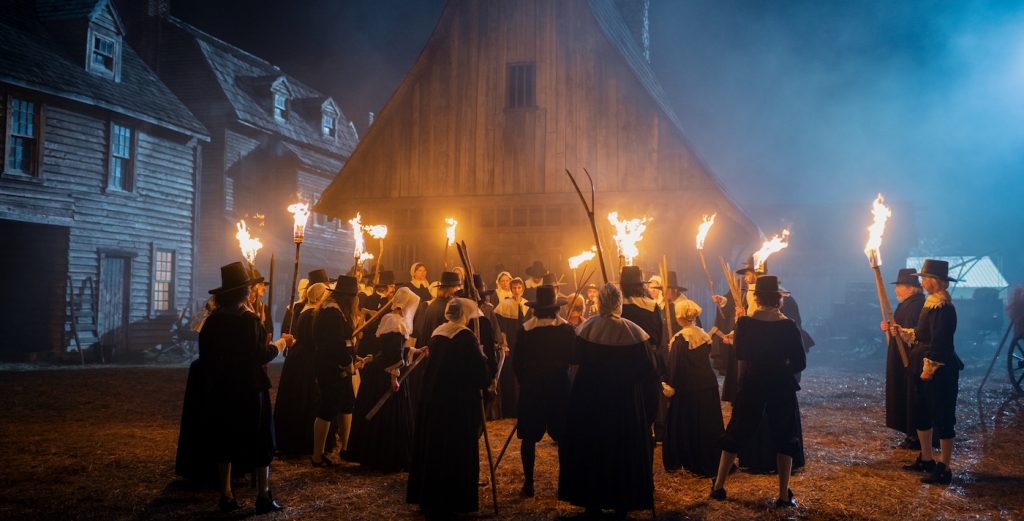 One of the beloved characters in the series is Thing. What went into its creation?
My first phone call with Tim focused almost exclusively on Thing. Tim was clear that Thing needed to be derived as much as possible from a live performance on set and needed to be practically achieved as possible. A lot of Thing was in the writing, and a huge amount was in Victor Dorobanatu's performance. The role of VFX from prep through post was to make him come together as a believable, nuanced, and empathetic character. To make him 100% real, never an effect or a gimmick.
What techniques were involved for Thing's movement?
The basic technique behind Thing is exactly the same as the 90's movies. Thirty years later, we had a much more sophisticated toolset than they did, which enabled us to elevate the execution. I think where we excelled with Thing had to do with focusing on character and performance. Prep was essential. We worked on every scene with Victor to explore ways for Thing to move and communicate.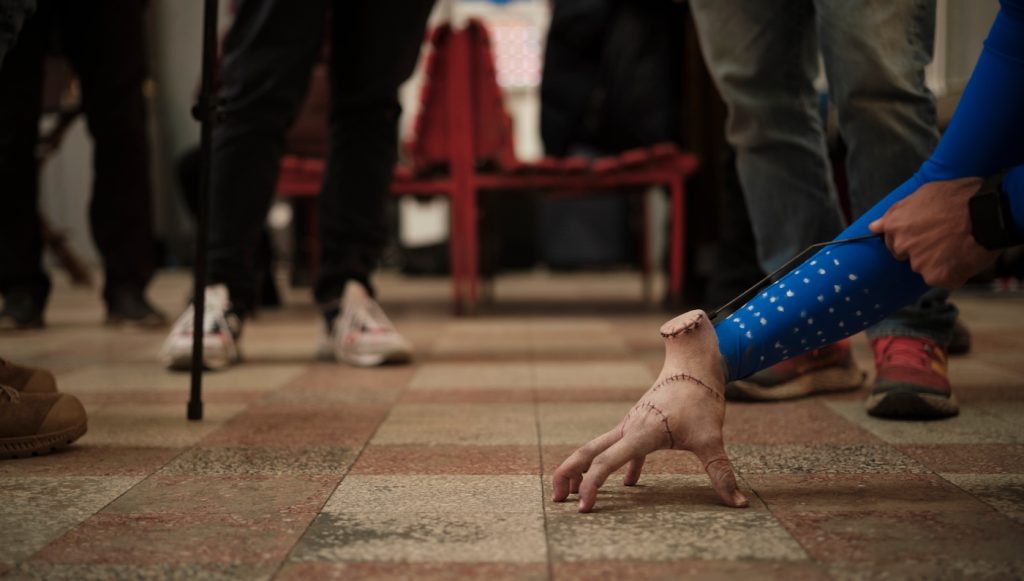 Can you walk me through the process?
On set, we would be at the director's monitor, making sure that both the physical and emotional performance was intact and consistent. If a shot was impossible to execute successfully on set, we would augment it in post or, on occasion, replace him with 3D animation. In that sense, 3D was our backup plan when practical solutions would not give us the result we needed.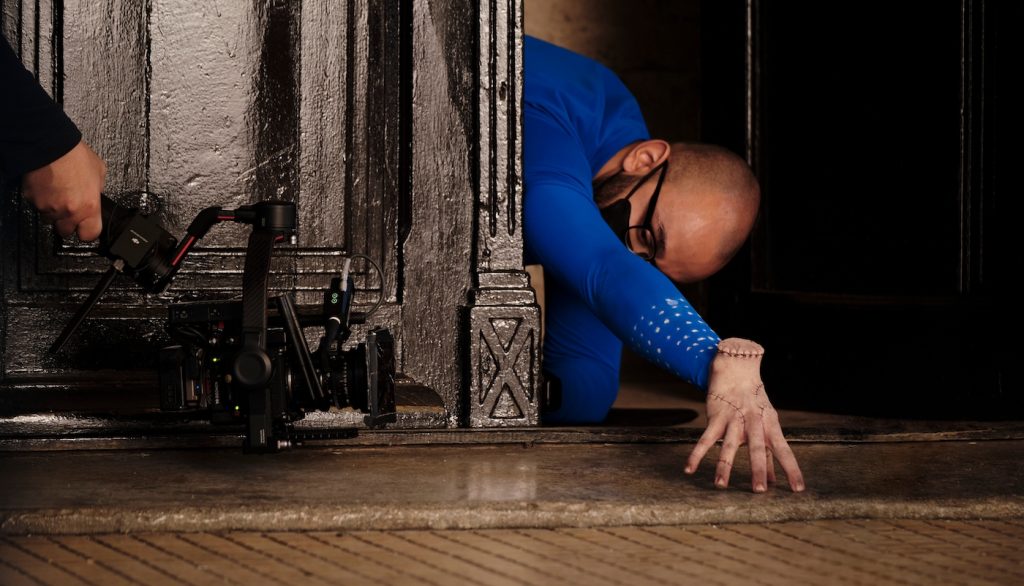 And what did you do when you had to go 3D?
When we did go 3D, the animation task was to recreate Victor's character and performance as true to life and as seamless as possible. MARZ, who did our 3D Thing shots, was given the task to replace a perfectly good practical performance from Victor with a 3D version such that we could not tell the difference. No one has yet come up to me and correctly identified which Things were real and which were 3D, so I think we fooled them. 
Monsters were another part of the VFX creative web. The Hyde was the most important. Can you share how VFX developed and created him?
The Hyde was a creature that Tim cared very much about. Unlike other creatures, such as werewolves and zombies, there was no precedent or preconceived ideas of what it should be. Tim's brief referenced the artwork of Big Daddy Roth, a monster car artist from the '60s, and a toy line called the "Weirdos." Both had a wild-eyed, crazed berserker vibe to them. Just add homicidal rage, and you have a Hyde. The brief was delivered to several concept artists, with none of them solidly hitting the mark. Tim responded by producing a pen-and-ink concept of his own that became the essence of the creature. A Z-Brush model was sculpted up, and that was our Hyde. 
How were the Hyde scenes shot?
We filmed Hyde scenes with a stunt person on stilts to give the actors and crew something to hang their work on. The stunt team put their heart and soul into it. The final fight scene had them throwing each other around and flying into trees on wires, all done with the knowledge that they would be painted out and replaced in post. They seemed good with that.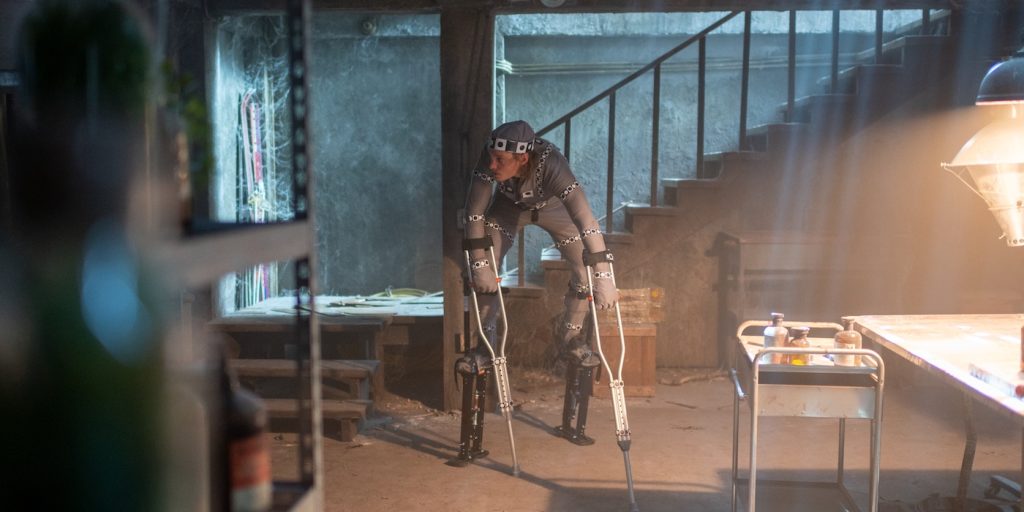 Wednesday season one is streaming on Netflix.
For more on big titles on Netflix, check these out:
"Extraction 2" Review Round-Up: Chris Hemsworth-led Action Film Punches Even Harder in Sequel
"Arnold" DP Logan Schneider on Shooting Schwarzenegger
"The Witcher" Season 3 Trailer Finds Geralt at the Center of a Storm
Featured image: Wednesday. Thing in episode 101 of Wednesday. Cr. Courtesy Of Netflix © 2022