"Love & Death" Director Lesli Linka Glatter on HBO's Deadly Sharp New Crime Drama
Love & Death, which debuted on April 27 on HBO/Max, begins with faith, family, and infidelity. It concludes with a criminal investigation and a gripping courtroom trial. In the middle is a gruesome axe murder. And once Emmy-nominated producer/director Lesli Linka Glatter had read the script, she wanted in on it.
"I was totally swept up in the material," says Glatter during a recent interview. "To me, this is the dark side of the American dream. I'm pulled to themes where things are not what they appear to be, and you have to dig deeper to see what's really going on."
Another selling point for Glatter, best known for her work on Homeland, The Morning Show, and Mad Men, was that it actually happened. "Oh my God, if this wasn't true, you could not tell the story. It wouldn't be believed," exclaims Glatter, who directed five of the episodes.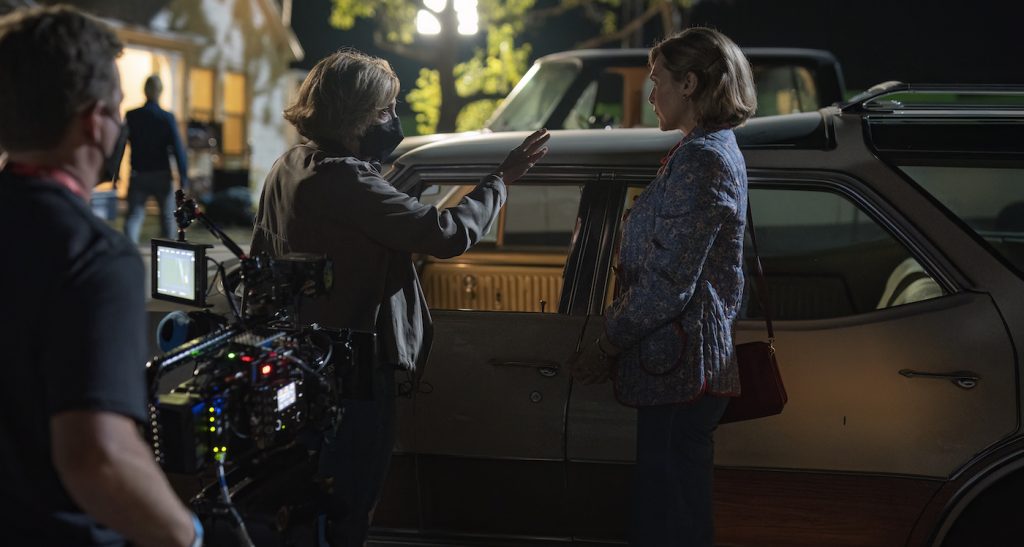 Based on Love and Death in Silicon Prairie, a two-part Texas Monthly article written by John Bloom and Jim Atkinson, the story takes place in Wylie, Texas, circa 1978. Star of the church choir, a loving wife and mother, Candy Montgomery (Elizabeth Olsen) epitomizes this down-home community. But she feels something is missing. This longing leads her to have an affair with fellow parishioner Allan Gore (Jesse Plemons). The story takes a dark turn when Allan's wife, Betty (Lily Rabe), learns of the indiscretion. Holding an axe in her hands, she confronts Candy. Only Candy survives. An ensuing investigation leads to a murder charge.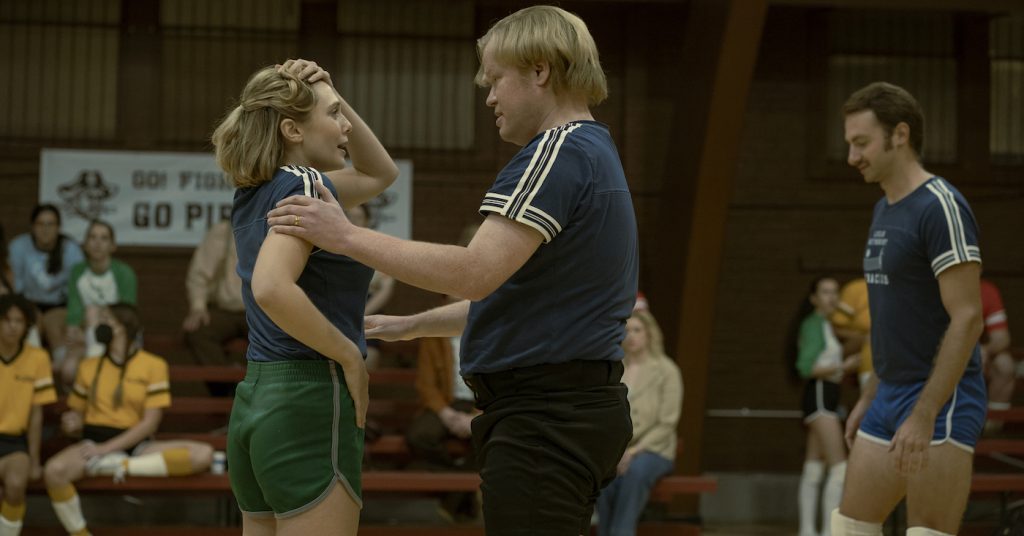 Bloom and Atkinson's magazine pieces were turned into their 1984 book Evidence of Love: A True Story of Passion and Death in the Suburbs. David E. Kelley was sent a copy and was eager to write the script. Through Nicole Kidman and Per Saari's Blossom Films, Kelley's go-to producing partner, the rights were optioned. Glatter was approached. Having never worked with Kelley, she quickly signed on as an executive producer and director.
Grounding Love & Death in its late 1970s time period was a priority. Star Wars movie references abound. Johnny Carson fills the TV. When the phone rings, it's the landline hanging on the kitchen wall. "I loved that this story is so particular to the time," adds Glatter. "Women, in particular, were supposed to do everything right. You got married at 20. You had kids. You cook the meals. Your life is full, but why is there a hole in your heart that can't be filled? Needless to say, Candy picks the wrong thing to fill that hole."
But perhaps nothing better sets the tone than the soundtrack. Familiar pop tunes heighten the emotions.
"The music was important in establishing the world," explains Glatter. "Many of the songs were in the script. We discovered in editing that Candy's way of getting back in her body was singing along to the radio. After the murder, she tries to find that peace by doing the same thing. But it comes off completely different. It's kind of terrifying."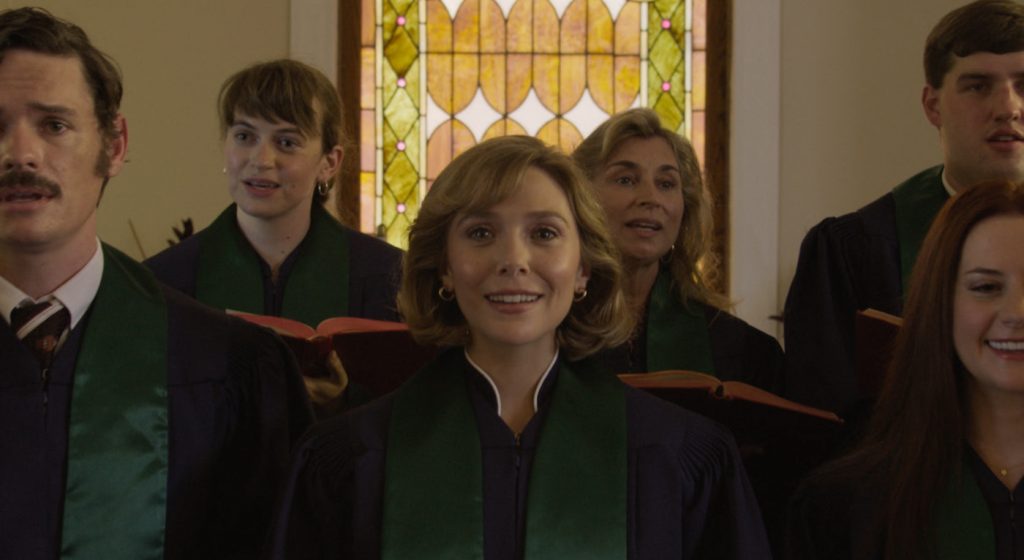 Shot in Texas, production began in September 2021. Church service, family barbecues, volleyball games, and lawn mowing established a bucolic Texas town. "We only had a week of rehearsals, but it was enough time to get to know each other," continues Glatter. "We started with the lighter sequences—singing in the choir, picnics on the front lawn. It beautifully establishes the community. It really helped the actors discover their characters and bond."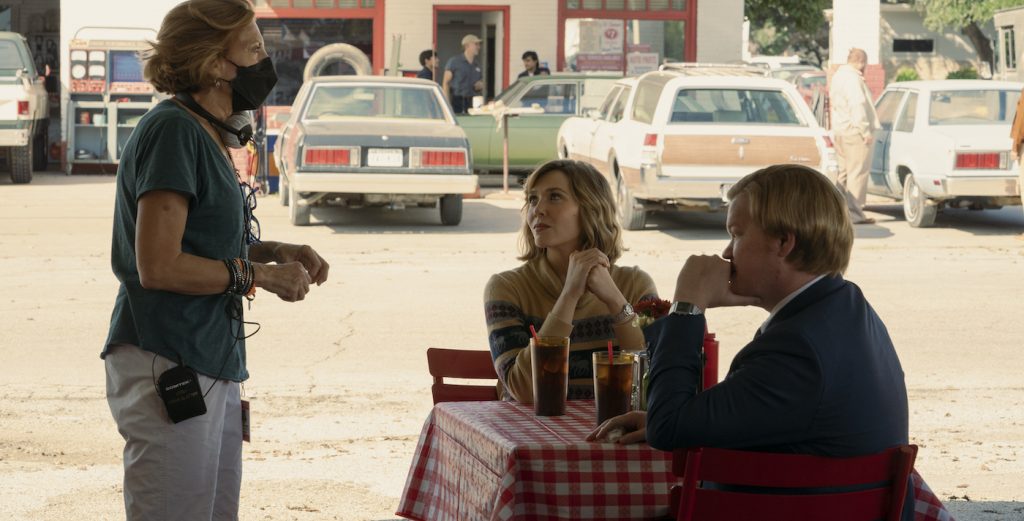 Candy's character particularly intrigued Glatter. As appalling as her actions were, Glatter knew Candy needed to be humanized. "I honestly feel she and Allan wanted a friend. Yes, they had sex. But they wanted to be seen and heard. They had lunch together. They sat on the bed and talked about their lives and their families. I think that was missing in both of their lives," says Glatter. "It's the human condition. That's what fascinated me."
They didn't want to make fun of the characters, but Glatter acknowledges there were opportunities for humor. One was the way Candy and Allan negotiated the rules of their tryst. The two spent months mapping out the dos and don'ts before they actually did it. 
"It is the most unsexy beginning of any affair ever. You're talking the thing to death," says Glatter. "We copied the list they made. It was in the book."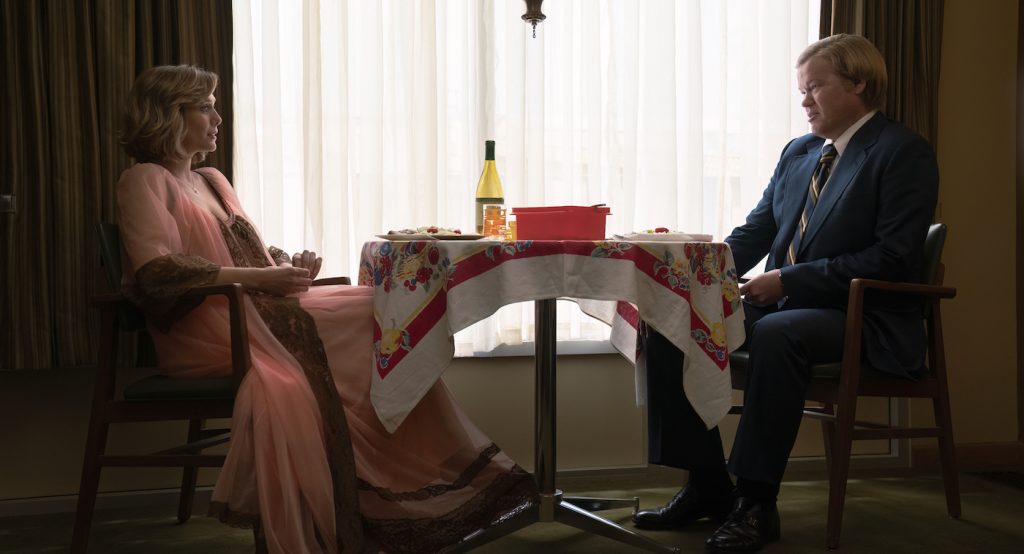 Concerned about story flow, Glatter shifted her focus to the editing room after filming episode four. Clark Johnson, who Glatter knew from Homeland, directed episodes five and six. "We decided that it was important to make sure the tonal shift was working. If something needed to change, we would be able to do it before everyone went home. We ended up not reshooting anything," says Glatter. "Clark is a dear friend and a wonderful director. The criminal investigation and going into the courtroom felt like a perfect block for him. It's a great pivot in the story, and it worked well."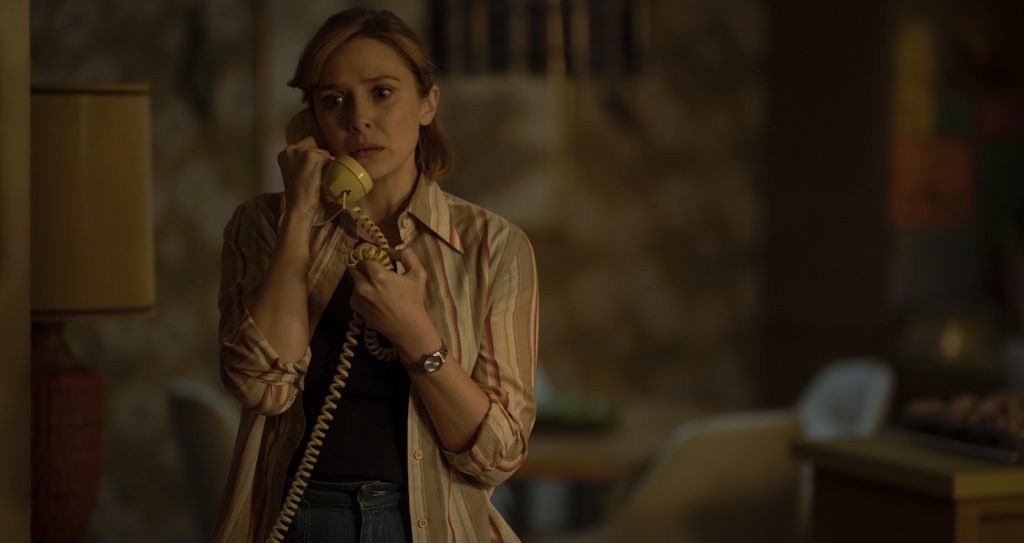 Glatter was back behind the camera for the final episode that concludes the trial. It included one of Love & Death's most challenging sequences. Though it happens earlier in the story, the murder isn't actually depicted until Candy takes the stand in episode seven. The harrowing struggle is shown in chilling flashbacks.
"It was the worst scene I've ever shot in my career," says Glatter. "Two women…two mothers…up close and personal. I've directed a lot of action, but nothing this disturbing."
Drawing from Candy's courtroom testimony, detailed in the book, Glatter storyboarded the shots and then rehearsed them with Olsen, Rabe, and their stunt doubles. "Lily and Lizzie are such beautifully involved actors. We talked about it a lot. We blocked it out very carefully," says Glatter. They were clear on where things accelerated and why—the turning points. And then they went for it. There was no stopping either of them."
Having started her career as a choreographer, Glatter is an expert in movement. But her prior experience didn't prepare her for the emotional toll the filming would take.
"To even lift up an axe is hard. And it was 41 blows," continues Glatter. "They had to go to such a scary deep place. At the end of those days, the three of us held each other and cried."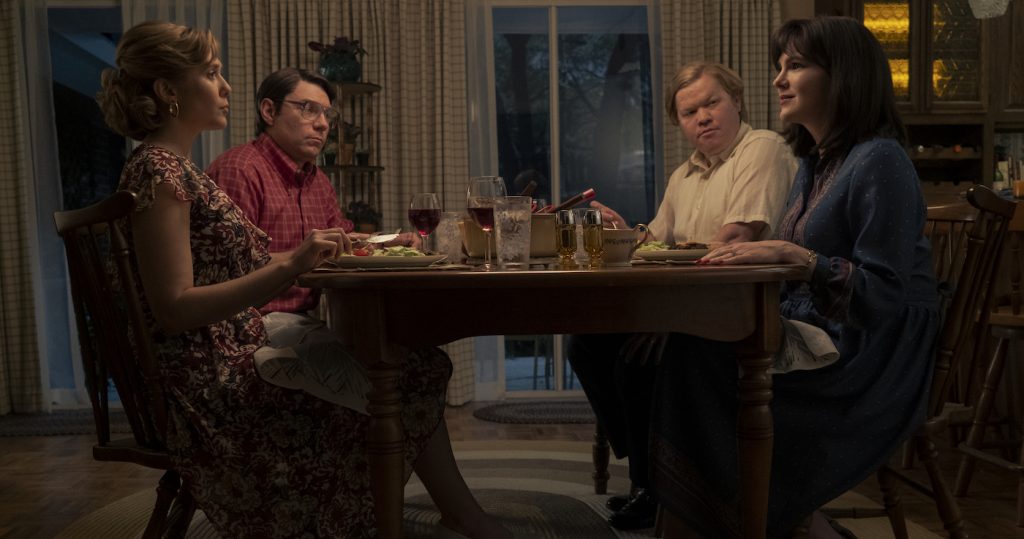 Love & Death was one of Glatter's most challenging projects. But she wouldn't have had it any other way. "Every time I start a new project, it is terrifying and exciting," she says. "'Oh my God, am I going to be up to the task?' It keeps you on your toes. You never feel like you can sit back and go, 'I've got this covered.'"
Glatter adds that having a great script, a talented crew, and a cast that exceeded her expectations didn't hurt. "I fell in love with their characters, and the actors fell in love with them as well," Glatter says. "Elizabeth Olsen… you can see the world in her eyes. She goes deep and lets you in emotionally. The whole cast is extraordinary. I'm so glad I got to do it with this particular group. Lizzy said a beautiful thing the day we wrapped. She said this was a production led with kindness. And I think that that's true. It was one of those special ones."
For more on Warner Bros., HBO, and HBO Max, check out these stories:
Warner Bros. Unveils Stunning "Dune: Part Two" Trailer at CinemaCon
First "The Flash" Reactions From CinemaCon: One of The Greatest Superhero Films of All Time
Epic New "The Flash" Trailer Reveals Michael Keaton's Batman Getting Nuts
Featured image: Elizabeth Olsen. Photograph by Jake Giles Netter/HBO Max