Epic New "The Flash" Trailer Reveals Michael Keaton's Batman Getting Nuts
Warner Bros. is set to screen director Andy Muschietti's The Flash for theater owners at CinemaCon in Las Vegas, and now we've got a brand new trailer to feast on. How excited are the folks at Warner Bros. and DC Studios about this film? Put it this way—the last film to screen in its entirety at CinemaCon was Top Gun: Maverick because Paramount Pictures knew they had the goods. These are the same vibes we're getting from The Flash, which not only Maverick star Tom Cruise loved but so, too, does DC Studios' new co-chief, James Gunn, who called it one of the best superhero movies he's ever seen.
The new trailer really fronts Michael Keaton's Batman, the first time Keaton has slipped on the Batsuit since 1992's Batman Returns. The how and why of Keaton's return as Batman has to do with Barry Allen (Ezra Miller)'s desperate attempt to solve a problem Bruce Wayne never could—bring back his parents. Like Bruce, Barry lost his parents, but unlike Bruce, he can actually resurrect them by speeding back through time to change past events.
But as we've learned in every time travel film, from Back to the Future to Avengers: Endgame, you can't change the past without altering the future. Thus, Barry gets trapped in an alternate reality where General Zod (Michael Shannon) is not only still alive (Superman killed him in Zack Snyder's 2013 film Man of Steel—but that was in a different universe), but he's prepared to annihilate the world. And Zod's got a real good shot at making this happen because, in this universe, there are no metahumans (no Superman, Wonder Woman, Aquaman, etcetera), which is what forces Barry to recruit Keaton's older, very retired Batman to help him save the world. Batman is, of course, not a metahuman but rather a very rich, very committed, all-too-human vigilante. Luckily they'll get major help from a very special someone—Sasah Calle's Supergirl.
The new trailer boasts a ton of brand-new footage, and it's very, very easy to see why everyone involved with this film, and those who are just super famous fans and were able to screen the film early, are so excited.
Joining Miller, Keaton, Shannon, and Calle are Ben Affleck (as the Batman of his universe), Ron Livingston as Barry's father, Henry Allen, Kiersey Clemons as Iris West, and Antje Traue as Faora-Ui.
Check out the trailer below. The Flash speeds into theaters on June 16: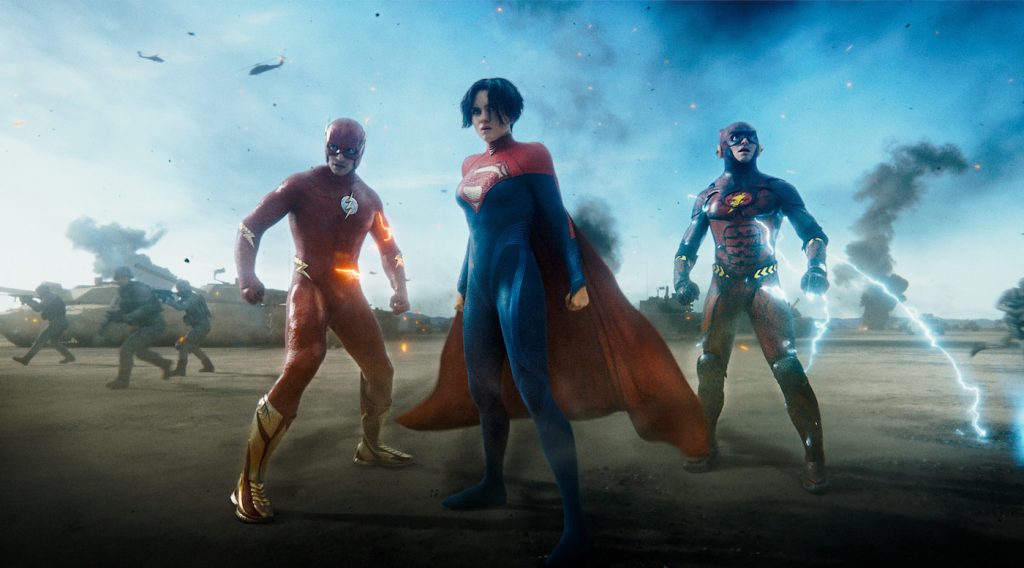 For more on The Flash, check out these stories:
Tom Cruise Loved "The Flash" So Much He Called Director Andy Muschietti
Michael Shannon's Return as General Zod in "The Flash" Surprised…Michael Shannon
"The Flash" Will Premiere at CinemaCon 2023
"The Flash" Posters Reveal Michael Keaton's Batman in Iconic Cape & Cowl
Featured image: A new poster for "The Flash." Courtesy Warner Bros.