"Hypnotic" Composer Rebel Rodriguez on Scoring The Robert Rodriguez/Ben Affleck Head-Trip Thriller
Rebel Rodriguez knew about Hypnotic even before the screenplay was written. The composer is one of the sons of its writer-director Robert Rodriguez, the famed helmer behind countless cult classics like From Dusk Till Dawn, the neo-noir stylized Sin City, Planet Terror, and the blood thirst avenge tour Machete. "This idea has been gestating for like 20 years," says Rebel of Hypnotic, which stars Ben Affleck as a detective attempting to piece together clues to a string of mysterious bank heists. "Throughout my whole life, I heard about this story. My dad would tell us about the one [film] that was on the cusp of being made. It was like this mythical movie to me. To finally hear it was moving forward, I was excited to be part of it."
Now 24, Rebel is a trained pianist and first scored the short The Limit (2018), followed by the features Red 11 (2018) and We Can Be Heroes (2020), all Robert Rodriquez projects. With Red 11, Rebel, along with co-composer Elia Cmiral, created a pulsing score using only a synthesizer. We Can Be Heroes was tuned entirely with orchestral music. For Hypnotic, the composer combined the two approaches to musically layer the psychological thriller that has a number of twists and turns.
Being on the inside track of Hypnotic's development, which first began in 2002, allowed Rebel to ripen the score well before production. He wrote the main theme in pre-production a year prior to finishing the rest of the score. "Robert has always approached his films thinking about the whole process. How he would shoot it, edit it, the music, the sound effects. It makes more sense when the music is part of the conversation from the very beginning because we can conceptualize things while he's writing the script," says Rebel.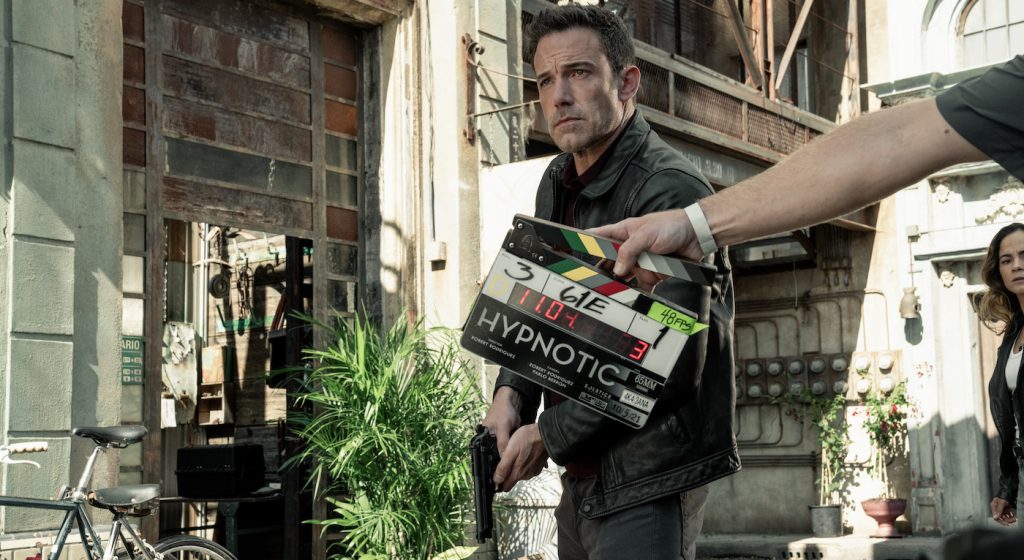 The score, as well as the story, was inspired by Hitchcock's Vertigo (1958). "This idea started with Robert saying that he wanted to make a Hitchcock film. He thought about what if Hitchcock's career continued, what would be his next title," recalls Rebel. "Hitchcock always had great one-word titles. Psycho, Spellbound, Vertigo. Hypnotic immediately came to him. It was a cool idea for a title; now he [Robert] had to figure out what it means."
On its surface, Hypnotic is a good versus evil story where detective Danny Rourke (Affleck) is trying to catch a man, in this case, Dellrayne, a suit-wearing bank robber played devilishly well by William Fichtner. But the antagonist has more up his sleeve than firearms and explosives to enter vaults; he has the ability to control people with his mind. Dellrayne is Yoda on steroids, using "hypnotics" to reshape reality. He can manipulate others to do his bidding, have chasing police officers turn on each other, or physically "construct" a different world around him. The film is rife with action and perfect shots that rival Heat (1995) or Baby Driver (2017), but there's a story about family and hope simmering underneath. 
In the opening scene, Danny (Affleck) sits across from a therapist (Nikki Dixon), and the two are talking about his missing daughter. An airy synth sound accompanied by strings swells in the background as a sound effect of a tapping pen beats like a drum to heighten the moment. There's a mysterious aspect to the score that subliminally lulls you into each scene. Something feels off but you can't quite place it. "Hypnotic has a dizzying sound similar to Vertigo," notes Rebel. "With Vertigo, the first title song has an almost mesmerizing sound but then it has a really tragic love theme. Hypnotic has that dizzying sound but with a heavy driving pulse for the action. And instead of a love theme, it has a family theme. It has this feeling that something is broken, and it has to be pieced back together. It feels more hopeful."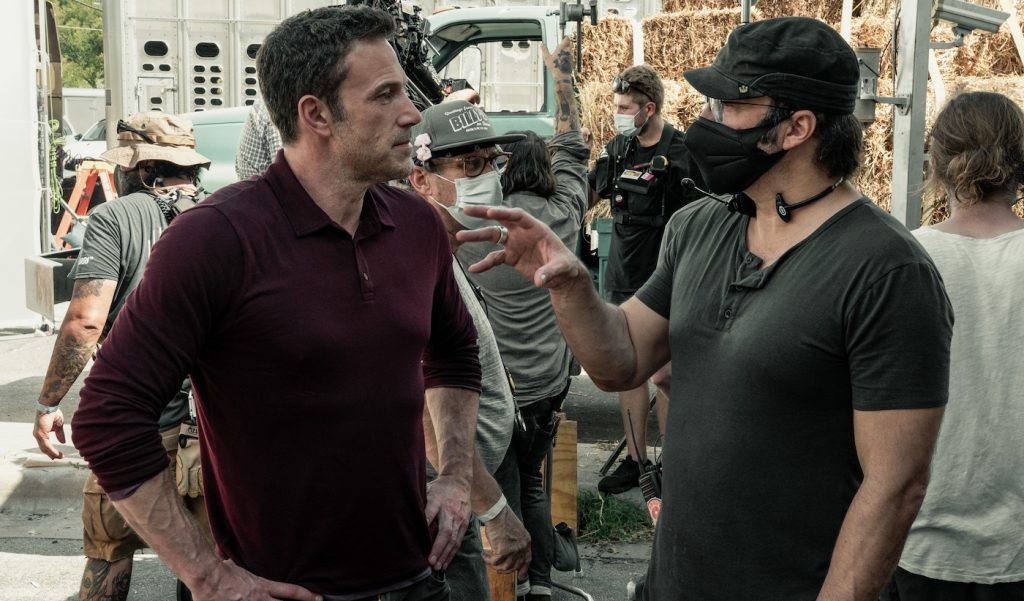 As the story unfolds, we learn Danny's missing daughter might have a connection to Dellrayne. Rebel says he approached writing for Fichtner's character differently than the rest of the film. "When I write scenes, I am paying attention to the pacing, the editing, the sound, and the actors' performances. His performance instantly makes you write differently. You see his character and he's really scary. There is this air to him that I wouldn't have captured unless I'd seen the performance. It needed to have more of that creepy, psycho sound to him."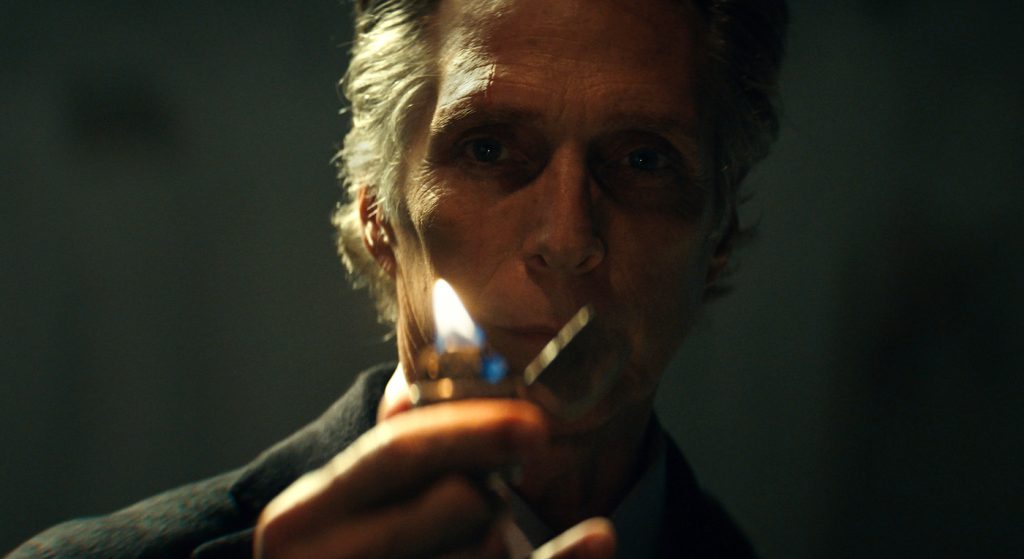 For moments when Dellrayne physically "constructs" a new reality that makes people believe they are somewhere they're not, music took a backseat to sound effects. "We talked about these scenes throughout the entire production. Originally, there was going to be a lot more music, but it felt jarring to shift to the music that much," says Rebel. The high-concept sequences were met with a unique visual cue; an almost blurring warp effect accompanied by sound effects. "This allowed the music to tell the storyline straighter."
As Danny's fight for his family intensifies, so does the score. In a climactic scene, drums drive the action while a string orchestra brings out the emotion. "It's not just a heroic story. It's about how much a person can endure physically and psychologically for the people they love. What are they willing to go through? It's the victory of perseverance and endurance while holding on to hope. That's what was always resonating throughout the whole process of making this film."
Hypnotic is in theaters now.
Featured image: Ben Affleck in "Hypnotic." ©️ 2023 Hypnotic Film Holdings LLC