Breaking Down the Astonishing Technology Behind Ava DuVernay's "One Perfect Shot"
The cathedral wedding in John M. Chu's Crazy Rich Asians. Diana Prince boldly crossing a World War I battlefield in Patty Jenkins' Wonder Woman. Lisa stuck on a zip-line suspended above a raucous crowd in downtown New Orleans, in Malcolm D. Lee's Girls' Trip. Cathartic, lovely, or almost distressingly hilarious, these scenes are indelible. What did their directors do to make them tick?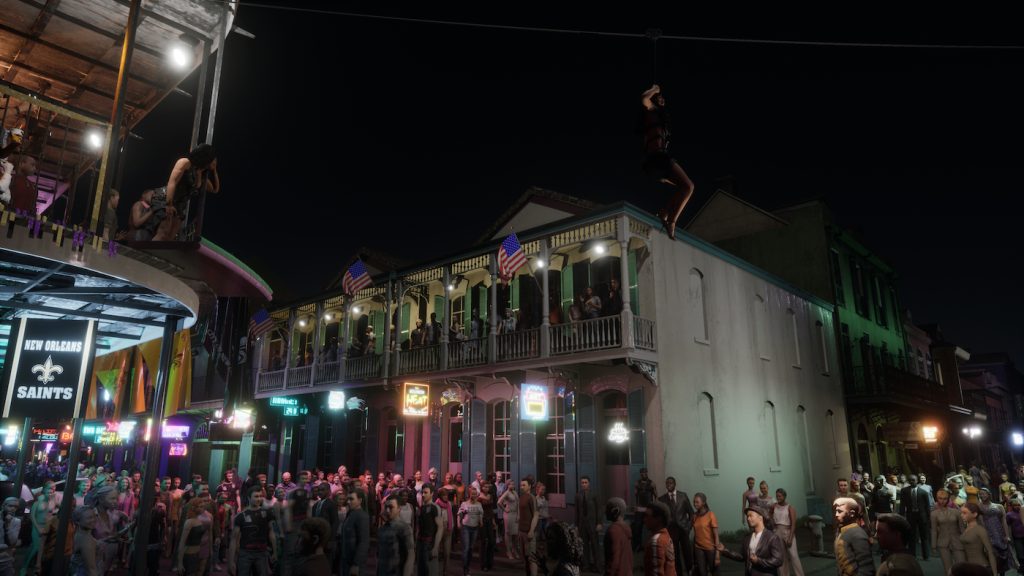 In One Perfect Shot, currently streaming on HBO Max, creator, narrator, and executive producer Ava DuVernay invited six directors into a three-dimensional green screen environment where her team recreated an inventive version of one of their film's most memorable scenes, allowing the directors to literally step inside to explain how they made their magic. One of the more meta visual experiences currently streaming, the show applies innovative tech via the Unreal Engine to just the right amount of time — at a half-hour, the audience gets an inside look at each director's process without getting bogged down in minutiae — to meaningfully revisit stunning moments from a variety of contemporary classics. It's a lot of fun, whether or not you consider yourself a film nerd.
Of course, the trouble with watching Michael Mann break down how he got his gunshot sounds in Heat (the cavern created by Downtown Los Angeles' skyscrapers was key) is that you'll find yourself with a whole new set of questions, starting with how Mann seems to be credibly plunged into a stylized yet hyper-accurate version of a scene he shot almost thirty years ago. Handling the visual effects was Craig Weiss, the executive creative director at CBS VFX. He made the case for green screens over LEDs, combining the technology with the Unreal Engine's capability for instantaneous rendering, for something the directors themselves could experience in real-time. "As the camera moved, the environment moved, and they could walk around and see where things were, so it put them back in that shot, and in that scene," Weiss says.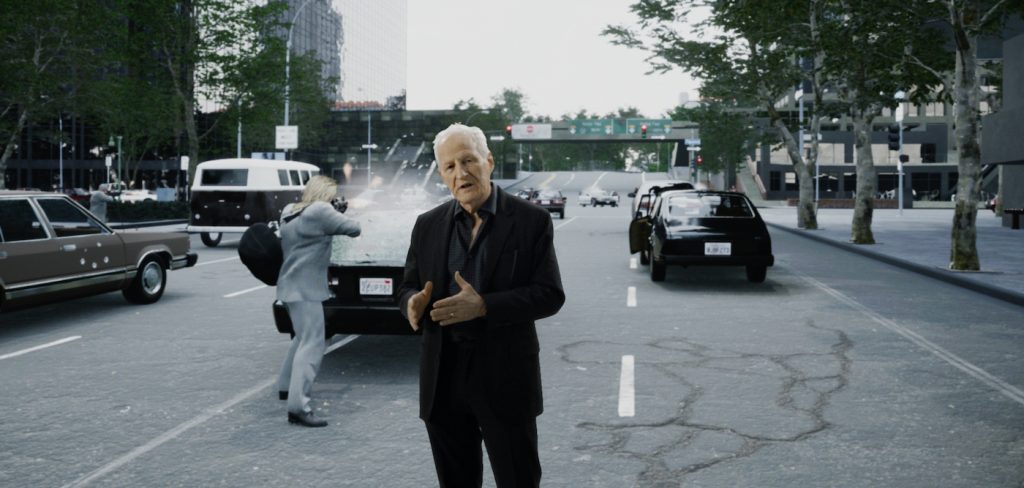 But, obviously, the sets and tech from these original scenes are long gone. For Weiss and his team, it was a two-part challenge to recreate them. First came determining where in their scene a director should even be. "When you know you can move anywhere in a virtual environment, where were those areas we wanted to focus on? We had to really design those out," Weiss says of part two of the recreation process, which began fresh with each of the docuseries' six directors.
"Some films we had to literally watch the movie, dissect and do a lot of research on the location, look at production photos, and do a lot of our own homework," says Weiss. "Then some other ones, like Heat, we had the luxury of Michael Mann, who really brought a lot to the table in terms of drawings, layouts, blueprints." To remake the lush wedding scene from Crazy Rich Asians, Weiss and his team got a ton of background from Nelson Coates, the film's production designer. "Did they use real grass? Fake grass? Would it die, with all the lamps? It ran the gamut."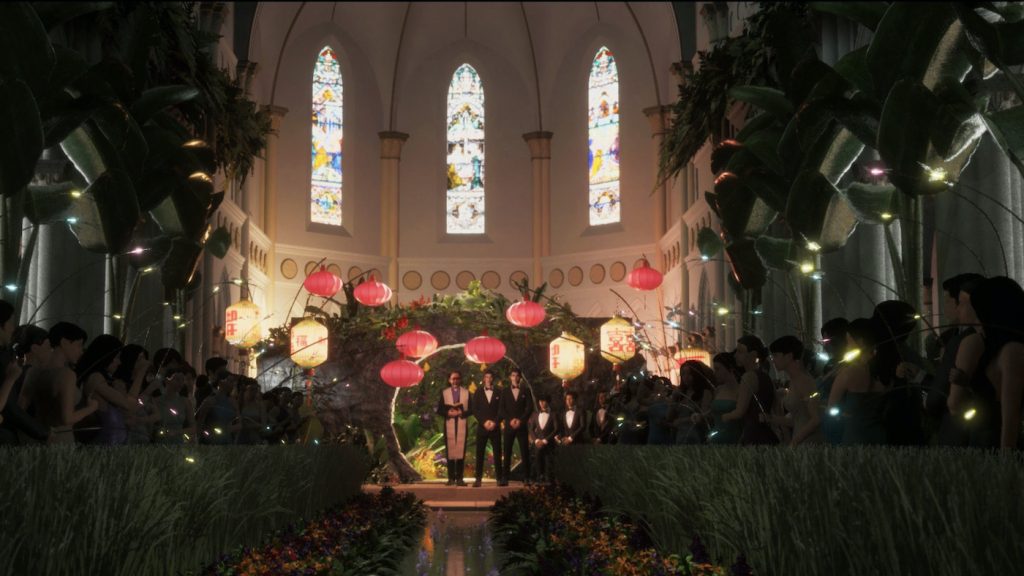 Consistent across all of the scenes the docuseries features, however, is a stylized version of the background and actors, rather than a photo-real recreation. "More Kandinsky, more Picasso, less Ansel Adams," is how Rodney Frazier, Executive In Charge Of Production, One Perfect Shot alongside DuVernay, puts it. Weiss and Frazier agree that the style is key to the show's success. "You can try and fool the audience into thinking the director has stepped back into some amalgamation of their original shot, but it's more realistic when you don't try and fool them, when it's more realistic and you tell them, we made this," says Frazier. Weiss points out that despite the existence of visual effects companies spending millions of dollars to create digital human likenesses, occasionally successfully, the issue of the uncanny valley remains. "That wasn't really what we were trying to do. We were trying to give the director a canvas, to go back to that environment and have it look similar, elegant, and pleasing," he says.
Having achieved that, One Perfect Shot ventures incomparably beyond its source material: Twitter, of all things. First inspired by the account of the same name, the show came about thanks to DuVernay, "the woman who can move heaven and earth," says Frazier. "I think it came down to giving people more of an insight into what the director is thinking than just the standard stuff you get through PR," and alongside technical breakdowns on how they achieved their perfect shots, the docuseries dives deep into the directors' motivations, with, for example, Patty Jenkins and John M. Chu exploring on camera how their family histories influenced the scenes they came to shoot decades later.
JURASSIC PARK (1993)

Cinematography by Dean Cundey
Directed by Steven Spielberg
Production Design by Rick Carter pic.twitter.com/BRu7No6tDx

— One Perfect Shot (@OnePerfectShot) March 22, 2022
Weiss's technological prowess is what gives these settings their verve, providing the six featured directors an immersive setting that makes it possible for them to get into not just the nuts and bolts of their original scenes but the emotional resonance behind them. Frazier jokes that One Perfect Shot might have been the strangest call he's ever gotten, but once he got into it, it was clear that the technology used to plunge the directors back into their own scenes "better be good enough for them to a, enjoy it, and b, bring up stuff that they want to talk about," he says. It seems to have worked. "I can't say who, but a lot of directors have reached out to Ava and said the next time you do this, I'm in."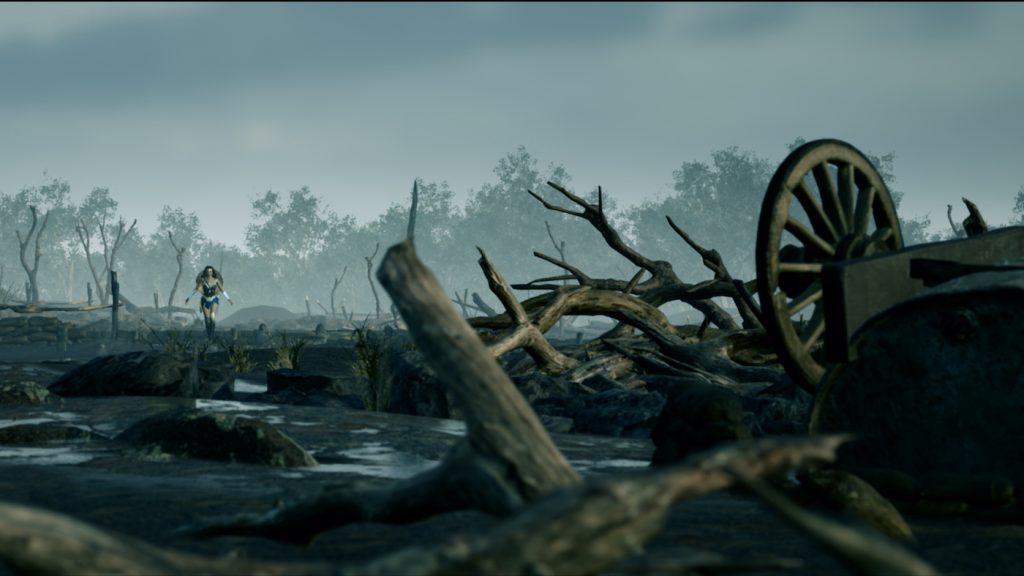 For more on Warner Bros., HBO, and HBO Max, check out these stories:
Lady Gaga Eyeing "Joker 2" Harley Quinn Role in Musical Sequel
"Succession" Director Mark Mylod on Season 3 & TV's Most Irresistibly Twisted Family
First "The Last Of Us" Image Reveals Peek at HBO's Hugely Ambitious New Series
First "Black Adam" Trailer Reveals Dwayne Johnson's Epic Arrival In DCEU
Featured image: One of the scenes from Kasi Lemmons' Harriet selected for analysis in HBO Max's One Perfect Shot. Courtesy Focus Features/HBO Max.