"Five Nights At Freddy's" Teaser Reveals Universal's Horror Video Game Adaptation
If you weren't afraid of animatronic bears before, the fine folks at Blumhouse would like to have a word with you.
Universal has unveiled the first look at Five Nights at Freddy's, their Blumhouse horror flick that adapts a very popular horror survivor game in which players have to survive an attack by homicidal animatronic animals that come to life inside Freddy Fazbear's Pizza restaurant. The video game series was created in 2014 by Scott Cawthorn, who helped director Emma Tammi (The Wind, Blood Moon) co-write the adaptation alongside Seth Cuddeback.
Five Nights at Freddy's follows a new security guard at the pizza joint, Mike Schmidt (Josh Hutcherson from The Hunger Games)—we're guessing no relation to the Philadelphia Phillies Hall of Fame third baseman—who finds out the hard way on his first night at the job that Freddy Fazbear's Pizza restaurant is not at all the goofy, kid-friendly place he'd imagined. Cue the murderous animatronic animals (created by Jim Henson's creature shop, no less), and Mike's going to have to have to get clever, fast, to survive the night.
Joining Hutcherson are Elizabeth Lail (You, Mack & Rita), Piper Rubio (Holly & Ivy, Unstable), Kat Conner Sterling (We Have a Ghost, 9-1-1), Mary Stuart Masterson (Blindspot, Fried Green Tomatoes) and Matthew Lillard (Good Girls, Scream).
Check out the teaser below. Five Nights at Freddy's hits theaters and streams on Peacock on October 27: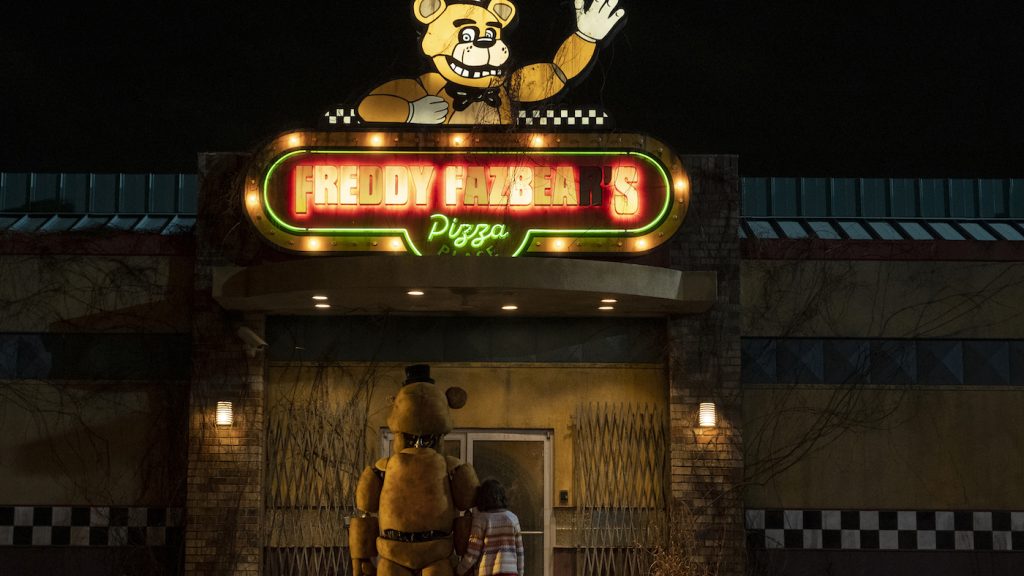 For more on Universal Pictures, Peacock, and Focus Features projects, check out these stories:
New "Fast X" Video Reveals Battle Royale Between Letty & Cipher
How "Poker Face" Production Designer Judy Rhee Built a Winning Hand
NBCUniversal Archivist Natalie Auxier Takes Us From "Jurassic Park" to "Fast X"
New "Oppenheimer" Trailer Reveals Explosive Footage in Christopher Nolan's Historical Thriller
Featured image: Poster for "Five Nights at Freddy's." Courtesy Universal Pictures.