"Evil Dead Rise" Production Designer Nick Bassett on Building the Apartment From Hell
The Evil Dead franchise is all about cabin life. The franchise's iconic location, however, is nowhere to be seen in Evil Dead Rise. The new installment gets a fresh look in director Lee Cronin's sequel, thanks in part to production designer and art director Nick Bassett.
Evil Dead Rise is focused on two estranged sisters and the hell that's unleashed once they're reunited. Tattoo artist Ellie (Alyssa Sutherland) lives in a dilapidated bank-turned-apartment complex with her three children, Danny (Morgan Davies), Bridget (Gabrielle Echols), and Kassie (Nell Fisher). The arrival of Ellie's estranged sister, Beth (Lily Sullivan) sets Ellie on edge, and things only get edgier (and gorier) from there. An earthquake shakes loose a hidden vault that's home to an ancient tome, and from there, the film lives up to its title and then some. The dead rise, and they are evil. The mayhem on display was, in part, breathed into bloody life by Bassett's work.
Bassett is no stranger to the horror franchise — he previously worked on the Starz television show Ash vs. Evil Dead. With the fifth film in the series, though, Bassett worked with a completely different environment: an apartment in Los Angeles. His work helped realize a movie that offers enough chills to make you want to move to the Valley for good.
We spoke to Bassett about creating Ellie's terrifying apartment from scratch, finding the right spaces in Auckland, New Zealand, and why green is a key color for emphasizing buckets of blood.
How did you make the film feel so contained and claustrophobic? 
We had this big old warehouse space rented for us. It was the worst film studio you could imagine, but it was big. When it would rain outside, it would rain inside the studio as well. So, we created that [parking lot] in the studio. We also created the vault set, and then we built the [interior] cabin. I think that's why the movie feels so contained. We didn't go to a location much at all. I think we were on location for four days in total; the rest was in the studio and this warehouse. We could give it a look that was consistent since it's the same people building it, making it, and designing it.
And what about creating Ellie's apartment?
When Lee and I first spoke, the apartment was potentially going to be a full highrise. But we felt that it didn't feel quite right, so it came down to a smaller building. I started scouting around Auckland for places we could maybe use as the foundation of it. There's one building I saw when I worked on a TV commercial for Taco Bell. We found this location, and to the left of the street we were using for a commercial, there was this brick building. I'd completely forgotten about it until Evil Dead Rise. It used to be an old college, but now it's this empty building in town, four stories tall. It wasn't tall enough, but the bottom of it felt quite good. When we started proper pre-production on Evil Dead Rise, that ended up being the building in the movie, which we added to since it's only four levels. There's nothing going for it apart from this interesting shape, which we had to then design the top for. So, that was the first challenge; what does the actual building look like? And then what does the interior look like to marry those two together?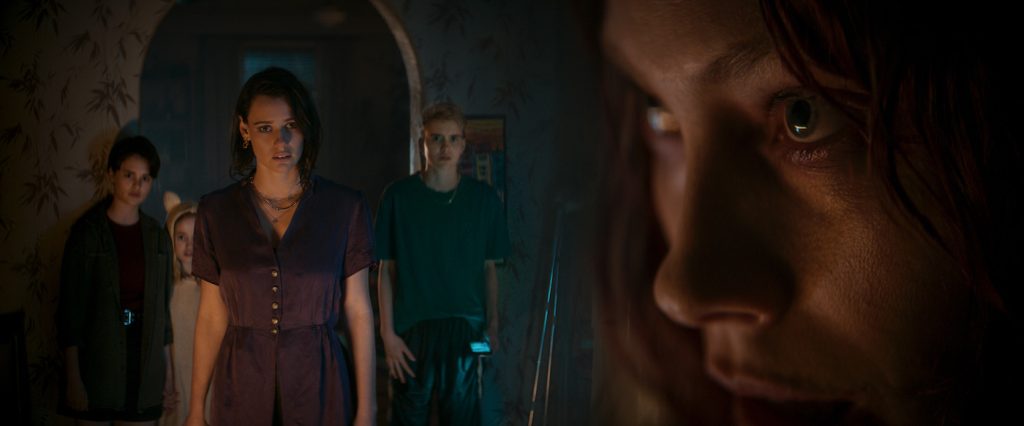 What did the hallway require in terms of color and texture? I ask because there's a fantastic shot from the point-of-view of the keyhole, in which a lot of action unfolds.
Everyone was a bit like, "Is the whole thing gonna play out through that?" It worked really well. The cool thing about Lee is he stuck to his guns on that shot. I don't believe they shot more coverage to use for that sequence, either. We tested a little for that sequence. I had a load of old camera lenses, just vintage ones I had lying around, and gave them to the director of photography, Dave Garbett. We were looking through them going, "How do we do this?" Obviously, there's gonna be very specific shots and angles, so we needed depth since it helps shape everything. We were always conscious that we're gonna really see that front door in a heap of detail, so let's make that front door something interesting to look at. We're going from this nice, warm-colored environment in the apartment as we look outside at something much colder, almost like an asylum.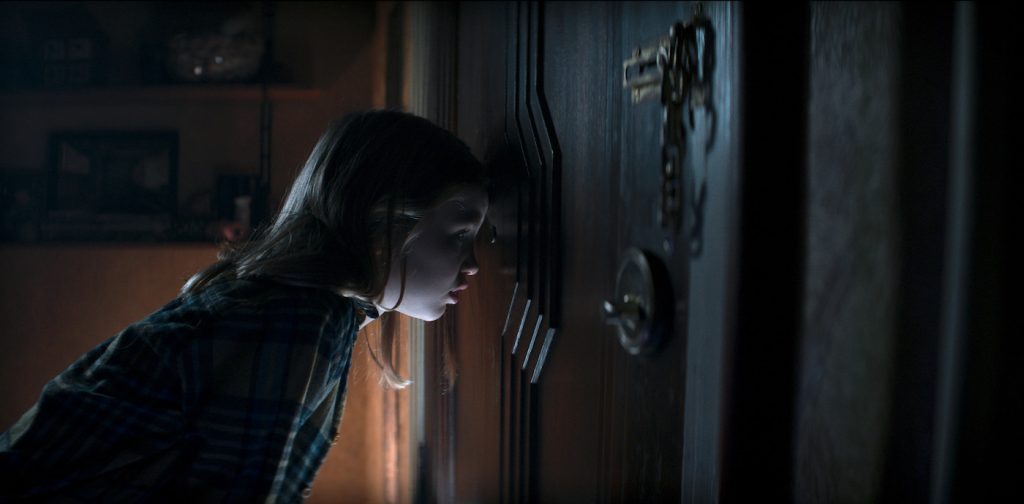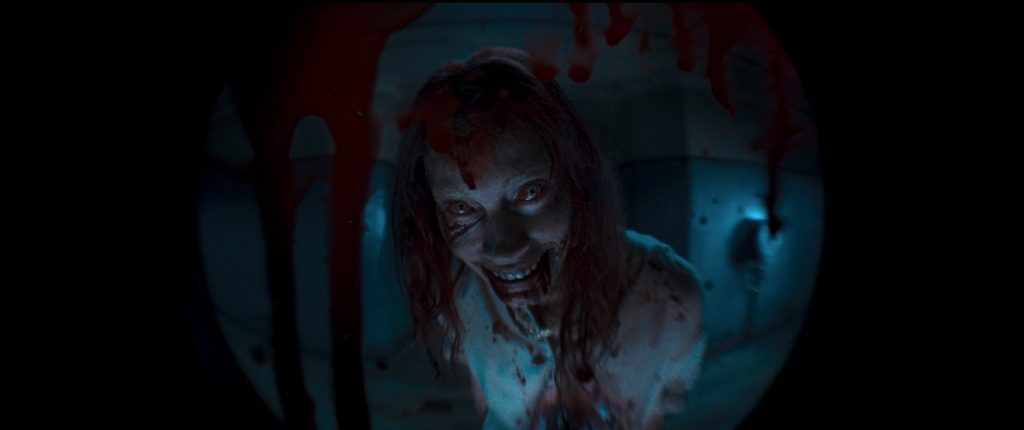 What about the colors you wanted to emphasize with the sets? How'd the lighting affect your choices there, especially with all the blood splatter?
We wanted two looks. Inside the apartment is kind of candlelit and flashlights, and when you go out and beyond that, it's this emergency lighting with this flickering, dark and menacing space. It was also a really obvious problem. There's no light out there, right? What the hell are we gonna do? We couldn't have windows everywhere because it would've looked too easy to escape. The set ended up how it was through this set of requirements. Lee was very thorough, but not in a way that he was like, "I want this specific wallpaper." He was more like, "Tell me what you are thinking." We would do sample panels and put together swatches. The fact is, the power goes out so early on in the film, so what would that really look like in candlelight and moonlight?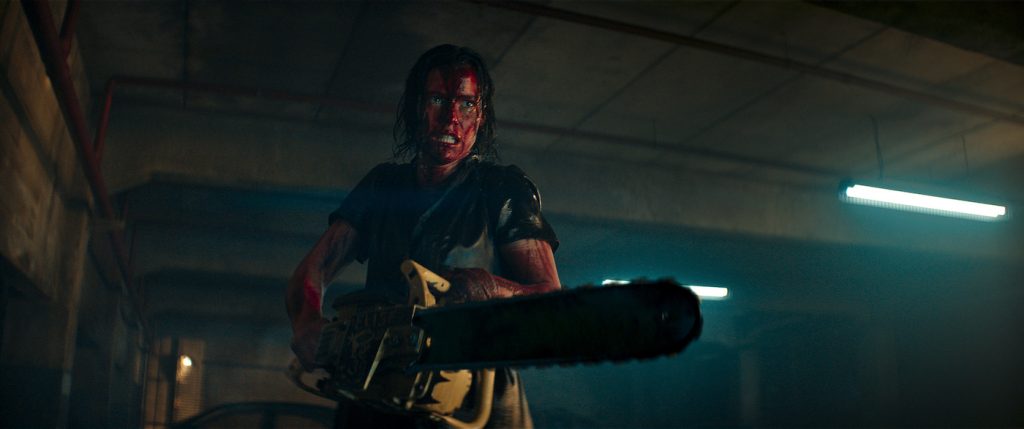 And what colors did you choose to help accentuate the film's buckets of blood?

Green was chosen purely for that. It looks good for the blood. Red and green are complementary colors. Basically, they're completely opposite sides of the color spectrum, so they work.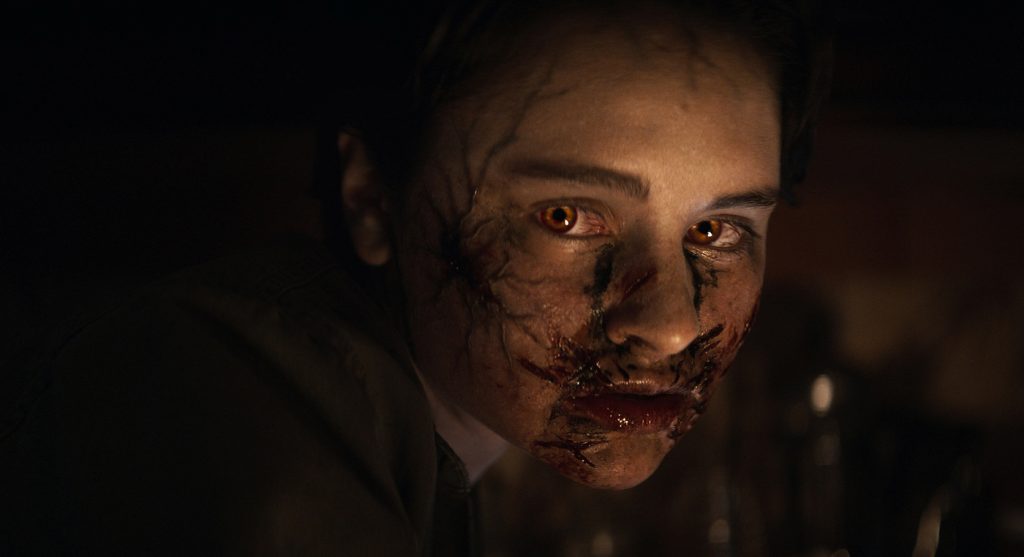 You built the cabin, as well, which is one of the few locations outside of the apartment. It's classic Evil Dead, but at the same time, different. Was that a balance you wanted to strike?
For the opening sequence, I got my concept artist to draw the woman levitating over the lake. That whole lake sequence was originally gonna be shot in Dublin. Part of the co-production was they're gonna shoot something there, and that was it. So we were like, "Let's put it out of our heads. It's so far away. We'll just ignore it and concentrate on the apartment, parking lot, and all that." I think with Covid and the way the budget was going, it was like, "The effects will be done in Ireland. Sound design will be done there. Now, this cabin sequence needs to be done in New Zealand, and it needs to be done before it's winter, so we better get on with it." I was like, sh*t.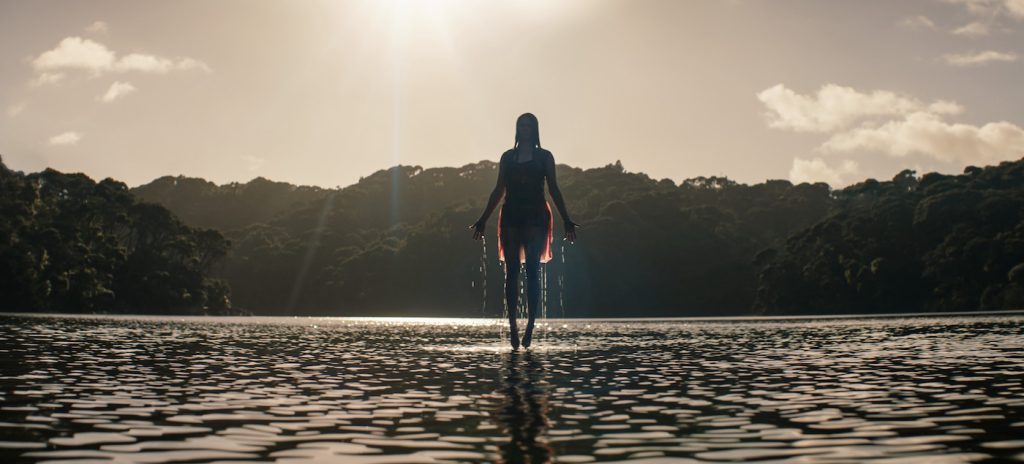 Were you worried you wouldn't find an appropriate cabin?
I think the producers, in their optimism, thought we'd find a cabin. I thought, there's no way we'll find a cabin that will suit our needs that's backlit and in this place. Luckily, the location guys scoured everywhere and found a little lake on someone's private property outside of Auckland, which I didn't expect to find. Then we built the cabin. We had to build the cabin interior on stage and the exterior on location in quite a hurry. We didn't shoot the interior for a while, but we shot the exterior quickly.
And how did the Evil Dead Rise cabin differ from cabins in previous installments? 
There are a lot of similarities with the original cabin, but it's a completely different design. We ended up building just the front of it. It's literally the front wall of an A-frame cabin in a valley. There's nothing more to it; it's like a Buster Keaton set. It's just a facade.
Evil Dead Rise is in theaters now.
For more on Warner Bros., HBO, and HBO Max, check out these stories:
"Succession" Costume Designer Michelle Matland Breaks Down the Roy Family's Signature Looks
"Love & Death" Director Lesli Linka Glatter on HBO's Deadly Sharp New Crime Drama
Warner Bros. Unveils Stunning "Dune: Part Two" Trailer at CinemaCon
Featured image: Caption: ALYSSA SUTHERLAND as Ellie in New Line Cinema's horror film "EVIL DEAD RISE," a Warner Bros. Pictures release. Photo Credit: Courtesy of Warner Bros. Pictures