"Big George Foreman" Cinematographer John Matysiak on Getting Into the Ring for a Legend's Life
Big George Foreman: The Miraculous Story of the Once and Future Heavyweight Champion of the World is an epic narrative—even the title spells that out. Filmmaker George Tillman Jr.'s biopic about the boxing champ, preacher, and grill king George Foreman captures the man in full.
The story begins with a young Foreman (Khris Davis) struggling with faith and a temper. Without many other opportunities, he turns to boxing. The young man has natural talent, and soon, he's at the pinnacle of his profession, from an Olympic Gold medalist to World Heavyweight champion, yet Foreman's journey is only just beginning. After a brush with death, Foreman rediscovers his faith, opens a church, and starts preaching. Eventually, he returns to the ring and claims the title of the oldest heavyweight champ in boxing history.
Helping tell the story of Foreman's bountiful life was cinematographer John Matysiak, who previously shot Old Henry, a lovely music video for Leon Bridges, and two upcoming episodes of HBO's Winning Time: The Rise of the Lakers Dynasty. Matysiak worked with fellow cinematographer David Tattersall, and together they helped recreate some of the most iconic moments in Foreman's life.
Despite the grandiosity of Foreman's journey, Matysiak wanted to make Big George Foreman a more grounded sports drama. "We never wanted it to feel like a larger-than-life story," the cinematographer said. "George [Tillman Jr.] and I, we're just capturing emotion."
Matysiak takes us in and out of the ring for the greatest fights of Foreman's career and life.
How closely did you study George's original fights?
I watched this three-hour doc on Foreman and Ali, as well as all the fights. To have access to all the documentary footage and found footage, that was my way into it, visually. Coming out of the '60s was this specific sports photography, like Neil Leifer capturing early American football. Neil Leifer's work in football was amazing, but I feel like every iconic image we shave of Ali, Foreman, Joe Frazier, Jimmy Young, and all these greats—that's Neil Leifer's boxing photography.
Were there any shots in particular that caught you?
I was mesmerized and went on a big journey through Neil's creativity. For example, the famous overhead shot he got of Muhammad Ali at the Astrodome in Houston? That was the first time they rigged an overhead camera and got that perspective of a boxing ring. They only did it because the actual venue allowed them to go in ahead of time and pre-rig it. If not for that, we wouldn't have seen that perspective that hit all the sports magazines.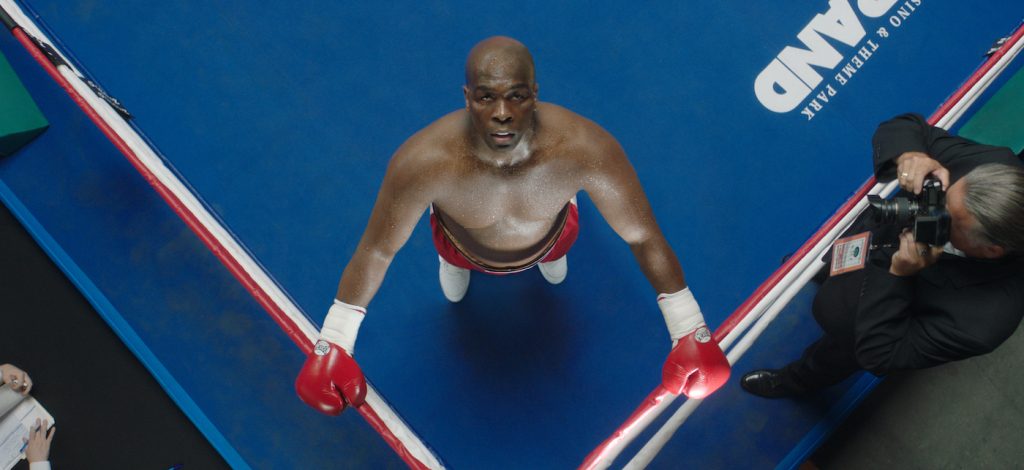 How did you ultimately decide to capture George Foreman's iconic fights? Were you going for a cinematic feel or more closely matched to how it looked and felt at the time?
From the beginning, George and I didn't want it to look like a movie. We wanted you to feel like you were actually there. We wanted you to feel the sweat, the heat, and see the bugs in the air because a lot of these fights in Jamaica or Zaire, the massive arenas were outside. We needed four shadows, too, because there are lights coming from everywhere in these arenas. I wanted authenticity. I wanted the audience to feel what I felt going back and looking at the photography.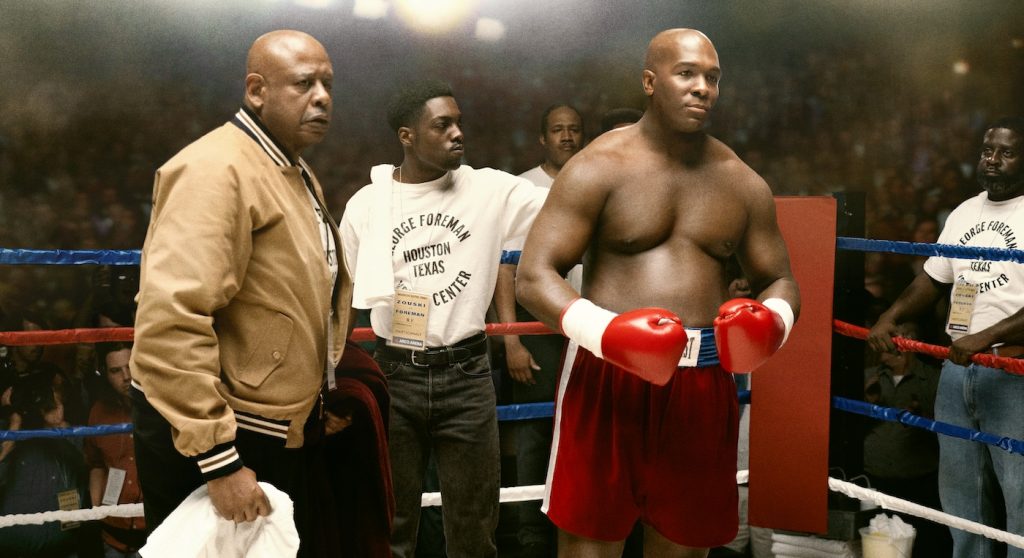 What choices did you want to avoid so you didn't create a sense of artifice in the boxing sequences?
In any sports movie, we understand how it's covered on television and which camera angles work to relay the information. Within that, you're trying to find the emotion of the story. Even in a boxing match with two people fighting in a ring, how do you emotionally invest in it? Once the choreography was in place, which was punch-for-punch based on the actual fights, we searched for the emotional beats for George Foreman's journey. We had so many different fights to cover, so we knew we wanted to cover them differently. Sometimes we'd focus on the pre-fight, the middle of the fight, or the aftermath.
For Foreman's fights with Ali and Joe Frazier, how'd you want to land those emotional beats?
In the fight with Frazier, the biggest thing was about how formidable Foreman was, just his fighting style with his heavy punches. We tested a POV rig with the actor, Khris Davis, actually punching the camera. It sounded like a great idea, but to actually pull it off with the actor and camera operator, it was extremely visceral to see. Khris Davis almost literally knocked our camera operator back, but of course, it was all within the boundaries of safety.
What about the iconic Rumble in the Jungle with Foreman fighting Muhammad Ali?
The Rumble in the Jungle was more about the head game. It was less about Foreman's ferociousness in the ring and more about the cat-and-mouse game in which Ali came out victorious. We focused on George's internal defeat, as well as the controversy of his team telling him, "Keep punching, keep punching." When you tackle a historical event like that, which we've seen all these versions of, especially in Michael Mann's [Ali] movie, I mean, it kept us up late at night. We just kept asking, what's the best way? We kept prepping and shot-listing. In our production schedule, that was the fight we had the longest time to pull off. By the time we finished that fight, it was surreal. We thought, maybe for a second, we captured what it was like. I'm really pleased with how that whole sequence came together.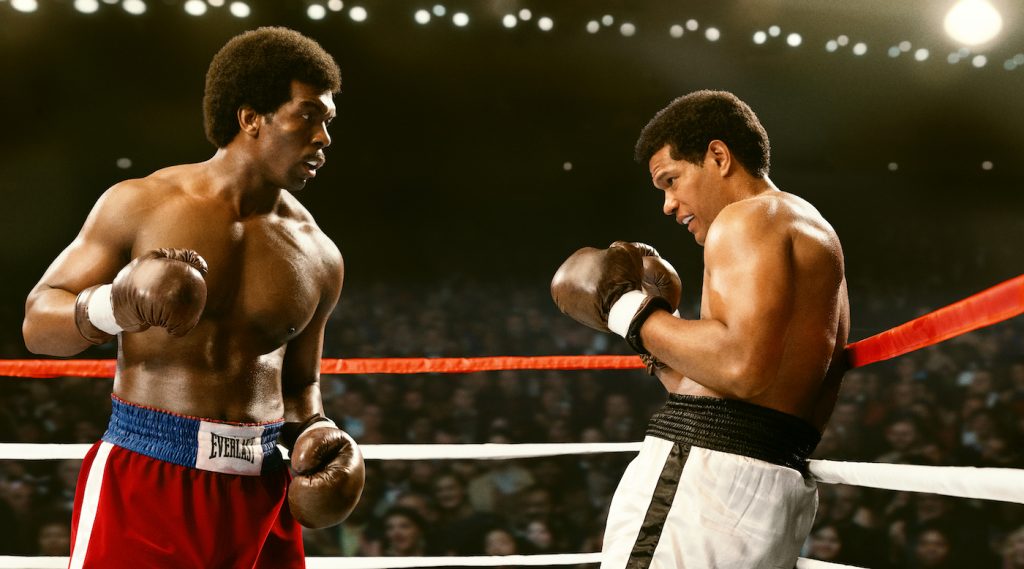 There's a lot of pressure on an actor portraying Muhammad Ali, but how about a cinematographer shooting an actor as Ali? What qualities do you want to capture that are both familiar but maybe new for an audience?
With anything, it comes down to the question of why we're doing it. How are we grounding it in our own voice? These are larger-than-life people with larger-than-life lives, so it becomes about everything around it. It's not just the cameras and lenses; it's the wardrobe, as well as how an actor comes into a room. As a cinematographer, I want to honor that and never want to get in the way. We're all always searching for that extra 5% of how to improve or elevate the scene, just to make sure we're not missing out on anything.
And then there are the minute details you're paying attention to.
With all these details, I mean, we were meticulous even about the crowd at the boxing matches. We'd put photographers or audience members in the exact wardrobe from the events. All this meticulousness elevated everything, and I think the actors feel that. Once the camera is in place and you've blocked and rehearsed, then hopefully it's all locked in and you feel it once the camera rolls.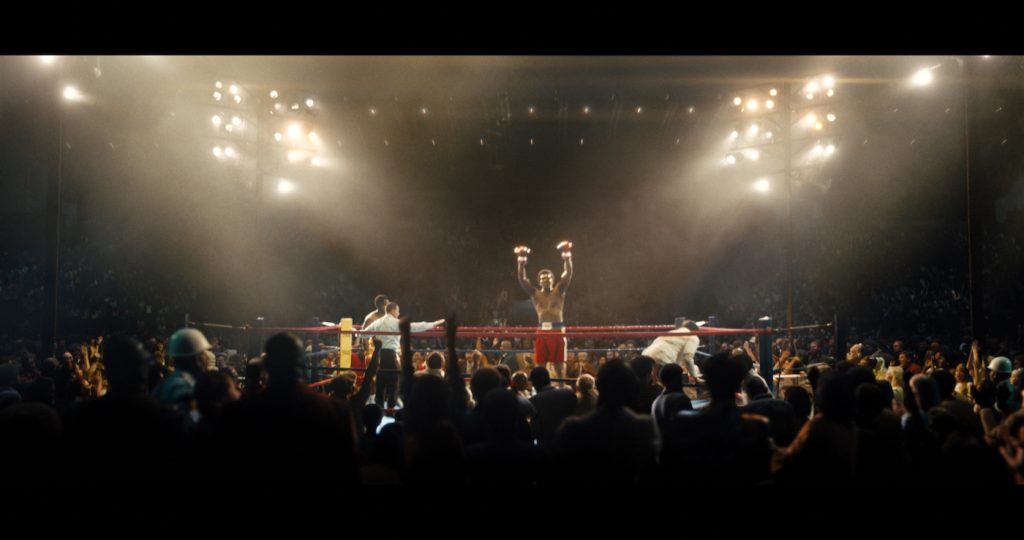 Big George Foreman: The Miraculous Story of the Once and Future Heavyweight Champion of the World is in theaters now.
For more upcoming films from Sony Pictures, check out these stories:
Denzel Washington Returns as Robert McCall in "The Equalizer 3" Trailer
Sony Unveils 14 Minutes of "Spider-Man: Across the Spider-Verse" at CinemaCon
Sony Reveals Bloody, R-Rated "Kraven the Hunter" Starring Aaron Taylor-Johnson as Spider-Man Villain
Featured image: Khris Davis stars as George Foreman in BIG GEORGE FOREMAN: THE MIRACULOUS STORY OF THE ONCE AND FUTURE HEAVYWEIGHT CHAMPION OF THE WORLD.