"The Marvels" Trailer Reveals Brie Larson's Return as Captain Marvel Alongside New Allies
The trailer for director Nia DaCosta's The Marvels has landed, revealing the return of Brie Larson as arguably the MCU's most potent superhero, Captain Marvel. Yet The Marvels, as its title suggests, is about more than just Larson's superpowered Carol Danvers—now, Captain Marvel has two new allies in Iman Vellani's Kamala Khan (also known as Ms. Marvel) and Teyonah Parris's Monica Rambeau. We've met both Vellani's Kamala Khan and Parris's Monica Rambeau before; the former in the Disney+ series Ms. Marvel, the latter is a grown-up version of a character we met as a child (played by Akira Akbar) in the first Captain Marvel, while Parris herself made her debut as the adult Monica Rambeau in WandaVision (on which The Marvels screenwriter Megan McDonnell worked).
The trailer reveals just how messed up things are going to get for these three Marvels. Set to the cosmic beat of the Beastie Boy's "Intergalactic," The Marvels trailer shows how our three superheroes are literally at cross purposes with each other—whenever one of them uses their powers, they switch locations with each other. This inconvenient dislocation situation was teased at the end of Ms. Marvel, and given the full runtime of a feature film, there's no end to the mischief it will cause.
Also on hand are Samuel L. Jackson returning as Nick Fury, Mohan Kapur as Yusuf Khan, Zawe Ashton, Park Seo-joon, Caroline Simonnet, and Jessica Zhou. The Marvels will follow Guardians of the Galaxy Vol. 3 (May 5) as Marvel's Phase 5 continues apace. On the small screen, the second season of Loki and the first season of Secret Invasion, starring two of the original Captain Marvel's stars, Jackson as Nick Fury and Ben Mendelsohn as his Skrull buddy Talos, will stream on Disney+.
Check out the trailer below. The Marvels hits theaters on November 10.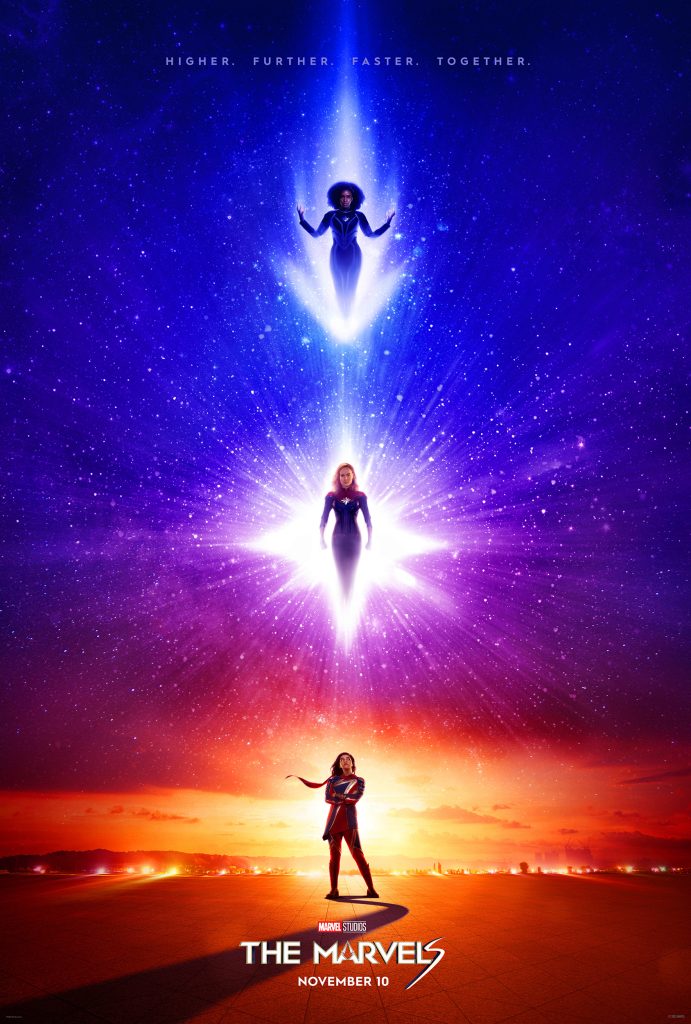 For more on all things Marvel Studios, check out these stories:
Marvel's "Secret Invasion" Trailer Finds Nick Fury Facing Off Against a Skrull Army
"Guardians of the Galaxy Vol. 3" Images Tease Rocket's Heartbreaking Story
"Deadpool 3" Adds "Succession" Star Matthew Macfadyen
Featured image: Brie Larson in the poster for The Marvels. Courtesy Marvel Studios.