New "Guardians of the Galaxy Vol. 3" Teaser Sees the Gang Attempt a Getaway
A new teaser for James Gunn's third and final Guardians film is upon us, giving us a fresh glimpse at the final mission for our galactic goofballs. The trailer reveals a moment down on Earth that has Guardians leader Star-Lord (Chris Pratt) leading the crew on yet another getaway, only this time, he's a bit overmatched by the complexities of the vehicle they've apprehended…a car. "I left Earth when I was 8!" Star-Lord says, clearly embarrassed, to a frustrated Nebula (Karen Gillan). She asks him if he wants her to drive. He does not.
Vol. 3 is the second film in Marvel's Phase 5, and it finds our Guardians sort of grown up. Groot is finally filling out after his heroic regression to babyhood to save the gang in the very first Guardians. Kraglin (Sean Gunn) will have a bigger role to play in the proceedings, as will a newcomer named Cosmo (she's adorable and voiced by Maria Bakalova), and fresh faces like Adam Warlock (Will Poulter) and The High Evolutionary (Chukwudi Iwuji), who is connected to Rocket's (voiced by Bradley Cooper) heartbreaking backstory, will factor into the proceedings in major ways.
We know that Vol. 3 will likely give us some kind of definitive direction to the long-simmering relationship between Star-Lord and Gamora (Zoe Saldana). Their tragic love story has it that this Gamora in Vol. 3 isn't the same woman he met in Vol. 1—the woman he fell in love with died (thanks to Thanos), and the current Gamora is from a different timeline. The most recent trailer even hinted at a budding romance between Star-Lord and Gamora's sister, Nebula (Karen Gillan), although we're guessing that's a fakeout.
It's really going to be a bonkers farewell. Writer/director James Gunn is now the co-chief of DC Studios, along with producer Peter Safran, steering a brand new DC Studios slate. Along with Star-Lord, Gamora, and Nebula, the core crew returns for Vol. 3—Drax (Dave Bautista), Groot (voiced by Vin Diesel), Rocket (voiced by Bradley Cooper), and Mantis (Pom Klementieff). Their new mission will pit them against Adam Warlock (Will Poulter) and in direct confrontation with Rocket's former tormentor, The High Evolutionary.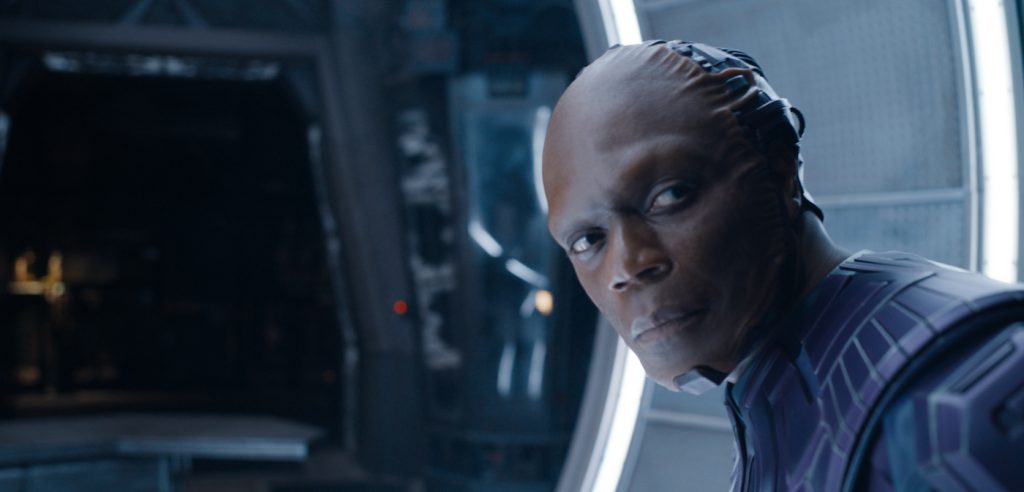 Vol 3. will lean more deeply into Rocket's tragic backstory. The previous trailer teased The High Evolutionar's demented mission to create a perfect society, which meant experimenting on creatures like Rocket and turning them into talking, gun-loving raccoons. The showdown between Rocket and The High Evolutionary will be one of Vol. 3's most intriguing plots.
We're going to miss these cosmic misfits. The Guardians lent their oddball verve to the MCU and made it a weirder, funnier place. Vol. 3 will be a bittersweet song of goodbye, and we're looking forward to it.
Check out the teaser below. Guardians of the Galaxy Vol. 3 hits theaters on May 5.
For more on all things Marvel Studios, check out these stories:
Marvel's "Secret Invasion" Trailer Finds Nick Fury Facing Off Against a Skrull Army
"Guardians of the Galaxy Vol. 3" Images Tease Rocket's Heartbreaking Story
"Deadpool 3" Adds "Succession" Star Matthew Macfadyen
Featured image: (L-R): Sean Gunn as Kraglin, Groot (voiced by Vin Diesel), Chris Pratt as Peter Quill/Star-Lord, Karen Gillan as Nebula, Rocket (voiced by Bradley Cooper), Dave Bautista as Drax, and Pom Klementieff as Mantis in Marvel Studios' Guardians of the Galaxy Vol. 3. Photo courtesy of Marvel Studios. © 2023 MARVEL.