"The Magician's Elephant" Creative Team on Netflix's Warm, Wondrous New Animated Film
If you're looking for a wonderful, feel-good movie to cozy up to, The Magician's Elephant on Netflix is a beautiful story whose animation springs to life an ensemble cast of characters you'd want to befriend. The film is a re-imagination of a novel by Newbery award-winning author Kate DiCamillo and follows a young boy named Peter (Noah Jupe) and his search for his long-lost sister Adele (Pixie Davies). 
As the title suggests, there is a magician (Benedict Wong) and a very adorable elephant involved, but to not spoil the plot any further if you haven't read the book or know the story (though the screenplay from Martin Hynes does (ad)-venture from the source material), the warm-fuzzies come from the movie's empathy, hopefulness, and imaginative characters who ask: "what if…" 
The narrative weaves a magnetic group of eleven characters that includes a mysterious Fortune Teller (Natasia Demetriou), Peter's war-veteran guardian Vilna (Mandy Patinkin), curious and helpful neighbor named Leo (Brian Tyree Henry), and a grandiose King (Aasif Mandvi), who challenges Peter to achieve three impossible tasks. 
Making her directorial debut, Wendy Rogers tapped production designer Max Boas (Abominable), art director Iuri Lioi (How to Train Your Dragon trilogy), previs lead Gary H. Lee (Kung Fu Panda), and the animation company Animal Logic to stylize the heartfelt adventure. 
The characters and their emotional arcs make the film a joy to watch. To ground those throughlines, the character designs called for a level of believability. Inspiration came from French artist Rebecca Dautremer and gouache texturing, which has a smooth, opaque finish. Human characters were stylized with long legs, large eyes, and defined angular shapes, while the movement was more anthropomorphic than the exaggerated squash and stretch animation you'd find in a Tom and Jerry cartoon. Micro-level details were considered in each character down to the realism of how clothing wrinkles moved and the hair of Vilna's beard (which has 316,224 individual strands). The life-like refinement allowed them to emote on subtle levels, and thus, hopefully, connecting on a deeper level emotionally with the audience.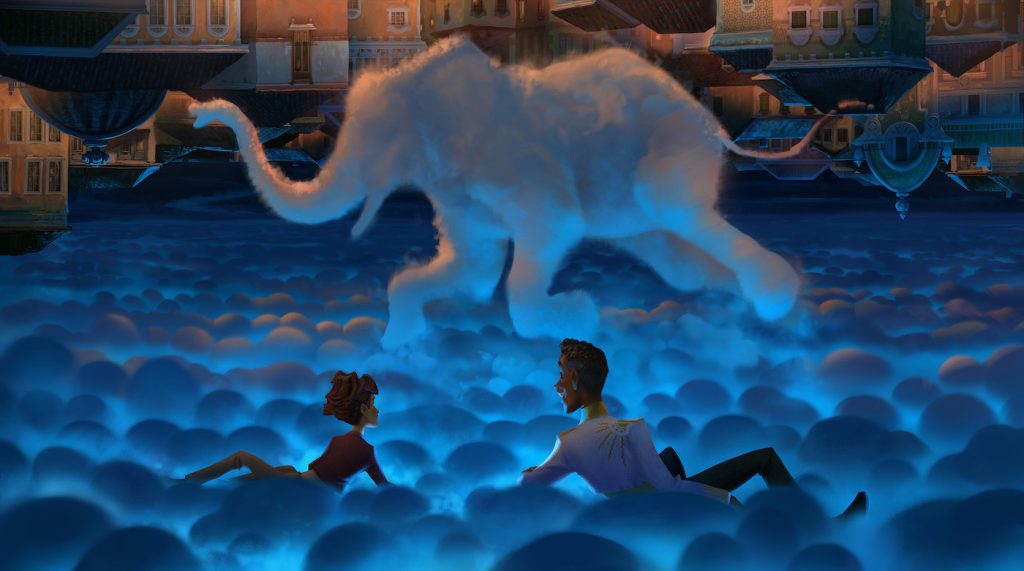 "Wendy had a real clarity about how she wanted the characters to act from the beginning. We didn't want the expressions or postures to be too extreme. We wanted to use the bone structures of the characters to support the muscles on top to make it as realistic as possible," art director Iuri Lioi. "Our character designer Brittany Myers did an amazing job bringing all our different ideas together to create these amazing characters." In all 133 unique characters appear in the film, including the elephant that reignites the imagination of a town smattered with endless cloudy days.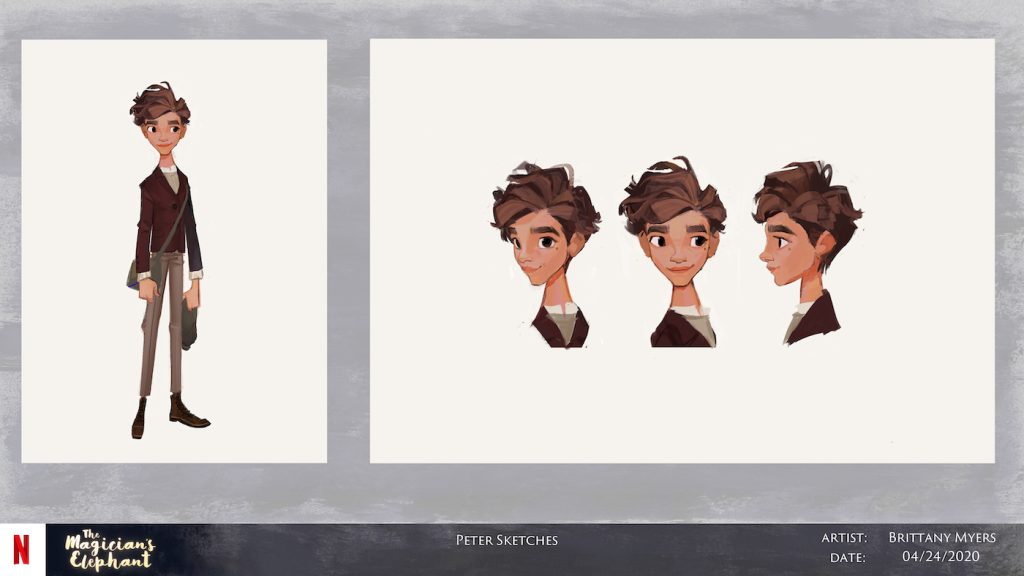 Metaphorically, Lioi says the clouds represent the loss of hope in the town. "Conceptually, the clouds needed to be this oppressive thing that is constantly hanging over everybody's head, but at the same time, we didn't want it to feel depressing." The design of the clouds came from real Mammatus clouds, which have a bubble-like appearance and form before thunderstorms. But the visual team took it one step further and stylized them to look like tapioca balls in boba tea. The white "boba clouds" carry a surreal, almost magical feeling to them.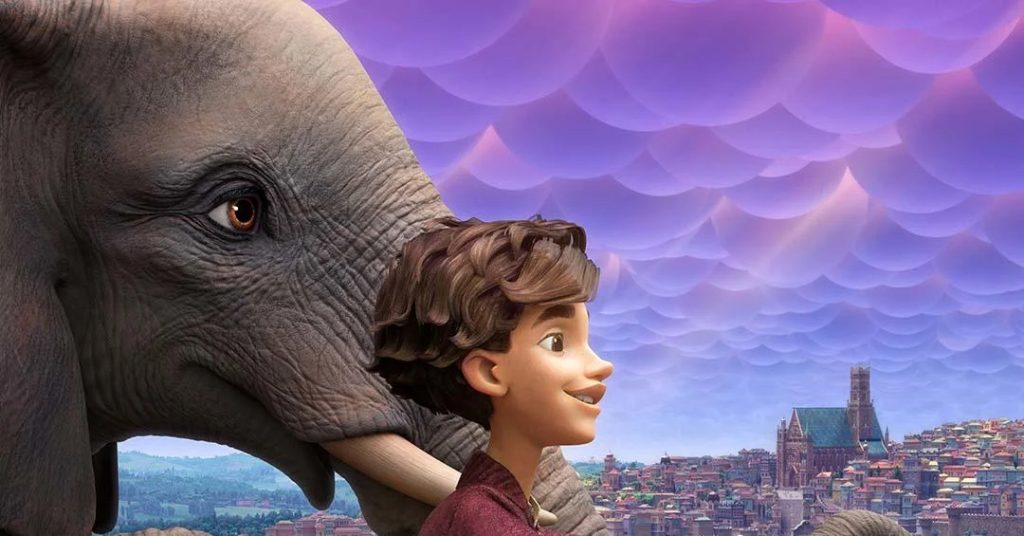 For color and light, color studies shaped the time of day and moods of the environment, turning what would be a dull, monochromatic look into a town with hints of vibrancy. "With the clouds, one of the challenges is that the lighting would always be very diffused and soft," Loi says. "We had to make sure the shapes in the town maintained a strong and interesting silhouette that would work well under soft lighting because we weren't going to be able to use light and shadow to help us define compositions for the final shot."
The town itself is ambiguous in location but borrows aesthetics from Southern Europe. "We wanted it to feel timeless. To make it a multi-layered place and would support a diverse cast of characters," notes Lioi. It's scaled with 280 buildings layered in architecture covering multiple centuries. Buildings are painted in muted pastels with shades of beige, purple, pink, and blue leading the way. "I think there was so much of the characters used in the town and so much of the design of the town that was reverse-engineered into each of the characters."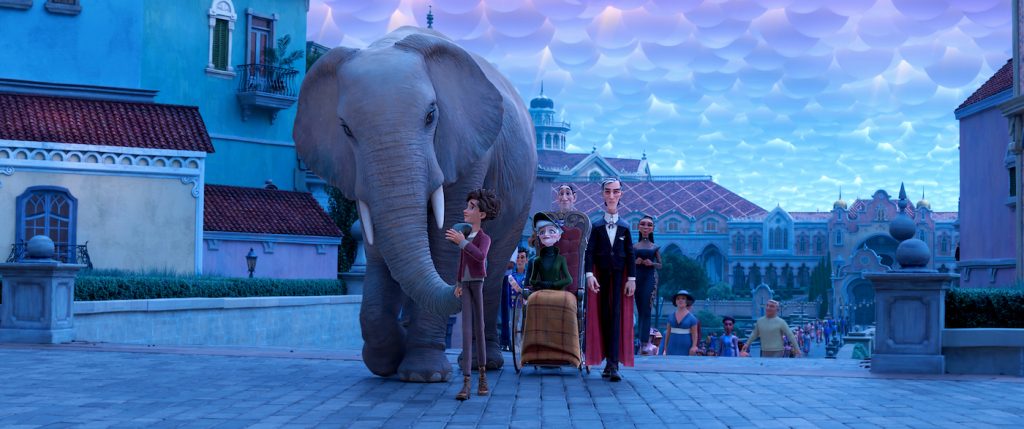 Bringing the cinematic story to life started in preproduction with previs lead Gary H. Lee. "In all our scout sessions, Wendy would ask, 'Do the characters feel right in their environment?" notes Lee. "This desire led to the formation of our cinematic guide for the film, which breaks down shooting scenes between Peter and Vilna to be more flat, oppositional, and restricted, while scenes between Leo and Gloria [Leo's wife voiced by Sian Clifford] are more casual, dynamic, and include dirty over-the-shoulder shots for the inclusiveness." The previs team, which included Morgan Kelly, Brian Magner, and Don Reich, ended up creating a shooting plan for nearly all the lead and hero environments in the film.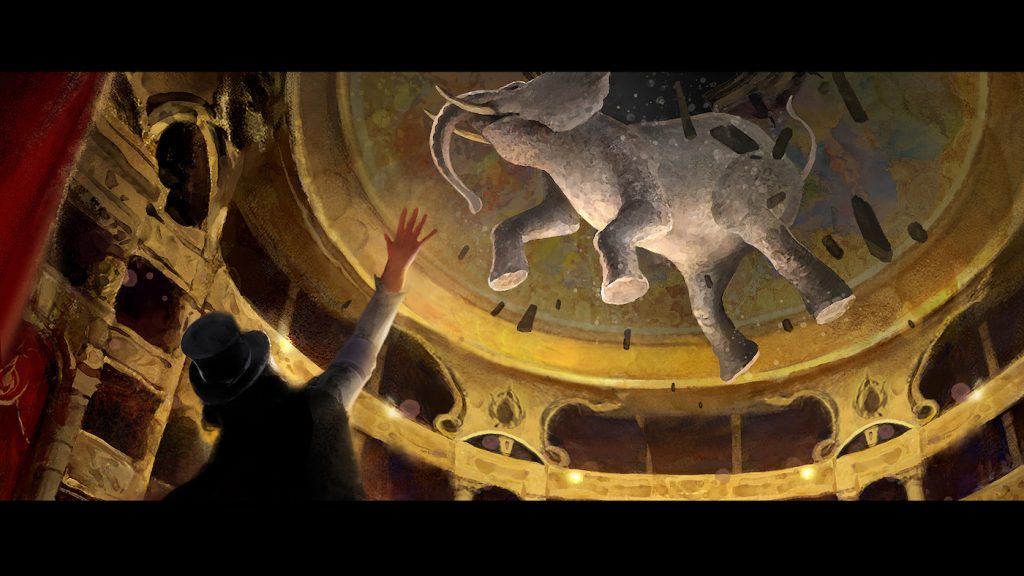 Another key element to the previs work included correctly scaling the characters and town in the film's 2.39 aspect ratio. "We adjusted the size of the water fountain to ensure it was neither too small for the elephant nor too big for Peter. We removed buildings so Vilna could have a clear view from his window of the town's Cathedral to serve a particular story point. Much of this involved problem solving, ultimately leading to greater composition and framing," explains Lee.  
For Peter's three tasks, conveying jeopardy was crucial. "Since the audience knows that the characters are not real, it becomes harder to create a sense of danger," says Lee. "I remember working on Kung Fu Panda, where Spielberg provided feedback on our in-production projects. He emphasized the importance of ensuring that our animated characters "get hurt." Once we see that our characters can experience pain, their journey becomes more relatable to the viewers."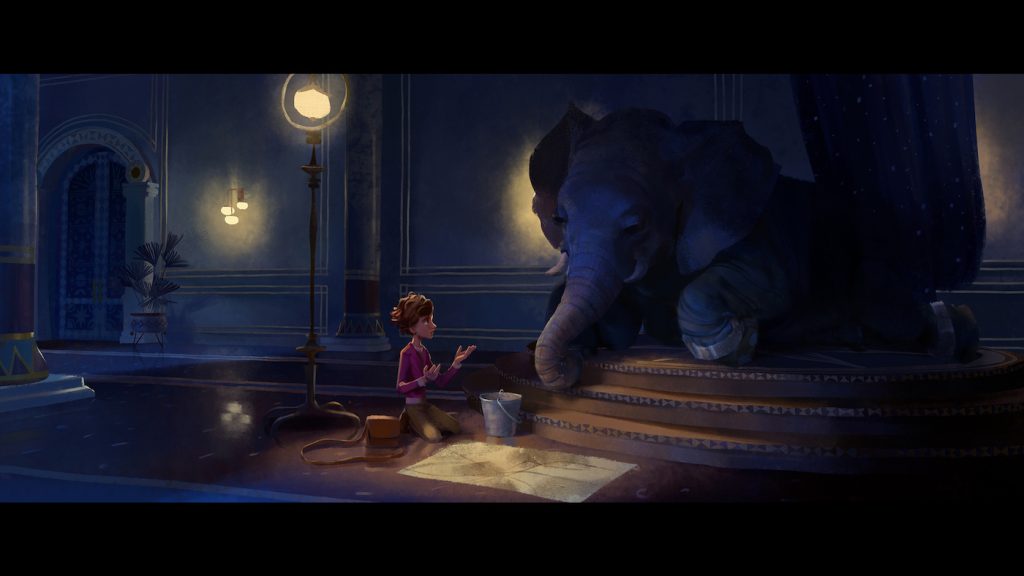 A similar idea carried over for Peter, where the team found ways for the character to get hurt, fail, and be put in dangerous situations. Like when Peter has to face the king's strongest soldier, Desmedt, they show Peter stumbling as he runs away. Or when Peter is asked to fly, a combination of close-up shots of his feet near the edge of a rooftop adds suspense, while another shot from his perspective explores the vertigo he's feeling from the ground far below – all these adding to the humanizing qualities of Peter's character.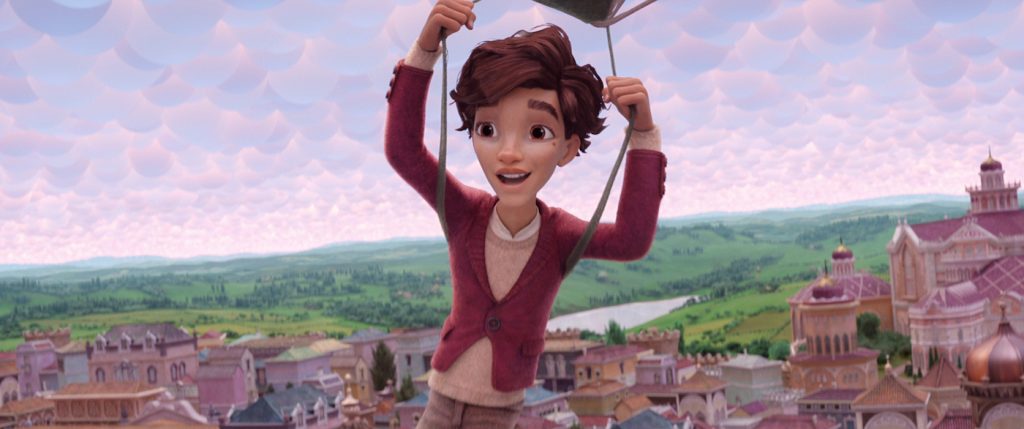 One of Peter's more humanizing moments for Lioi is Peter's realization that the elephant should be reunited with its family. "For me, that really illustrates what the movie is about. It doesn't matter that Peter's not going to find his sister anymore. He cares about this elephant finding its family. That shift in Peter becoming aware is very beautiful. It happens in a very unexpected way, and I think that's what makes this movie special and different."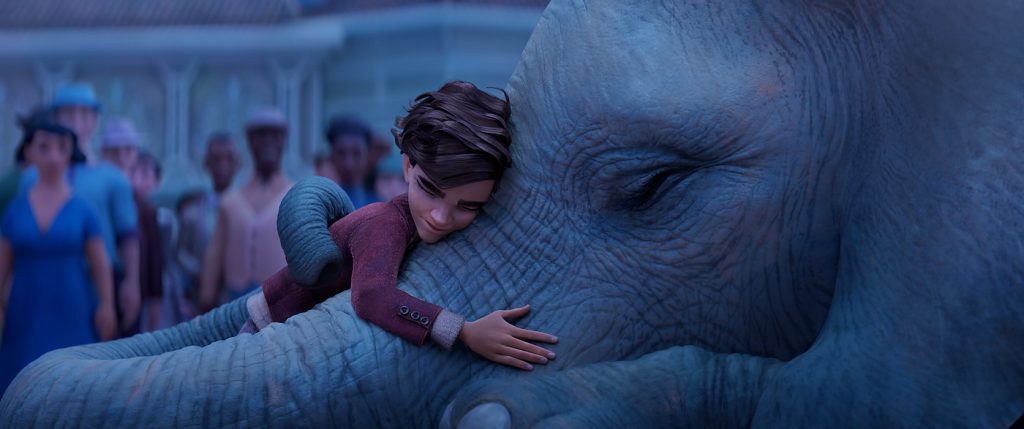 The Magician's Elephant is streaming now on Netflix. 
For more on big titles on Netflix, check these out:
"The Magician's Elephant" Director Wendy Rogers on Her Charming Pixelated Pachyderm
Oscar-Nominated Sound Designer Frank Kruse Makes Some Noise on "All Quiet on the Western Front"
"Descendant" Co-Writer & Producer Dr. Kern Jackson on Uncovering Living History in Mobile, Alabama
Featured image: Courtesy Netflix. © 2023 Netflix, Inc.