"Ant-Man and the Wasp: Quantumania" Writer Jeff Loveness Spotlights Marvel's Wackiest Characters
Honey, I Shrunk the Baddest Supervillain in the Multiverse might have been the alternate title for Ant-Man and the Wasp: Quantumania. Evil things come in little packages – but with big punchlines – in the pivotal first entry in Marvel's Phase 5.
Screenwriter Jeff Loveness was tasked with introducing a new supervillain into the MCU that has to top Thanos, but don't expect him to do it with a straight face. He takes tons of detours to give the most eccentric creatures in the Quantum Realm their moment in the sun.
We drop in on a regular-sized Ant-Man (Paul Rudd) with an inflated ego after his role in thwarting the big snap, but his biggest challenge yet is about to suck him back into the fray.
"[Scott Lang] thinks he's won. He thinks he's doing pretty well, and he gets pulled back into it, and he just doesn't want to lose any more time," Loveness explained. "It just felt like a great way to make him grow and be compelling as a character. I think if we had done the same thing where he's fighting on top of a pencil eraser – yeah, maybe people would have liked it, but it would not have been new or interesting or divisive. I'm glad that we got to put the smallest Avenger, quite literally, in an Avengers movie by himself being tortured by this top-tier villain with his daughter there."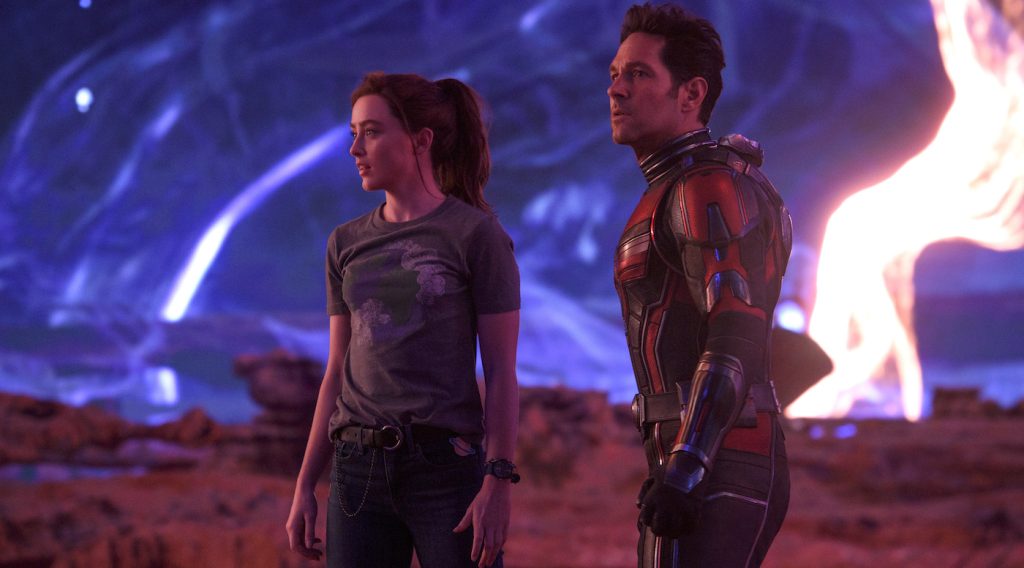 Since Iron Man kicked off the modern era of Marvel films fifteen years ago, it had all been leading to a showdown with Thanos. With the Infinity Stone collector finally vanquished in Avengers: Endgame, Loveness had to find a way to escalate the threat to our heroes.
Enter Kang the Conqueror (Jonathan Majors), who has a secret history with Janet van Dyne (Michelle Pfeiffer) and a brooding plot to dominate, well, everything ever. Loveness turned from brawn to brain, giving us an unsettling, conversational introduction to Kang.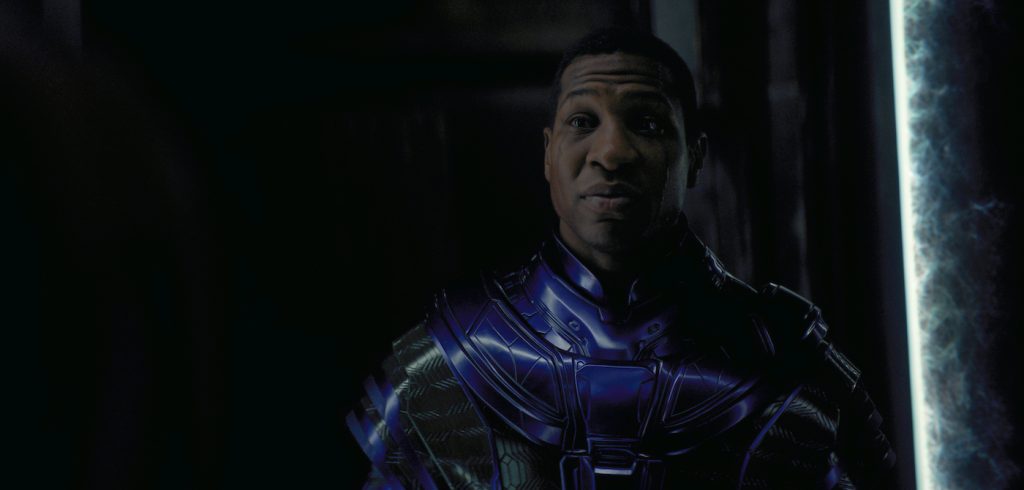 "There's going to be plenty of time in Avenger movies for time travel and blue face and lasers and variants and all that fun multiverse stuff," Loveness promised. "I thought that it would be really important just to showcase him as a vulnerable human man. Thanos is fantastic, but he is a big motion-captured purple CGI space alien. I think the way to beat that is to do the opposite of it and really focus on the human face and really focus on the humanity of this guy."
That means getting a good deal of face time with the character. Kang strikes an instantly iconic pose on a makeshift throne inside his marooned ship of an exasperated but intellectual threat lying in wait. Always plotting, we see his manipulative tactics unfold.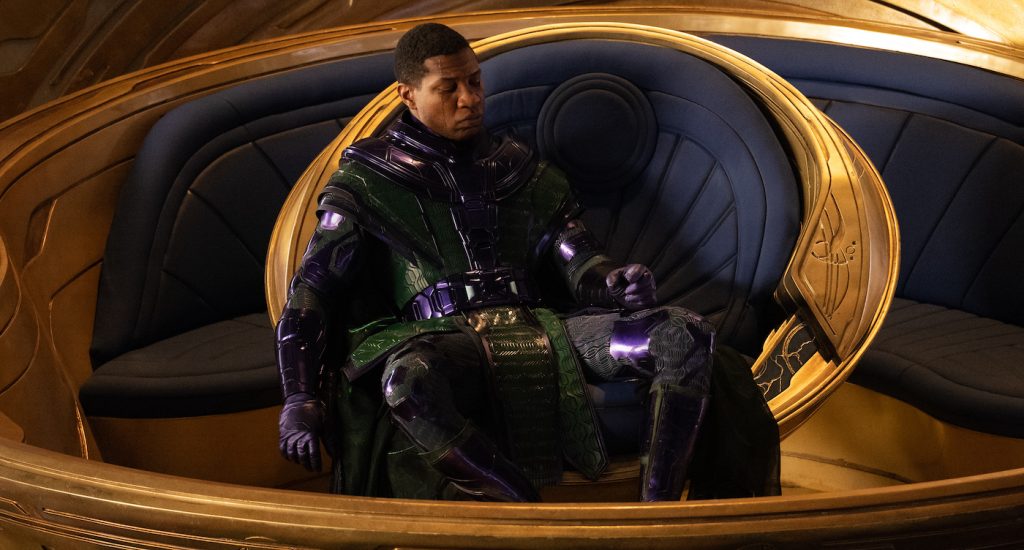 "I love that so much of the movie, he gets to actually talk to Michelle Pfeiffer for a while and he actually gets to talk to Scott Lang for a while," Loveness observed. "He has almost that Faust energy to him. He can really pull you in. You've got Jonathan Majors, who is just the most electric actor working right now, so I felt like I was just super lucky."
Loveness was discovered in college via a viral video that showcased his ability to match an established comic character with a quirky tone. When it was announced that he would also pen Avengers: The Kang Dynasty, he tweeted a link to the skit saying, "Make that thing with your friends. You never know."  
Make that thing with your friends. You never know. https://t.co/AyICMXtxco

— Jeff Loveness (@JeffLoveness) September 15, 2022
Wise words as he now stands poised to shape the trajectory of the Avengers' collision course with Kang.
"At the time I wrote [Quantumania], I didn't have Avengers, so you are kind of building railroad tracks. You don't know where that train is going, but I did have a general idea for what I thought it should be and where I thought it should go," Loveness explained. "So, when the Avengers pitch came around, and they offered me the chance to go for it, I was able to pick up from there and take it where I thought the Kang story should go. But I really just tried to focus on this guy right here and what's going on, and you lay in some mystery. He's such a nonlinear character. It seemed really fun to do."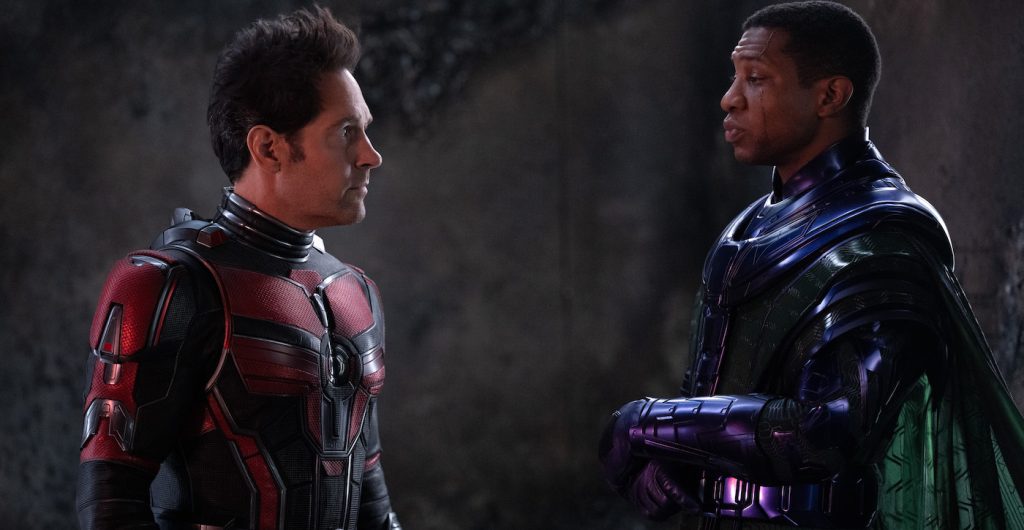 The Rick and Morty and Jimmy Kimmel Live! alum started writing Marvel comics nearly a decade ago. While there are plenty of classic characters in the film that started on the page, Loveness injected the script with a few originals that have the undeniable stamp of his style.
The most wholesome – and hole obsessed – is a goop guy named Veb (David Dastmalchian). His ritualistic chant turns out to be an earnest urging to help Scott and Cassie (Kathryn Newton) speak his language.
"It was the potential of the Quantum Realm. If this is a place of limitless biology and limitless evolution, what are other life forms, and what would that mean? I got to really dive into that. Also, I was just really high," Loveness laughed. "I think I was really high when I came up with that, so maybe that shows."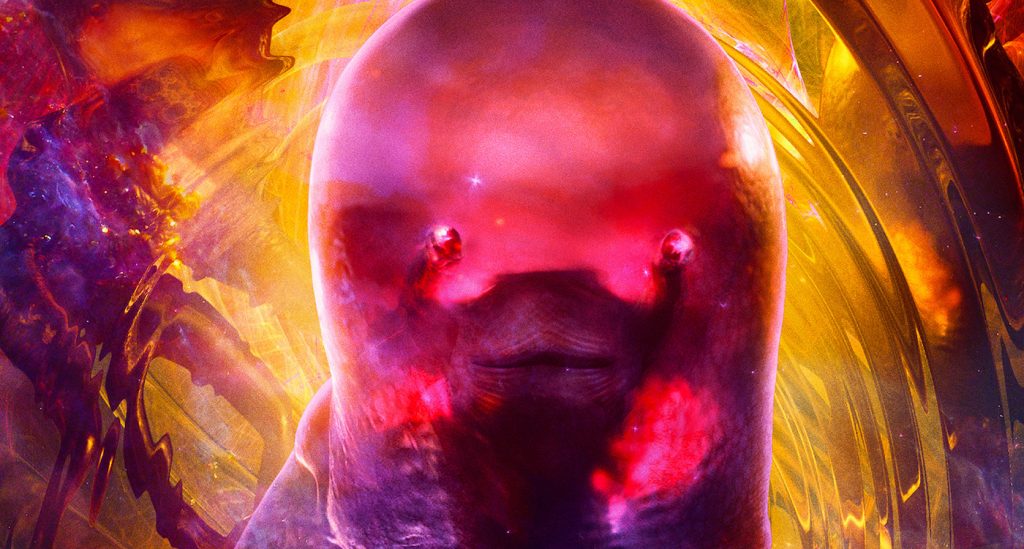 Veb's fellow freedom fighter, Quaz, is an empath with an attitude. His special ability proves useful but causes him some personal grievance.
"I am just such a huge X-Men fan, so that's what led to the William Jackson Harper character because if you actually could read the minds of everyone around you, you would not be as calm and serene as Patrick Stewart I don't think," Loveness joked. "You would hate everybody. You would be annoyed. I'm so glad [director] Peyton [Reed] and Marvel was down to make a goofy road trip comedy in a way."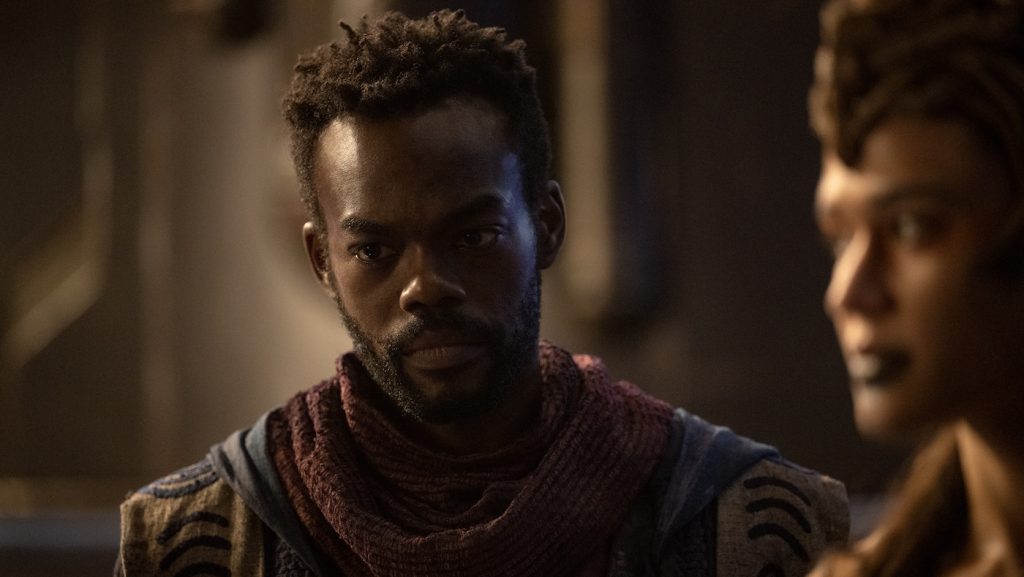 Quantumania is an ensemble film with three generations of Pym particle experts taking their best shots at Kang. It's good that they all took an interest in the superpowered technology because this fight is all hands on deck.
"Ant-Man and The Wasp (Evangeline Lilly) are fighting for their lives. Cassie tries to help. None of them can beat this guy dead on," Loveness noted. "Oh, but it turns out those ants we forgot about, they have a fighting chance. They come in with Hank (Michael Douglas), the guy who's been kind of comic relief the whole movie – and the whole trilogy, really. The whole trilogy is making fun of ants and discounting them. What if you're in a place where the ants are really big, almost Starship Trooper ants mixed with a Lord of the Rings cavalry charge, but even that's not enough to beat him because he still has his forcefield and he's still very powerful."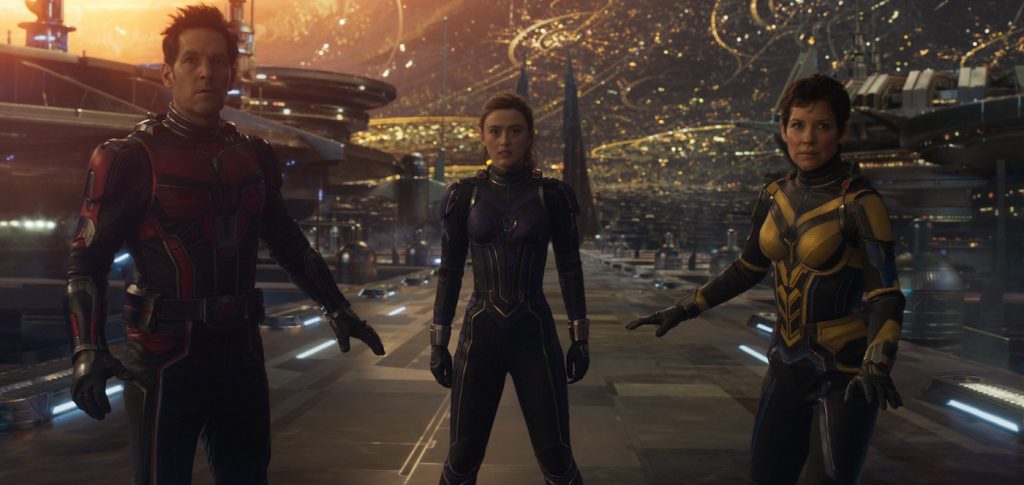 Hank still can't resist pausing mid-battle to dive into his passionate observations about ant colonies and their social structure.
"I would go to the mat for those socialist ants," Loveness asserted. "I don't care what the internet says. They're great."
In the end, Scott and his family will need help from the inside to claim victory. Loveness was nearly deliriously joyful to write the bizarre character M.O.D.O.K. (Corey Stoll) – an acronym for Mechanized Organism Designed Only for Killing. From the name, you might expect a ruthless, unstoppable android, but instead, we find the inflated face of a dejected and bitter Darren Cross. He uses more emotional jabs than firepower to attack Scott, but in the end, there's an opportunity for him to rise a hero.
"Cassie Lang just finally broke into M.O.D.O.K.'s dumb head like, 'Hey, don't be such a fucking dick, man.' She just finally got to give him that pitiful intervention," Loveness explained. "Because he has Kang technology that we've set up, he's able to just for a brief second blow open his shield, and that's what allows them to rush him. That, to me, felt really fun and something you can only do in an Ant-Man movie. Even then, [Kang] still gets up and just beats Scott's ass. It's basically his own hubris and his own overconfidence."
No one commits to a dark, gruesome, prolonged joke quite like Loveness. When M.O.D.O.K falls, he falls hard, rife with unresolved jealousies and unfulfilled dreams. Bruised and sputtering bile, he still lobbies for acceptance. It's a moment of black – and bleak – comedy that shines.
"[Scott has] got everything Darren would ever want, and Darren is just a big head, and he just feels shitty about himself," Loveness recognized. "I thought it would be very funny to do really the tightrope walk of it's so sad, no one can say the truth, so they have to throw him a bone. This guy is so desperate for any connection. They have to give it to him. My favorite part is Darren keeps asking for more. Then he assumes he's an Avenger. They're like, 'Yeah, you're in.'"
Perhaps, in the end, that's enough. "He is an Avenger now, right?" I asked. "Maybe we should give it to him?"
"I won't. No. He's not. They lied. They lied to a dying big head," Loveness refuted.
Sorry, Darren. I tried. R.I.P. M.O.D.O.K.
Ant-Man and the Wasp: Quantumania is blasting onto the big screen in theaters now.
For more on Ant-Man and The Wasp: Quantumania, check out these stories:
"Ant-Man and The Wasp: Quantumania" Composer Christophe Beck on Kang, the Langs, & Depeche Mode
"Ant-Man and The Wasp: Quantumania" Offers Two Great Villains: One Pure Charisma, the Other Pure Lunacy
"Ant-Man and The Wasp: Quantumania" Early Reactions: Jonathan Majors Excels as Supervillain Kang
Featured image: (L-R): Paul Rudd as Scott Lang/Ant-Man in Marvel Studios' ANT-MAN AND THE WASP: QUANTUMANIA. Photo courtesy of Marvel Studios. © 2022 MARVEL.