"Sick" Production Designer Jenny Möller Builds the Lake House From Hell in Peacock's Peak Pandemic Slasher
Slashers don't take sick days, even during a lockdown. Leave it to Scream writer Kevin Williamson to give us more to fear than the virus in Peacock's Sick, which takes us back to the peak of the COVID pandemic. Best friends Parker (Gideon Adlon) and Miri (Bethlehem Million) quarantine together at a luxury lake house, but their isolation is interrupted by a masked killer.
Production Designer Jenny Möller rolled back the clock to an eerie experience we all shared – visiting grocery stores in 2020 with rows and rows of empty shelves, particularly the toilet paper aisle.
"We didn't really know what was going on. This was unprecedented," Möller recalled. "The idea that the whole world was shutting down. The idea that we were not going to be able to get food or medicines. Looking back on it, it's like well of course. We were all freaking out. There was reason, but the systems in place wouldn't have let us fail that badly. It's not 1900 here, but we didn't know that. So, I really wanted to convey that slightly post-apocalyptic feeling that we were all walking around in." 
A stalker pursues college student Tyler (Joel Courtney) and takes a stab at him in his off-campus housing. Working with Set Decorator Gabriel Jessop, Möller gave the space personality and a contrast to the luxury lake retreat where Parker would become the next victim. Tyler's house is grungy and cluttered, as college living spaces often are, but look closely and you can catch some one-of-a-kind pieces of art.
"I didn't want it to be just posters on the wall, so I found a couple of vintage paintings that looked like they had been painted over," she explained. "So, a landscape and I painted over an alien spaceship with an alien walking through it. We had one that was an old landscape. I put a rally car driving through it with mud splattered everywhere. Just to create something that wasn't posters that was just a little cooler in there."
Filled with "stacks of things", "cheap furniture", and "used junk", there's a lot to grab in a scuffle. Möller said that was intentional to not only give insight into Tyler's world, but also give the characters more ammunition.
"We wanted you to know that Tyler lived in this house and then it gives you something to play with when you're fighting," she noted. "It's more interesting to have a fight with a bunch of stuff to throw around in there than a big empty space. You can draw that fight out because you have more weapons at your disposal."
Sets in slasher films do more than just establish a mood. They are interactive spaces, providing hiding spots for the prey and pathways for the pursuers. A great set like the lake house in Sick gives the killer the potential to jump out from anywhere.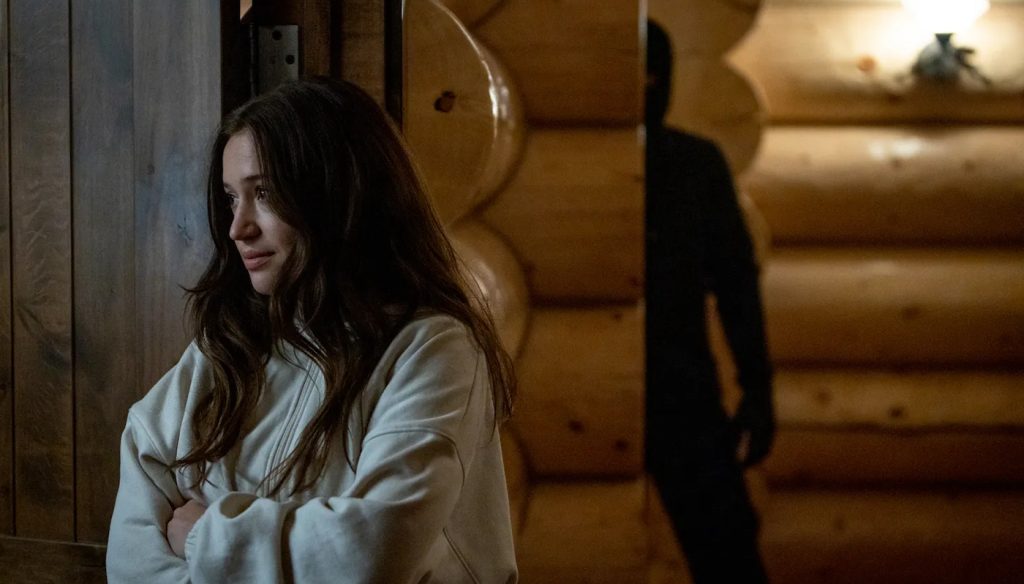 "I think the fact that there were multiple entries to this house within the same level, the killers were easily able to pop in and out of doors and it's so open that it creates a false sense of security that you can see everything," she explained. "There were actually lots of places to hide that you don't think are there. When something is that lofty, the sheer size of it creates a whole other element that you can hide in. It's a little scarier. Sometimes a smaller space, you feel more in control of than you do in a larger space."
To survive, the final girls made daring attempts to escape. There was a tense scramble on the roof and a major moment that required a more controlled environment to film in. To allow the stunt team to properly implement ropes and harnesses for safety, Möller designed a stand in set.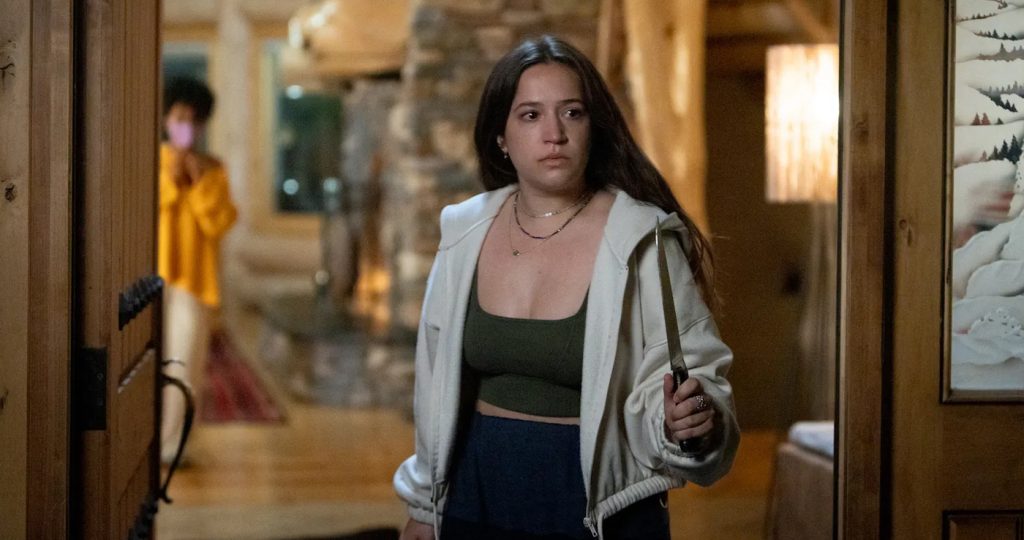 "I built a roof extension onto an existing structure," she explained. "We went into another location; we built out the attic room into that to make it match. We built that trap door to work the way that it did and the windows to match. We took out the existing windows and matched the windows from the main house into this other location. Then we built a physical set extension. The roof on the main house is actually a tin roof. It's pressed tin, so if we stepped on it, it would damage it quite a bit."
During the film's climax, Parker finally takes the plunge, riding a raft into the lake. While the house the team scouted had a true lake front view, the dock was recreated elsewhere.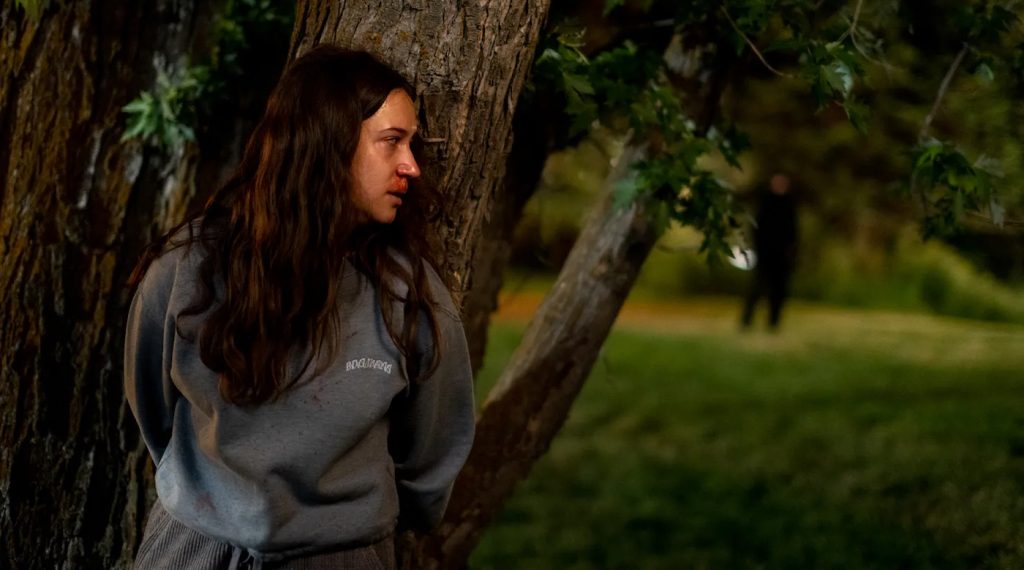 "[The owners of the house] had some old stairs, there was an access, but it just wasn't functional," Möller described. "Set construction and real construction are two different things. It would have taken us a lot of engineering to get access to that. And getting cameras and dollies and things like that down there – those are very heavy pieces of machinery."
Of course, the water doesn't deter a knife wielding maniac with a bone to pick. Parker has a tense scramble trying to evade the killer's blade from below. Möller had to specially design the floating set for the carefully choreographed scene to ensure the actors could safely take a stab at one another.
"We had a marine unit so everything that you see under, the knives coming up – there was actually a person under the raft trying to get her," she revealed. "I built the raft so that it floated on pontoons, and we made sure that the center section was hollowed out so that someone could get under there. We had choreographed where those things were going to be. So, under the raft, the person knew where they were going in the dark scuba diving under a raft. I'm pretty sure that it was tied off to another unit to keep it safe when Gideon was on there, so off camera the platform was attached to another unit, a larger floating unit, but there was still somebody under there."
The best kind of horror films come from universal fears we all share, and there was no escaping COVID. Sick gives us a reason to revisit the days of lockdown and share a scream and a laugh now that the darkest days are behind us.
"I think coming off the pandemic, a lot of us were aware of the feelings that we had during the pandemic," Möller observed. "We were so glad that it was over, that we were vaccinated, that we were back to work, but at the same time, we all were still very much aware of all that fear that we had. I think this was playing on that very, very well." 
Sick is now available to stream on Peacock.
For more on Universal Pictures, Peacock, and Focus Features projects, check out these stories:
First "Fast X" Trailer Unleashes Jason Momoa's Villain Dante
Will Ferrell is a Vengeful Border Terrier in First "Strays" Trailer
Pedro Pascal Kills It in "Saturday Night Live" Trailer for a Gritty Mario Kart Series
Featured image: Bethlehem Million in Sick. Courtesy: Peacock