Director Haifaa Al-Mansour on Casting a Spell in "Anne Rice's Mayfair Witches"
Though Haifaa Al-Mansour is known as the first female filmmaker in Saudi Arabia by virtue of her award-winning 2012 feature Wadjda, she has since become a go-to director inside and outside Hollywood through both features and projects on the small screen. The writer/director's releases Mary Shelley and The Perfect Candidate were lauded by critics and audiences, and her artistic contributions to shows like The Good Lord Bird, Archive 81, and Tales of the Walking Dead elevated the already well-regarded projects. Al-Mansour's commitment to empowering women is evidenced in the subject matter she chooses, especially as writer/director, as well as in the advocacy she is devoted to in her personal life. 
Her latest work is on the 5th and 6th episodes of Anne Rice's Mayfair Witches on AMC, based on Rice's best-selling trilogy, "Lives of the Mayfair Witches." The series focuses on neurosurgeon Rowan (Alexandra Daddario), who has discovered she is part of a powerful centuries-old family of witches silently ruling New Orleans. At odds with her is the evil matriarch controlling the family, Carlotta Mayfair (Beth Grant). There's also an insidious threat posed by demonic entity Lasher (Jack Huston). Helping her  win against Lasher is Ciprien Grieve (Tongayi Chirisa), an agent with a secret paranormal society called the Talamasca. Episode 5, "The Thrall," finds Rowen and a wounded Ciprien trapped at the Mayfair House in a time loop. In Episode 6, "Transference," Rowen takes part in a Mayfair ritual to transfer Lasher's connection to another witch in the family.
The Credits chatted with Al-Mansour about that powerful scene of sisterhood in "Transference," using Groundhog Day as inspiration in "The Thrall," and more.
By coming in on the 5th and 6th episodes, you got some juicy storylines to sink into, but a lot of the visual language of the show had been set. How did you approach your work to bring your personal aesthetic as a director to bear?
With episodic television, you go to a show that is established, but you have to find your own voice as a director, and for me, the way it comes through is really about shaping the performance with the actors, and trying to find the right camera angles and shots. Within that world and aesthetic that is already established, you find your own angles and find your own lighting. It's always digging, and talking to the creatives around you, trying to find that thing that speaks to you individually. I always follow the characters, and they lead me into the unfolding visual storytelling. Follow the emotion. Follow the character. That is my approach. That is the glue that brings my own style together with the original construct of how the show is designed.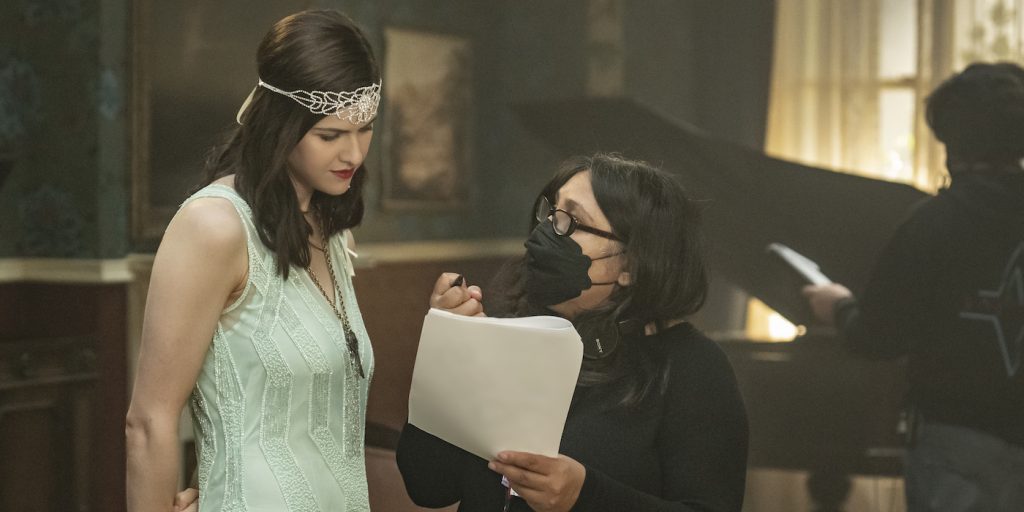 Shooting in New Orleans for a story like this, which is so famously based in the city, must offer some major inspiration.
Absolutely! We felt Anne Rice's legacy around us all the time. We felt her presence, and it was just the perfect place to shoot. New Orleans has this magical and charming quality, and has so much history with jazz and all that. It was especially cool because Alex got married during our show in New Orleans, which really was amazing. To be able to be present as she was celebrated, not only as the star of the show, but to celebrate with her at such a special moment in her life in that magical city made it so special for all of us.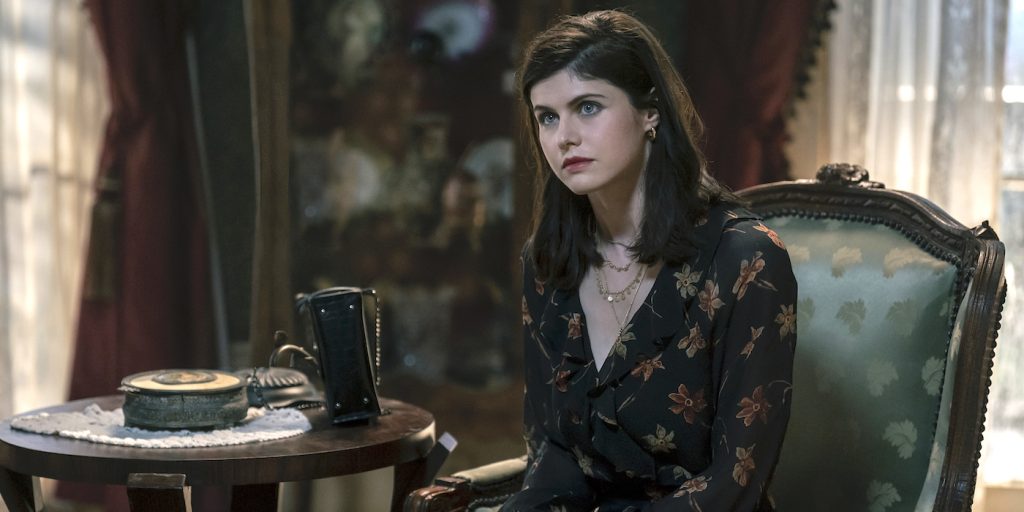 The city is like another character, especially the Mayfair house. 
The house where we filmed, especially the exterior—because we divided the scenes between the house used as the Mayfair House and interiors shot at the studio—became a local hit where people go and take pictures with it. There is a pride of bringing a series like this to their town, and people felt a lot of ownership of it. That attitude by the people of New Orleans really helped us with challenges, like how the city can get really hot and muggy in summer when we were shooting, but people were excited, so we were powering through it because of the passion and really loving the project.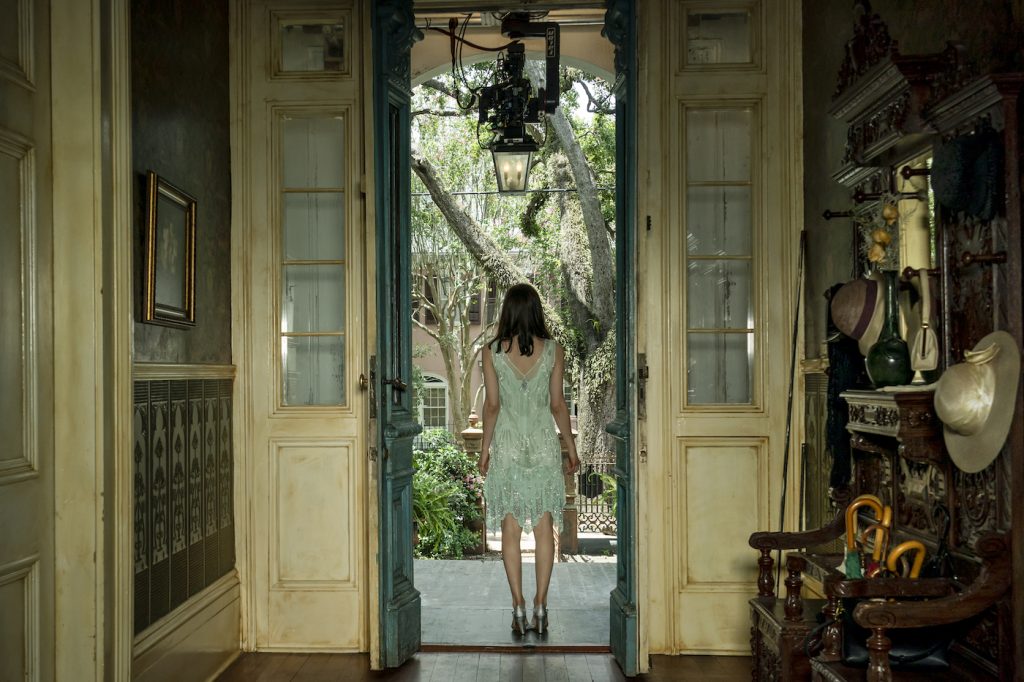 For "The Thrall," what was your inspiration for how you dug into the episode? 
The movie Groundhog Day was a major touchstone, and we referenced it a lot, but there are a lot of differences, too, that made it interesting. There is a progression within our story. Being trapped in time and space is such an amazing concept to play with. And Tengayi did a great job bringing all the subtleties of discovering his wound and having his body decay. For me the most exciting thing is when the bubble bursts, and you see the actors portray their characters becoming themselves after they were trapped in that world. 
There are power dynamics at play that you lean into with your shots.
Yes! When Alex and Beth, as Rowan and Carlotta, are in that pivotal scene together, the framing of it is very symmetrical to divide the power, but then when Rowan comes into the frame, it's about Rowan visually taking over the space and foreshadowing her success. It's also outside, so it gives her that power of being in the clear, where she can step into the light. The film The Babadook is one I like to reference for framing in terms of isolation and power dynamics. Also, putting people in structures like in this episode shows how trapped they are, where they stand in relationship to themselves, and their inner thoughts. I really try to play within the locations we have, to find those positions where I can tell the inner story visually.
The scene with the women's circle in "Transference" is so powerful. 
That is the most exciting scene ever. We had to do the rig, and bring in the camera, and go around and around, but for me, that scene is about the power of feminism, all the women coming together and giving their power to one person. That is such an amazing symbol of sisterhood, and that we have to travel in a pack. Women are always loners, because that is how we're raised and how society has programmed us for centuries, but I think there is a power in becoming and cultivating that sisterhood and coming together. So that was one of the most exciting scenes I've ever enjoyed shooting. Audiences should see that performance when Alex is calling on Lasher. She was feeding off the people around her, it was her scene and she owned it, but it was also really an amazing collective experience.
Each project gives a director some insight about their own style or something new for their bag of tricks. What did you take with you from Mayfair Witches?
Trust actors. I really love to trust actors, be there for them, and give them the chance and the environment to give me their best. A lot of the choices are made between the two of us, and sometimes it's important to give them more space, because they'll give me more. Also, as I said, it was great filming in New Orleans because all of Anne Rice's books take place there, so it's the original setting. I enjoyed being in a place where things originally happened. It reminded me a lot of when I shot Wadjda or The Perfect Candidate. When I go to a place that is original and where it happened, there is an integrity to it, and some kind of a charm that gives the shoot something special. I think I'll strive a little bit more now to be in places that have a soul that serves the story. 
Anne Rice's Mayfair Witches air on Sundays at 9:00pm ET/PC on AMC and are available on Thursdays prior on AMC+. 
Featured image: BTS, Alexandra Daddario as Dr. Rowan Fielding and Jack Huston as Lasher – Mayfair Witches – Season 1, Episode 5 – Photo Credit: Alfonso Bresciani/AMC