How "The Last Of Us" Episode 3 Departed From The Game in a Beautiful, Heartbreaking Way
There will be spoilers for episode three below, so avoid this story like you'd avoid Cordyceps if you haven't watched it yet!
So, have you dried your tears after watching the third episode of The Last of Us, "Long Long Time"?
The third episode in HBO's phenomenal new series was a heartbreaker that switched focus from the journey of Joel (Pedro Pascal) and Ellie (Bella Ramsey) to two other survivors, Bill (Nick Offerman) and Frank (Murray Bartlett).
Bill and Frank are connected, of course, to Joel and Ellie's story, but nearly the entire runtime for "Long Long Time" was devoted to their relationship. Yet in the video game, Bill and Frank came to entirely different ends, and the decision by series co-creators Craig Mazin and Druckmann to go a very different route paid massive narrative dividends.
"Long Long Time" introduces Bill, a hardcore survivalist who has turned his mother's home into an ingeniously guarded fortress, complete with next-level booby traps that include flamethrowers, an electrified fence, and tripwires that trigger hidden guns. Bill lives alone, healthy, well-fed, and seemingly content, but he has nothing really to live for save survival. Enter Frank, who stumbles into one of Bill's non-lethal traps and ends up in a ditch outside the fence line. Instead of shooting him on sight, Bill points the way toward Boston and tells Frank to leave. But Frank's starving and begs for just one meal. Bill agrees, conflicted but finding himself incapable of saying no, and serves Frank a perfectly cooked rabbit paired with a bottle of Beaujolais. This delicious lunch changes both of their lives.
After playing some Linda Ronstadt on the piano (the song, of course, is "Long Long Time") for each other, it becomes clear to Bill (it already was to Frank) that there's something more going on between them. Their relationship is born.
The episode spans two decades, from the moment Bill hides from the government in 2003 through the years he spends setting up his fortress to meeting and falling in love with Frank, and then, the years of their living together. We also see how Joel comes to know them—Tess (Anna Torv) had found Frank through the radio, and their first meeting is the beginning of a partnership that Frank and Tess are enthusiastic about; Bill is not, and Joel, understanding Bill's guardedness, makes the point to him that they can help each other. This arrangement ultimately works, although that all takes place offscreen. What's important is we see how Bill and Frank are connected to Joel and Tess (and now Ellie).
Eventually, the timeline jumps to 2023, long after Bill was shot while successfully keeping raiders from murdering him and Frank. Now, it's Frank who's in trouble; he's dying of cancer. Their love story ends with Bill preparing a last meal and a glass of wine loaded with enough pills to put Frank out of his misery peacefully. The final romantic twist is that Bill, too, crushed up pills and put them into the wine bottle itself. It's a heartbreaking gesture, one Frank says he should be furious about but he's overwhelmed by how damn romantic it is. Frankly, so we were. Bill takes Frank to bed, and the two die peacefully there.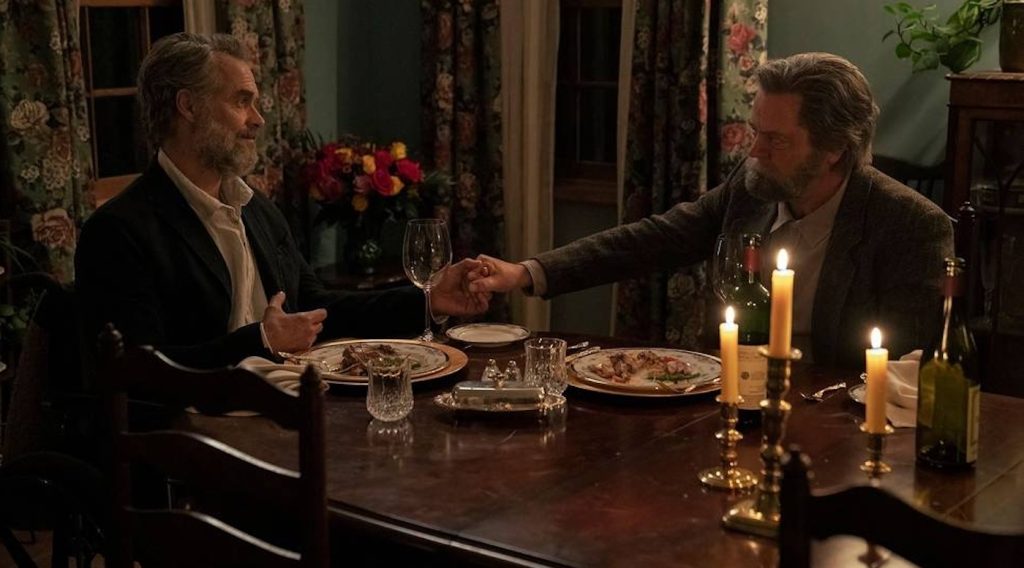 In this zombie-ravaged, fallen world, this is as beautiful and meaningful a death as you could hope for. The episode ends with Joel and Ellie arriving at Bill's place and finding a note left for him, offering Joel all of their supplies, Bill's truck, and one simple command; take care of Tess. With Tess gone, Joel knows who he must now look after.
Yet this was not how Bill and Frank's relationship was depicted in the game. Yes, Bill and Frank meet and have a relationship, but the game never shows it, and their relationship doesn't end with glasses of laced wine and dying peacefully, side-by-side, in bed. Instead, Frank leaves Bill in anger and, even bleaker, leaves a bitter note explaining that he hates Bill. It's this note that Joel finds—along with Frank's body. He's hung himself.
In the game, you only find out about Bill and Frank's relationship through conversations between Joel and Bill. Frank had eventually grown tired of Bill's locked-down world, so he left him and went across town. Unfortunately, he didn't make it far before he was attacked and bitten by the infected and contracted Cordyceps. Instead of becoming a zombie himself, he takes his own life, but not before penning the aforementioned note:
"Well, Bill, I doubt you'd ever find this note cause you were too scared to ever make it to this part of town. But if for some reason you did, I want you to know I hated your guts. I grew tired of this sh***y town and your set-in-your-ways attitude. I wanted more from life than this and you could never get that. And that stupid battery you kept moaning about — I got it. But I guess you were right. Trying to leave this town will kill me. Still better than spending another day with you. Good Luck, Frank."
Needless to say, the decision by Mazin and Druckmann to write a new ending for Bill and Frank, and to focus on the love they did get to share, the fortress they turned into a home, and how their story was itself an epic worthy of its own series. It was, in short, a decision that enriched the series, breathing life into characters and offering an opportunity for two excellent actors to shine, however briefly, in this dark but wondrous new show. And it gave Joel's decision to take Ellie with him and to look out for her, the way both Tess demanded and Bill would have done, that much more meaning.
For more on The Last Of Us, check out these stories:
This "The Last of Us" Set Visit Reveals a Peek at HBO's Biggest Swing in 2023
HBO's "The Last Of Us" Looks to Become a Truly Great Video Game Adaptation
HBO Max Releases Long-Awaited & Decidedly Creepy Teaser Trailer for "The Last of Us"
First "The Last Of Us" Image Reveals Peek at HBO's Hugely Ambitious New Series
Featured image: Nick Offerman, Murray Bartlett. Photograph by Liane Hentscher/HBO