"She-Hulk" VFX Supervisor Josh Galbincea on Creating That Epic Incredible Hulk Callback
Ever since the final episode of season one, fans of She-Hulk: Attorney at Law have been reeling from the last show's rollercoaster ride and celebrating their love for the season as a whole. Much of the praise has been for the edgy script that consistently centered on female empowerment without sacrificing the expected flamboyant action set-pieces Marvel fans know and love.  
Visual special effects are, of course, an essential contribution to that Marvel flair. The Credits spoke to FuseFX's Josh Galbincea, who acted as VFX supervisor on the series. He explained what parts of Jen 'She-Hulk' Walters' world he and his team had a hand in creating, and breaks down the 9th episode opening sequence that had lovers of the 70s Bill Bixby classic show The Incredible Hulk cheering in their seats. 
What specifically did you and FuseFX work on in terms of examples that fans or viewers can see in the show?
There are a few things that we did that were pivotal and invisible. The more glamorous kind of thing would be when Mr. Immortal jumps out of the office window. That's basically a stuntman just jumping out of a window onto a pad, but we had to come up with CG glass and things like that. We also helped with some digital costume stuff on Daredevil. There were a few sequences where he was not wearing the cowl that goes underneath his helmet and underneath his shirt, so we had a shared asset from Digital Domain that we did a little bit of work on. The majority of our work, though, I would say, is the more invisible stuff because every single shot inside of Jen's apartment and every single shot inside of the law offices were blue screen, so that's honestly a third of the show right there.
And this is for what we see outside of her apartment and the law offices?
Yes. For Jen's apartment, Marvel gave us some plates that they did widescreen on a crane outside of a house or an apartment building, which was probably Sherman Oaks, though we don't know the actual address. We established what it looked like outside of Jen's kitchen, outside of the TV wall, and outside of the entrance wall. Then we did a little bit of art direction as far as things like raising the horizon line a little bit or making it more compositionally interesting.
And for her law office?
The law offices were way more involved, and there were arguably way more shots where we got multiple 360-degree stitches of downtown Los Angeles from different times of day; I think there was 12 total. We took those basically spherical high dynamic range images, super high res, I think they were 16k, and then we had a 3D model of downtown Los Angeles. We took the production designs of north, east, south, and west, plopped that into Maya, and we took the downtown model of Los Angeles and basically mapped out where all four directions of the offices should look.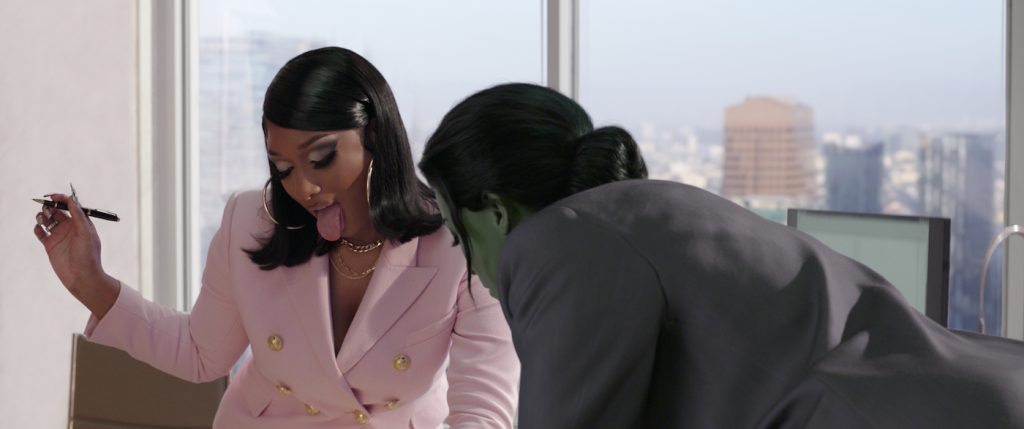 Why is a blue screen needed?
There are two reasons for that. One of them is important, and one of them is practical. The important thing is that by shooting it on a blue screen, you get to art direct it. If you want to change anything, you can after the fact. You can change the time of day or perspective or any number of things. The practical side of that is when you're shooting in an office building, if you were higher up in downtown Los Angeles, you'd have to find one where your conference room or your offices are giving you the view that you want, and you'd have to shoot it specifically at the right time of day. That becomes a production nightmare to make sure that all of those things are happening at the same time. Whereas if you're on a stage and you're building these law offices, you can build a single floor of that law office surrounded by blue, and you can light it after the fact any way you want.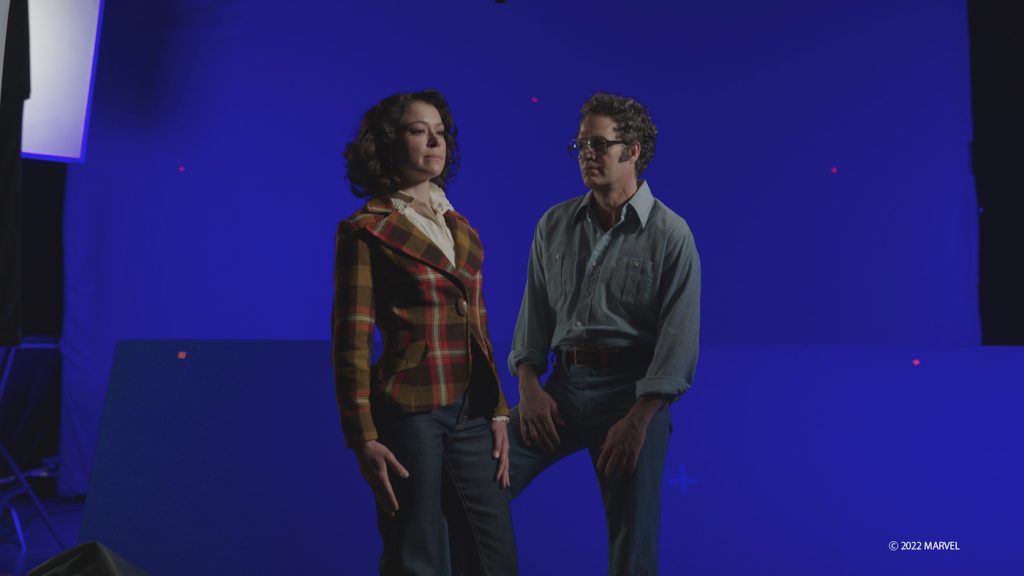 Can you talk about Mr. Immortal jumping out of the building?
When Mr. Immortal jumps out the window, it's a very specific look. You can't just do cracked glass. We use software primarily for simulation called Houdini. It's all CG glass, and the glass break sim was done in Houdini, but we needed to build something special because office buildings have safety glass, which is when it turns into those small little bits instead of giant shards of glass. There was a very specific look that we wanted. As he jumps through, and his head hit the glass and pushes it forward, we wanted it to feel really dynamic. We found reference footage of safety glass breaking, shot at extremely high speeds. It's amazing how within a fraction of a second, the entire pane of glass just turns into those little bits. We wanted it to crack around his head, wrap around his shoulders, and, as his arms flail out, push all of these little beads of glass forward. Then, because he's outside of the window and the glass at the top no longer has the structure to hold it there, it has to fall down. It was a very interesting back and forth of our team at Fuse and then Marvel trying to find the right look and feel of that. There's a movie called The Raid: Redemption, which is Kung-Fu style action. There's a reference I took from a guy getting kicked through a pane of glass. It was an actual stunt where they had a little charge that exploded and shattered the glass right before the stuntman goes through for safety, and it looks so good. That was what I based that sequence on because it was grounded in realism.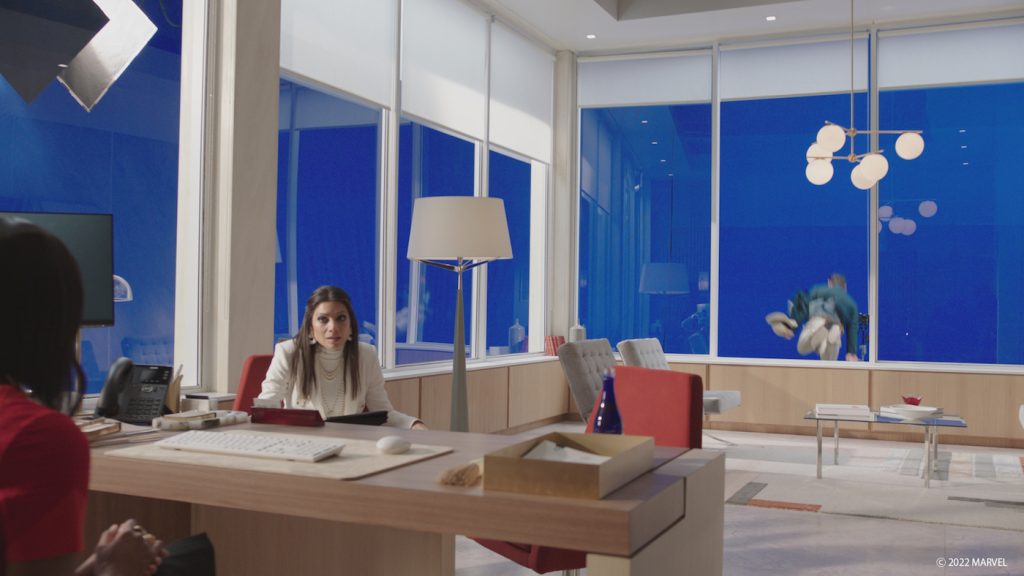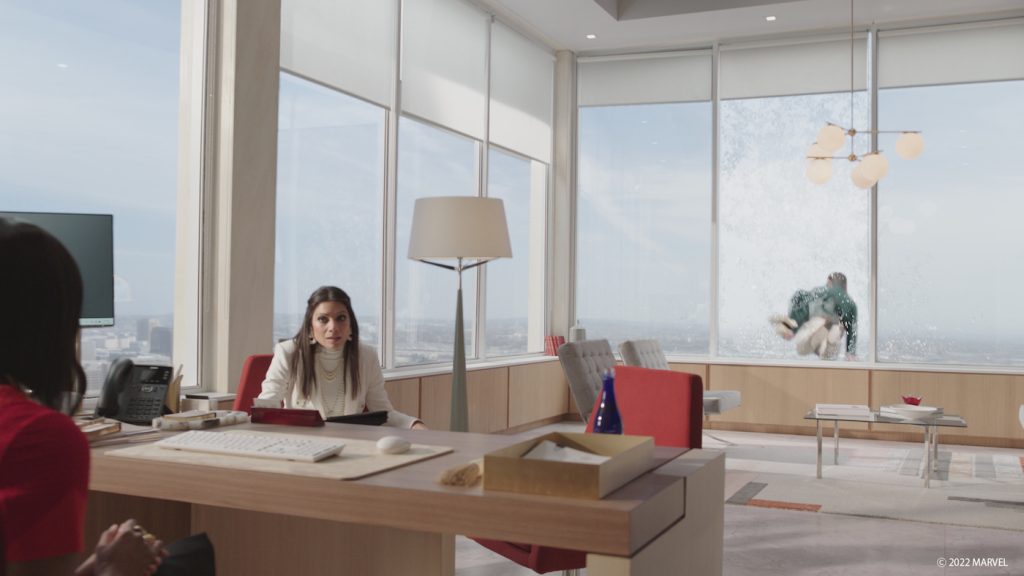 What episode best exemplifies the work you did or was the most fun to do and why?
Episode nine, I think, because it becomes very She-Hulk-driven. It's almost like Deadpool, where She-Hulk breaks that fourth wall in the most dynamic and fun way. FuseFX did the entire opening sequence for that episode, where we actually based it off of the Bill Bixby version of Hulk.
That's definitely one highlight of the show for Hulk fans.
Marvel got the original film scans from the TV show for us. We recreated it on a shot-to-shot basis. We actually used the film scans from the original TV show, digitally removed Bill Bixby as David Banner, and put Jennifer Walters into the shots. So a perfect example is the opening shot of him in the chair. We had him digitally painted out of the film scan. There was a plate, meaning something shot on camera, of her just sitting in a chair pretending, against a blue screen, to be at the control panel. We took her out of that and put her into the original film scan. You know the shot of the Incredible Hulk, Lou Ferrigno, originally pushing over the car? We painted him out and put She-Hulk in. It was just super fun because I think it meant a lot to Marvel, and it meant a lot to us for sure, too, because it was just so cool to give a little nod to the original show like that. I've been a Marvel fan for as long as I can remember, so it was just so cool to be a part of that.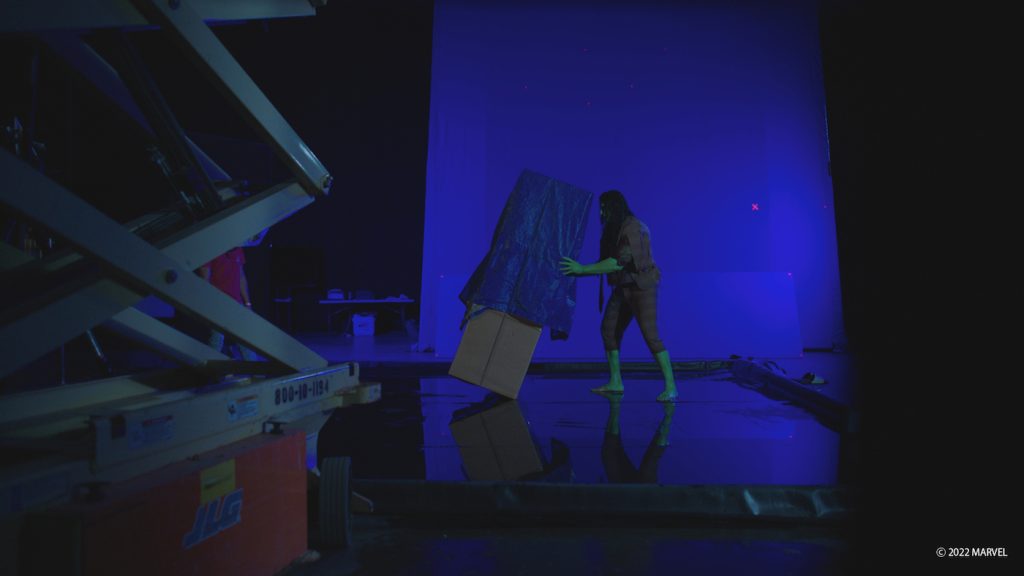 Creating a callback to the original show must have been a real point of pride.
Absolutely, and hats off to Marvel for thinking of it and having the courage to do it. We were thrilled to work alongside overall supervisors Dadi Einarsson and Shannon Justison in bringing our sequences to life. And I was fortunate enough to lead a team of extraordinarily talented artists at FuseFX.
Season one of She-Hulk: Attorney at Law is currently streaming on Disney+. 
For more on She-Hulk: Attorney at Law, check out these stories:
"She-Hulk: Attorney at Law" Director Kat Coiro on Taking on The Trolls Head-On
"She-Hulk" Composer Amie Doherty on Blending Megan Thee Stallion With Marvel's Orchestral Bombast
"She-Hulk: Attorney At Law" Early Reactions Call Tatiana Maslany a Super Addition to the MCU
Featured image: (L-R): Mark Ruffalo as Smart Hulk / Bruce Banner and Tatiana Maslany as Jennifer "Jen" Walters/She-Hulk in Marvel Studios' She-Hulk: Attorney at Law, exclusively on Disney+. Photo courtesy of Marvel Studios. © 2022 MARVEL.