How Three-Star Dominique Crenn Chef & Production Designer Ethan Tobman Served Up "The Menu"
Ralph Fiennes stars as a brilliantly deranged chef Julian Slowik in The Menu, but he's periodically upstaged by gorgeous close-ups of his culinary co-stars, beginning with compressed and pickled cucumber melon, milk snow, and charred lace. That's the "amuse bouche" served to unsuspecting foodies (including Anya Taylor-Joy, John Leguizamo, and Nicholas Hoult) who gradually find themselves trapped in Chef Julian Slowik's restaurant from hell.
Inspired by co-writer Will Tracy's visit to a secluded island restaurant off the coast of Norway a few years ago, The Menu (opening Nov. 18) serves up a horrifically surreal vision of haute cuisine perfectionism run amok, but director Mark Mylod (Succession, Game of Thrones) anchors Chef Slowik's reign of terror in a realistically sleek dining space from production designer Ethan Tobman (Free Guy, Taylor Swift's Anti-Hero music video). The dishes themselves are overseen by Chef Dominique Crenn, owner of the three–Michelin–starred restaurant Atelier Crenn in San Francisco. Tobman says, "During the shoot, Dominique came up with the idea that we were dancing together on this film," says Tobman. "We were very close-knit to make sure the set design aided the dishes themselves, like the perfect frame around a piece of art hanging in the gallery."
Speaking from New York City, Crenn talks about teaching Ralph Fiennes to act like a chef while Tobman deconstructs his restaurant-as-church concept.
The island restaurant in this movie has a minimalistic Nordic vibe that brings to mind the world-famous Danish restaurant Noma. Where did you actually shoot The Menu?
Tobman: We were supposed to go to Scotland, inspired by Puget Sound, northern Europe, rich, rainy topography. But at the last minute, the Delta Variant made shooting in Europe impossible, so we switched to Savannah, Georgia, of all places. It became our unexpected job to cover Spanish moss and marshland with Italian cypress, carved topiaries, and spice fields. We'd built miniatures and 3-D models of this island, and when we were done, we realized every frame of this film was actually created.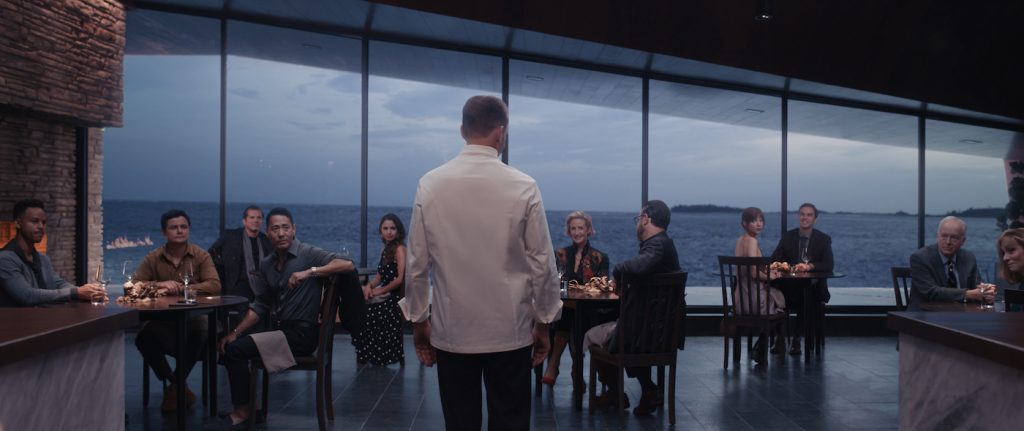 So everything had to be built?
Tobman: Every single tree and bush and pathway, four tons of white limestone, black mulch – – we created an environment that this fascistic, controlling artist is in charge of. It feels like you're going down the rabbit hole as you go from the boat to the restaurant.
The movie was filmed on an actual island?
Tobman: It's a mix. There's a beach where we brought in driftwood. The dock was built, the boat was built, and then the spice fields were right in the heart of the city of Savannah — all their plants died the week before we shot there [laughing]. The exterior of the actual restaurant is on a place called Tybee Island. We built thirty feet of the interior so our diners could walk into this fake restaurant that we built on a soundstage.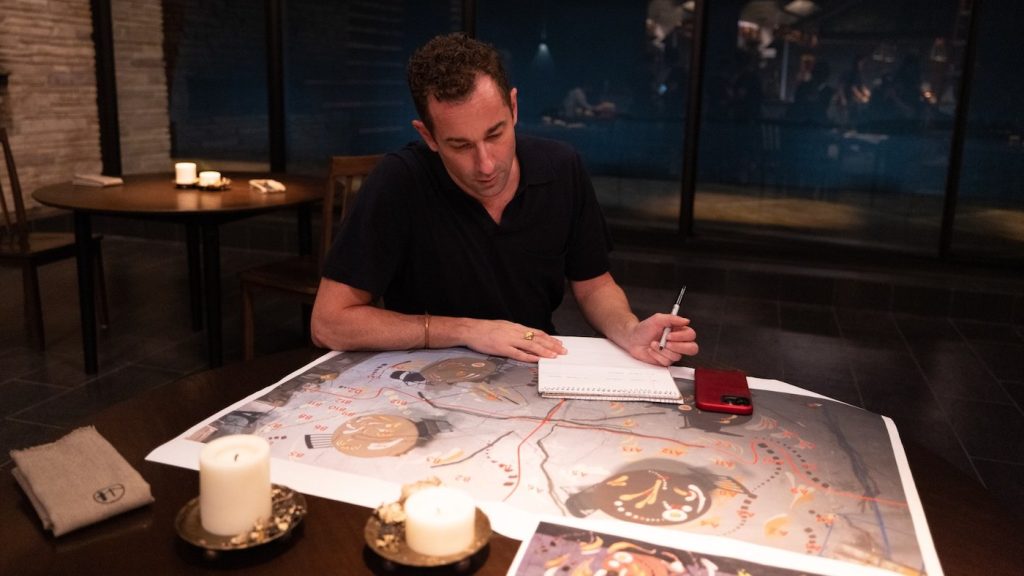 The guests enter the Hawthorn restaurant through this corrugated metal front gate that clangs shut behind them. The door looks minimalistic and elegant but also slightly foreboding.
Tobman: That door was actually inspired by cattle farms I saw years ago when I was traveling in Norway, where they shepherd the animals into these structures. And I thought, god, it would be so interesting to treat people like protein. [laughing]. This is high-end hospitality, so you're supposed to feel good, but there's something just a little off about it.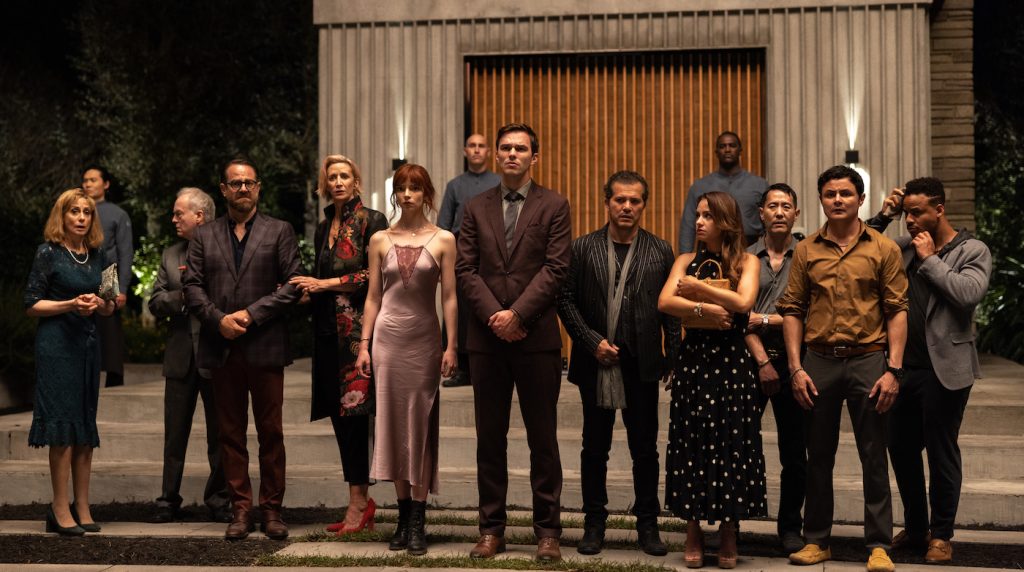 Dominique, the plates of food Chef Julian Solwik serves his guests are beautifully composed. Did the scriptwriters come with these sophisticated dishes themselves or did they lean on you for input?
Crenn: It was a partnership. When I got the script, they had this menu, but there were some dishes that needed adjustments, so we came back with a detailed mood board that fit with the storytelling. For example, that first dish, the melon and the lettuce — there's a lightness to it, and then you build [from there to] where it becomes a little bit more crazy.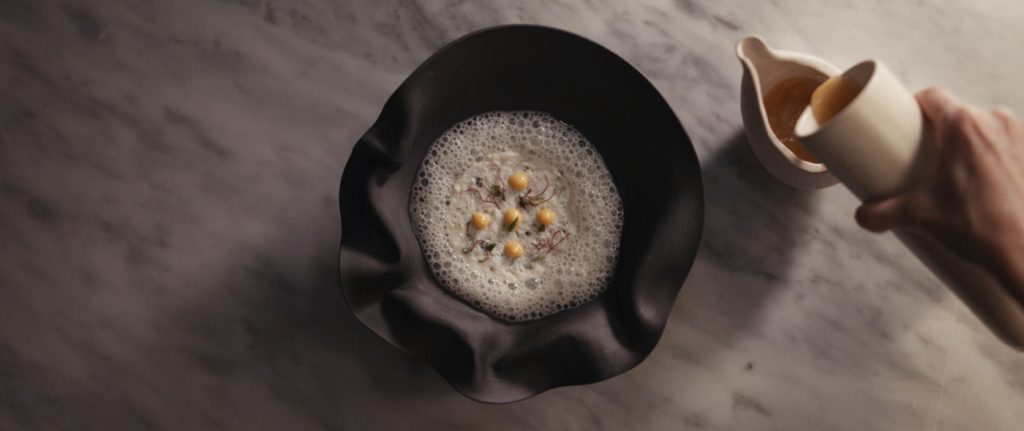 The "Breadless Bread Plate," with its gem-like emulsions dotting the plate, looks great. But can the actors actually eat these creations?
Crenn: Everything in the dishes we created, it's all edible. The idea was not to be prop food. With the writing, the characters, and Ethan's design, you want to bring authenticity to this movie, and the food is at the core of that. It was very important that the actors could eat the food. One time, two times, three times.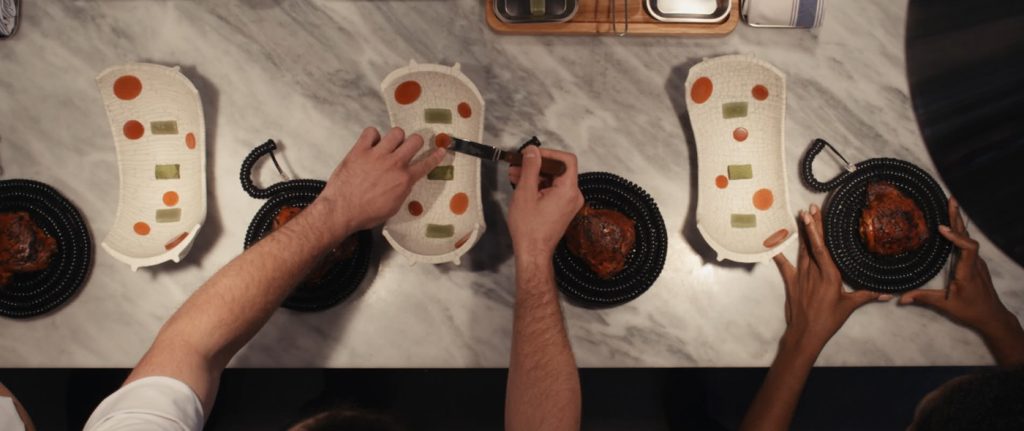 The raw diver scallop course comes served on top of a pretty large rock. How does that connect with Chef's concept?
Tobman: So many of the things in this restaurant, from the architecture to the food, needed to be harvested from the island. Chef is obsessed, I would even say haunted by the perfectionism of nature. Dominique taught us about the artistry of "the vessel" — what the food is served on. For one of our dishes, we took some of the slate on the floor of our kitchen and made plates out of that. Art imitating life imitating art which leads us to the final day of shooting the movie when Dominique came up to me and asked me to re-design her restaurant.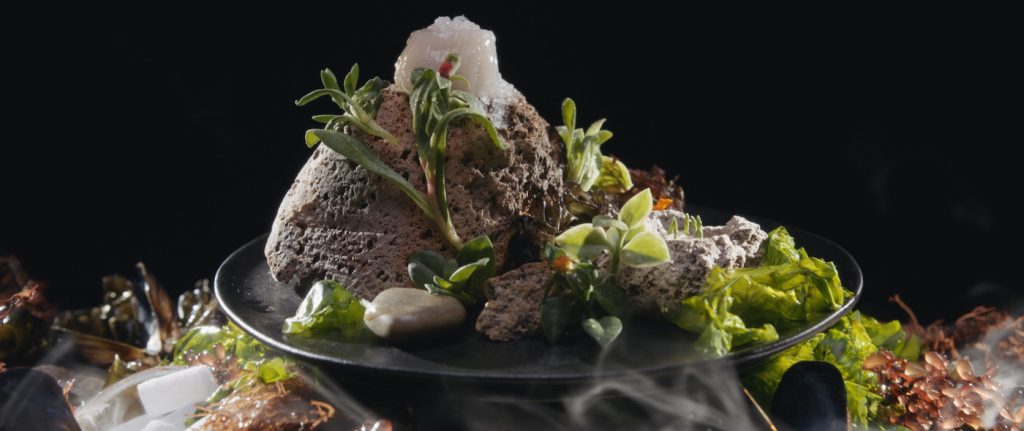 Really! You're re-designing Atelier Crenn in San Francisco?
Tobman: Yes, in January or February.
Crenn: I've been on movie sets before. This didn't feel like a set. This was like Ethan taking me to wonderland. It felt good to be in a place where I could make him shine with me. All of a sudden, you have to hire him to do your restaurant.
In the movie, one of the characters mentions the Netflix series Chef's Table, which included an episode about Dominique. Ethan, had you seen that show?
Tobman: Yes. I was, of course, obsessed with Crenn's episode, but we were so inspired by the way some of that food was shot that we actually hired [Chef's Table creator] David Gelb to produce some of our food dishes.
How much tweaking did food stylists do to make the dishes look more photogenic on camera?
Crenn: None! What you see is what you get. There is nothing that we added or anything like that. That's why you need someone like David to capture it. Chef Slowik is giving back to nature, so the visuals are important with this food. It's all about the ecosystem and what's going on in his brain.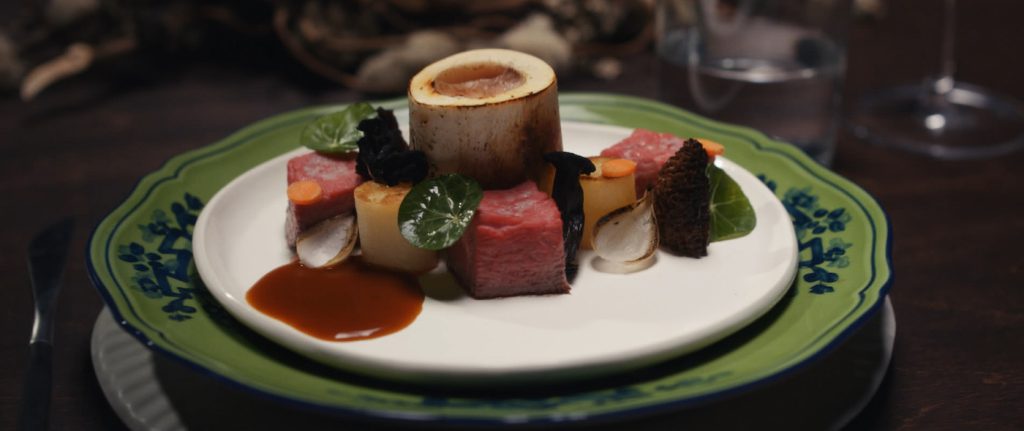 Dominique, did you coach Ralph Fiennes on how to behave like a chef?
Crenn: Yes. We had breakfast, lunch, and dinner on set for many days, and he was lovely. I said to Ralph, "I'm not going to teach you how to be a chef. What I'm going to invite you to think about is this: You are in front of incredible people playing instruments. You are the conductor. This is your symphony. You have them consider attention to detail. When you walk into that room, you let them know that you see everything." That's how I am in the kitchen, front of the house, back of the house. It's always a dance, but I am the conductor, and people know their place. When you add them to your team, there is a sense of respect. The intensity in this film is incredible, but Ralph isn't playing the type of chef who would beat up people or yell. In a way, he's very austere. Chef Slowik respects his team. People are ready to die for him!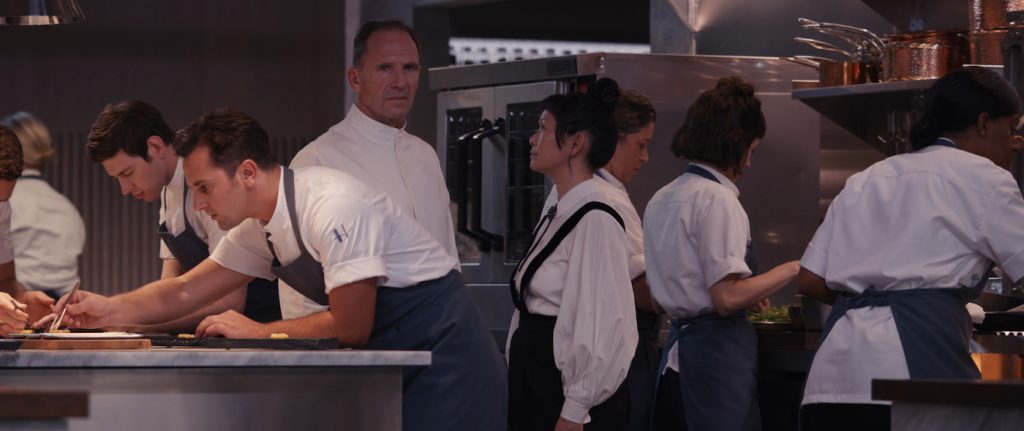 Chef Slowik runs an open kitchen and presents each dish almost as if it's a performance. Ethan, did you conceptualize the restaurant as a kind of theater space?
Tobman: Absolutely. Whenever you have an open kitchen, you're cognizant of being studied by patrons and food critics, but for me, the kitchen was really an excuse to build a church. I wanted it to feel ecclesiastic, so we have Ralph standing in front of a cross on the back wall. And he's raised up just a little bit, so in effect, he's sermonizing, and they [the kitchen staffers] are genuflecting. And then the diners are one more floor further down at the lowest height level. It was really interesting to play with the iconography. I mean, modern chefs have cult-ish qualities, and restaurants that are impossible to get tables at have a religious mystique.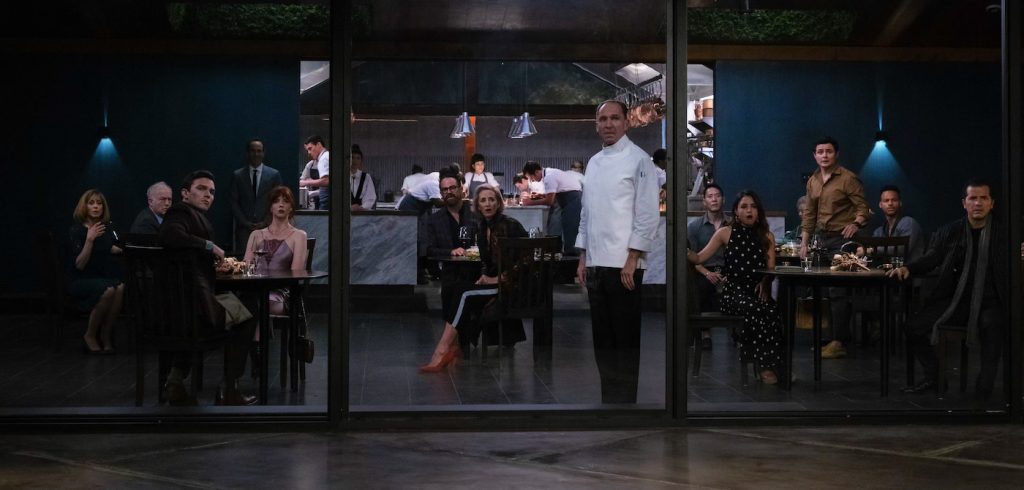 The Menu reflects pop culture's skyrocketing interest in fine dining, which has sometimes included reports about toxic behavior in the pursuit of perfection.
Tobman: It's a lot of pressure.
Crenn: I knew Anthony Bourdain. A few months before he passed away, I saw him in the Cayman Islands, and we had a pretty intense conversation about the world and pain and mental health and all that. A lot of people talk about the toxicity of the kitchen, but there's also toxicity outside the kitchen.
Tobman: Everybody's complicit. The food critics, the bloggers…
Crenn: Imagine people coming after you every second and hating what you do. I think we need to consider the humanity of these people who work so hard in restaurants. Instead of trashing them, instead of judging others, we should believe in more humanity. I want people to see this movie and say, "Wow, this is a thriller but let's peel back a layer and look at the pain of this man." Chef is not a monster.
Featured image: Ralph Fiennes in THE MENU. Photo by Eric Zachanowich. Courtesy of Searchlight Picture