How "Werewolf By Night" Makeup Maestro Ellen Arden Made Marvel's Monsters
Oscar-winning composer Michael Giacchino chose to plumb new depths of the Marvel Cinematic Universe for his directorial debut with Werewolf by Night. Inspired by the comic book released as Marvel Spotlight #2 in 1972, this special presentation is streaming as part of the Halloween season on Disney+. It features a group of monster hunters led by Jack Russell (Gael Garcia Bernal), a man afflicted with a curse that turns him into a werewolf. Following the death of Ulysses Bloodstone, Russell and his fellow hunters are called to Bloodstone Manor by the widow Verussa Bloodstone (Harriett Sansom Harris), where they are expected to take part in a competitive hunt to find their new leader.  The victor will be rewarded with the Bloodstone, a magic gem that gives power to its possessor and causes weakens otherworldly creatures.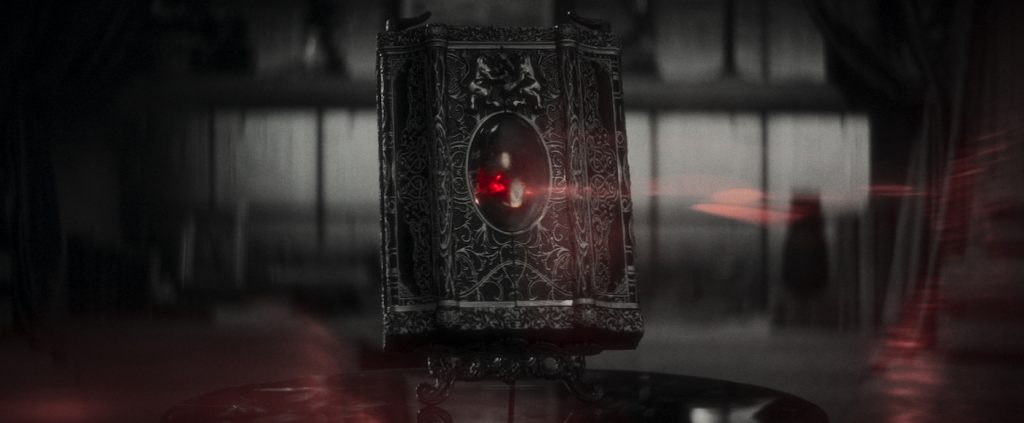 Werewolf by Night is created in the tradition of classic holiday releases and uses practical effects and black-and-white cinematography to recall the style of the great Universal Monsters films of the 30s and 40s. The Credits chatted with makeup department head Ellen Arden about her role in creating new horror archetypes while evoking an atmosphere of old Hollywood just creepy enough to entertain monster fans of all ages.  
How did you get the gig on Werewolf by Night, and what about this project was something you'd not done before?
I'm familiar with most of the MCU and have worked on a lot of Marvel projects, but Werewolf by Night leans into more of the pulpy side of Marvel, which I love. How I came about this project was I did the Hawkeye reshoots and worked with the producers that went on to do Werewolf by Night, and I had a really great rapport with them. We all love each other and get along, so they invited me to submit for the job. Michael, our director, really liked that I had a lot of MCU and DC work but also that I had a lot of horror films under my belt because I recently did the Fear Street franchise, so I definitely wasn't afraid of a little blood. My favorite thing about the project is that we were able to create characters in the MCU, which made it a really unique experience. We had two characters, Jack and Elsa, that had already been established within Marvel, but then we also have this set of characters, the hunters, that we had never met, and we just had so much fun putting those ideas together and deciding what their origins were and introducing them in the MCU.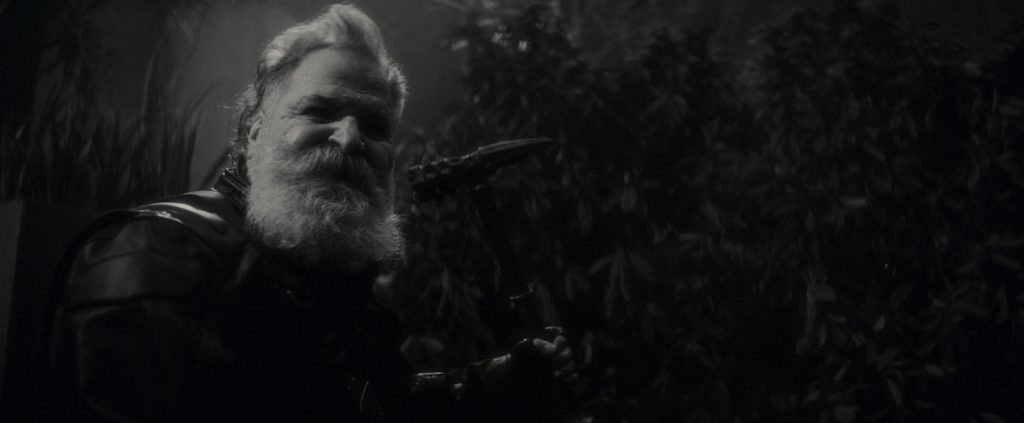 How did you collaborate with director Michael Giacchino for the looks created on the project?
Michael and I had a fair amount of meetings about all of the characters, and we had some of the wardrobe ideas and concept art, and we got all of these materials together, and then I started pitching ideas, which would evolve. We had a lot of freedom, which is something that isn't always the case in the makeup department, especially within something that's highly constructed, like the MCU. Michael was just so excited about the project that it made us excited to pitch things to him, and even if I thought he was going got think I was crazy, he was all in, all the time.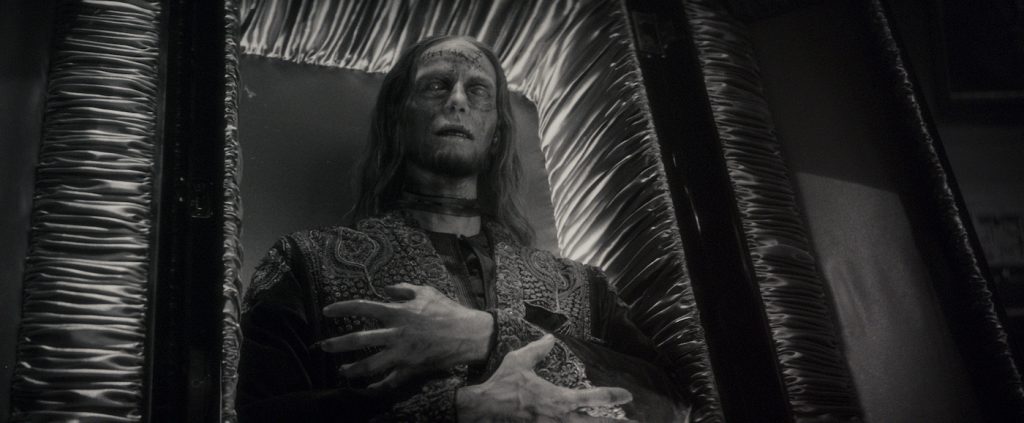 What is a good example of that? 
For the character of Verussa, when we first meet her, she's the grieving widow. She's very old money, very polished, and proper looking, but we also know that she's unhinged because of the way she's talking to her dead husband in his casket. When we see her at the cage, I wanted her to have this crazy moment. I knew she was going to be cloaked, and I didn't know initially that she would be masked, but I wanted her to come in and just have a real power move because now, Elsa and Jack are in that cage. I really wanted a reveal that shows us that, all of a sudden, she is participating in the hunt, unlike before, when she didn't seem much of a participant as much as just the widow orchestrating the event. When she removes that mask, I wanted to make her look crazy. We wanted to have this bright red tear-stained look on her face. Her hair is messed up from this cloak which just adds to the effect. I think her look is one of my favorites, especially when we get up close to her, where she's being pulled into the cage. I love that shot.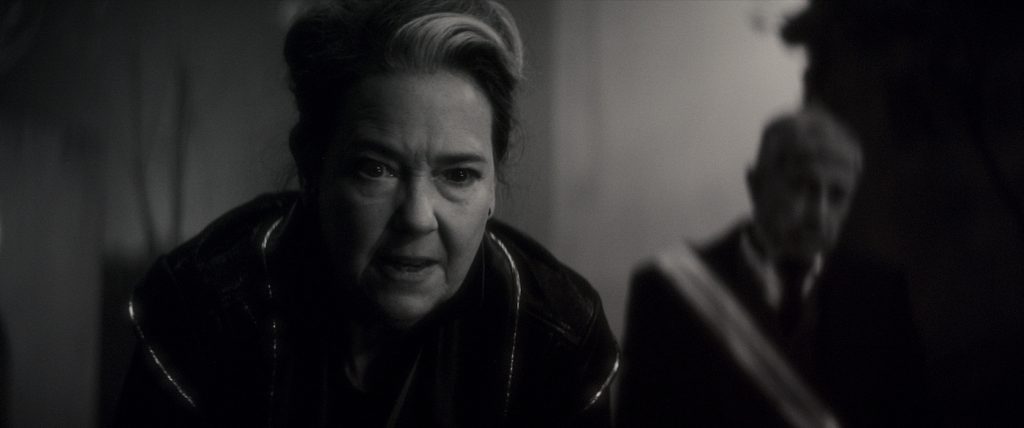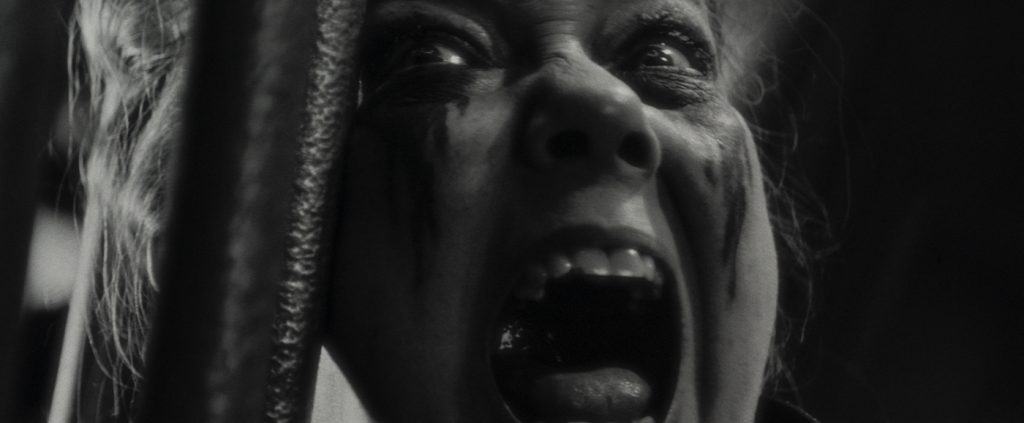 You designed the looks to work in either full color or black and white, as you weren't sure which way they'd decide to show it. How did that factor into your choices? 
Fortunately, I went to college for camera, so I had a little bit of knowledge about how shots translate between color and black and white. We knew that it had the potential to go black and white but also might end up being seen in color at some point, so we needed to make sure that both would be visually striking for whoever was watching it. Again, using Verussa as an example, we had this red that we knew would read well in black and white that's a very primary red, but also we needed to create dimension within that red, so we used a tone that veered towards violet, which on the color spectrum for the panchromatic film would read as deep in some of those areas, to give some of the texture instead of it just looking like a flat black.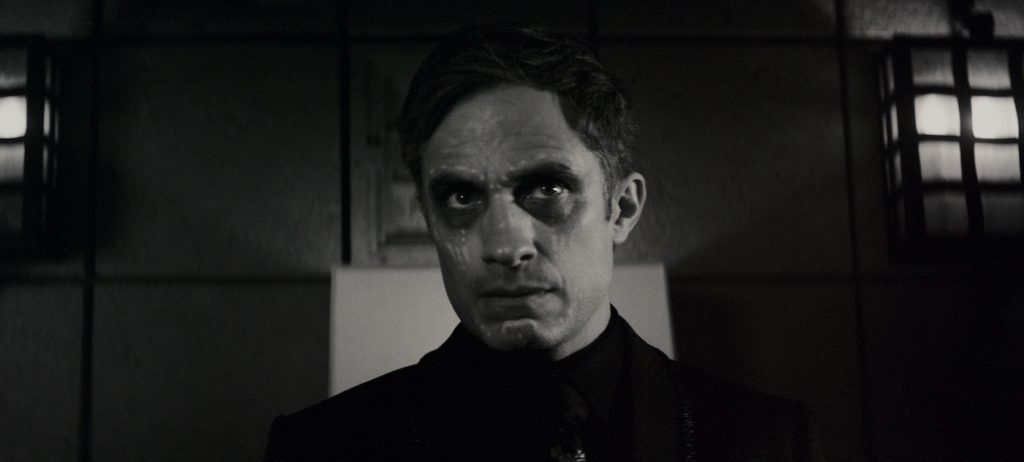 What were some specific influences and inspirations for the design of Jack Russell's face? 
Initially, I knew that Michael had an idea about giving Jack the Day of the Dead look, and we had done some testing and went through a variety of different makeups, staying away from the commercialized look that we normally see. Eventually, we landed on a design that came from Rosana Ahrens, who's a Chicana graphic designer and artist. She designed this two-dimensional makeup for us, and then we had to figure out the opacities and the color and how that was relating to black and white versus color film. I love how the makeup itself plays with the light. This organic feeling almost glows. When he leans into the light, it disappears, then in some scenes, it's a little bit brighter. The makeup itself was very consistent. But the makeup would interact and shift with the lighting, which I thought was really interesting when I saw the end product.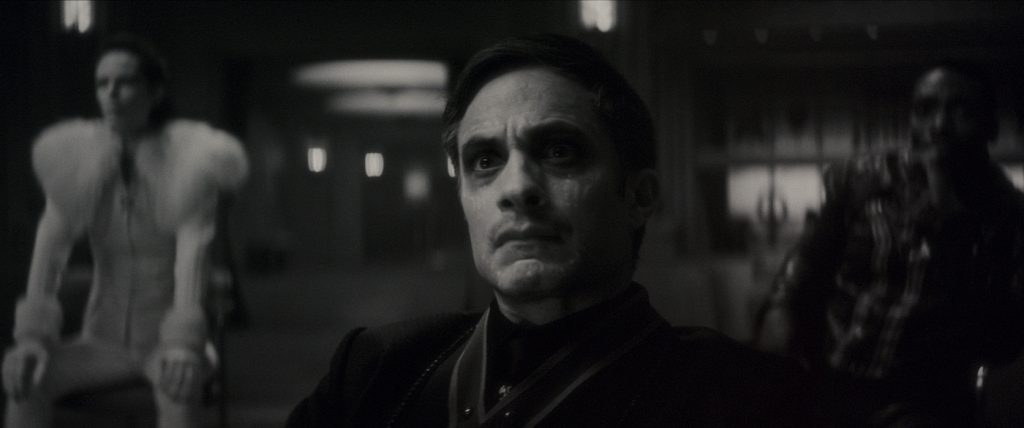 Werewolf by Night is streaming now on Disney+.
For more on all things Marvel Studios, check out these stories:
Harrison Ford Joins the MCU With Role in "Captain America: New World Order"
Lupita Nyong'o on the Bittersweet Beauty of "Black Panther: Wakanda Forever"
"Black Panther: Wakanda Forever" Reveals Stunning New Image of Namor
Featured image: Harriet Sansom Harris as Verussa in Marvel Studios' WEREWOLF BY NIGHT, exclusively on Disney+. Photo courtesy of Marvel Studios. © 2022 MARVEL.