"Coco" and "Encanto" Composer Germaine Franco on Finding Musical Inspiration at its Source
In 2016, composer and multi-instrumentalist Germaine Franco was the first Latina and first woman of color invited to join the Academy of Motion Picture Arts and Sciences music branch. With 2021's Encanto, she was the first woman to score a Disney animated feature and the first Latina to be nominated for an Academy Award for Best Original Score. In a world where female composers still make up only a fraction of those hired for studio projects, Franco stands as an inspiration for women in music and a model of Latina excellence. 
Franco was raised in El Paso, Texas, where her family landed after they fled the Mexican Revolution. She has always felt a strong connection to not only her own Mexican heritage but all Latin cultures. For her Annie-award-winning work on Pixar's animated feature Coco, she did a deep dive into the instruments and music of Mexico. She did the same for her work on Encanto. As part of Hispanic Heritage Month, The Credits spoke to Franco about the many inspirations she drew from for both films and why she feels a responsibility to honor Latinas in her work.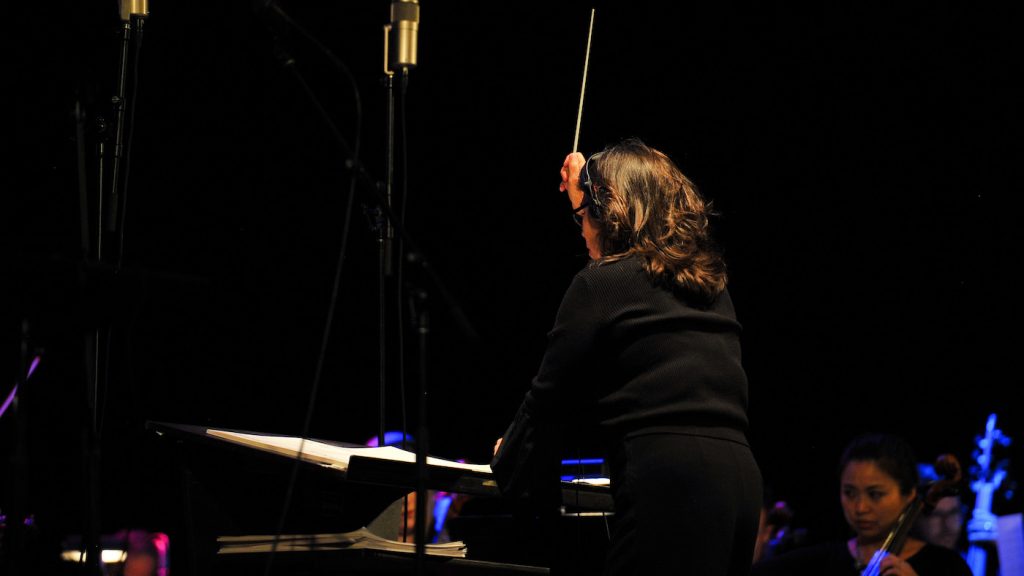 For Coco and Encanto, you studied and used instruments unique to Mexico and Colombia. Can you talk about the musical anthropology that you dive into in your research and in crafting these scores?
When I went to school at Rice University, one of my favorite classes was anthropology, with a professor named Stephen Tyler. When I started to think about societies and the use of music and how many instruments have evolved over thousands of years, I was intrigued by it. I spent a lot of time before I ever worked on Coco traveling in Mexico, learning about Latin music and instruments, and then studying other Latin American music, especially Cuban music. I was drawn to it because I find it fascinating. When I work on a score, especially when I'm asked to give it to the sound of a particular culture, I want to dive deep and not just skim the surface.
What are some of the unique elements and sounds that you brought to Coco? 
For Coco, I was lucky to go to Mexico and record 50 musicians, and we recorded songs and a bit of score, mostly source music, but the different ensembles and musicians we used were amazing. Of course, we used the mariachi, but there's so much more to Mexican music. We had trío romántico, which is three guitarists singing with harmonies. And then also lots of amazing drums, percussion, and singers. There's this one instrument, the jawbone, which is in the song "Un Poco Loco." You can hear it when you see the skeleton dancing. The dances are inspired by when I took some boots my mother bought me in Mexico, put them on a wooden plank, and recorded it. I threw that into the demo, and the animators and directors Lee Unkrich and Adrian Molina decided they should animate the scene to be a dance scene and not just a singing competition. The elements that come from the culture inspired me and the filmmakers. 
And Encanto?
On Encanto, I wound up not being able to go to Colombia because the whole movie was made during the pandemic. Everybody was remote. So I actually decided to have a bunch of Colombian instruments made and shipped to me. I had a special marimba called a marimba de chonta. I had guitars sent, some bandolas, and cuatros. Of course, we used the accordion, which is an important instrument in Columbia. You'll hear that as well. Also, I added a Colombian harp called the arpa llanera. Those were sounds that I wanted to weave into the score because sometimes hearing instrument takes you to a certain place. There are flutes called gaitas, which create an ethereal sound, and drums called tamboras. All of those together were tools that I use to create the textures of the sound for Encanto.
And you had an accordion player from Colombia named Christian Camilo Peña.
Yes. He and I still keep in touch. He is famous. They call him "El Rey de vallenato." He's a champion accordion player, and he plays with Carlos Vives, so when I heard that they were coming to the Hollywood Bowl, I asked if we could get him. Christian came with eight or nine accordions. He had never played on a film score before, and his music is aural, but he has a great ear. I invited a musician I've worked with for years who played on Coco, an Uruguayan guitarist named Federico Ramos, to come to the session. He would play the music that I had written out on guitar, and then Christian learned it by ear from Freddy sitting next to him. Christian was an amazing voice in the soundtrack, It was wonderful having those layers, which included Justo Almario, who is an amazing clarinetist and saxophonist here in LA, and another Colombian musician named JD Perez, who is a percussionist. There are Colombian musicians, and Colombian instruments, and there's also a Colombian choir that are all part of the score. 
This film is very female-centric in terms of its feminine energy, and having the cantadoras and soloist Isa Mosquera as part of the score, especially in the cue "Antonio's Voice," adds so much. Why was it important to you to include them? 
My goal was to include this feminine voice in the story because obviously, the protagonist is female, as is the grandmother, the Abuela, which is this amazing character, not to mention the sisters. I also happen to be Latina, and I have lots of very strong aunts and my own mother, grandmothers, great-grandmothers, and lots of Latina friends. Whether it's Latina, Italian, or German, it's that feminine energy of a woman who decides to take control of her destiny and figure out her place in the world. I wanted to have the cantadoras because when I was doing my research, I fell in love with their sound. If you see them, the energy of it is just incredible. I knew I wanted to put that sound in the score. I looked for a place to do it, and it's such a unique sound, I wound up choosing that for when Antonio gets his voice because it's such a joyous scene. He opens his room, and it's actually bigger on the inside than it looks on the outside, and you see the tree of life, and he's talking to the animals, and to me, that feminine voice related to nature as well.
Encanto is specific to Colombia, but many aspects resonate with the larger Latin community, with its representation of strong, complex Latina characters and their challenges of living with the expectations of family. How did you find ways to express that in the music of the film?
We've talked about having the female voices in "Antonio's Voice," but there are also other bits where there are primarily feminine voices underneath the score and sometimes woven in with the orchestra, like one important moment when Mirabel stands up to her abuela. Underneath the orchestra, there's some chanting and a women's chorus, and I just really wanted to put that texture in, using the sound of the feminine voice. I was also thinking of it as a symbol of all the hard work that women in Latin America and other places have done, raising their families, working hard, just doing so much hard work to keep food on the table sometimes, and that, to me, was a symbol of that struggle.
Featured image: Germaine Franco attends the 33rd Annual ASCAP Screen Music Awards at The Beverly Hilton Hotel on May 23, 2018 in Beverly Hills, California.