Why Jenna Ortega (And More) Has Us So Excited For "Wednesday"
They're creepy, they're kooky, and for more than 50 years, the Addams Family have captivated the hearts of a worldwide audience. Now, their gloomy daughter, Wednesday, takes center stage in Tim Burton's widely anticipated Netflix series, with the maestro of the maladjusted serving as director and executive producer. 
The Streamer has billed Wednesday as a "sleuthing, supernaturally infused mystery charting Wednesday's years as a student at the peculiar Nevermore Academy." As we've learned from showrunners Alfred Gough and Miles Millar (Smallville), the upcoming original will really be about Wednesday's journey into adulthood, which sets it apart from previous Addams Family features.
We'll see a bright, polymathic Wednesday Addams as a maladapted high school student who is also an aspiring writer, a talented cellist, and a skillful fencer. Once she's plucked from her normie school and sent to Nevermore Academy, she'll navigate new relationships with her equally creepy classmates that include sirens, werewolves, and vampires. She'll be absorbing all of this—remember how hard it could seem to be a child?—while she investigates a serial killer terrorizing the local town and tries to solve a paranormal mystery involving her parents' past. And, presumably, pass math.
Wednesday constitutes the live-action-TV-debut for the legendary Burton. His sublimely somber aesthetics, his way with actors, and his attention to the most minute detail of his perpetual Halloween universe are ideally suited to introduce Wednesday Addams to a new generation.
Then there's the cast. Jenna Ortega (The Fallout) stars as Wednesday Addams, a standout performer and horror expert, having been dubbed Gen Z's Scream Queen thanks to her performances in the latest Scream, The Babysitter: Killer Queen, X, and Studio 666. Ortega is already one of the most outstanding actors of her generation, and earning the title role in a Tim Burton-directed Netflix series means only bigger things for the Mexican-American actress. 
"She's like a silent movie actress…able to convey things without words…We're lucky to have Jenna because I can't imagine any other Wednesday," said Burton about Ortega in the latest featurette released by Netflix. 
Unlike past incarnations of the character, Burton's Wednesday possesses budding psychic powers, but that's only one of her new gifts.  
"(Wednesday) is technically a Latina character, and that has never been represented. For me, any time that I have an opportunity to represent my community, I want that to be seen."  Ortega shared.
"Wednesday is technically a Latina character and that's never been represented. So for me, any time that I have an opportunity to represent my community, I want that to be seen." — @jennaortega pic.twitter.com/LYdHIJLpTQ

— Netflix (@netflix) August 24, 2022
We already caught a glimpse of the Latinidad of the Addams when Wednesday sardonically refers to the "spooky altar" her family keeps in their living room for a year-long Día de Los Muertos.
The Addams Family is, in fact, "technically" Latinx. Wednesday's father Gomez, unforgettably incarnated by Puerto Rican American Raul Julia in Barry Sonnenfeld's 1991 film The Addams Family, is of Castillian-Spanish descent.
"Looking the way I do and having the cultural background I have, there aren't many iconic characters out there," Ortega told Empire Magazine. "As someone who still struggles to this day with representation or relatability in mainstream media…I recognized this was an opportunity for me to give that to other girls like myself." 
Ortega will portray a seemingly emotionless character who also will have to deal with coming out of the shadow of her glamorous mother. A degree of complexity we don't really get to witness as much as we should for Latinas on film.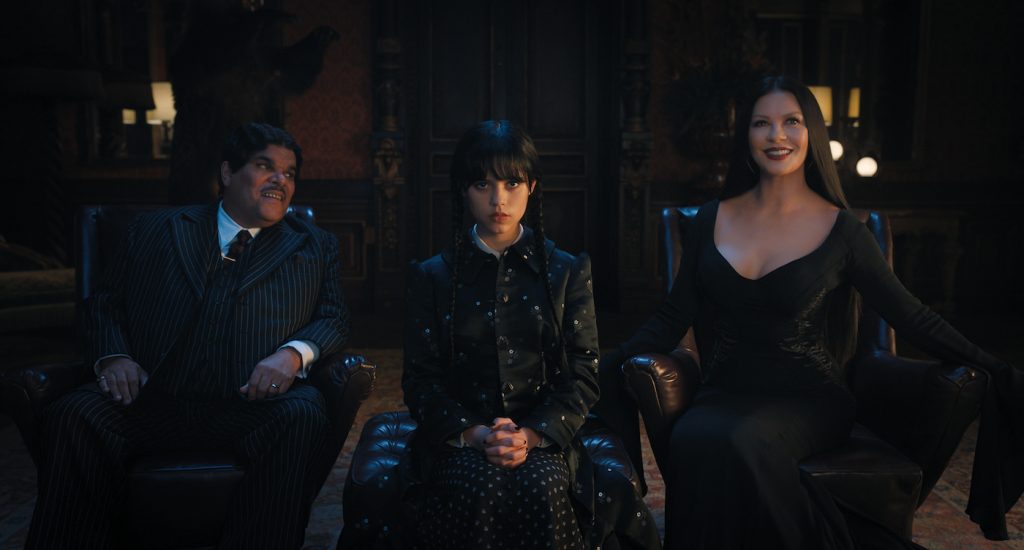 The first season of Wednesday comprises eight one-hour episodes. We've never gotten to spend so much time with the adored deadpan child since the character's TV debut in 1964.
(Actually, we have. But only in an unofficial—and viral—manner. Melissa Hunter's 2013 unlicensed web series Adult Wednesday Addams gathered well over 20 million views. Proving that the spell of Wednesday holds strong, especially among Millennials, like the one writing this article.) 
For us, it was Cristina Ricci in the 90's films who perfectly embodied the surliest of the Addams. Ricci's unforgettable rendition has been acknowledged by Jenna Ortega. "She killed it, and it's very important to me to honor her legacy and the role," she said in an interview with Mitú. The admiration is mutual. Ricci herself has given Ortega her nod of approval, telling Variety she's "amazing" while appreciating how the original character has been respected with an "incredibly modern" twist to it. 
Ricci herself will be part of the Addams universe in a yet-to-be-revealed character. Another tightly kept secret is who will play Uncle Fester. As for the rest of the cast, we're in for a treat. 
Prolific nuyorican actor Luis Gonzalez (Traffic, Boogie Nights) will incarnate devoted husband and loving father, Gomez Addams, in a casting choice that pays homage to the original 1938 cartoon by Charles Addams. We'll see Oscar-winner Catherine Zeta-Jones (Chicago, Traffic) take on the role of the sophisticated matriarch, Morticia. Wednesday's favorite human to torture, Pugsley, will be played by Isaac Ordonez (A Wrinkle In Time). Hailing from Romania, the place where Wednesday was shot, Victor Dorobantu is Thing, and George Burcea is Lurch. Wednesday also boasts one of Game of Thrones' most beloved performers, Gwendoline Christie, as a series regular, portraying Nevermore's principal and longtime enemy of Morticia.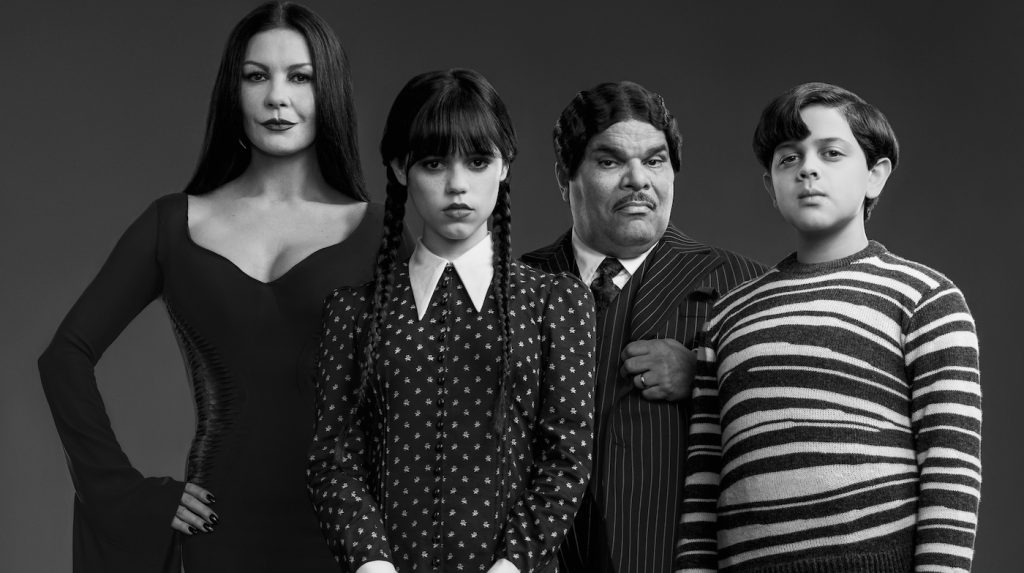 While Netflix hasn't announced a release date, we can expect the MGM-produced show to premiere just in time for Halloween. If that still feels too far away, we can relish Ortega's spot-on characterization as Wednesday in these teasers and start enjoying her dead-cold deliveries on her official Twitter account.
For more on big titles on Netflix, check these out:
"All Quiet on the Western Front" Trailer Reveals Netflix's Ambitious WWI Feature
"Knives Out 2" Sequel "Glass Onion" Reveals Photos, Release Date
"Bridgerton" Emmy-Nominated Costume & Hairstyling Team on Season Two's Sumptuous Styles
Featured image: Wednesday. Jenna Ortega as Wednesday Addams in Wednesday. Cr. Matthias Clamer/Netflix © 2022