"Blonde" Director Andrew Dominik on Painting a Different Kind of Portrait of Marilyn Monroe
Visually, writer-director Andrew Dominik wanted to surface the iconic imagery of Marilyn Monroe for his fictional adaptation of Joyce Carol Oates's Blonde (now streaming on Netflix.) What found its way to the screen is a nearly three-hour collection of novellas that poetically paint Norma Jean's life from childhood to stardom.
"The big visual idea of the movie was to have it almost look like a Google search of Marilyn Monroe," Dominik shares with The Credits. "We're not doing that so much for reasons of authenticity but to begin with familiar images and then change the meaning of them according to her own internal drama that she's projecting outwards."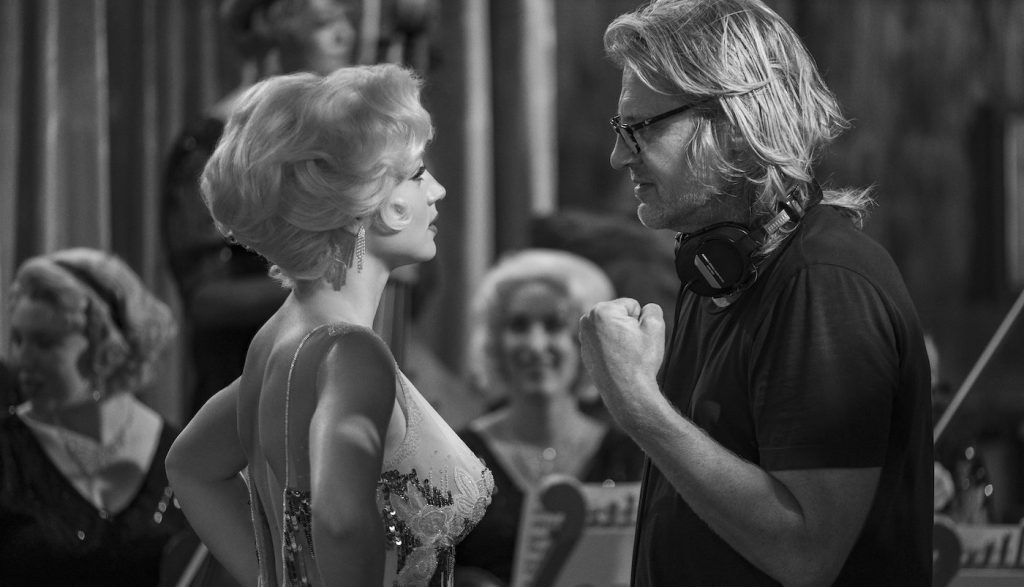 Ana de Armas (Knives Out, No Time to Die) immerses herself in the role, which explores more than the pinups and performances of Monroe's time. Yes, we get to sit front row for glimpses into Gentlemen Prefer Blondes and How to Marry a Millionaire, but Dominik funnels the story through Monroe's point of view. A case in point is the iconic scene of Marilyn's dress blowing in the updraft of a subway passing beneath her during The Seven Year Itch. The moment is treated not as glamorous for the star but rather likens her to a piece of meat as hundreds of men fawn over her from behind the camera. The motif of Marilyn being treated as an object is a throughline in the film.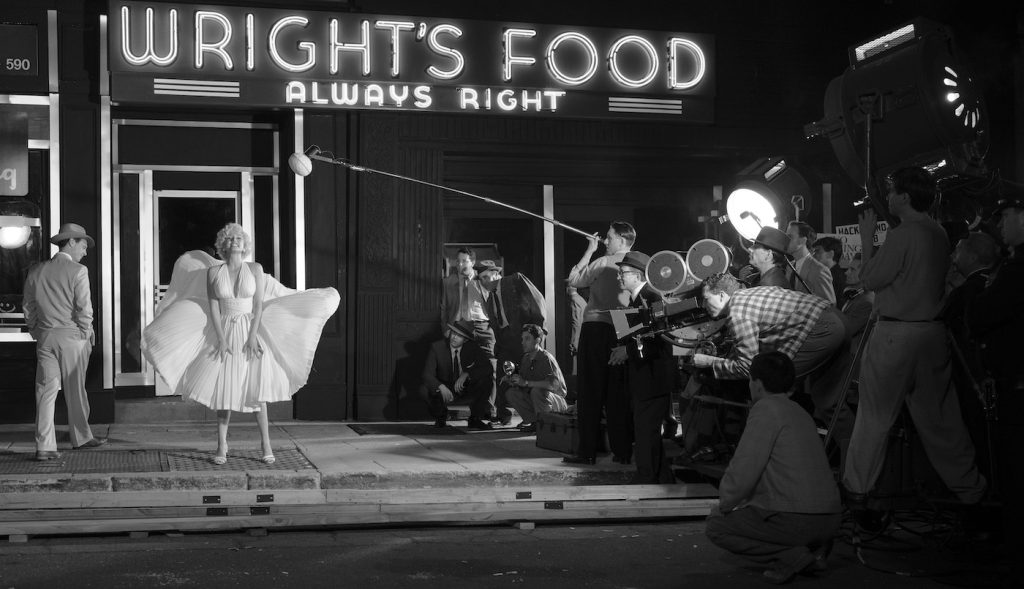 Another instance is a scene that has Marilyn and her then-husband, Joe DiMaggio, sitting in front of a window that was pulled from an Alfred Eisenstaedt photograph. Instead of this romantic moment in the vein of the still image, it's reimagined as DiMaggio snuffing out her sensitivity. "We were always taking this imagery and flipping it on its head," says Dominik. "It's sort of to do it for psychological reasons, and there's also an emotional strategy behind it."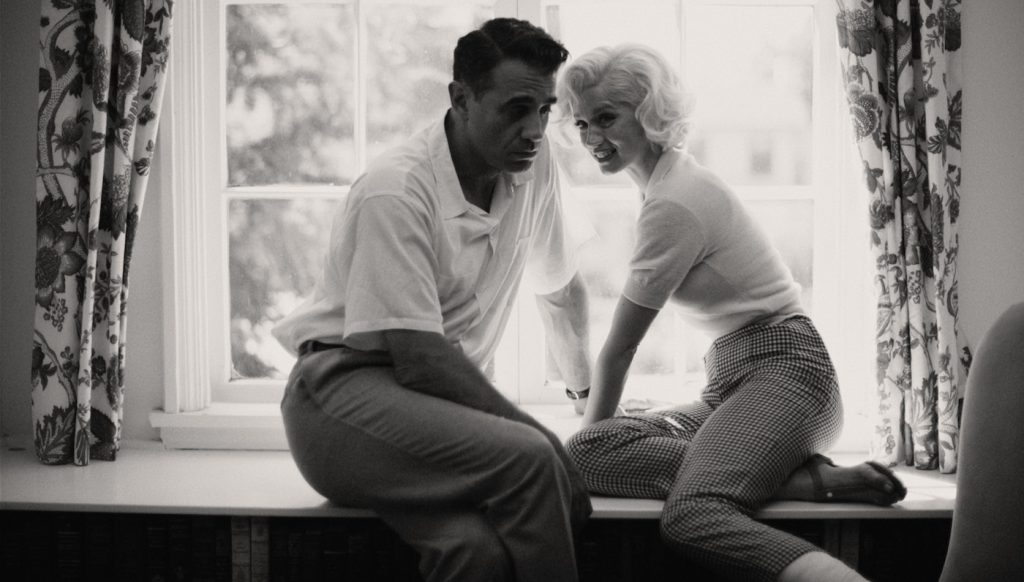 The director explored rarely seen sides of Norma Jean as well. One of them is her love for theater and landing a role in Pulitzer Prize-winning dramatist Arthur Miller's (Adrien Brody) play (who she later marries). 
The sequence is set up with the clumsy writer spilling pages walking from the New York subway on his way to the reading. When he arrives, he's taken back to see Marilyn sitting in for the part of Magda, who we find out was also his first love, as well as a character in the play. By the end, Miller is in tears. After, the two discuss the play inside a restaurant, where she makes a connection to Chekhov's "Three Sisters" and suggests Magda is likely illiterate and is only pretending to read the writing of the character Isaac. The note is a revelation for Miller.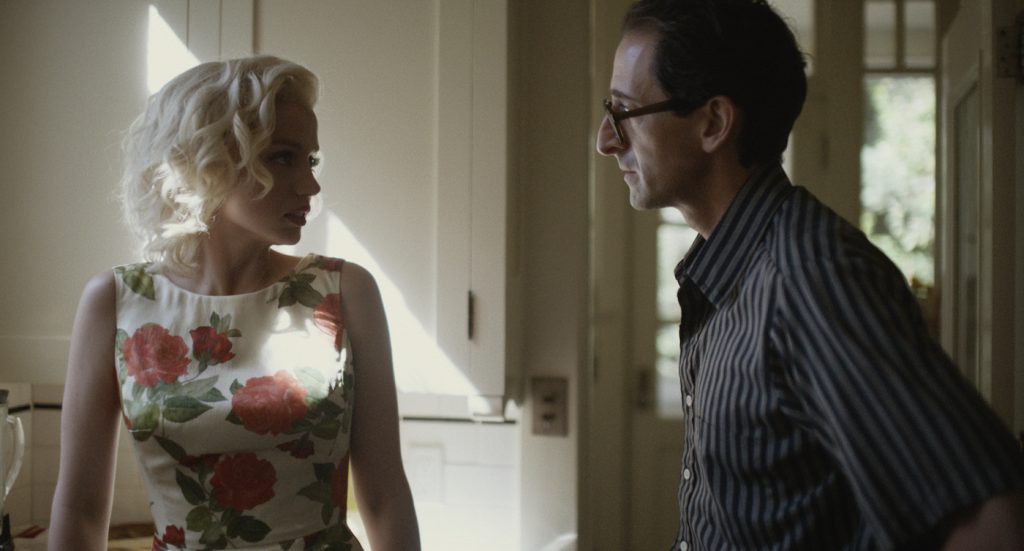 "That scene [inside the restaurant] is based on a series of photographs. Her side of the frame is framed exactly like them," says Dominik. "The thing about that sequence is it's quite complex. You have to understand that he loves someone called Magda, and he's written a play about her because he can't let go of the feeling that he had for her, and the central event was this poem that he read to her, but that didn't have the desired effect."
"But Marilyn understands Magda couldn't read. So this great American playwright is insecure about being compared to Chekov, and here's some actress that turns up with ideas. She says this one thing, and he ultimately realizes she's smarter than he is and that she's solved a thirty-year-old mystery for him. He's forced to look at her completely differently, but at the same time, what he wants from her is for her to not be herself, but his Magda."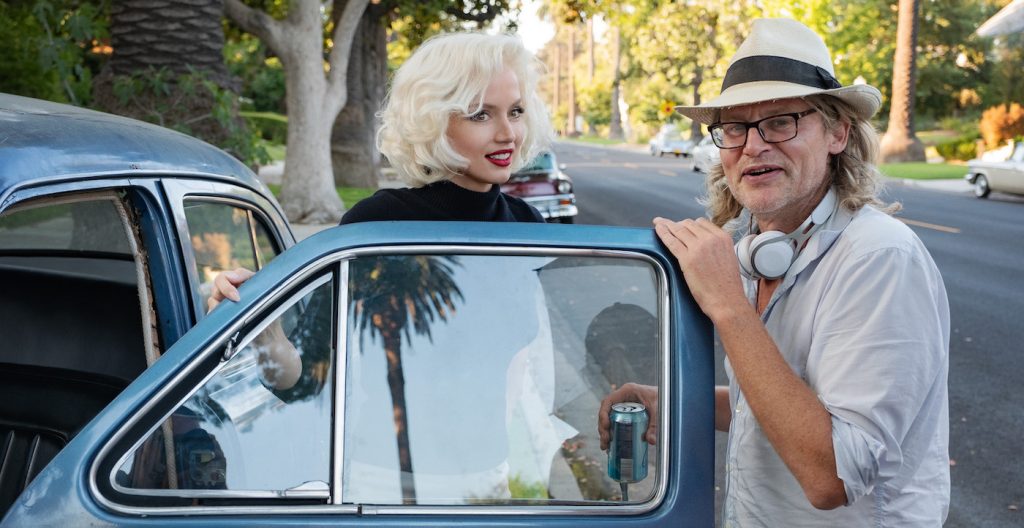 For the director, he feels the primary relationship in the film is between the viewer and Marilyn Monroe. "I think that we are the ones that understand she does what she does and the other characters in the story don't. I think it creates a kind of intimacy. The idea of the film is you fall in love with her and watch helplessly as she destroys herself. You understand why she's doing it, and you're looking at everyone around her going, help. It's a film about what Marilyn Monroe means to us. She's a figure that people want to protect, but perhaps, what she needs protecting from is us." 
For more on big titles on Netflix, check these out:
"Bardo" Trailer Unveils Alejandro G. Iñárritu's First Film Since "The Revenant"
Mike Flanagan's Netflix Horror Series "The Midnight Club" Trailer Revealed
"Glass Onion: A Knives Out Mystery" Reactions: Rian Johnson Delivers Another Delicious Whodunnit to Unpeel
Featured image: Blonde. Ana de Armas as Marilyn Monroe. Cr. Netflix © 2022