From "Pachinko" to "Severance," Costume Designers Discuss Their Apple TV Series
Last Year, Apple TV+ won seven Creative Arts Emmys and landed four Primetime Emmy Awards. They have kicked off this year's Emmy FYC season with a number of events that will take place at The Grove in Los Angeles.
Last Thursday evening (5/19) a panel of costume designers took the stage to pull back the creative curtain of their series. The artisans making the journey were Jane Petrie from The Essex Serpent, Sarah Edwards of Severance, Kameron Lennox from Physical, Natalie Bronfman from See, and Kyunghwa Chae of Pachinko. The moderated panel introduced each designer to roaring applause before showing a clip of each series that was followed up with questions.
For Petrie, she collaborated closely with production designer Alice Normington to define the color palette of the miniseries The Essex Serpent, which stars Claire Danes as the widow Cora who leaves London for Essex to search for a gigantic serpent that's said to have returned to the marshes. The palette subliminal ties into the shifting storyline as it moves from one city to the next.
Warm hues and deep burgundy reds find their way into the costumes as Cora contends with an abusive relationship. As she recovers and journeys to Essex, where meets Tom Hiddleston's character Will, it brings out "earthy textures" to the designs before channeling a smattering of blues. To further separate Essex from London, Petrie supplied Dutch costumes to the people roaming the village as she "didn't want it to feel like a regular English town."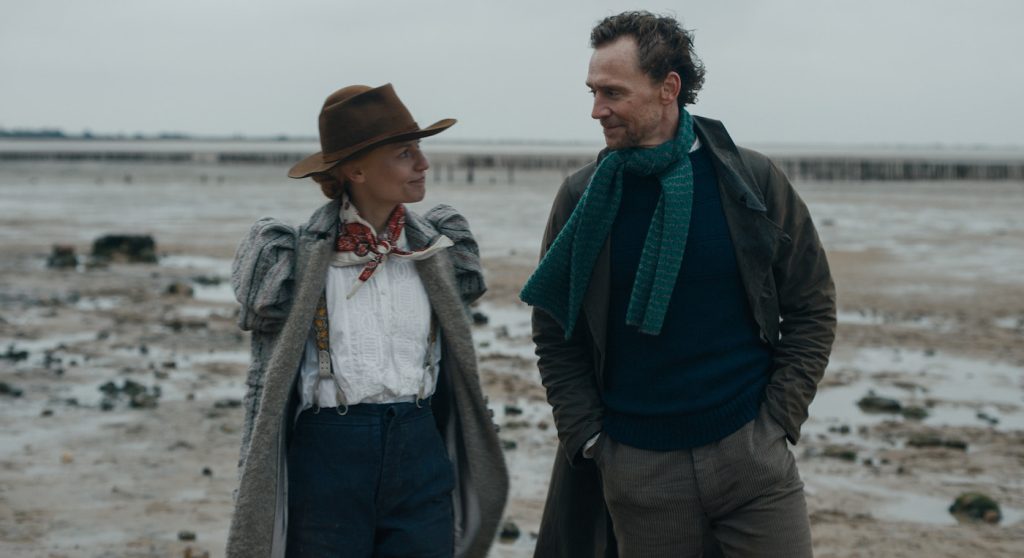 In creating the costumes for Severance, a slow-burn psychological thriller where its characters submit to a "severance" program where their non-work memories are separated from work memories, Edwards considered the two different worlds: the inside corporate environment of Lumon Industries and the world beyond its walls. She designed costumes for both, referring to them as the "innies and outies."
"The innie world is a very controlled world. The directive was that it should be ambiguous as to what time and place it could be. In my mind, there was an employee handbook that had a dress code and that really helped to rein it in and keep it very spare and simple and minimal. The clothes also function as another layer of control down there. They were all mutually oppressed by this dress code," she says. "The outside world has warmer tones. The characters are their true selves and you see more texture and color. Everything is easier fitting."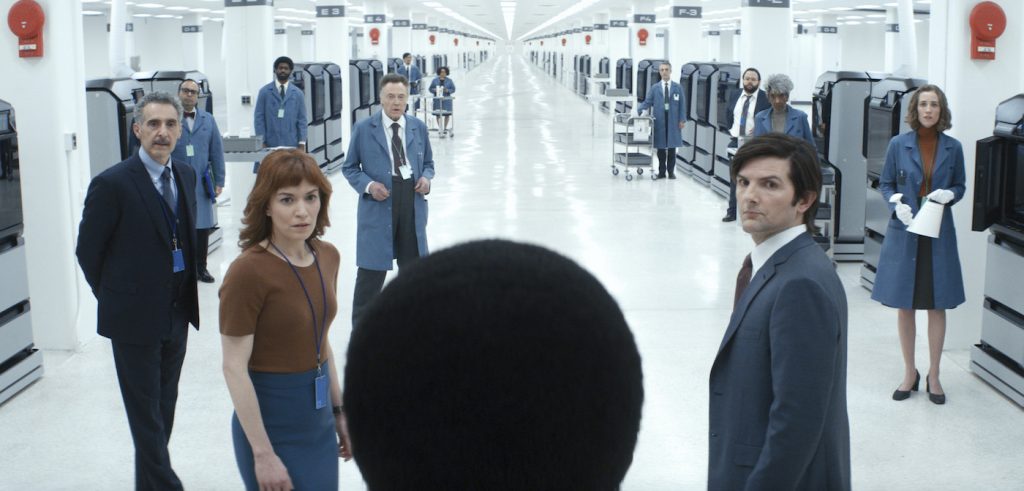 With Physical, Lennox honed in on the story's time period which takes place during 1981 well before the neon colors that spring up later in the decade. "It takes place before the aerobics big boom," she says. "We tried to recreate this sweet spot in time when women were starting to empower themselves through movement and dance. During that time they were just wearing their ballet gear. Then after it progressed, and as people started to get more creative, it became something else." The costume designer was inspired by the early looks of Jane Fonda and curated a color palette of muted dusty pinks, lavenders, and teals. A favorite color combo that was popular at the time was baby pink and gray. All found their way into the costumes as the series follows Sheila's (Rose Byrne) journey of self-discovery through aerobics.
The challenges in the dystopian series See were layered. Bronfman not only designed period piece costumes but created them for characters that are blind. The first hurdle was figuring out what type of fabrics and materials could be used in a world where humans have lost their eyesight. Working with the largest department she has ever collaborated with – including leather workers, fabric dyers, jewelers, and footwear makers – they crafted costumes from material that would have "not disintegrated in the last 500 years." Plastics, car parts, and radio diodes made for much of the jewelry.
When it came to fabrics the way they felt took precedent and garment details were not overlooked. For the Trivantian army, a small symbol was added to their right boot which helped them move together – an idea Bronfman borrowed from ancient Roman times. For the merciless Queen Kane (Sylvia Hoeks), her costumes paralleled the story, starting out in a "lighter red and progressively getting darker, like dried blood, from all the bloodshed she created."
Pachinko is a historical epic based on the novel of the same name which unravels an era when Korea was under Japanese rule through the eyes of a single Korean family. The timeline of the story jumps, crossing multiple generations, and begins in 1915. Sunja is the central character who we see as a girl (Yu-na Jeon), a young woman (Minha Kim), and as an aging mother (Yuh-jung Youn, who won an Oscar for Minari).
Kyunghwa Chae designed Sunja's costumes to reflect her age. When younger, she wanted her to "look free." Then as she gets older, "more feminine" looks were introduced even when Sunja wears Korean traditional dress. A palette of white hues was used to create warmth, beauty, and innocence. Then as Sunja journeys to Japan and adjusts her way of life, Chae places her more in Western clothing.
You can watch each series on Apple TV+ now. 
For more stories on Apple TV series and films, check these out:
"They Call Me Magic" Trailer Reveals the Rise of Earvin "Magic" Johnson
"The Last Days of Ptolemy Grey" DP Shawn Peters on Lensing Samuel L. Jackson's Rare TV Performance
"The Tragedy of Macbeth" Production Designer Stefan Dechant on Joel Coen's Minimalist Masterpiece
Featured image: Inji Jeong, Yeji Yeon and Bomin Kim in "Pachinko," now streaming on Apple TV+.