"The Northman" Early Reviews Rave About Robert Eggers' Ferociously Visceral Viking Epic
In a must-read profile of writer/director Robert Eggers by Sam Knight in The New Yorker, the visionary director of The Witch and The Lighthouse is very honest about the toll his latest, and by far biggest, film took on him. The Northman, which is being called the most realistic Viking movie ever made, is loosely based on "Hamlet," which Shakespeare himself based on a Viking tale. A new clip, early reviews, and a reading of Knight's profile of Eggers would make any film lover eager to see the film.
Eggers's exacting attention to detail, which was aided by his co-writer, the Icelandic poet and novelist Sjón, and the experts he consulted during his research, is such that the film's star Alexander Skarsgård marvels at the end of The New Yorker profile about a single moment that speaks to the whole. There's a Viking transport vessel in the background of one particular shot, far away and not even in focus. "You could have used pretty much anything out there," Skarsgård tells Knight. But instead, Eggers insisted on an obsessively-researched, museum-quality replica of the vessel. "No one would ever know," Skarsgård told Knight. "But Rob would know."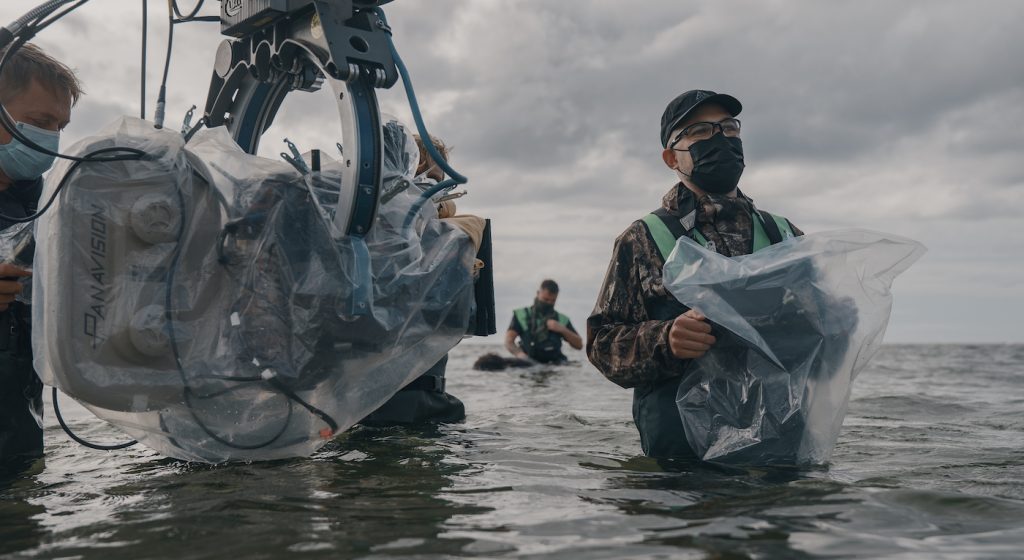 Skarsgård stars as Amleth (the Viking name for Hamlet), a young prince on the cusp of manhood when his father, King Aurvandil War-Raven (Ethan Hawke) is brutally murdered by his uncle, Fjölnir (Claes Bang), who kidnaps Amleth's mother, Queen Gudrún (Nicole Kidman). Amleth is forced to flee his island kingdom, but he vows revenge. The film reunites Eggers with Anya Taylor-Joy (she starred in his breakout hit The Witch), features the first film performance by Björk in 17-years, and was created alongside his longstanding collaborators like cinematographer Jarin Blaschke, editor Louise Ford, and production designer Craig Lathrop. A new clip gives you a taste of the levels that Eggers, his cast, and his crew went to in order to create a Viking epic that looks and feels like nothing we've seen before:
And now the early buzz has arrived, and all of the effort—and worry—that went into The Northman seems to have paid off. Ferocious, brutal, passionate, and epic, the critics are hailing The Northman as Eggers' most astonishing work to date.
The Northman hits theaters on April 22. Here's a quick glimpse at what the critics are saying:
#TheNorthman is Robert Eggers' best film yet. Stunning cinematography sets the scene for the perfect merger of otherworldly Norse mythology with the brutal reality of Viking history. Bloodthirsty. Powerful. Spiritual. @TheNorthmanFilm is a magnificent and epic saga for the ages. pic.twitter.com/hSa1S0Mc3Z

— Maggie Lovitt 🔜 SWC (@maggieofthetown) April 5, 2022
#TheNorthman is BRUTAL. Skarsgård is oozing w/ revenge-fueled ferocity from start to finish. Loved the choice to capture so much — action & dialogue-heavy beats — in one shot. Lets the exceptional cast shine & ensures you feel every ounce of this movie's passion & aggression. pic.twitter.com/7nC2kfAUGo

— Perri Nemiroff (@PNemiroff) April 5, 2022
#TheNorthman is uncompromising, raw, and savage. It's a ruthless revenge story set during the Viking Age, and Alexander Skarsgård is a beast of a man. pic.twitter.com/CixZXDbLO0

— John Nguyen (@JohnSpartan300) April 5, 2022
I've been a huge fan of Robert Eggers for years, but THE NORTHMAN is truly his masterpiece. Brutal, fearless, & audacious, it feels like the kind of cinematic epic we don't see very often anymore. It's a ferocious & stunning work of art & Alexander Skarsgård rules. #TheNorthman pic.twitter.com/Cs8Zgbktuc

— Heather Wixson (@MMEFXBook out 10/20!) (@thehorrorchick) April 5, 2022
Robert Eggers' #TheNorthman is hauntingly visceral & super transfixing. You definitely won't be able to take your eyes off this blood-soaked revenge tale. Alexander Skarsgård is a BEAST & ferocious throughout. Nicole Kidman has a couple scenes that floored me. Daring & devilish pic.twitter.com/9DMX3Mm4sq

— Erik Davis (@ErikDavis) April 5, 2022
#TheNorthman is incredible. Like, fall-to-your-knees, 'HOW the HELL did they do this?' good. Breathtakingly gnarly too. It deserves to be a massive hit. EGGERS HIVE ASSEMBLE. pic.twitter.com/NpijhqV6g8

— Cameron Frew (@FrewFilm) April 5, 2022
Featured image: Alexander Skarsgård stars as Amleth in director Robert Eggers' Viking epic THE NORTHMAN, a Focus Features release. Credit: Aiden Monaghan / © 2021 Focus Features, LLC