"Uncharted" Director Ruben Fleischer on His Epic Adventure With Tom Holland
The first time we see treasure hunter Nathan Drake (Tom Holland) in his element he's knocked unconscious. When he wakes, he realizes his foot is caught in the netting of loose airplane cargo that's whipping in the air like a tail on a kite. The timely snag has saved his life. He murmurs one of his famous Drake-isms: "Oh, crap."
Director Ruben Fleischer (Venom, Zombieland) is at the helm of Uncharted (in theaters February 18), an adaption of the immensely popular video game series from Naughty Dog and Sony Interactive that has sold millions of copies worldwide. Development for the silver screen version dates back to 2008 with attempts from David O. Russell and David Guggenheim before getting off the ground in 2020 with a screenplay from Rafe Judkins, Art Marcum, and Matt Holloway that's packed with high-energy treasure hunts, kick-ass villains, plenty of laughter and unexpected twists.
Akin to an origin story, a young Nathan Drake is approached by Victor Sullivan (Mark Wahlberg), aka Sully, one night working as a bartender. He's looking for information about one of the greatest missing treasures in history – the forgotten fleet of Spanish explorer Ferdinand Magellan – that is worth billions if found. Sully had been searching for it with Nate's older brother Sam (Rudy Pankow), who Nate hasn't seen in years. Sam has now disappeared and Sully hopes Nate might have clues that Sam passed along. Motivated to find his missing brother, Nate helps Sully hunt down the treasure.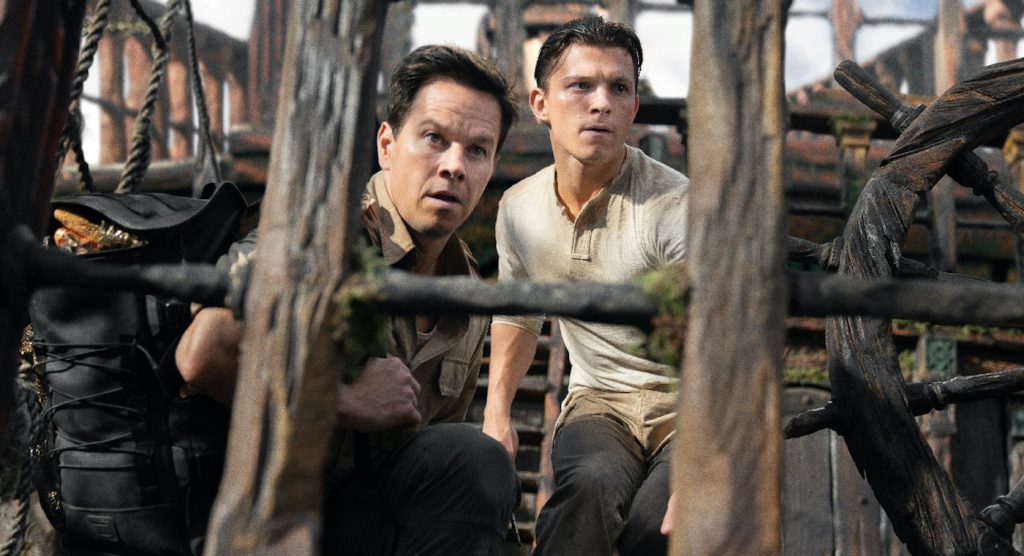 In reading the script Fleischer says he was "absolutely thrilled" by the adventure. "I felt very lucky even while it was a video game adaption to have the opportunity to make a great treasure hunting film." The story introduces the characters before they've become the legendary treasure hunters known in the video game series, a premise that gives a fresh perspective for the entire audience. And quite possibly sets up sequels (so be sure to stay through the credits). 
"Tom was clear from the beginning that he didn't want to do an impression of the video game, but he wanted to create his own version of Nathan Drake. I think he did a terrific job as such," Fleischer tells The Credits. The natural on-screen chemistry between Holland and Wahlberg helped shape their characters. Mark being a veteran of the industry and Tom being relatively new paralleled the Nate-Sully relationship where Sully was teaching the kid tricks of the trade while Nate still had his own ideas up his sleeve.   
The director also tuned into the humor found in the Uncharted series. "It's always been known as being a funny video game with great characters and great banter. So when you're working with talented actors such as Mark and Tom, who have such an aptitude with comedy, being able to cultivate that banter on screen was really fun."
In sculpting the visual aesthetic, Fleischer tapped production designer Shepherd Frankel (Ant-Man) and cinematographer Chung-hoon Chung, who he previously worked with on Zombieland: Double Tap. Chung is one of the best DPs out there, made evident in his work in director Park Chan-wook's now-iconic 2013 masterpiece Oldboy, the moody looks he created for Andy Muschietti's brilliant reboot It, and the punchy palettes he shot for Edgar Wright's Last Night in Soho. For Uncharted, vivid colors are paired with a wide aspect ratio (2.39:1) to bring scale to the story. Sequences were shot with ARRI Alexa cameras, and at times, framed for IMAX. 
"For me, scale is essential to a big-action adventure movie no matter what it's based on," Fleischer says. "Whether it's a Bond film, Mission Impossible or Indiana Jones, I think that those globetrotting adventures rely on scale to sell the escapist entertainment and feeling you get when you're with the heroes in the film."
The story has a big movie experience with the characters jumping through a number of locations. Whether it's creating a diversion during a New York City auction (which the Deutsche Telekom building in Berlin stood in for), racing over the Barcelona rooftops to retrieve a stolen key, searching the catacombs for the lost treasure, or flying centuries-old ships with a helicopter over the South Pacific, constructing the thrill-seeking sequences demanded visual creativity.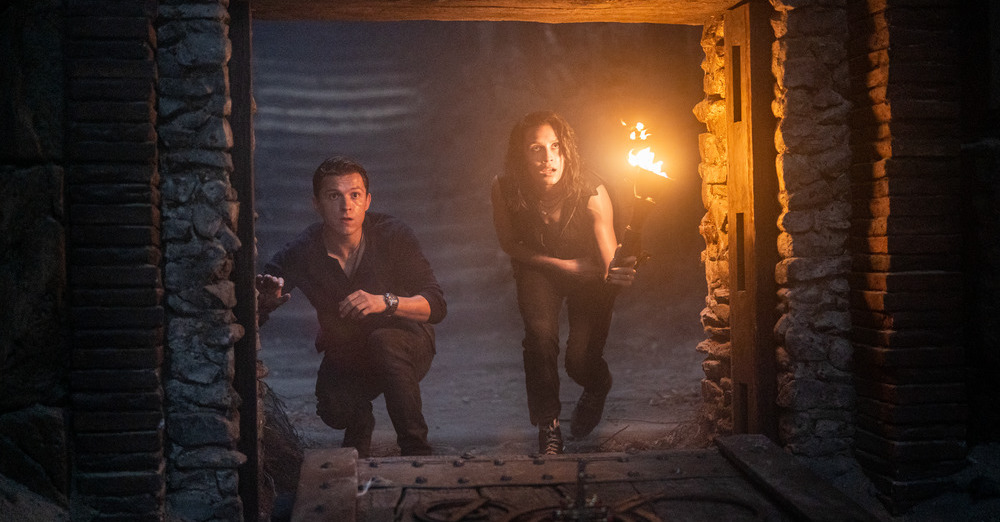 Fleischer paid homage to the game with sequences that will be familiar to players but adapted for cinema. For instance, the aforementioned moment when Nate is falling out of a plane, trying to rescue himself by leaping over cargo boxes. It's a scene from Uncharted 3, and with the help of visual effects overseen by VFX production supervisor Chas Jarrett, as well as on-set supervisors Giles Harding and Neil Impey, they were able to recreate the daring moment.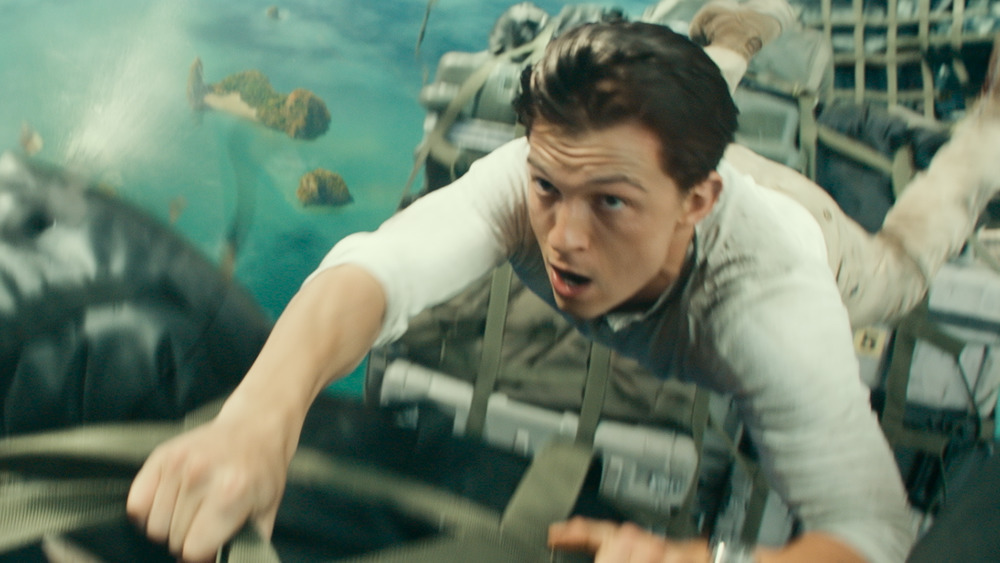 To pull it off, a set with a number of high-powered fans was designed around a blue screen so the action could be recorded safely near the ground. Holland was lifted into the air with wires, attached to a cargo box. Then a robotic arm would toss him around until he fell off creating a more realistic moment to the stunt. Visual effects then composited the background environment as if Nate was escaping death amongst the clouds.  
"The set pieces are so involved and it's a real combined effort of visual and practical special effects," says Fleisher. "On set, whether that's moving a giant pirate ship so it feels like its floating in the sky or hanging your actors off a four-story chandelier in an atrium of a building, you always look to add as much reality to the camera so the visual effects build off of something you created." 
For those who've played the game there's an understanding that Nathan Drake always finds a way to get out of a sticky situation, but Fleisher added a number of twists in the film to keep the audience guessing. "It's essential for these kinds of movies to keep the audience kind of on their toes," he says.  "Hopefully you can't predict what's going to come next, whether it's a betrayal of trust or an expected turn on their path that leads to problems." 
There's plenty of Easter Eggs as well, from Nolan North (the voice of Nathan Drake in the game) making an appearance to Nate walking passed a sign that says Kitty Got Wet. These nuggets are scattered throughout the movie and offer fans a chance to channel their inner Nathan Drake and say, "Well, well, well." 
Featured image: Director Ruben Fleischer and Tom Holland on the set of Columbi Pictures UNCHARTED. Photo by: Clay Enos