Director Sacha Jenkins on Confronting Racism in "everything's gonna be all white"
Midway through Black History Month, Sacha Jenkins' documentary series everything's gonna be all white debuted on Feb. 11 on Showtime. Introducing itself as "A tale of two Americas, one white, one not," the three-part show offers a sprawling group portrait of Black, Native American, Korean-American, Puerto Rican, Afro-Peruvian, South Asian, and other citizens of color who go before the camera to offer their unvarnished views on racism in the United States, past and present. 
Writer-director-producer Jenkins grew up in Queens where he published his own graffiti zine at age seventeen. Over the next 35 years, he's continued making work about the Black experience, including the Emmy-nominated Wu-Tang Clan: of Mics and Men and the 2021 documentary Bitchin': The Sound and Fury of Rick James. 
The idea for everything's gonna be all white had been knocking around for a while, Jenkins says. "I pitched this series many times, years ago, and it got a lot of passes. It was finally greenlit by a gentleman who happens to be Indian and from New Jersey. He gets it. He's in a position of power. I'm lucky to have a patron of color who understands the subject [of racism] because of what he and his family have gone through." 
In a Zoom interview from his New York City home base, Jenkins talks about giving voice to high-achieving minority Americans with stories to tell about January 6, "white noise," Black Hills, and bad food.
everything's gonna be all white begins with the January 6 insurrection as witnessed by Black photographer Mel D. Cole, who got pretty shook up by the experience. 
We were working on the documentary when the insurrection came along, so to have a bird's eye view — a black bird's eye — from an African American who can tell you what it felt like to be in that situation? That was really important. And that's what this series is really about. It's about feelings. It's about how we feel. It's about giving African Americans and other people of color the chance to express themselves.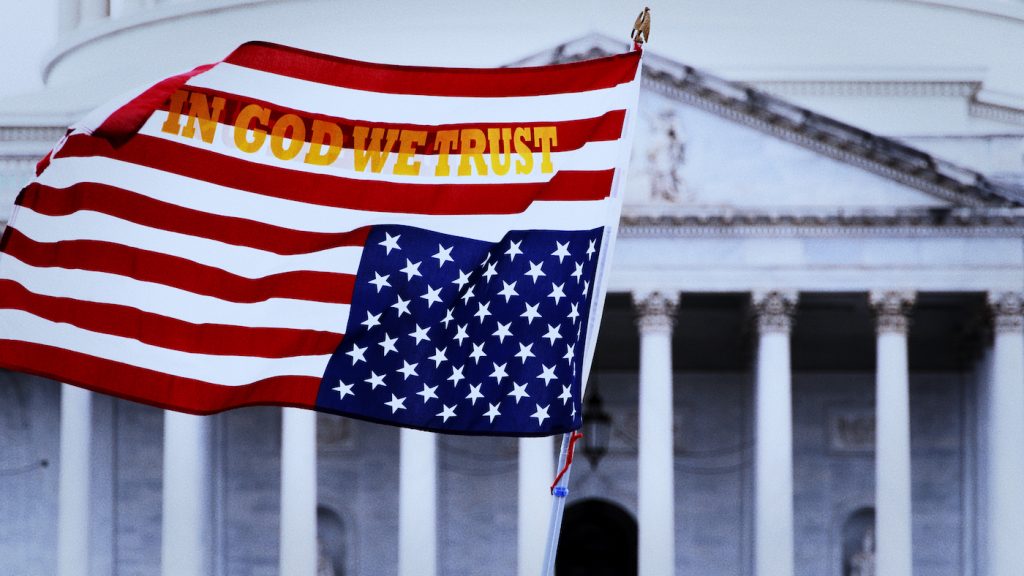 Your documentary addresses everything from Black Jesus to nightmarish housing projects to racism in the pornography industry and "colorism" criticisms of In the Heights. Yet the way you weave in and out of all these different topics feels very organic.
Well, it's very organic because everything's related. For example, food deserts and gentrification: You go from a [Black] neighborhood that has very poor food choices until the complexion of the local clientele changes, and then you get a Whole Foods. When you live in a housing project with lead paint and you're told it's okay but then you learn they were lying and that lead paint can lead to mental health issues and how that may affect a community where the people are crammed in like sardines and have very poor food choices. Or you live across the street from a power plant and a cloud of smoke blows over every day and you don't know what it is so you have to run and tell your family "Here comes the cloud!" What's that telling you? It's all related. 
There's a cumulative effect?
Economics and education create a level of freedom in a capitalist system and many of us don't have the freedom that allows you to be on an equal footing. If you went to horrible schools, if the supermarket in your neighborhood was terrible — all these things go into a piggy bank of oppression and every penny adds something that can get in the way of your success. 
How did you go about selecting your interview subjects, which include activists, scholars, artists, comedians, and rappers?
It's easy to think, "Ooh it's more exciting when they're famous," but I just wanted people with a real point of view who could add something unexpected and heartfelt. We interviewed a lot of grassroots people in progressive movements. These are serious subjects, but I wanted to break it up with some humor from people like comedian Amanda Seales or the rapper Style P, who's very eloquent. The way we curated the interviews, I think the balance is pretty good.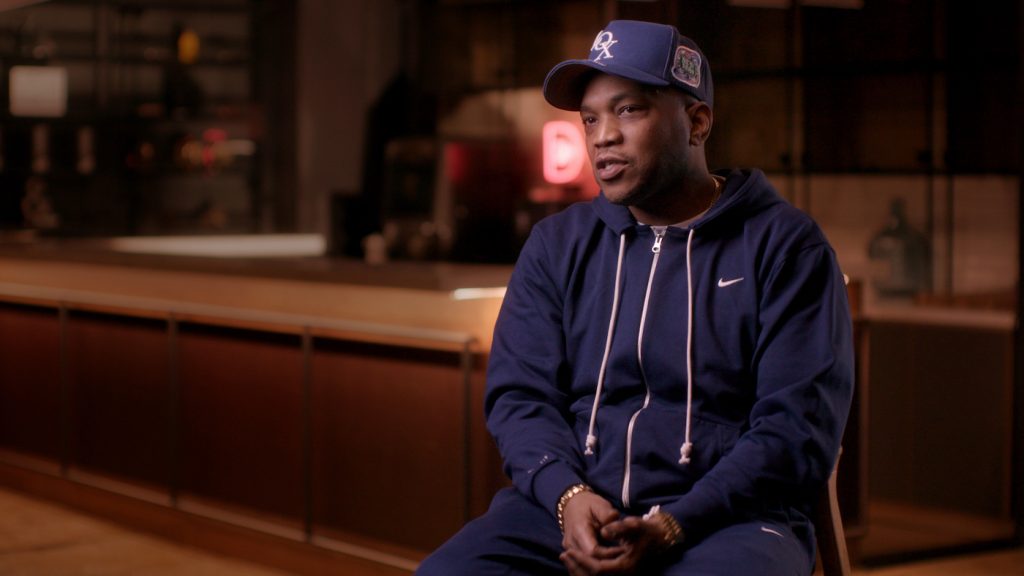 Tell me about "Mad Chad," the goofy white racist character created by you and your writing team.
Chad's is the only white perspective represented in the series. I didn't want white scholars or guilty white folks. They're great but we've seen those people before. For this series, I wanted people of color exclusively talking about how they feel, but we brought on Mad Chad so white folks can't say their perspective isn't represented.
Who plays Mad Chad?
Michael Kaves, who's one of my dearest friends. He grew up in Bay Ridge, Brooklyn I knew the character he brought to the table would be very authentic because Chad's based on people Michael grew up with who have similar thoughts.
Your doc explores the "white noise" that happens when people of color internalize messages put out there by the white power structure.  What does "white noise" feel like?
It's a subliminal fuzz, constant, like a ringing in your ears. It's always there, right, but you become used to it. If you focus on that frequency, it's going to confuse you, encourage you to make the wrong decisions, like not being conscious of casting folks of color in a film about folks of color. White noise has to do with the things that white supremacy demands of you as a creative. 
Your documentary goes deep on the subject of White America's exploitation of Native Americans. What did you learn from talking to Dr. Nick Estes, a member of the Lower Brule Sioux Tribe and co-founder of Red Nation? 
It's despicable the way Native folks have been lied to, swindled, and yet they remain. When the government offers native Americans a whole lot of money for the Black Hills, they're like "No! This is our holy land. You can buy our spirituality." I felt that was one of the most powerful moments in the series.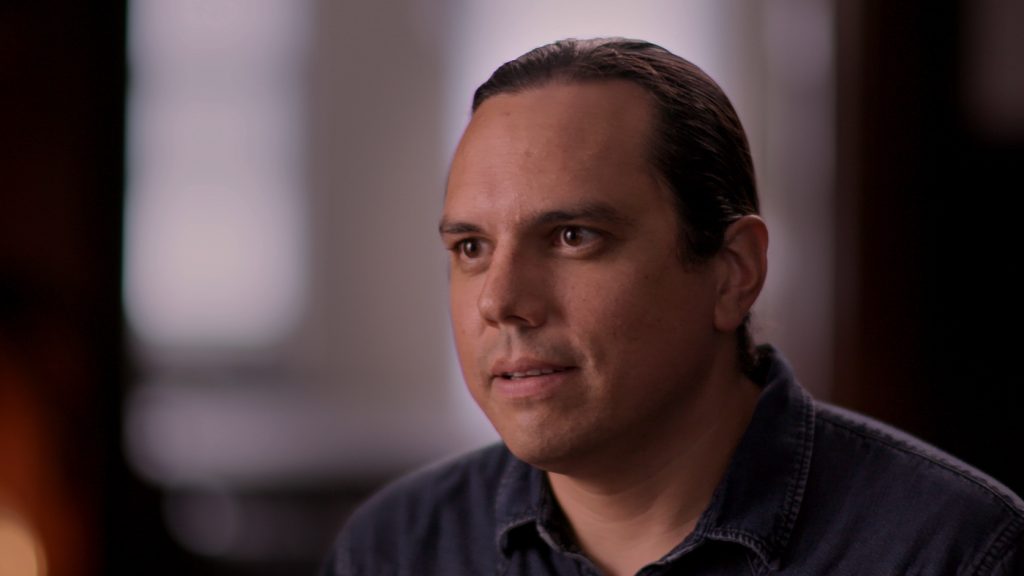 It's kind of heartbreaking to hear Nick talk about what he had to deal with growing up on a reservation. 
It's a personal thing that he's sharing. That experience informed who he became but it didn't stop him. Hopefully, people who don't know people of color will listen and to his stories and maybe that will help change things. 
Although the title everything's gonna be all white seems to suggest that the system will not be changing any time soon.
Yes, but we also have a bonus episode in a talk show format called everything is not gonna be all white. We produced, for instance, a package about a Black professional skateboarder from Philadelphia who was called Dirty Ghetto Kid, and he turned that catchphrase into a multi-million dollar business. We included that fourth episode because I want to encourage people to stay creative and show all the things that are not expected from us, yet we are still able to thrive.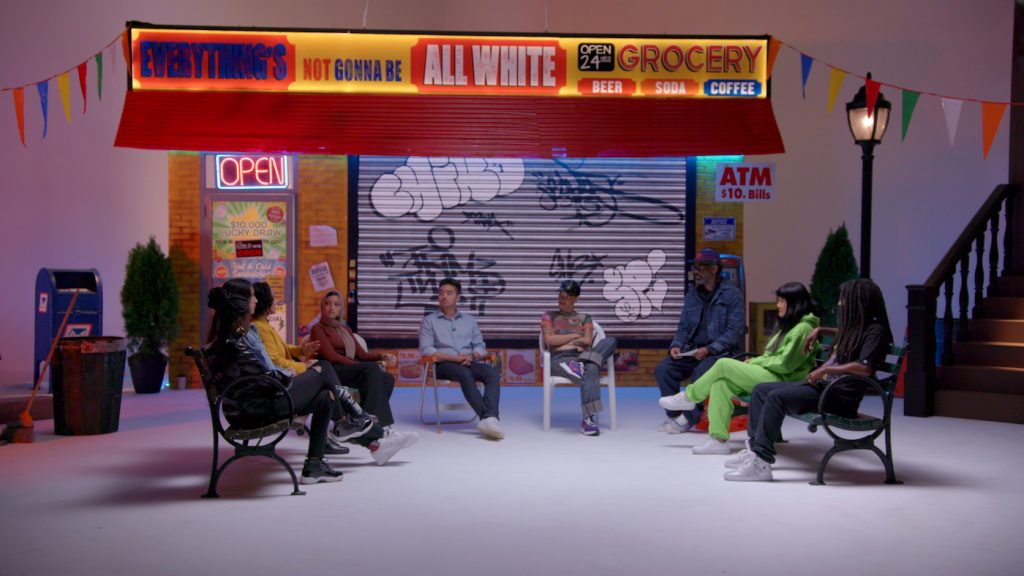 At one point in the series, the Black photographer Mel Cole remembers walking down the street minding his own business when a cop mistakes his camera for a gun and starts screaming at him. Have you personally experienced that kind of street-level racism? 
When I was fourteen, I was writing [graffiti] on trains [and got caught by transit police]. There was no reason to shove your face in a toilet bowl or beat the crap out of you. But the way I thought about it then was, "The cop kicked my ass but my mom didn't find out." I wasn't thinking about racism or the white kids who weren't getting beat up. No. The fact that I thought it was a win to not get arrested? That's white noise.
Featured image: Behind-the-scenes on set of EVERYTHING'S GONNA BE ALL WHITE. Photo credit: John Chimples/Courtesy of SHOWTIME.