"The Matrix Resurrections" VFX Supervisor Dan Glass Takes The Red Pill
In The Matrix Resurrections, there is an action sequence where Neo and Trinity jump off a skyscraper together in order to evade agents closing in on them. They float in the air for a few seconds as the sun rises behind them and we're left wondering if they'll fly off together. While speaking with visual effects supervisor Dan Glass over the phone about the incredibly realistic world-building for the scene, Glass told The Credits that this particularly stunning moment was shot practically using no green screen or CG outside of cleaning up a few different elements. Keanu Reeves and Carrie-Anne Moss did indeed jump off a building and pulled off the death-defying stunt with some state-of-the-art rigging. It is one of the many action pieces in the film that were done in-camera to realistically heighten the visuals.
Glass has been working with director Lana Wachowski on every project since 2000, including the two previous Matrix films following the 1999 original, Reloaded and Revolutions, Cloud Atlas, Jupiter Ascending, and the Netflix series Sense8. When it came time for the fourth installment, Glass admits he signed up for the project before he knew it was. "I met with Lana and she didn't tell me a ton about it, but I said, 'ya, I'm up for it.' Later on, I asked her what is the film and she said, 'the fourth Matrix movie.' For Glass it was "very exciting" to be back in the world with these characters and for the potential to create new ones.
Visually, the approach would be completely reimagined from the previous trilogy. "Lana's style has evolved through her career, but also partly because of the narrative in this movie, the simulation of The Matrix is a different one," says Glass. "So it's intentionally designed to have a different look and feel than the other movies."
One of the most impactful decisions behind the visual atheistic was to create as much in-camera as possible. "In terms of shooting, going to real locations, even if it was just an office, was important. Normally there would be a set or possibly a blue screen setup. On this film, we went to a real office to shoot. That was really a strong, deliberate choice from Lana that I loved," says Glass.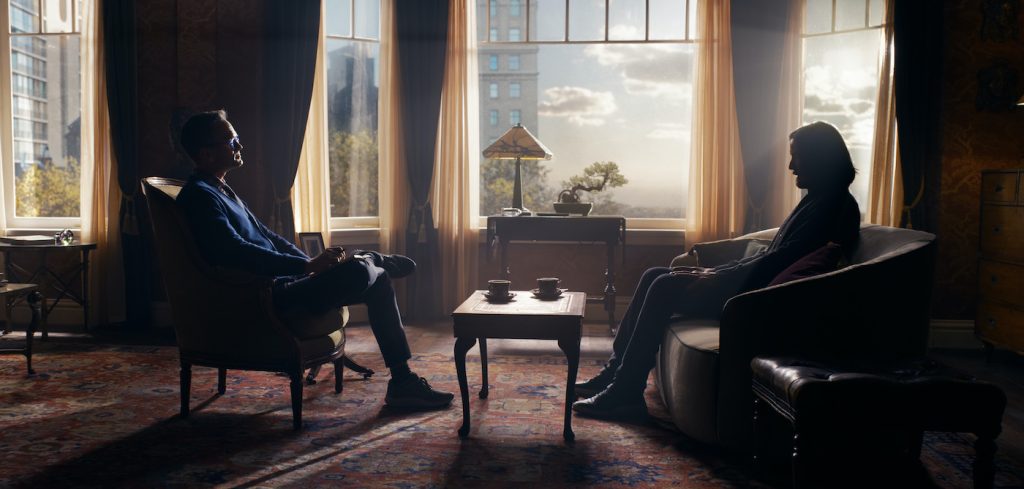 Doing effects in-camera raises the bar for everyone working behind the scenes. Glass worked alongside special effects supervisor J.D. Schwalm, who teamed with special effects coordinator Brendon O'Dell to bring the practical effects to life. During production, the team didn't look to a "huge amount of previs [pre-visulization]" but leaned into discussions for larger set pieces. "We talked about where the handoff between digital and practical would be and tried to find the best way to handshake between everyone's responsibilities," says Glass. Beautifully drawn content frames created in prep played a large role in communicating the visual goal for sequences which allowed them to pick up on details.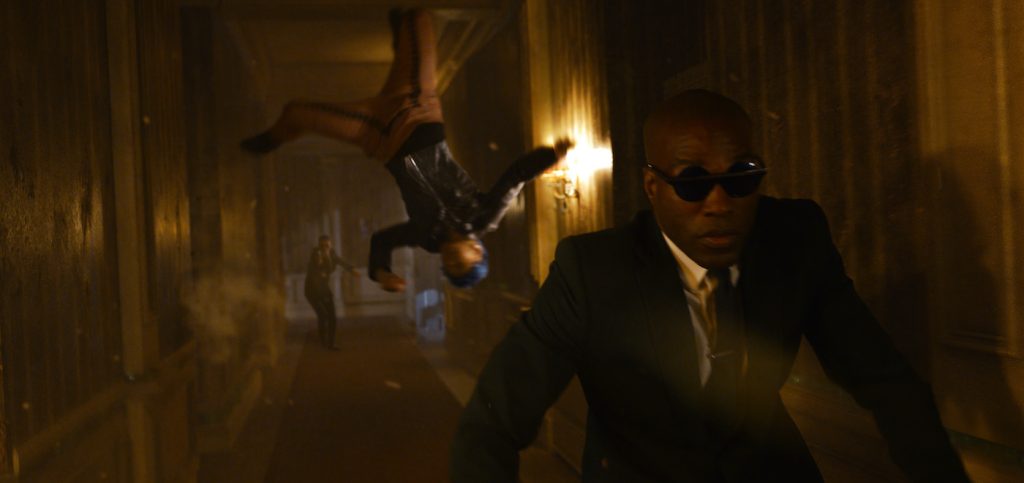 For the pivotal jump scene, production connected with a company called Fisher Technical Services (now known as TAIT Navigator) to help build an expansive rigging system that went from the top of one skyscraper to another stretching 500+ feet across. It was equipped with two giant trust structures on both sides, two endless loops that controlled the height of the actors, and trolley lines that ran overhead that the actors hung from. Marshaling the efforts was stunt coordinator Scott Rogers, who worked with Glass and Schwalm to keep everyone safe. "They [Reeves and Moss] leapt 12 or 15 times off that building with safety harnesses," says Glass. "With visual effects, we were hands-off besides cleaning up the rig and crew that was on top of the roof, so it was probably like a CGI roof replacement, but the performance, lighting, and the city is real." Schwalm adds, "That was 100% the real deal. Lana fought really hard for that shot as it was something she wanted to achieve. If we did it any other way, it wouldn't have given her that shot with the sunrise in the background. That was all practical."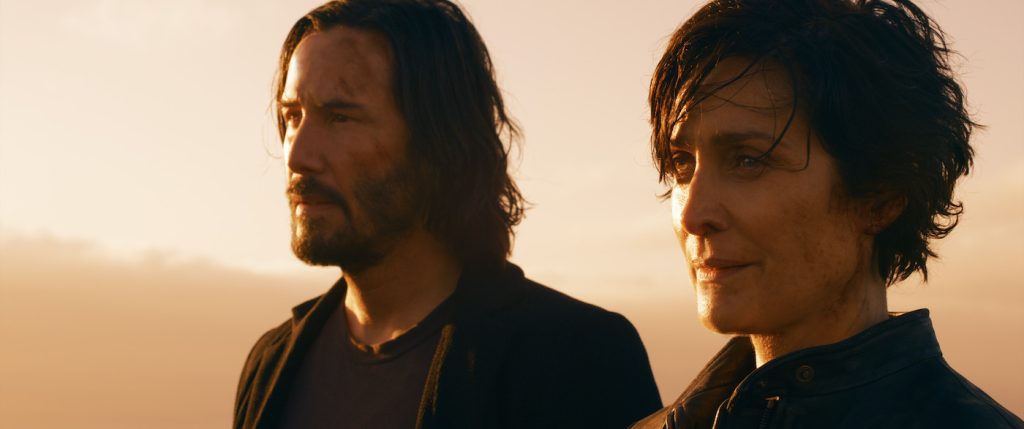 For much of the film, the team aimed to create practical elements where they could, whether it was building extensive props out of candy glass, balsa wood, or cork for fight scenes that could easily break apart or designing lightweight foam structures in CADD that would blow up on impact. "We used all these old school materials as basic building blocks but in intricate and finite ways," explains Schwalm. "Ultimately it added up to 1000s of man-hours building these pieces and shooting a high-speed test and showing it to Lana. Then she would make adjustments to all the dust that was in a beam when it cracked or the number of splinters that flew in the air. She wanted it all perfected so it was a lot of back and forth building and designing a gag to make it work." One gag, in particular, was creating a sink made out of candy glass so an agent could pull it from the wall and break it over Neo's head. It was the largest sink Schwalm and the team ever made from the breakaway material.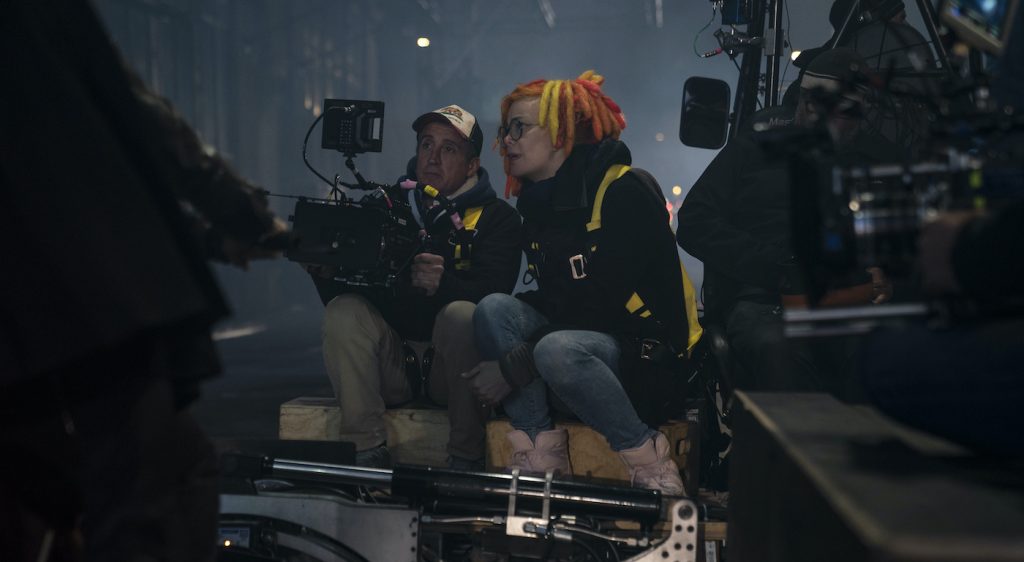 In other scenes, like the climactic motorcycle sequence where Trinity drives Neo through the city as they fight off a number of agents, the car crashes and explosions were also shot practically. "We scouted San Francisco at night, walking through the streets, and Lana broke down all the action where she wanted cars to flip or where Neo would break out into his force field to block bullets," says Schwalm. "In production, Lana would have large meetings before call and we would go over what we wanted to shoot that day. One noteworthy one that she hand-delivered on a little napkin was when we had 5 or so cars flipping with a giant fireball. She drew where she wanted the cars and how she wanted them placed. Then Brendon [O'Dell] and his team would show up and we would all do our best to lay out her vision on location."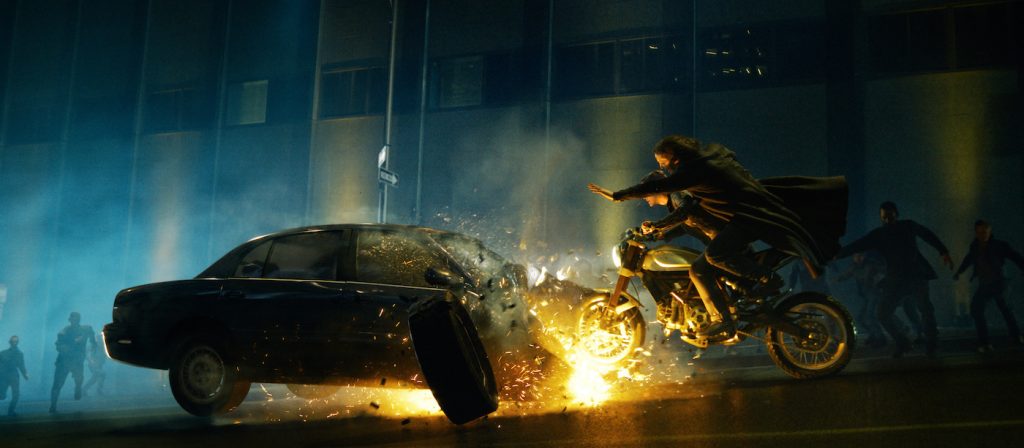 Now there's no Matrix movie without its share of visual effects, and there are plenty of full CG shots for audiences to sink their teeth into, especially in the real world where the machines live. The challenge for Glass and the enormous visual effects team was "how to make them feel like they are shot in the same way" as the practical sequences. "How do you take these things that are completely virtualized and make it feel like a crew showed up and shot it," says Glass. "You have to consider how we point the camera or the way the light hits. Bringing those kinds of feelings to those shots, to me, is the exciting part in doing full CG."
To bring new characters to life, like when Morpheus enters the real world as a man made from a bunch of fluid ball bearings, the action was filmed with actor Yahya Abdul-Mateen II wearing a handmade suit and a head-cam so visual effects could capture all his facial and body movements to add to the simulated character.  "Doing it this way enables Lana to film in the same fashion as they normally would, but we are still getting all our information for visual effects," notes Glass.
For more complex scenes, for example, in the café when The Analyst (Neil Patrick Harris) has a hold on Trinity by slowing down time, the visual effects team used AI for volumetric capture to double up the actors when they occupy the same space. By doing it this way, it allowed them to record the actors from multiple perspectives at once where a computer could extrapolate the data and transpose one image on top of the other to create the aesthetic of them slowly moving through time.
In creating the visual style for The Matrix Resurrections, Glass says the role for visual effects was to fit around the performances. "I'm not there to put visual effects into a movie where visual effects don't need to be. It's all the better to use them where they're valuable or essential and get everything else in-camera."
The Matrix Resurrections is in theaters and on HBO Max now.
For more on The Matrix Resurrections, check out these stories:
"The Matrix Resurrections" Co-Writer David Mitchell On Conjuring a Meta Mind-Blower With Lana Wachowski
"The Matrix Resurrections" Early Reactions: A Bold, Irreverent, Vividly Personal Head Trip
Red Pill Time: "The Matrix Resurrections" Reveals Tons of New Images
Featured image: Caption: KEANU REEVES as Neo/Thomas Anderson in Warner Bros. Pictures, Village Roadshow Pictures and Venus Castina Productions' "THE MATRIX RESURRECTIONS," a Warner Bros. Pictures release. Photo Credit: Courtesy of Warner Bros. Pictures