"Drive My Car" Director Ryûsuke Hamaguchi on His Moving Portrait of Life's Twists & Turns
One of the most intriguing cinematic journeys of 2021 emanates from Japan and is aptly named Drive My Car.
A mesmerizing sojourn that exactingly unfolds over a three-hour running time, the film follows acclaimed actor and theatre director Yûsuke Kafuku (Hidetoshi Nishijima), beginning with his unorthodox marriage to Oto (Reika Kirishima), before segueing to a stage production he is directing of Anton Chekhov's Uncle Vanya. The latter brings him together with Misaki Watari (Tôko Miura), a young woman who has been hired to drive him to and from rehearsals. Yûsuke initially resists. He considers his car his sanctuary and his time on the road an opportunity to be alone with his thoughts and absorb the text of the play. Eventually, Misaki wins him over with her command of the wheel, and the two form a bond over their past experiences. Life imitates art as Yûsuke confronts his failings and regrets and finds they are not that different from Vanya's.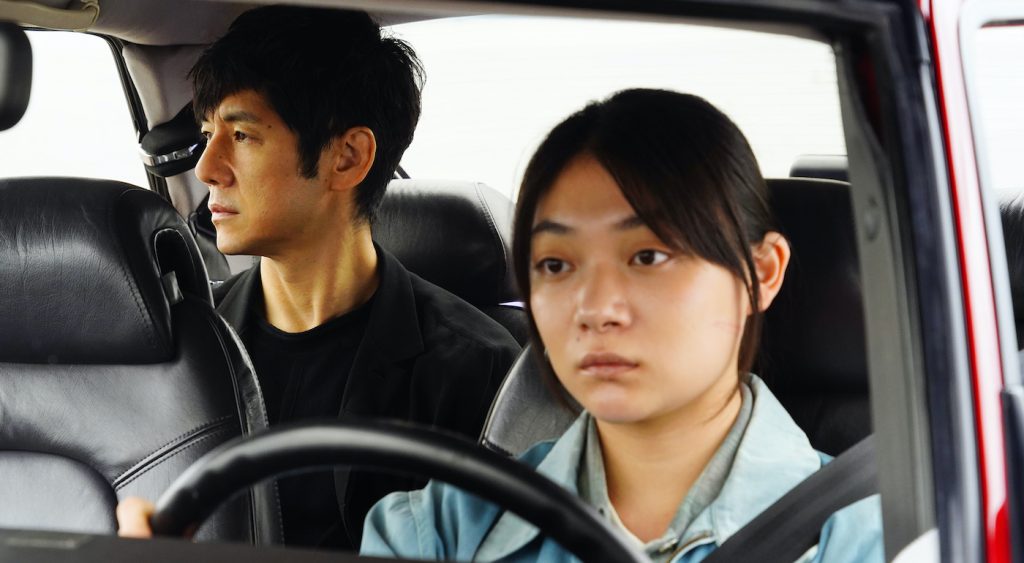 For director Ryûsuke Hamaguchi, who wrote the screenplay with Takamasa Oe, his trip with Drive My Car began in 2013 when a friend suggested he read a new short story of the same name by author Haruki Murakami. Hamaguchi was taken by its theme of people in transit and how that sparked conversations and grew relationships. He also liked that the main character was an actor, an idea he had used during his early film efforts. At that point, Hamaguchi was an independent filmmaker and didn't think beyond his enjoyment of the writing. Fast forward five years and the director, who was building a reputation with such features as Happy Hour and Asako I & II, was approached by a producer with the idea of turning Drive My Car into a feature film. Hamaguchi didn't have to be asked twice.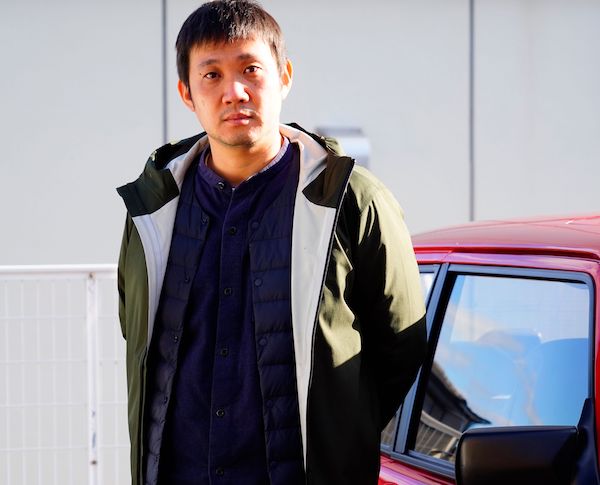 Transforming a 40-page tale into a fully-realized feature film turned out to be a daunting task in itself.
"The most challenging part was maintaining the worldview of the short story… the two main characters of Yûsuke and Misaki," says Hamaguchi during a Zoom interview, deftly interpreted from Japanese to English by David Neptune. "I wanted to make sure that they were portrayed accurately. I wasn't altering their characters in any way for the film."
On the page, much of Yûsuke's character is revealed through internal dialogue. Hamaguchi needed a way to show this on screen without resorting to lengthy monologues. In its place, the director shows Yusuke listening to an audiotape of Uncle Vanya as he drives. It contains all the voices of the play, except for the title character, allowing the actor to recite his dialogue while he is behind the wheel of the car.   
"Yûsuke practicing the lines for Uncle Vanya is a very direct way that we get to hear his internal dialogue," explains Hamaguchi. "Vanya and Yûsuke are so very similar in that things didn't pan out in ways that they had hoped in the past. And so his internal world is really translated through Uncle Vanya. Really, the entire world of Drive My Car is translated through the play of Uncle Vanya."
Adding an additional poignancy to these moments is that the tape was created by Yûsuke's wife Oto. He continually hears her voice as he plays it over and over again, a constant reminder of the mixed feeling his marriage evokes.
"A lot of thought went into how I portray his inner world and develop the relationship between him and Misaki," adds Hamaguchi. "And that's why it became three hours long."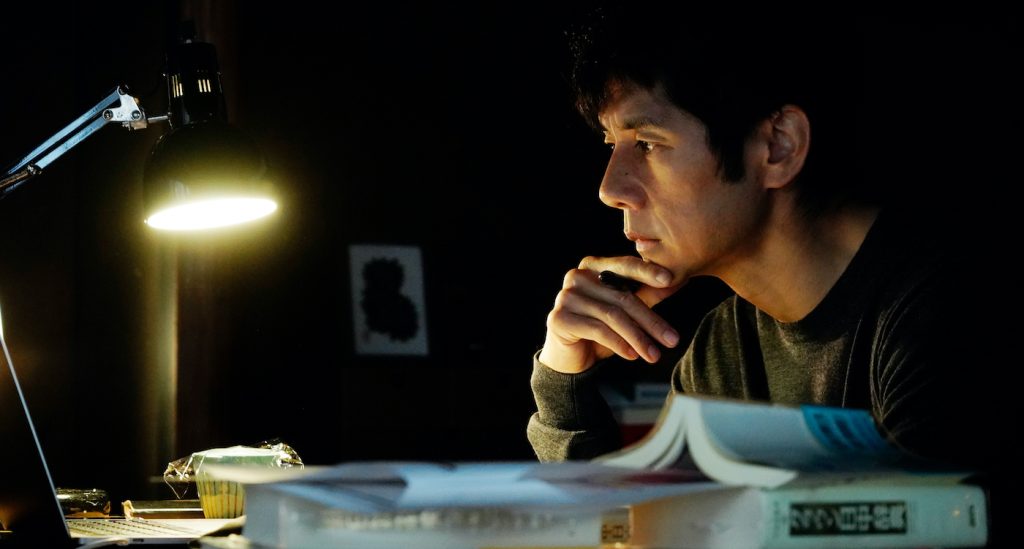 The audiotape also provides one of Drive My Car's most memorable shots. As the car drives along, its wheels mesh with the cogs of the cassette as Oto's voice resonates. But this is far from the only instance where motion is used to represent the transitory momentum of the characters. Hamaguchi and cinematographer Hidetoshi Shinomiya fill the film with haunting images built around the car.
"I always had the sense that the characters are emerging into a new space, the idea of them emerging out of the tunnel, that sort of thing," says Hamaguchi. " I think that was influenced by the Iranian director (Abbas) Kiarostami. I was also influenced by Haruki Murakami's piece Colorless Tsukuru Tazaki and His Years of Pilgrimage. The sort of travel images that were portrayed in that story were very influential for me as well."
The production of Uncle Vanya reinforces the film's themes of loss and moving forward. The play is staged in Hiroshima, a city known for its tragic legacy, but also its resilient rebirth. This version is multilingual with actors speaking Japanese, Korean, and Mandarin. One actress is mute, delivering her lines through sign language. Throughout rehearsals, the performers struggle as they are unable to understand each other, emphasizing their inability to communicate. Yûsuke encourages his cast to "trust the text." Once they truly understand its meaning, they'll connect with each other.
"As I was writing the script, it was really a marrying of Chekov and of the text that I was writing based on Haruki Murakami's original story," continues Hamaguchi. "And so I read the original over and over. Similarly, the actors, when they're practicing the play, say the lines over and over until it is absolutely effortless to them. That was the power of the dialogue. It's a play that has survived over 100 years. It really resonates even now in these modern days. It motivated me to make the film."
Surprisingly, as key as Uncle Vanya is to Drive My Car, Hamaguchi admits his connection to the 19th-century Russian playwright is somewhat newfound. "I wasn't into Chekhov that deeply before this film. I had read his four main plays," says the director. "I found that watching the actual plays performed wasn't as interesting to me as reading them. There were really fascinating details in there. Bringing those moments to life was very interesting to me."
Just as interesting is the reaction Drive My Car is getting. It won the Cannes Film Festival Award for Best Screenplay and received the Golden Globe as this year's Best Foreign Language Film. The National Society of Film Critics Awards recently named it Best Film of the Year. Hamaguchi's directing, his and Oe's screenplay, and Nishijima's acting were also honored. The Los Angeles Film Critics Association, New York Film Critics Circle, and Boston Society of Film Critics all named Drive My Car as 2021's best film. Many other U.S.-based critic groups cited it as their favorite foreign feature.
But of the many accolades Drive My Car has received, one, in particular, delights Hamaguchi the most. "We made Obama's list of films — notable films this year," the director reveals. "I know that he has great taste and I know that he makes a list every year. So it was just really great to make it onto that list. I thought, 'Oh, Wow!'"
Featured image: Reika Kirishima and Hidetoshi Nishijima. Photo courtesy Slideshow and Janus Films.