"Shang-Chi and the Legend of the Ten Rings" Breakout Star Meng'er Zhang on her Knockout Debut
From the second she enters the frame, Xialing radiates a younger sibling's mixture of hurt and defiance at the brother who abandoned her. Yet Xialing is no longer a little girl, and as the daughter of the crime boss and formidable, superpowered martial arts master Wenwu, she's become everything her older brother—Shang-Chi—was meant to be. Only unlike her brother, she wasn't handpicked as Wenwu's successor, and her training to become an unparalleled martial arts expert and assassin was done on the sly. Getting to play in Marvel's massive, ever-expanding sandbox is the opportunity of a lifetime for any young performer, but for actress Meng'er Zhang, the opportunity arrived shrouded in secrecy.
"I had no idea," Zhang says about the role she auditioned for in Shang-Chi and the Legend of the Ten Rings. "I just saw an audition in a group chat that said they needed a girl who can speak Chinese and English at the same time, so I thought, 'Well, I could be that girl.'"
Zhang sent in her audition tape, and rather quickly, she got a callback. She was then told she'd be flown out to do a test screening with Simu Liu, the titular star of the film, and director Destin Daniel Cretton. "That's when I realized, 'Okay, I was auditioning for a Marvel movie.' [Laughs]."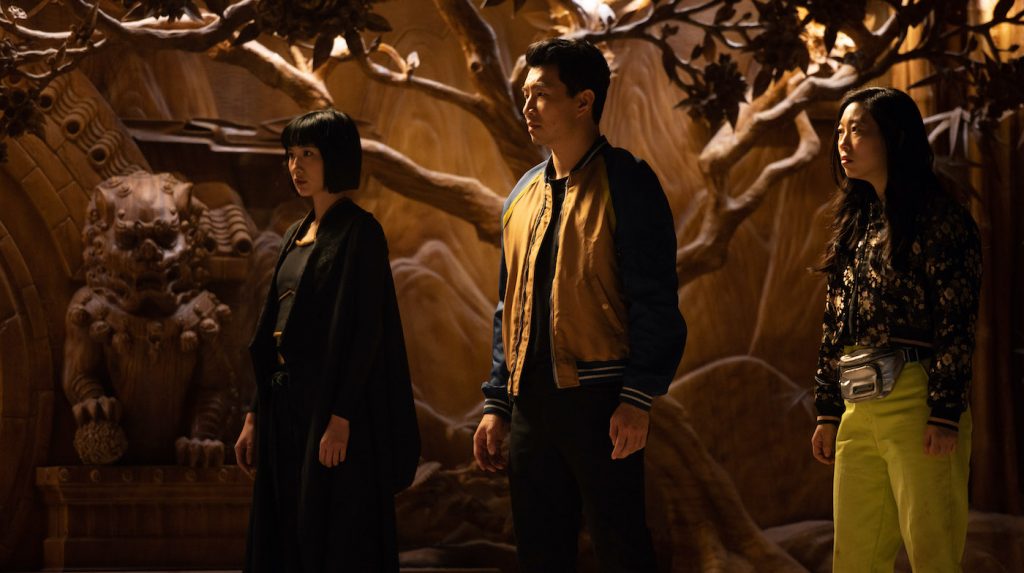 Rather than be overwhelmed by the opportunity, especially considering Zhang had never acted in a major film before, she focused on her character, the sister Shang-Chi left behind as a little girl when he refused to follow in his father's footsteps. "I really got connected strongly with the character, and I just felt like, 'I've got this.'"
Once she was officially cast, Zhang, a seasoned stage performer, had to get up to speed on the vastly different techniques required when performing on film. "It's really different, and everyone helped me a lot. Destin was really great with me, he helped me to understand how the camera works," she says. "It was really funny that on my very first day on set, it was my bedroom scene with Katy (Awkwafina). I'm revealing my childhood bedroom after so many years away, and to me, it's like okay, after I hear 'Action!,' my performance begins, right? So I started my performance, and then Destin told me I wasn't actually in the frame. It's not like the stage where everyone can see everything. You have to go into the frame, so it was that kind of thing."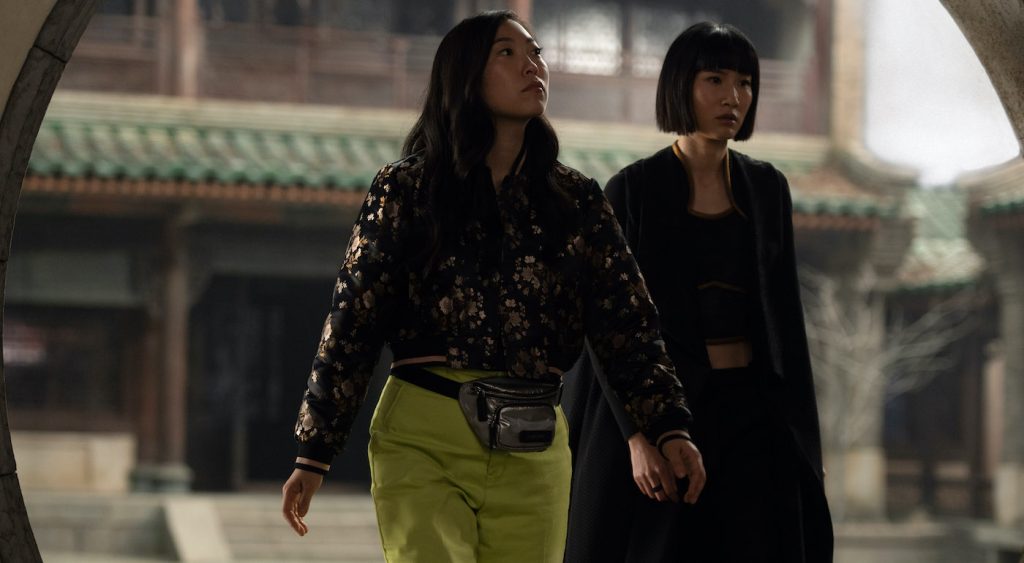 Cretton wasn't Zhang's only source of support and wisdom—she had a master of both stage and screen, Ben Kingsley, on hand as well. Kingsley was reprising his Iron Man 3 role as the drunken actor Trevor Slattery, who was hired to pretend he was the supervillain the Mandarin—Wenwu (Tony Leung)'s actual identity—in that film. In Shang-Chi, he essentially Wenwu's court jester, plucked from prison to provide entertainment. For Zhang, he provided sage counsel.
"I loved talking to him, he also has a theater background, so I always asked him questions, and he's great," Zhang says of Sir Ben. "He told me that when we're on the stage, we're landscape artists, and when we are in front of the camera, we're portrait artists. This just gave me a very clear picture of the difference. I'm really grateful to him."
Zhang wasn't only tasked with learning her lines and figuring out how to perform for the camera—she also had to train to become a credible martial arts expert.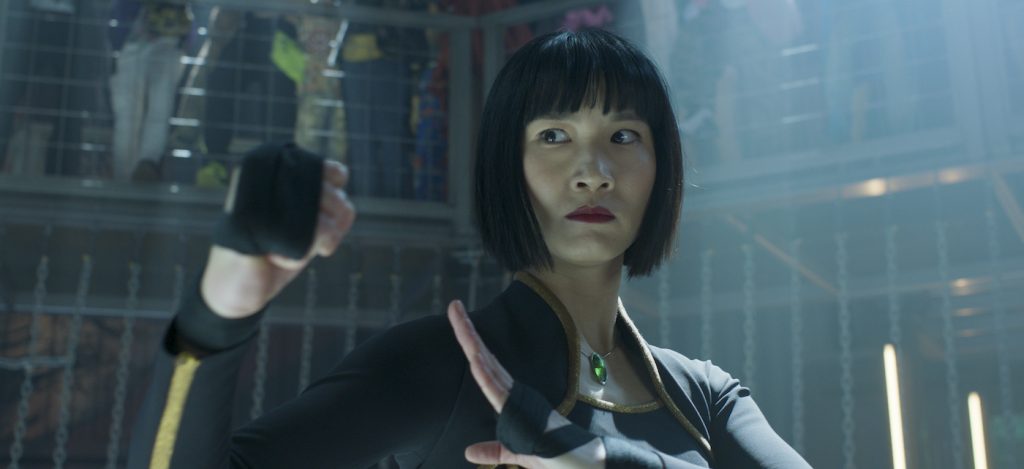 "The training was really intense. I didn't have any martial arts background before this, so they flew me over four months early to train," she says. "You could really hear me and Simu screaming on the stunt stage. I learned MMA, I learned Tai Chi, and I learned this cool weapon which you can see in the film, called a rope dart."
Zhang's appreciation for what she was learning was such that she began to understand why they're called martial arts. She also learned an appreciation for how hard being a stunt performer is, and she learned it the hard way.
"I did punch Simu in the face in the very first fight scene that we had," Zhang says. "That was an accident! I was nervous, that was my very first fight scene with him, and he was like, 'There's no way you can hurt me, just go for it!' I was like, 'Okay, okay, I'm going to go for it,' and I just went pow, and I punched him in the face. [Laughs]"
The fight scenes were particularly challenging for Zhang because she's a gentle person by nature, but Xialing is a ferocious fighter. "My character is really tough and is really good at fighting, and those stunt people who I trained with every day? I have to punch them in the face and kick them. I was like, 'I don't want to hurt you guys!' And they would just tell me there's no way I can hurt them, they're professional and know how to take a kick and a punch. They told me if I did hurt them, it would be their fault, but for me, that was the biggest challenge."
Zhang's Xialing ultimately joins Shang-Chi and Katy in their quest to take down Wenwu, becoming an invaluable ally. Yet in a post-credits scene (belated spoiler alert), Xialing's future, and therefore Zhang's future in the MCU, gets a delicious potential twist—she's seen on her father's throne, ostensibly the new leader of the Ten Rings syndicate and a potential adversary for her brother. I asked Zhang if she was told from the beginning about her character's potential villainous turn.
"No, I had no idea," she says. "That was a really cool scene, but when we were in the process of shooting the film, I didn't even know if the scene would make it into the movie. I'm really excited for whatever is next for my character Xialing, and whatever is next is going to be great."
In real life, her friendship with Liu and Awkwafina is real and poignant.
"Working with them was so great," Zhang says. "They are really like family to me. The screen test was only with Simu, that was also the first time I met him, and I think the sibling chemistry between us was so natural. I also got married on this film, to one of the action designers, and we didn't plan anything ourselves, but Simu took us to Disneyland to surprise us, and Awkwafina threw a big karaoke party to celebrate."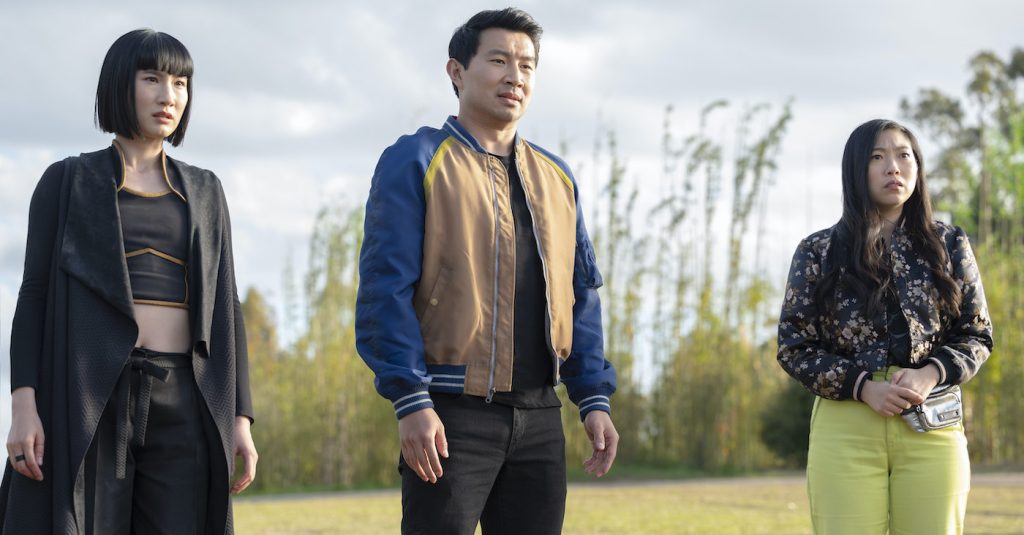 Shang-Chi and the Legend of the Ten Rings is available on Disney+ and Digital 4k, and Blu-ray and DVD.
Featured image: Xialing (Meng'er Zhang) in Marvel Studios' SHANG-CHI AND THE LEGEND OF THE TEN RINGS. Photo by Jasin Boland. ©Marvel Studios 2021. All Rights Reserved.