"A Journal for Jordan" Screenwriter on Adapting This Moving True Story for Denzel Washington
Virgil Williams knows a thing or two about crafting a screenplay based on a previously written work. After all, his script for Netflix's Mudbound, co-written with director Dee Rees and adapted from the novel by Hillary Jordan, earned him nominations for an Oscar and both Critics Choice and Writers Guild of America awards, among many others.
Now, Williams has tackled a best-selling memoir, and a uniquely moving one at that. A Journal for Jordan centers on two love stories: one between Pulitzer Prize-winning journalist Dana Canedy and First Sgt. Charles Monroe King, opposites by most measures, and the other between King and their newborn son Jordan, with whom he spent just a short time before being killed by a roadside bomb while deployed in Iraq. Canedy had given King a journal to write to their son, to "tell him who you are, what you believe in and tell him that you love him." His messages offering paternal wisdom and advice filled 200 pages, which Canedy wrote about in a New York Times essay and then published in a book in 2008 along with her own letter to Jordan.
The film, starring Michael B. Jordan as Charles and introducing Chanté Adams as Dana, was directed and co-produced by Denzel Washington. Williams had worked with Washington years earlier when they and producer Todd Black developed a television show that never went forward. He especially treasured his collaboration with the Academy Award winner for A Journal for Jordan, describing it as "a master class" in filmmaking.
Also a veteran TV writer and producer (ER, 24, Criminal Minds), Williams chatted with The Credits about the Sony Pictures release, out Christmas Day. The following interview has been edited.
How different was adapting a memoir where, with this one in particular, you might have to infer from journal entries, versus a novel, as with Mudbound, where the story is all there? Did you take a different approach to deconstructing the material?
The answer is yes, I did. I mean, I think the approach to every project is dictated by the story. With both adaptations, I developed a close relationship with the author. I'm still close to Hillary Jordan, who wrote Mudbound. And with Dana Canedy, we got close and having her as a resource — I came to New York and spent days with her and Jordan — that was probably the biggest difference. I felt the need to spend time with them and to actually absorb who they were, what they were, where they were, these kinds of things, because this is not a piece of fiction. It's a story about love and loss and a soldier who sacrificed his life, so there's some pretty serious themes running through this.
Voiceover plays a large role in taking the audience "inside" Charles' journal entries. How did you strategically incorporate this technique, while considering pacing, choosing which scenes to include, etc.?
I used not only the book, but also the actual journal. It's really a treatise on manhood. My approach to voiceover is always to ask does it enhance the scene, and is this scene appropriate for whatever part we're choosing? It just can't be mental exposition or any exposition at all. I would go through the journal — Dana really did find the best of the journal — but there's other things that were in that journal itself that I was able to find. The whole goal was to make Charles feel like he was still there, for every journal entry to serve as his presence. It was important to me to convey this idea. And it was important to me to show that this Black father wouldn't even let the grave stop him from showing up to help his son and to help the woman that he loved. Through his words that he left behind, and as a writer this is especially resonant for me, he's immortal. And what's more, his knowledge, it's not just for Jordan, now it's actually for every young man out there who will listen.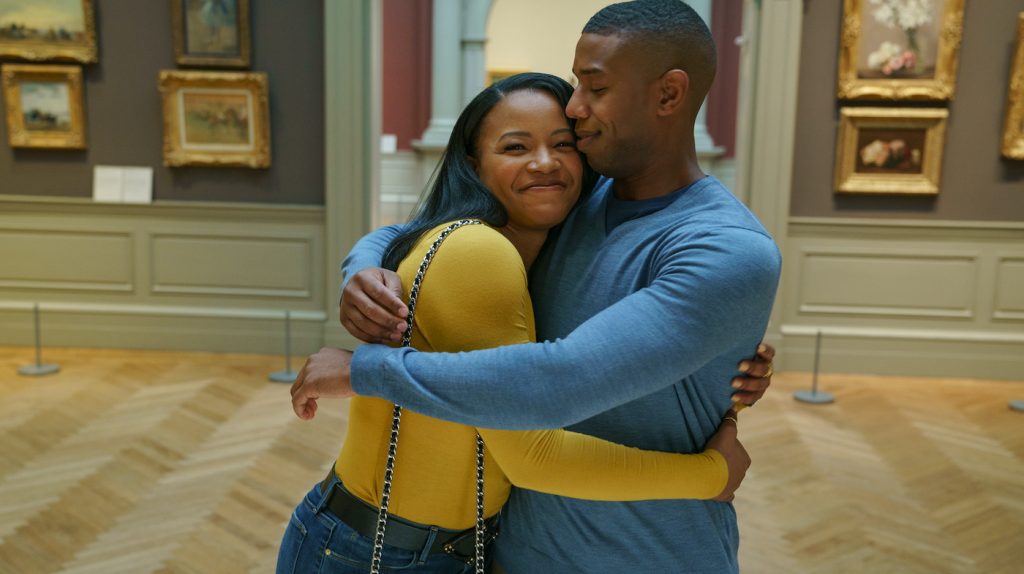 You also adapted the writing of a Pulitzer Prize winner in Dana. Was this daunting?
It was daunting, because it's real and she's real. She's a warrior lady. This woman won a Pulitzer, then she went to go be the administrator of the Pulitzers and now she works for Simon and Schuster, and she's a single mother raising a really great kid. So yes, it was daunting. There was a responsibility there to get it right, and luckily she was there for me. I had "the teacher's edition," I had "all the answers to the test," because she gave me access. That relationship was a lifesaver, a life vest, kept me afloat.
In Dana's intro letter in the book to Jordan, she reveals that she learned things about Charles from the journal. Were there any passages or revelations she asked not to be included, or were you given total freedom?
We had pretty much total freedom. I know there were sections of the journal and letters that he wrote that she hasn't shown to anybody, so there was nothing that I saw that she was like, 'But don't use this.' I think that she vetted all that before she allowed access to it. Charles' legacy is important to her and with good reason, so there was a degree of vigilance that we all had with regard to that.
Charles seemed like a man of opposites: reserved but loving, introspective but prolific in the philosophies he wrote about to his son. What was important and/or challenging in creating his character?
This character, I'll call it spherical. I've never seen a Black male character as spherical as that, meaning full. But I think the challenge was making him human and flawed, not perfect, because he was such a good guy, but there were things about him that weren't utterly perfect. He says this in the book.
Did his entries about the war provide enough detail for you to recreate his experiences for the screen, or was some embellishment required for the story's sake? Did you speak with any of the men under his command or with whom he served?
Yes, I did speak with a couple of guys under his command, because I wanted to know what his men thought of him, and they were all like this dude saved my life, and not just in a literal sense — he didn't dive in front of a bullet — but he trained them, he taught them how to survive, like a father with a son. His entries were actually great. Also, Dana did all the work of getting all the detail of what happened, because she had not only the Army's account but then she turned journalist and then interviewed everybody and their brother, so what the book offers insofar as the details of his combat experience, I trust to be very accurate. But what was most important about Charles' entries was his emotional state, that's all clear in the journal, all of his journal entries were explicit with regard to his emotional state and that's what you build around.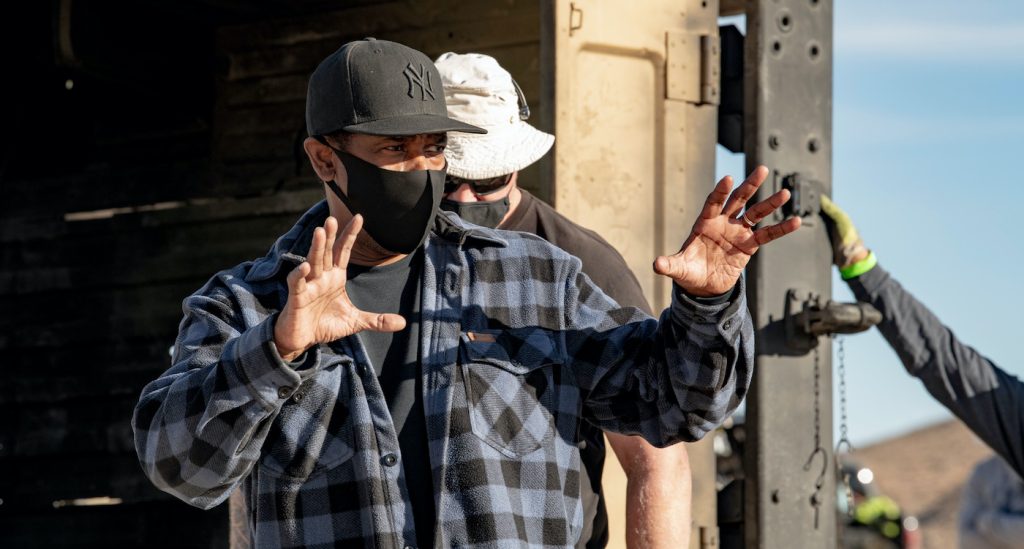 How was your working partnership with Denzel Washington? Is he a stickler with the script?
My experience with Denzel Washington was something that I could have never imagined. It was a master class. It was a dream come true. He was the only person that I saw during the summer of 2020 besides my family, and I'd go up to his house and we would work. Yes, he's a stickler. There's a reason that he has been a major movie star for the past 30 years. That didn't just happen. He is ruthless in his pursuit of excellence and ruthless in his pursuit of detail. Denzel's mantra is "the universal stems from the specific." That's how we approached everything. There were moments where he coached me. You know I've had a lot of people give me advice, guidance, tips, jobs. This is the first man I've ever met that lifted me, that really worked at helping me with my craft. The whole experience was profound. It changed my career. I'm a different writer and will continue to be, and I can't wait to work with him again.
Featured image: Charles Monroe King (Michael B. Jordan) and Dana Canedy (Chanté Adams) at a birthday barbecue in Columbia Pictures' A JOURNAL FOR JORDAN.