"Hawkeye" Director & Executive Producer Rhys Thomas Hits His Mark
Let's say you're a director, and you've been called in for a "general meeting" at Marvel Studios. A general meeting is a chance for studio executives to get to know a particular filmmaker, see what they're like and what they're interested in, but they're not pegged to a specific project. Not yet. Obviously, a general meeting with Marvel is a big deal, and the number of Marvel projects percolating at any given moment is massive, which can make them a little like a high-stakes guessing game. What you're hoping is that you're a natural fit for one of those upcoming projects.
For director Rhys Thomas, his general meeting took place just as the powerhouse studio was just beginning to work on its Disney+ shows. "When the idea of the streaming service was introduced to me, and I was both surprised and excited to get that meeting," Thomas says. "I've wanted to dip my toes in this universe because there's a great big mythology and a scale at Marvel that no one else does."
Thomas, a seasoned director and producer with credits ranging from Saturday Night Live to John Mulaney & The Sack Lunch Bunch met with veteran Marvel executive Trinh Tran, who asked him if there was a particular character he'd be interested in exploring.
"Quite innocently, I said Hawkeye, because I've always been intrigued by this human member of the Avengers with this family life," Thomas says. "There's something rich about the story they've already woven but haven't spent much time with it. So that was kind of the serendipity of that moment."
Thomas ultimately went on to executive produce and direct the first, second, and final episodes of Hawkeye, Marvel's latest Disney+ series centered on Jeremy Renner's titular Avenger and his unasked-for protegé, Kate Bishop (Hailee Steinfeld), which is now streaming. Hawkeye finds our grumpiest if still-lovable Avenger trying to spend a little quality time with his family over the holidays. The problem for Clint Barton is there are a lot of people who want him dead—recall his Ronin stage in the aftermath of the Thanos snap, a killing spree against bad guys that he was ultimately rescued from by his dear departed friend Natasha Romanoff (Scarlett Johansson). Enter Kate Bishop, an ace archer whose precociousness and enthusiasm for Clint's past heroism go from an annoyance to a necessity as the two become partners, of sorts.
When asked what his level of excitement was at the moment, he said high, but "I'm terrified, too."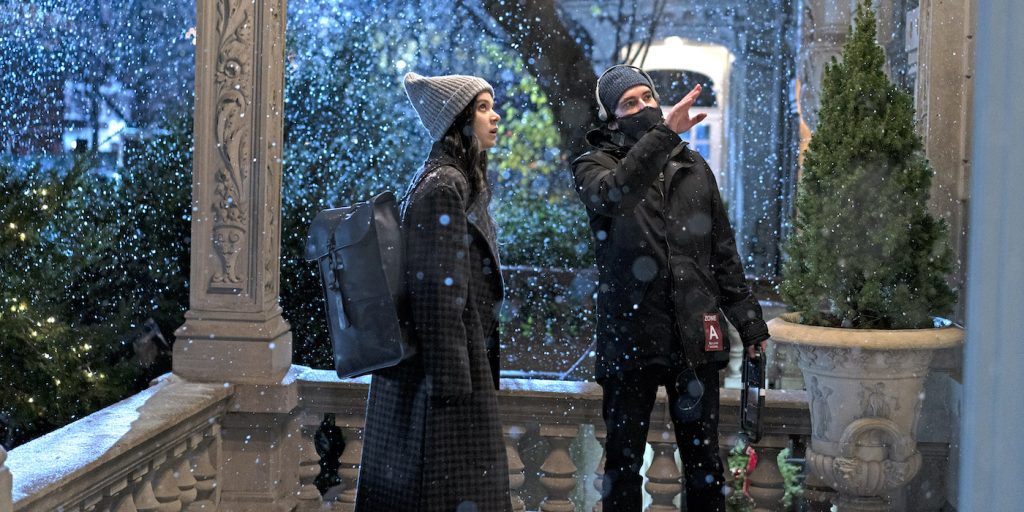 Yet Thomas wasn't just handed the opportunity to lead Hawkeye after that initial serendipitous moment. He had to continue to prove to Marvel why he was the perfect man for the job.
"Once the idea lodged in my head that Hawkeye might be a possibility, I got really persistent with it," Thomas says. "I kept emailing and checking in, and eventually Trinh shared the initial outlines that they were developing for the show, and I leaped in and started giving some thoughts, ideas, and notes, and that evolved into phone calls."
Thomas also began doing extensive research, not just going through the entire Marvel catalog, but writer Matt Fraction's "Hawkeye" comics, as well as watching every movie he felt could be relevant to the world they were building for the Avenger's all-too-human sharpshooter and the young woman who could take place. That research paid off.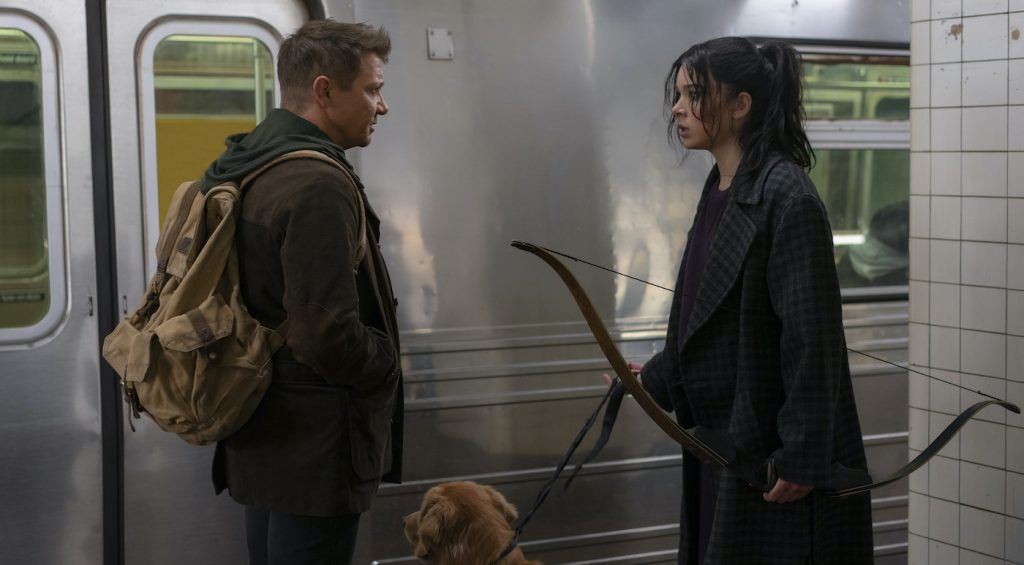 "By the time I finally met with Kevin [Feige, Marvel Studios President] and Victoria [Alonso, Physical and Post Production, Visual Effects, and Animation] and pitched them, I was very much steeped in it. It was quite an organic process by the end. I had a quite clear sense of things at that point."
As for the non-Marvel films Thomas drew inspiration from, he steeped himself in the world of 70s New York cinema. "I'll use any excuse to go down that road," Thomas says. "I took great pleasure dipping into 70s thrillers like Point Blank and Klute."
Yet Hawkeye also draws inspiration from some of the biggest hits of the 1980s, too. To that end, Thomas rewatched Die Hard,  Midnight Run, and Lethal Weapon. 
"That's what felt exciting, there was an opportunity for a texture and a humanity and a grounded quality to the show," he says. "The other Marvel shows are bigger and have this scale to them, while Hawkeye is really is a character-driven show more than anything.
One of the pleasant surprises with Hawkeye is that it's a bit looser than The Falcon and the Winter Soldier, Marvel's other more action-focused Disney+ series that also revolves around two characters who learn to love each other (so to speak).
"Die Hard and Lethal Weapon have humorous tones, and I think we have this great character with Kate Bishop, who has such contrasting energy to Clint," Thomas says. "Clint has that world-weary energy, while she's his number one fan, so there's definitely a different cocktail here."
There's also the larger MCU to keep in mind, but Thomas says when you start working on a Marvel show, you're not given a 1,000 page MCU story bible to learn.
"When you start working on a Marvel show, you don't get a briefing of what's happening on the other shows, so a little bit of the process is this gentle prodding and seeing what takes hold. There are moments where you'll have an idea and get excited about it, and that's when you find out they're already doing that on another project. Yet, it would be overwhelming if you got a map of the entire MCU, so they allow these shows to exist in their own little sandbox, and someone else knows how they all fit together. That's helpful."
Thomas had initially envisioned Hawkeye as a gritter New York-set series, but he learned, through gentle prodding about other Marvel projects, that the series naturally became more of a hybrid between gritty and comedy.
"Ultimately, you start to come to understand where the show fits," he says. "The cool thing with Kevin Feige's approach is he always seems interested in the least expected route. The policy at Marvel seems to be the best idea wins. Obviously, there's a version of this show that could have been very dark and brooding given Clint's backstory, so I think trying to find these less expected ways in, less expected storylines and way to watch this relationship develop."
Hawkeye's stakes, Thomas says, start relatively small for an MCU installment, but that's a bit of an illusion. "It was important to make it appear like it was low stakes at the beginning of the show, as if just one more day will solve Clint's problem, and then you get to enjoy watching things snowball out of control," he says.
And things do snowball out of control in Hawkeye, leading to some thrilling action set pieces. It's hard enough creating action sequences in a film that reaches Marvel's high standards, but doing so on a TV schedule requires not only technical skill but no small amount of courage.
"It's hard because Marvel is clear that these shows on Disney+ are a part of the same Marvel Cinematic Universe, so they shouldn't look and feel any different. They're just as ambitious, so part of the gig is navigating delivering that but on a TV schedule," Thomas says. "I came up through Saturday Night Live, where no one cared that you only had two days to make the thing, the audience doesn't know that, so the job was to say yes and go do it. Perhaps that was an abusive relationship [laughs], but I always want to go for it. I mean ordinarily, you do a car chase for Marvel and you'd spend weeks and weeks, but here you'd have only a third of the time."
Thomas was working with a slew of Marvel veterans, not only Renner but stunt coordinator and second unit director Heidi Moneymaker (Scarlett Johansson's longtime stunt double) and her sister Renee (Hailee Steinfeld's stunt double).
"Heidi and Renee are used to a certain standard, but suddenly you'd see the fear in their eyes when you start visualizing and rehearsing these set pieces, and giving notes, and then say, 'Oh, by the way, we have to shoot the whole thing in a day!' [Laughs]. The only thing I could do is guide things with the philosophy that he's a human character who gets hurt, that was always the North Star for me," Thomas says. "The action is all through the lens of someone who can't fly and gets hurt and winded and is a little older. It was essential that the story and character are the most important thing, and to keep the truth of the character in any given moment. Like Kate is a chaotic fighter, she's never fought in the real world before. She's highly trained in competition, but she's used to referees and one opponent at a time, so what happens when multiple bad guys who don't care about rules are coming at her? I tried to come at it from that point of view, rather than 'how do we beat Marvel doing Marvel?'"